5 flatlays: timeless kitchen palettes inspired by nature
A beautiful, nature-drawn palette is key to creating a kitchen that isn't just cosy, but stands the test of time. But where do you start and what should you choose? Briellyn Turton, interior designer and a host of Australia's Best House on Channel Nine, has created five stunning and easy to live with palettes that work across a variety of home styles.
"When building a kitchen palette, I'd always recommend starting with your stone selection –benchtops and splashbacks are generally the first things you notice in a kitchen, and budget-wise, they're also the big-ticket items," Brie says. "The Neolith stone surfaces we've chosen aren't just low-maintenance and supremely hardwearing, but each features an array of beautiful, natural colours, which you can then draw from for the rest of your palette, such as the joinery, tiles, flooring and paintwork. The result is a timeless and cohesive kitchen look."
Modern Organic
"With its gentle, natural tones and touch-me textures, this scheme will bring a soft, organic feel to your kitchen," says Brie. Using Neolith Calacatta Royale which features warm gold veining against a creamy background, as the foundation, she has created a scheme that is rich in earthy texture and character; ideal for a contemporary, family kitchen.
"We've kept this scheme neutral and brought in interest through organic textures, such as light oak cladding that you might use on the base of a kitchen island, travertine penny round tiles that would be beautiful on a splashback, a lattice-like, metallic weave that you could use to create a feature of your upper cabinetry doors, and gorgeous pill-shaped brass handles in a brushed gold finish for that little hint of luxury. And if you're looking to bring in a coastal flavour, you could swap out the penny rounds for the handmade, Japanese kit-kat tiles on your splashback."
Bold Contemporary
Built around Neolith Alexandra stone, which features dramatic, charcoal veining against a crisp and cool white base, this palette is perfect for those who favour a strong, minimalist look, says Brie. "It would work particularly well in a sleek, architecturally designed home, where you could run it from your façade, right through to your entry, kitchen and living spaces.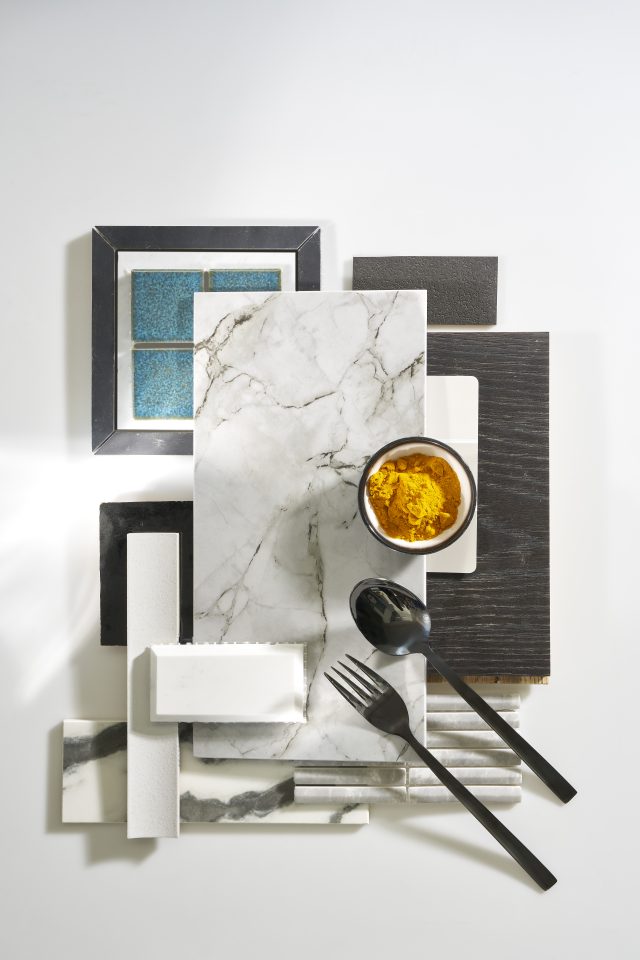 "To bring out the blacks in Neolith Alexandra, we've selected a dark-stained timber floor and flat-faced, matt-black cabinetry. To add some textural contrast, we've introduced slender, curved marble tiles for the splashback. We brought in a second Neolith stone –Colorado Dunes, which you could use in an adjoining space, such as a butler's pantry or dining area.
"For a colour hit, we've introduced a couple of options – turmeric, which would look incredible on upholstered velvet dining chairs or a feature pendant, and oversized, aqua mosaics, which would make for an eye-catching splashback," she says.
Earthy & Refined
"For a cosy yet refined kitchen scheme that you'll love for years, this palette is hard to beat," says Brie. "And it's wonderfully versatile, blending seamlessly with anything from minimalist, contemporary architecture to a renovated Victorian terrace.
"We've paired the warm, grey tones of Neolith Arabesque with a medley of soft mushroom shades in the paintwork, and earthy brown in the joinery and flooring. Handmade Moroccan feature tiles, which you could use on a splashback or the base of an island, bring in a hint of soft pink, while slender, wave-like handles in organic bronze emphasise the overall sense of softness. The elements in this palette are fairly simple, yet they all have a subtle dynamism, whether it's through shape or texture. Design your kitchen with this palette, and you'll create a look that's simultaneously sophisticated and easy to live with," she says.
Daring & Eclectic
"This is a great palette if you want to bring some character and individuality into your kitchen," says Brie.
"Starting with Neolith San Simone – a showstopping stone with a river of rich grey running across a cool white base – on the benchtops, we've gone for an interesting mix of colours and finishes to create something rather eclectic. We've broken the age-old design rule not to mix different metals, pairing bronze cabinetry handles and pulls, with a chrome mixer tap. We've then brought in warm, chocolate tones with walnut flooring and a fine, slubby linen that you could introduce in drapery or some gorgeous, floor-to-ceiling blinds.
"Fluted glass cabinetry detailing brings in a vintage edge, which we've contrasted with quirky, modern tiles – stunning, round mosaic tiles in a medley of blues and golds, and linear, three-dimensional tiles with a wonderfully, textural finish. The effective, once is installed, is raw, cocooning and thoroughly unique. This is a kitchen your guests will never forget!" she says.
Layered Luxury
"A neutral kitchen is forever in style – and today's iteration is more layered and textural than ever before," says Brie.
"This palette, which is built around Neolith Whitehaven, a gorgeous stone with soft grey and taupe veining over a milky base, exudes a gentle warmth. The ultimate chameleon, it would blend effortlessly into a range of home styles, including contemporary architecture, an urban apartment or a sophisticated, coastal abode. It would also make a smart choice for small homes, where its light tones would enhance the sense of space.
"The focus here is on texture, with the colour palette kept deliberately restrained. Thickly woven charcoal flooring is layered with finely woven linens in soft cream and weathered chocolate, which you could use on bar stools or feature lighting. Delicately ribbed tiles in a neutral hue pick up on the intricate detailing in the Neolith Whitehaven and the upholstery fabrics, cleverly contrasted with flat-face joinery in a warm biscuit tone. Striking, stone handles with organic lines complete the subtle, sophisticated look," she says. 
Neolith sintered stone is an innovative and environmentally friendly architectural surface crafted from 100% natural raw materials, including clays, feldspar and natural mineral oxides, 98% of which are recycled. Bonded with heat rather than resins, Neolith sintered stone contains minimal amounts of silica of between 0 and 9%, depending on colour. Up to 52% of every Neolith slab is made from recycled raw materials and the slab can be fully recycled and reduced to its aggregates at the end of its lifecycle.
For more on Studio Brie