A closer look at this year's Dulux Colour Awards winners
Today we're taking a closer look at the Australian winners from the single residential category (our favourite!) of the 2023 Dulux Colour Awards, announced earlier this month. From a period home with an all-black interior to a cosy deep red tiny home to an earthy country home with deep green and greys, the Australian top three are a moody bunch.
Winner
Alma Road Residence by studiofour | Photos by Shannon McGrath
"A theatrical yet calm, moody interior exuding timeless old-world sophistication typifies this period restoration and, although it is clearly controlled, it feels effortless," said judge Lisa Lee. "In reinstating the proportions and ornate detailing of the original, the architects have employed a simple palette with holistic consideration. While it doesn't rely on trickery, the play of grey and white, matte and gloss, is deceptively complex.
"Spatially, the existing, compartmentalised volumes are offset by a glass bridge connecting to a new glazed pavilion, which appears to float above water and is effective in adding reflective surfaces to the mix. What appears to be a highly wrought design execution nevertheless allows its function as a family home to remain evident and the warmth that pervades this project is ultimately seductive."
Commended
Studio Elroy by Lintel Studio for Architecture | Photos by Luc Remond
"Crafted from the existing basement of a heritage building, with a footprint of only 19sqm, Studio Elroy is an exemplar of inspired small-scale living, with colour at the heart of the concept and result. Although the architects state that their choice of rich cochineal red was 'as much an experiment as a statement', everything feels enhanced by their commitment to its application," says judge Lisa Lee.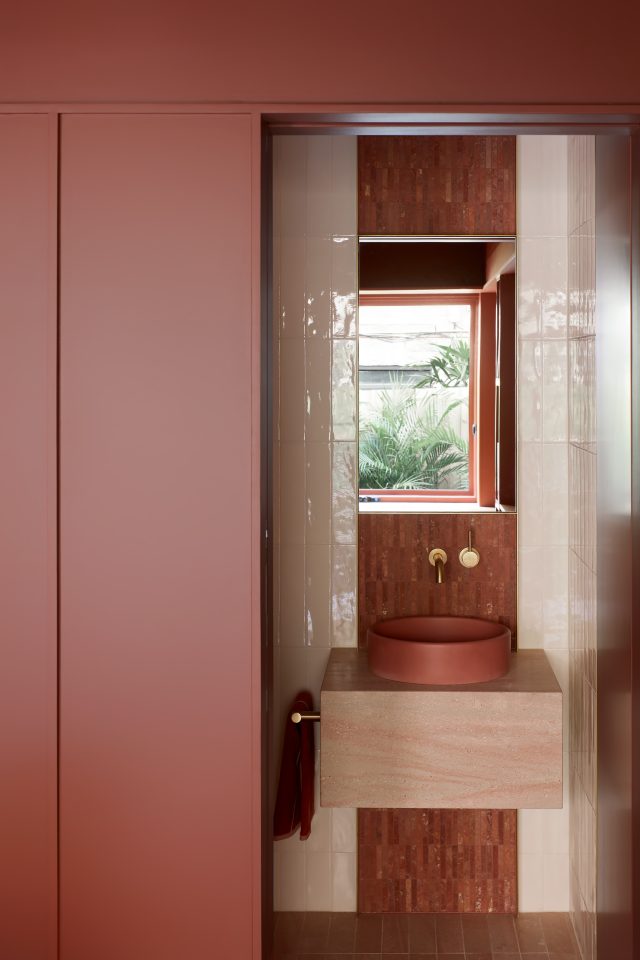 "As this tiny home remarkably accommodates a queen-size bed, a home-office workstation, a kitchen and living space, wine cellar, and bathroom, the saturated colour soothes the complex program and its taut orchestration. Despite the apparent singularity, there is a hierarchy in the palette, with consideration of the sandstone building envelope and secondary hues.
"Notably, the passing of time, somewhat compromised by the limited natural light, is cleverly marked by painted and tiled surfaces with changing shades of salmon through to garnet emerging as sunlight and shadow play across them. This is commendable for its unabashed commitment to all-encompassing colour usage."
Mount Mac by Williams Burton Leopardi | Photos by Caroline Cameron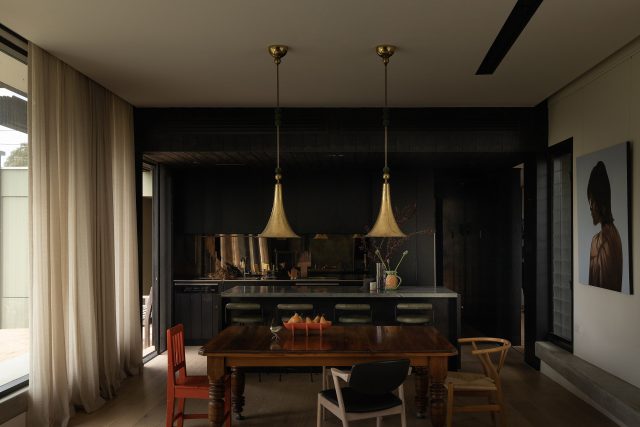 "Grounded by its connection to place, Mount Mac demonstrates an honest design approach to the recrafting of the interior, now oozing with warmth and texture. At its core is the identity of its owners, their lineage and relationship with the surrounding landscape and farming context.
"First impressions are of a sophisticated, hotel-like sleekness, created by the deep dramatic colour scheme of the kitchen and living zones. Here, the effect of deep green and dark grey is cocooning and seductive," says Lisa.
"Settling into the home, the role of the overall palette becomes evident; its sincerity and simplicity finely balanced with the earthiness of natural finishes in timber, stone and brick. Special mention should be made of the considered styling, especially the inclusion of a light-citrus upholstery, which adds to the overall impression of nuanced effortlessness."
Overall, the top Aussie prize, the Australian Grand Prix, went to Sibling Architecture for the Darebin Intercultural Centre. An immediate stand out for its ambitious brief and contribution to its locale, the colour usage in this project brilliantly realises its aim to welcome a diverse community and to foster inclusive, non-discriminatory human interaction.
As far as noteworthy directions, sage and blush hues emerged as a strong colourway in a range of projects and there were also numerous outstanding examples of commitment to a single colour, from a demountable bookstore to a basement apartment.
Bringing a wealth of design-industry expertise to their endeavours, the judging panel comprised: Andrew Piva, director of B.E Architecture; Brahman Perera, interdisciplinary designer and director of his eponymous studio; Lisa Lee, senior interior designer of Snøhetta; Sarah Carney, project director of CTRL Space; and, Byron George, director of Russell & George.
For further information on all this year's finalists
The Dulux Colour Forecast is celebrating 25 years!
Long considered a cultural barometer, colour trends are always fascinating to explore and it's something that Dulux has taken very…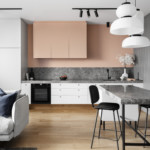 Homes full of colour: 2021 Dulux Colour Awards finalists
The Dulux Colour Awards are always a feast for the eyes and this year's finalists are no exception, despite being…