A Coffee-coloured Haussmannian Apartment in Paris by Hauvette & Madani.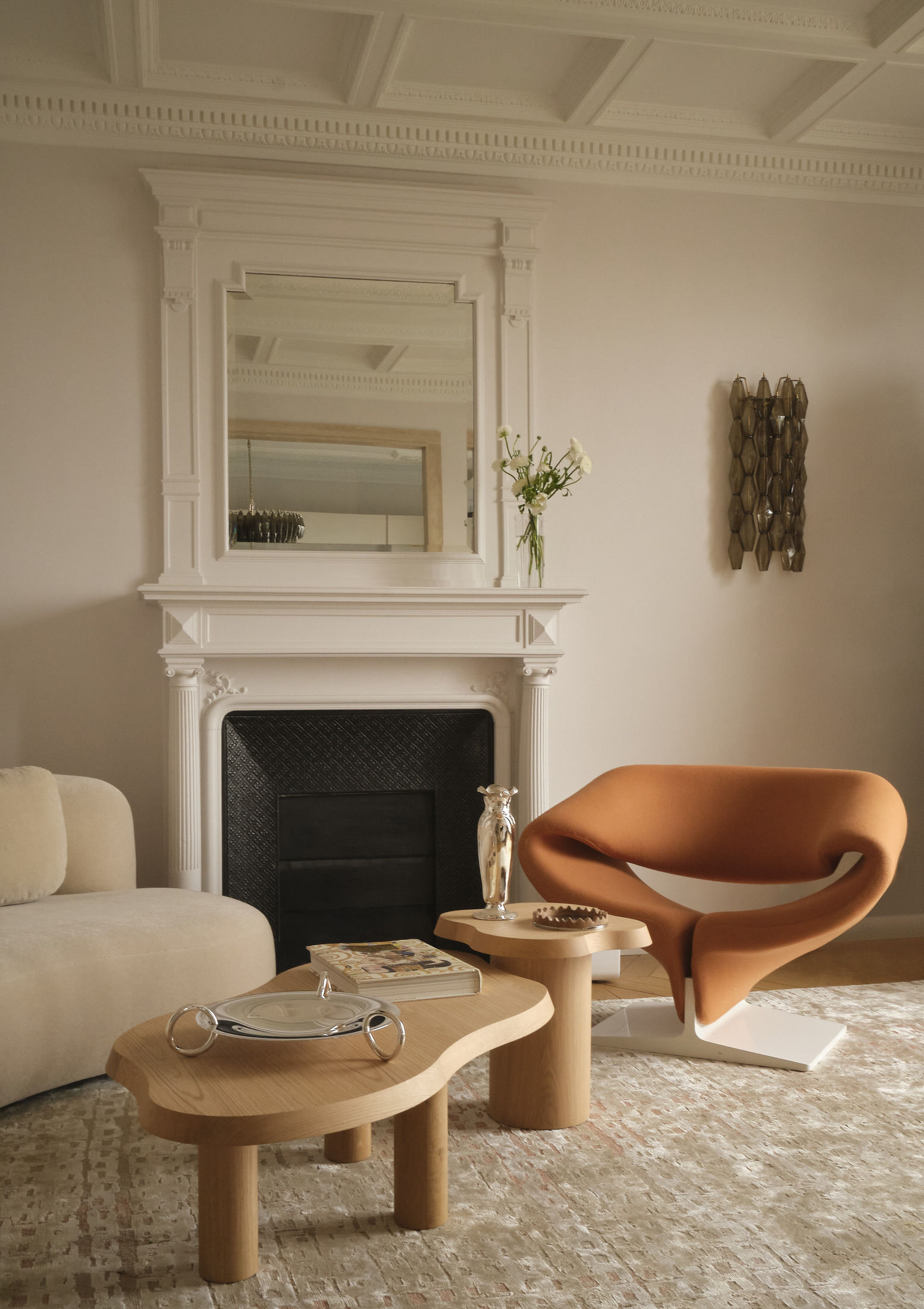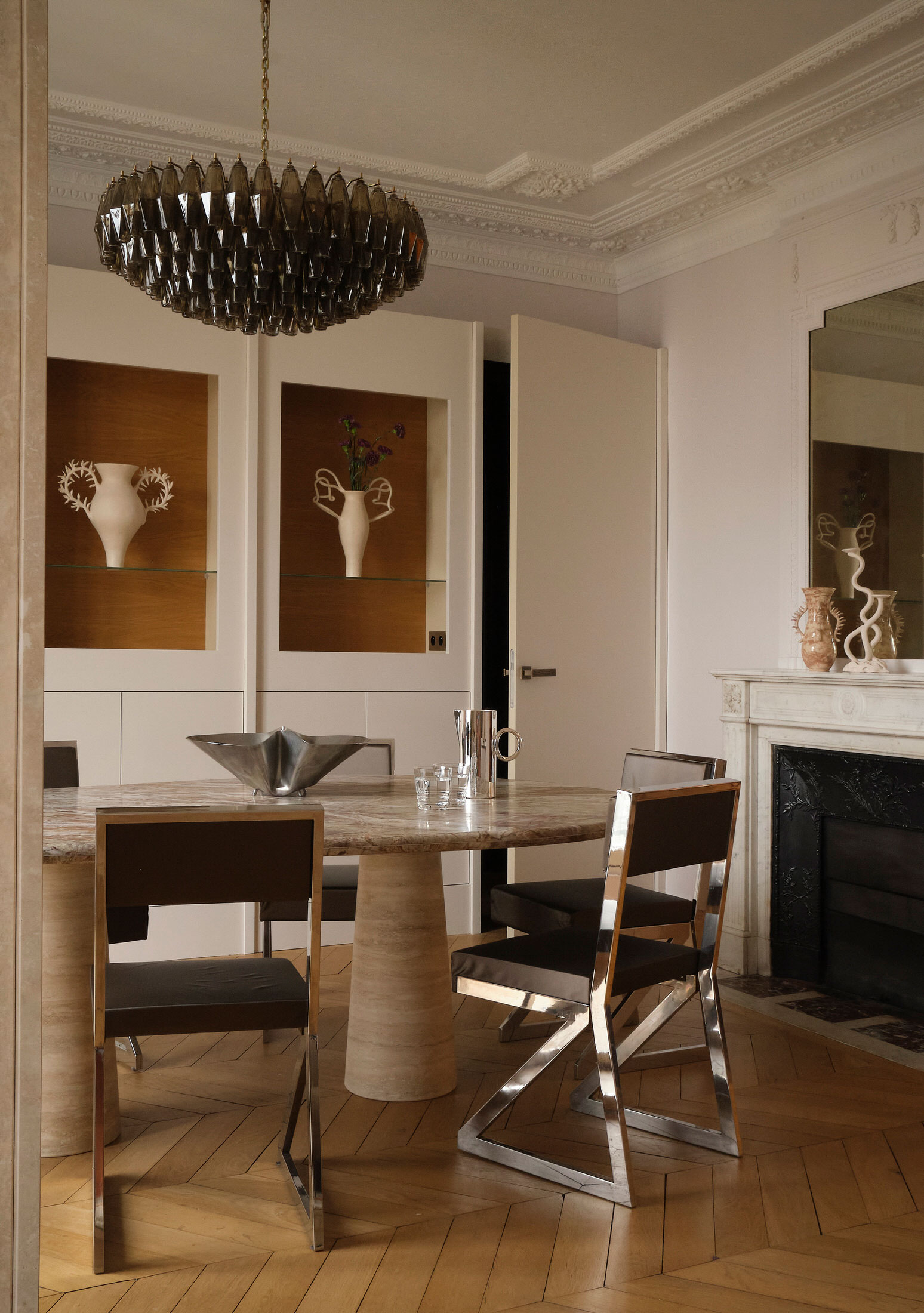 The first meeting was nothing like they expected. There was no shop talk or small talk. But there was lots of other talk. "Everything was very relaxed. We chatted about their way of living, their expectations, their family, their two babies," recalls Samantha Hauvette, one half of Paris-based multidisciplinary collective Hauvette & Madani.
The soon-to-be clients were friends of friends, which meant somewhat familiar ground for Samantha and the firm's other half, Luca, when it came to designing the family's 120-square-metre Haussmannian apartment in Paris's 11th arrondissement. As folks who love spending time at home, the owners wanted something warm and comfy.
"But the real challenge was the kitchen. They wanted something spectacular, something majestic that reminded them of Milan," says Luca.
One thing was certain: the kitchen had to be the star. And the stage had to be set accordingly. What followed was an exercise in dialled-up dazzle: the walls and ceiling were painted wine red, the cupboards were lined with stained linoleum, and an aged mirror was magicked into a backsplash. Samantha and Luca crowned the space with a brass Loula chandelier (a Danke Galerie reissue) and emblazoned the columns with chrome steel. The worktop was clad with Emperador marble, while a 'Female Silhouette' in bronze by Jean Touret (1966) from Galerie Yves Gastou Champagne, was given pride of place in one alcove.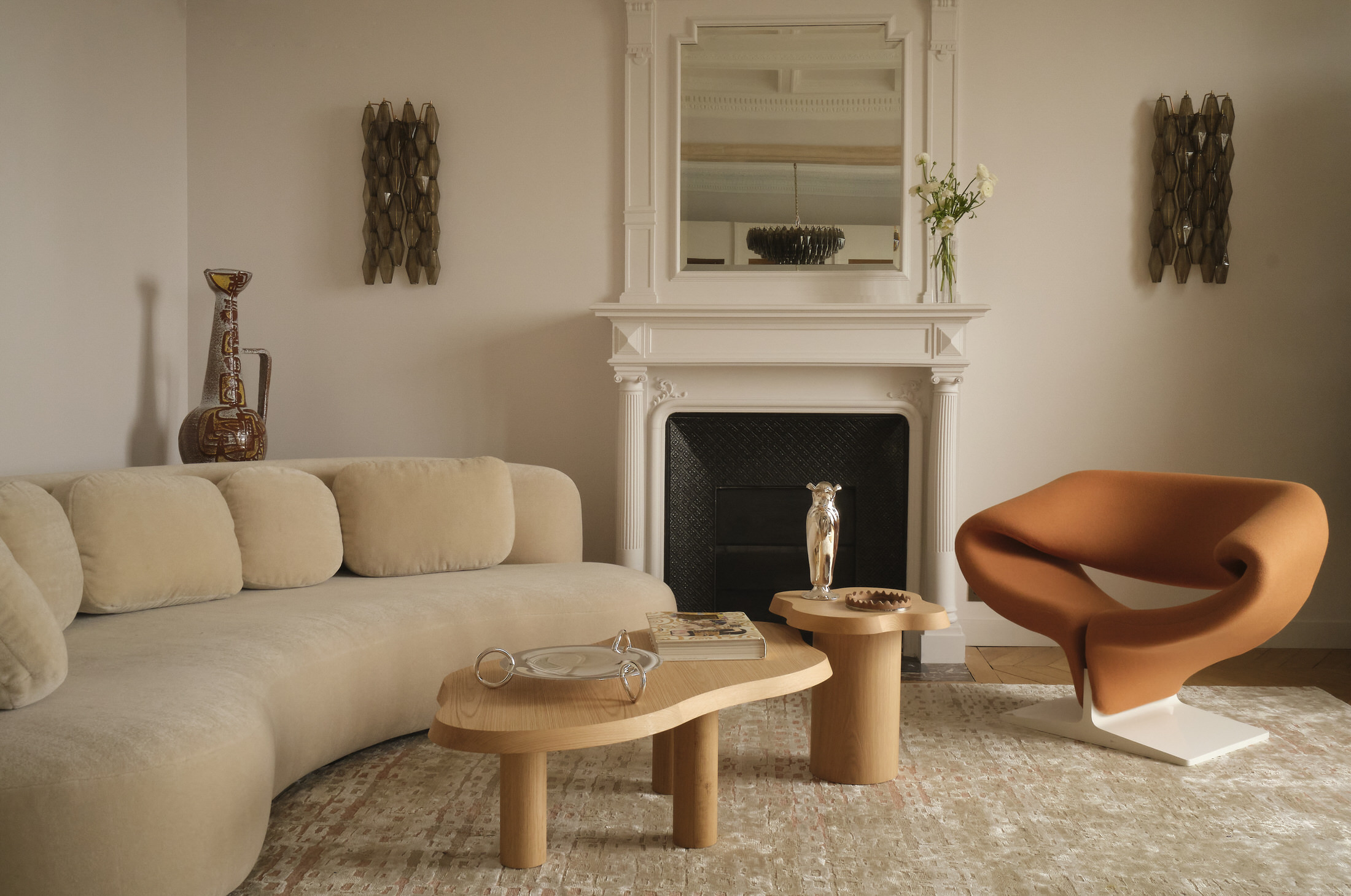 "The kitchen is a combination of French Art Deco and rich Milano colours. I also love the fact that the eccentric palette is a total antithesis to the calmness of the rest of the home," muses Samantha.
True to Hauvette & Madani's signature, the home—composed of a kitchen, a living room, a dining room, a master bedroom and two kids' bedrooms—is characterised by hushed colours and elegant decor. The entrance is enhanced by a golden oak framework, while the floor delivers a dance of light and dark Emperador marble. An Egyptian Camasca totem in Altuglas by Monique Rozanes, sourced from Galerie Yves Gastou, stands sentinel in one corner, summoning visitors indoors.
The dining room is a soothing blend of mocha, cinnamon and ginger flavours. A table with travertine legs and a marble top takes centre stage, while stainless steel and glossy brown leatherette seats by Philippe Jean from Galerie Yves Gastou serve as fitting complements. Ceramics by Morgane Pasqualini occupy the niches on the far wall. And above, a Roma chandelier in Murano glass from Danke Galerie serves as a Stygian showstopper.
The java tones of the dining room are reimagined in the living area, with some spiced orange goodness thrown in for good measure. A made-to-measure mohair velvet sofa by Pierre Augustin Rose serves as a soothing antidote to the burnt orange Ribbon armchair by Pierre Paulin. The Jeanne and Mahaut coffee tables in oak are from Gabriel Paris, while the Limelight carpet is a Toulemonde Bochart design. Meanwhile, the Cascade smoked glass sconces, a re-edition by Danke Galerie, are designed in the manner of Carlo Scarpa.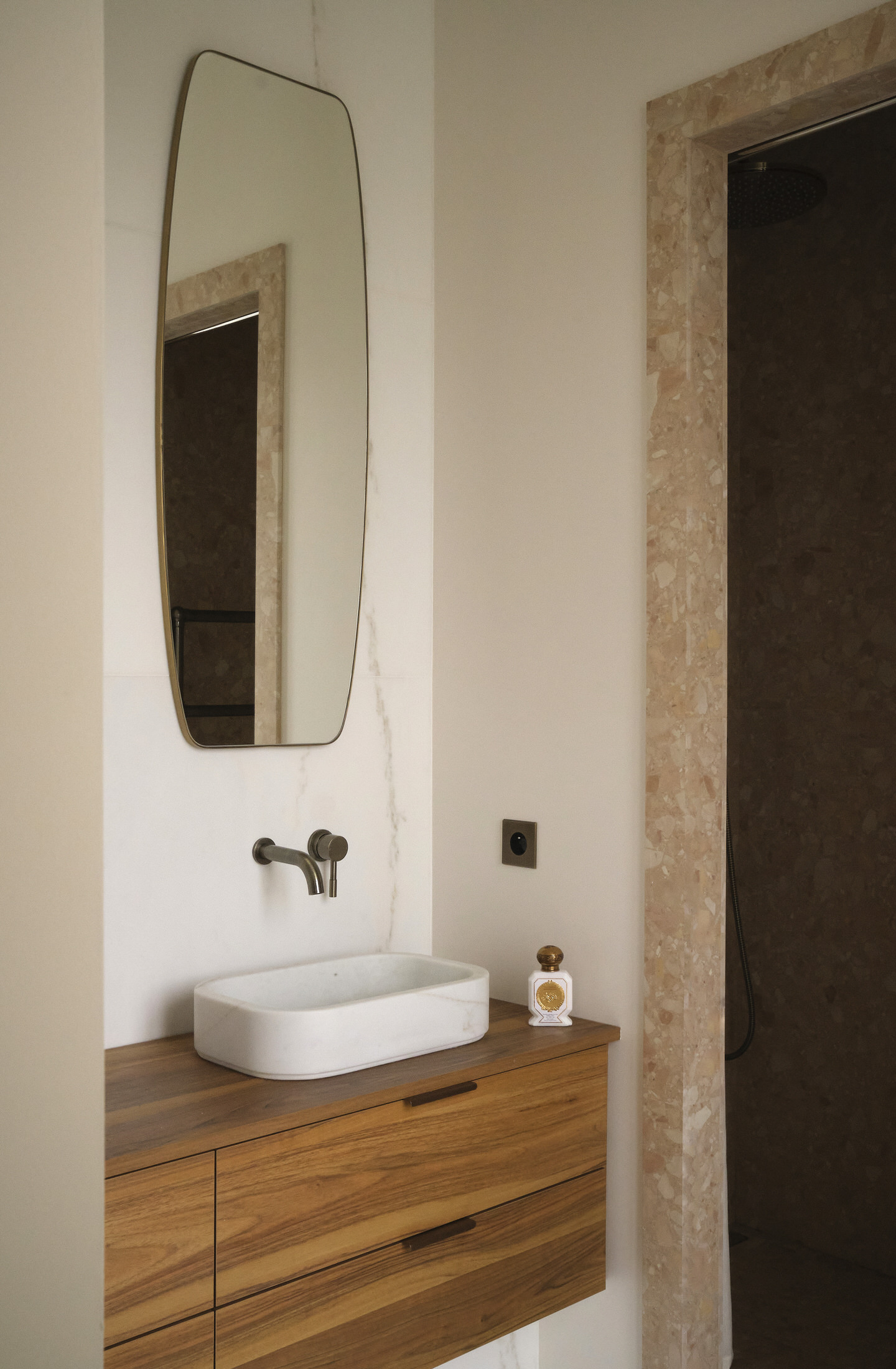 The primary bedroom carries forward the deep syrupy browns of the common areas, with an oak headboard and custom bedside tables by Hauvette & Madani. Sugar-white Mirano sconces in 1930s-style plaster lend a dash of sweetness to the dark setting. Samantha and Luca kept the bathroom pared-back with a Calacatta marble frame, a varnished walnut cabinet and a vintage Italian mirror.
Make no mistake, the project wasn't all sweetness and light for the designers. "We began work just after the pandemic so we had to deal with material and labour shortages. It caused several delays, but it also allowed us to think twice before doing things. For example, the marble door frame was initially designed differently. When we learned about the price and lead time of the original material, we swapped it for travertine, which now fits the space perfectly," says Luca.
Even then, the pair has no regrets. "Not yet, at least," laughs Samantha. "The kitchen is so intense, they may get fed up in a few years. But hey, it's the risk of our profession!"
---
[Images courtesy of Hauvette & Madani. Photography by Luca Madani.]