A Half-Local, Half-Global Restaurant in Madrid by Plantea Estudio.
Llama Inn has nothing to do with llamas. But its character is every bit as curious. The Peruvian restaurant is spread across two floors of a classic corner building in Madrid. But it is anything but classic—and anything but Madrid. Well, unless you count the architecture, which is probably the only thing that harks to its Madridian locale.
For savvy New Yorkers (or anyone else for that matter), the restaurant may seem somewhat familiar. After all, the space, designed by brothers Luis and Lorenzo Gil of Madrid-based Plantea Estudio, doffs its hat to its cousin in the Big Apple.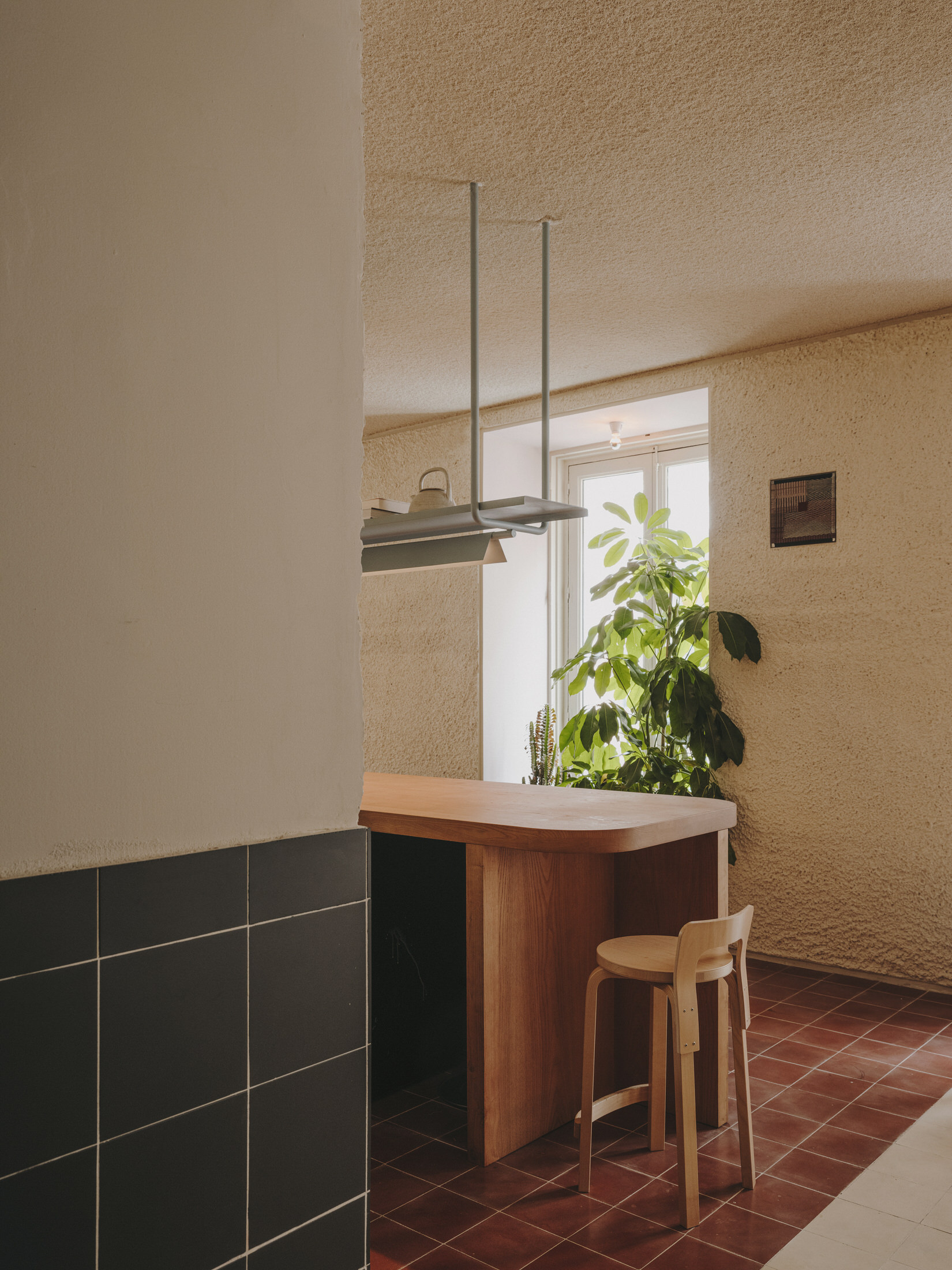 Inside, the tricolour hydraulic tile floors, matte tile cladding and rough plaster walls evoke a Tyrolean style, while artworks and accessories, and fabrics by Betil Dagdelen, enliven a bit of Peru. But it's New York that appears front and centre, in the spontaneous service, the low lighting and the psychedelic cocktails that tumble (in quick succession) out of the crimson bar.
The furniture is decidedly modern, with lamps by Miguel Milá and Charlotte Perriand, and chrome-plated steel and folded plywood chairs by Egon Eiermann, cutting a modish presence. Objects by HAY skew Scandi-chic, while lamps by Muller van Severen add a sculptural flourish. Elements by TON are complemented by some of the studio's own designs.
Drawing by Plantea Estudio indicative of the finishes and materiality across the two levels.
The restaurant keeps the spotlight on the place and the people. "It's less action, less 'stage'. It keeps the kitchen and the patrons in the spotlight," say Luis and Lorenzo.
For all the zaniness it serves up on the inside, the space blends right into its Madridian locale. It is equal parts sophisticated and casual, functional and fun. And its half-local, half-global spirit offers a little something for everyone.
"It is a perfect fit for the neighbourhood it inhabits, making a good complement to its neighbours while bringing its own dose of personality," finish the designers.
---
[Images courtesy of Plantea Estudio. Photography by Salva Lopez.]