A mother & daughter's stunning Brisbane guesthouse reno
The boutique hotel space continues to get better and better and the latest example, Miss Midgley's, in Brisbane's New Farm, is a case in point. Originally one of Brisbane's most historic homes, the mother and daughter team Lisa and Isabella White bought the property at the beginning of 2020 before opening the doors to their renovated guesthouse within a year. "The brief we gave ourselves was to create a unique, luxurious and completely chic experience for guests that didn't want the big hotel experience," says Lisa.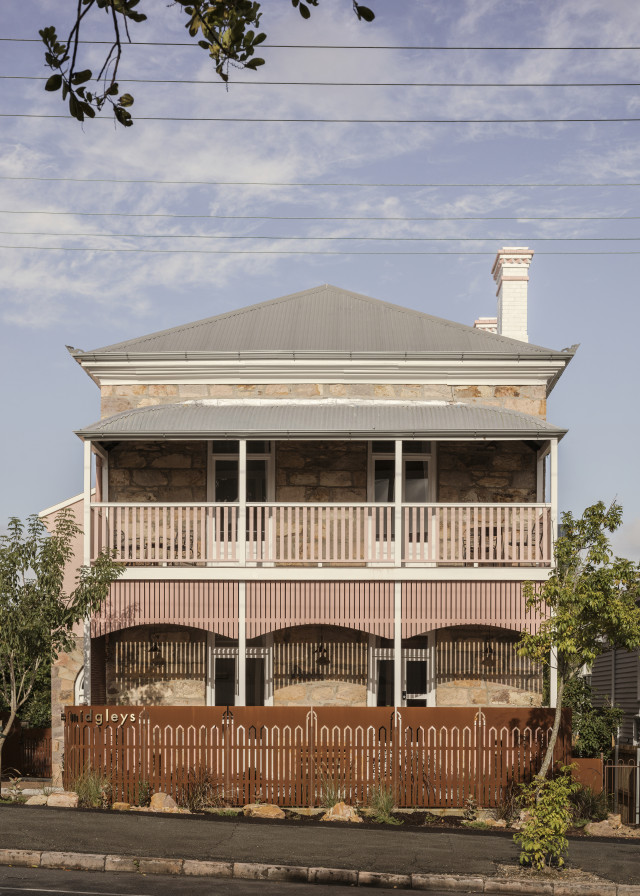 All self-contained, the guesthouse has two-bedroom apartments that cater to larger groups, families or couples and smaller ones downstairs that have generous outdoor courtyards. "Our job was to make apartments that felt like you were living in New Farm, not just passing through," says Isabella White of the accommodation that provides a car park for each apartment.
Derelict upon purchase, the house had lived many lives over its previous 160 years. It had played host to a nunnery, hospital and school before the building was converted into apartments in the 1950's. Disrepair ensued and not only did the exterior stone and render need repair, the roof needed replacing and all the windows were jammed shut. Lisa and Isabella worked hard to restore the building rather than redesign it. 
"Too often the buildings that make up our city's heritage and character are knocked down and put into landfill. The reuse of such a grand old building not only restored a piece of the community's history but ultimately gave us the inspiration point for the business and brand storytelling. It was immediately authentic," says Lisa.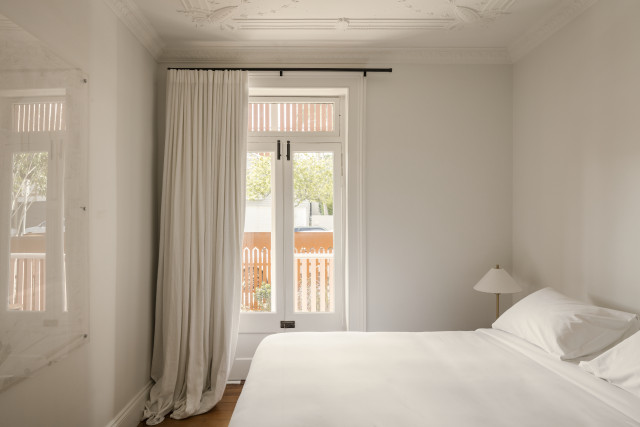 Inside, a deep terracotta shade and dark joinery contrast beautifully with the retained parts of the building that are painted in an antique white shade – the contrast of the interiors helps tell the story of the building. "For Miss Midgley's, with its historic arches and stately street presence, the colours for the exterior paint, the render and the internal design were all inspired by the famous Brisbane tuff stone that makes up the first two storeys of the house – and what a palette to work with! Pinks, oranges, purples and rusts," says Isabella.
Highlights of the renovation include its gorgeous stone benchtops, draping linen curtains, iconic Ross Didier pink velvet couches and the pink-tiled pool. "Being long-time Brisbane girls, we knew the guesthouse needed a really amazing pool experience," says Lisa.
And as for the dynamics of working on the project as a mother/daughter, each of the women brought a different but complementary skill set to the project. "We both have a Masters in Architecture, and the design process was very collaborative but our real strengths are in the intergenerational differences of our experience," says Isabella.
Lisa brings a lifetime of project and construction management experience, while Isabella runs Miss Midgley's branding, social media and website. "We adore working together, this project has allowed us not only the opportunity to work on a project we are passionate about, but to share all these experiences together. It's really special."
Photography: David Chatfield
Book your room at Miss Midgley's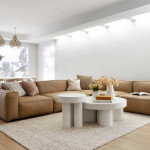 Brisbane new build inspired by Scandinavia and the Mediterranean
Despite its relatively diminutive proportions (it sits on 405 square metres of land and has a 10 metre frontage), this…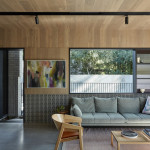 Architect's Brisbane home unique take on traditional Queenslander
Inspired by the features of a typical Queenslander, this family home flips the tradition. While most Queenslander homes are weatherboard…