A Network of Micro-villages: OnLabs Global HQ in Zurich by Specific Generic & Spillmann Echsle Architekten.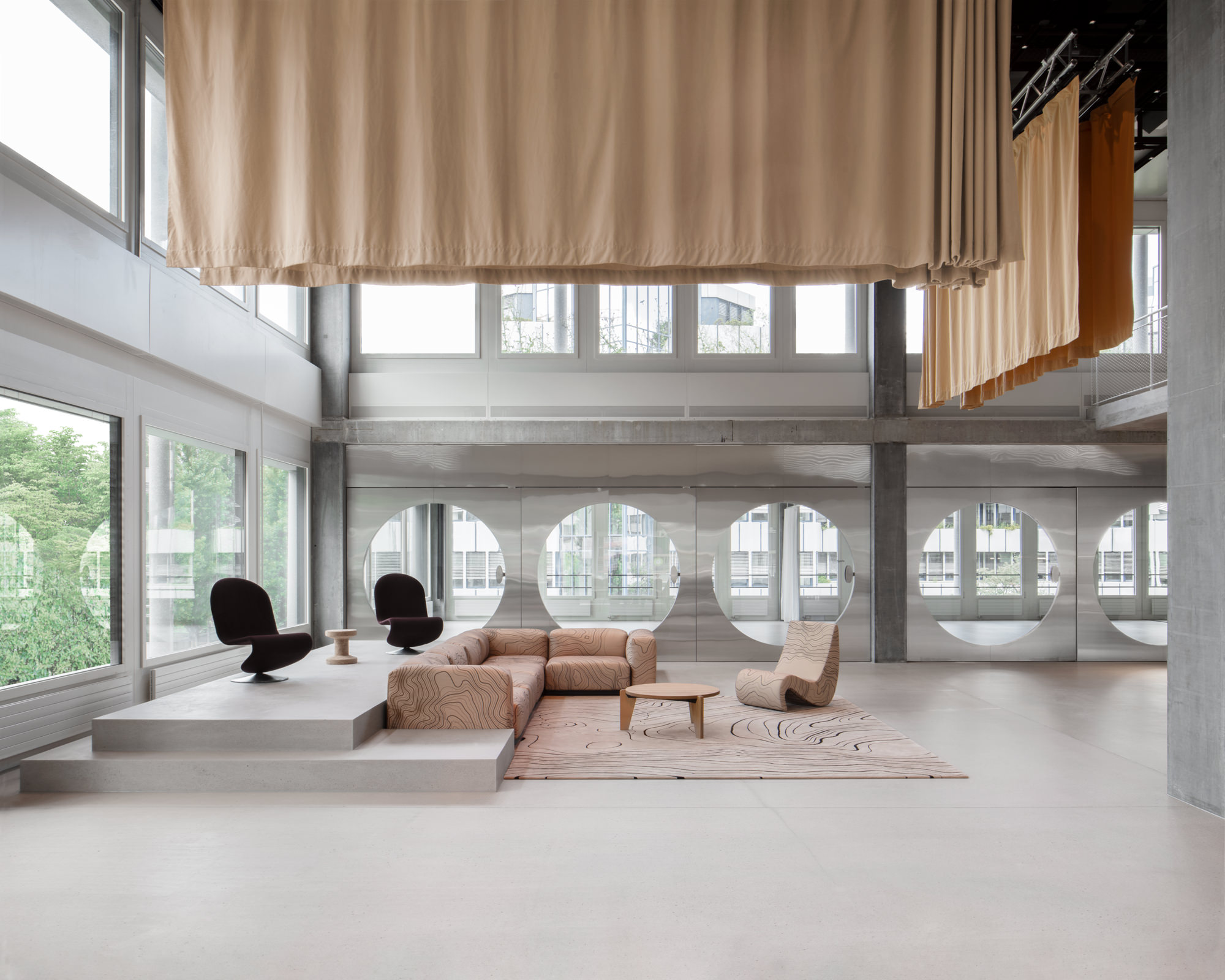 Photo by Mikael Olsson.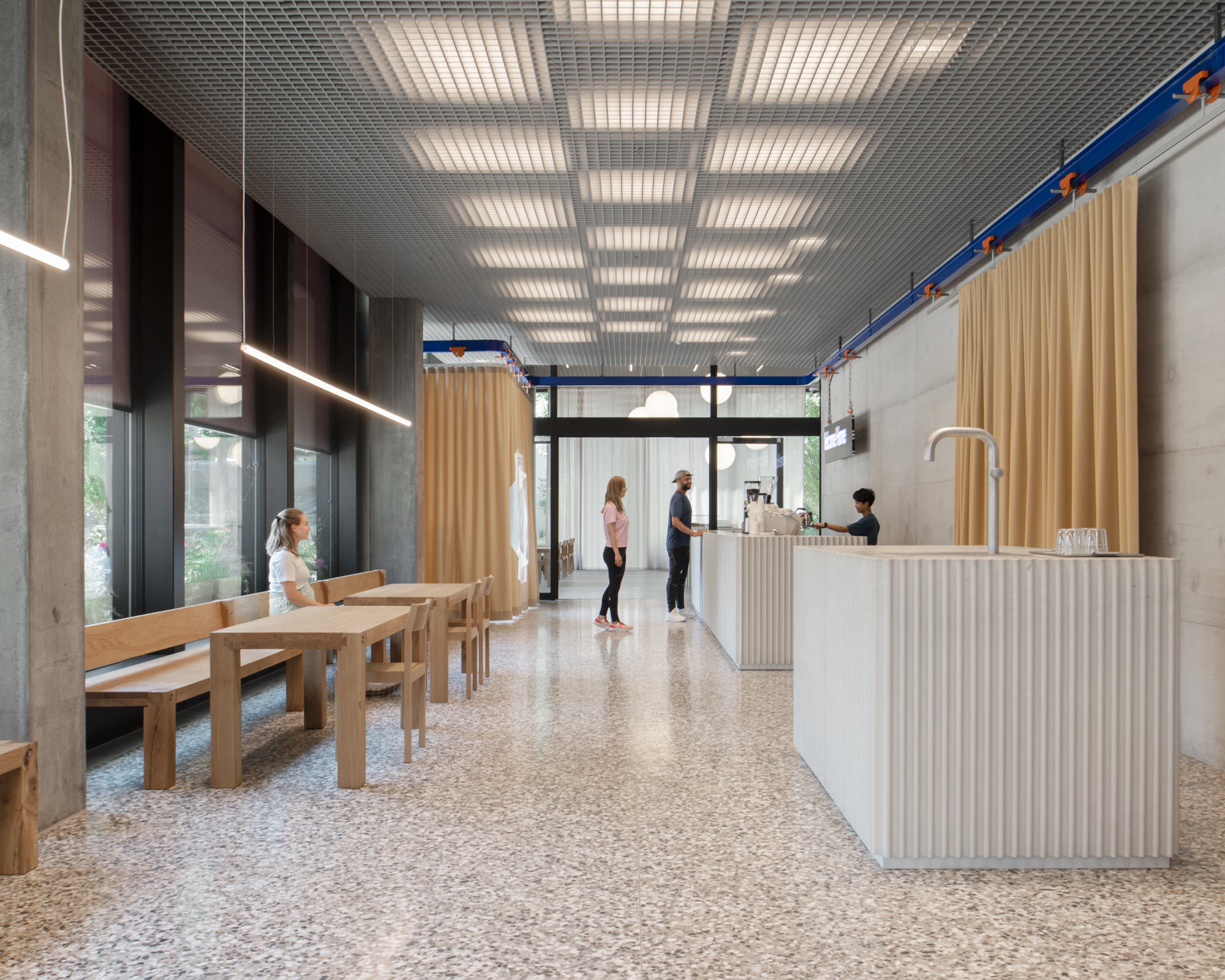 Photo by Mikael Olsson.
Photo by Mikael Olsson.
Photo by Mikael Olsson.
Photo by Mikael Olsson.
Everyone's talking about the 'new normal' workplace. What does it look like? What does it do? Tucked into a seventeen-storey high-rise in Zurich West, Switzerland, OnLabs' new headquarters—or as they refer to it, their new "innovation campus"—looks to create a workplace ecosystem for over 1,000 of its employees. Designed as a collaboration between Spillmann Echsle Architekten, Specific Generic and On's own creative team, this new headquarters presents a unique precedent for what workplaces can look like in the future.
Creating a series of vertical micro-villages, the design team share how they created various "three-storey clusters, which contain workstations, meeting spaces, booths and kitchens". They also deliberately arranged the more 'intimate' zones around the buildings' core, while other more collaborative and social activities take place in the open spaces around it.
Integrating flexibility into the fabric of the design, the headquarters doesn't just utilise typical movable walls. they also embrace elements like pivoting bookshelves, allowing the distinctly blue library and its surrounding rooms to take many forms. The library can suddenly become an enclosed cave—private, concentrated and secluded. It can also open itself up to the adjoining lecture room, becoming a more conversational foyer for attendants to spill into pre and post-events. Partially opened, the library can also transform into an informal lounge, fostering casual conversations across the workday.
Photo by Mikael Olsson.
Photo by Mikael Olsson.
Photo by Mikael Olsson.
Photo by Mikael Olsson.
Photo by Eduardo Perez.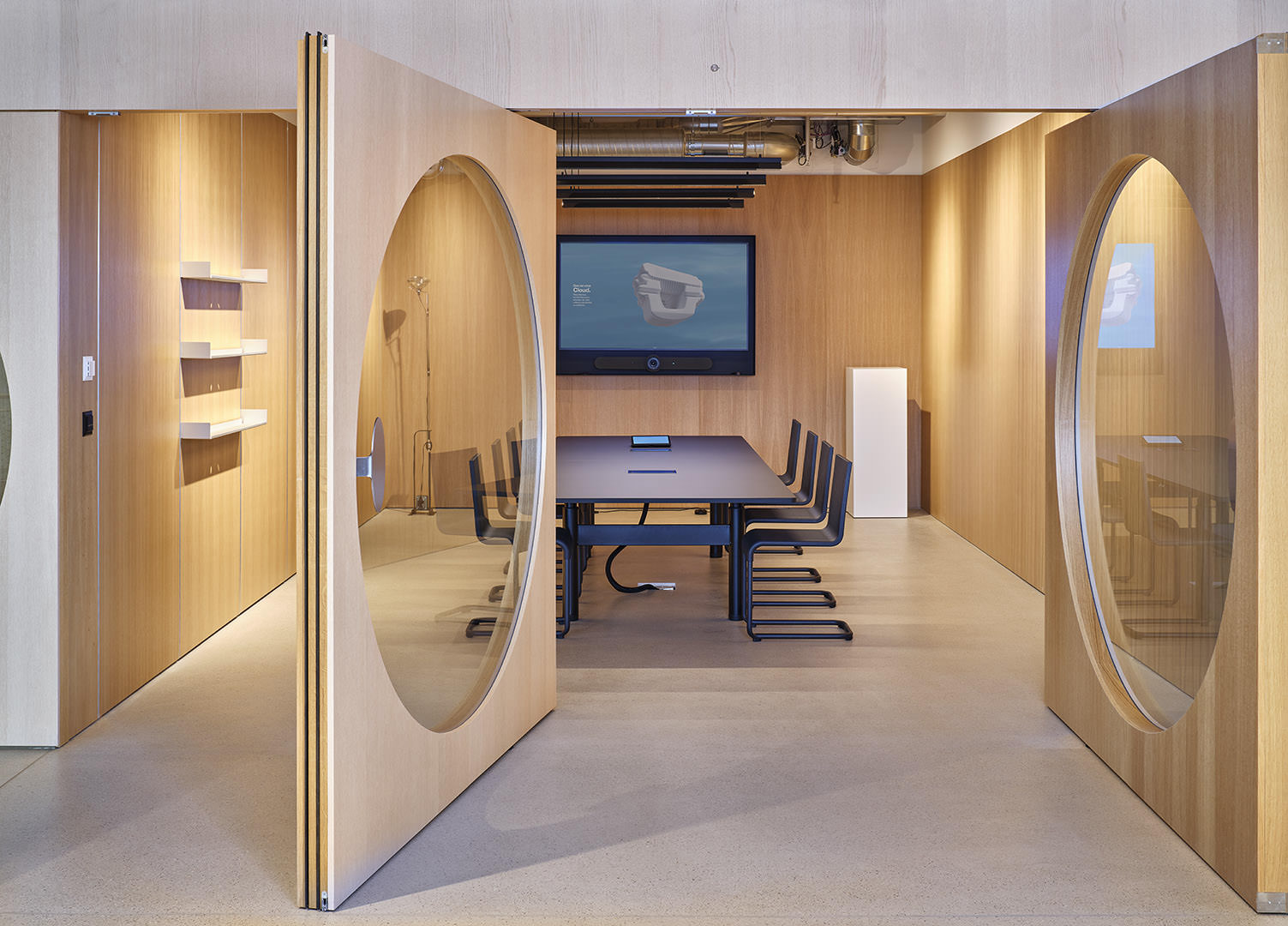 Photo by Eduardo Perez.
With no assigned desks, this design works hard to encourage employees to expand their working day across various floors. The first two floors, which are the largest, are where the prototyping takes place. Above, spiral staircases with varying radiuses carry employees to different 'clusters' within the campus. While the headquarters is a functioning private office space, it looks to civic dimensions to achieve its sense of flow and public movement through an office that would otherwise be quite stagnant.
Leaning into the themes of the EM2N-designed building, many of the spaces were also informed by the existing shell of the high-rise. The designers share how the materiality, in particular, was an element that was deliberately left raw, with "as little intervention as possible".
Constructed largely out of concrete and glass, the addition of Oakwood and rocks lace the workplace with the essence of On's origins in the alpine environment. Stone gardens with rocks collected from the surrounding alps are used across meeting spaces and key internal pathways. Prototypes are displayed on tar-black timber blocks which showcase not only the products themselves but a yakisugi technique of charring timber.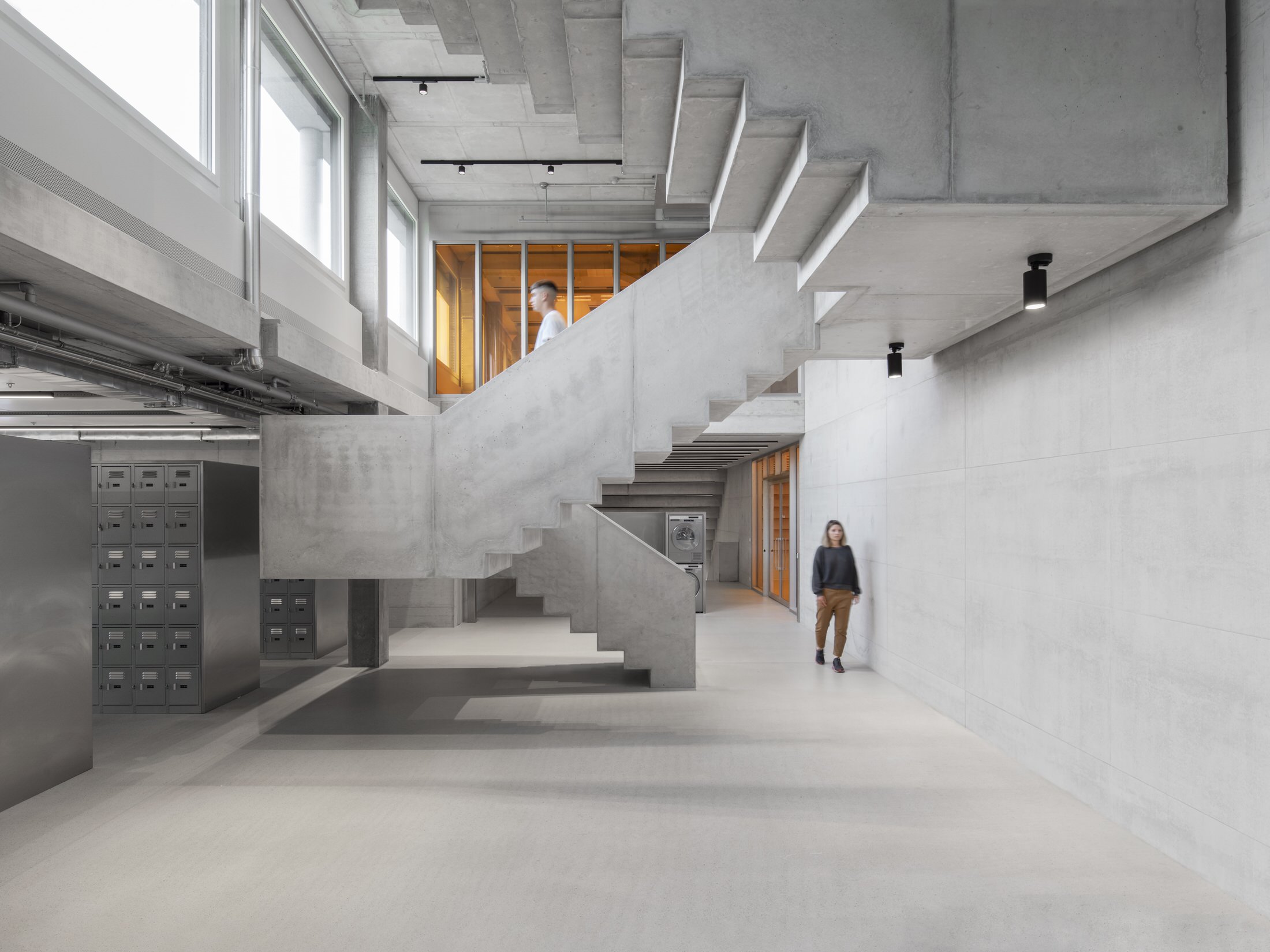 Photo by Mikael Olsson.
Photo by Eduardo Perez.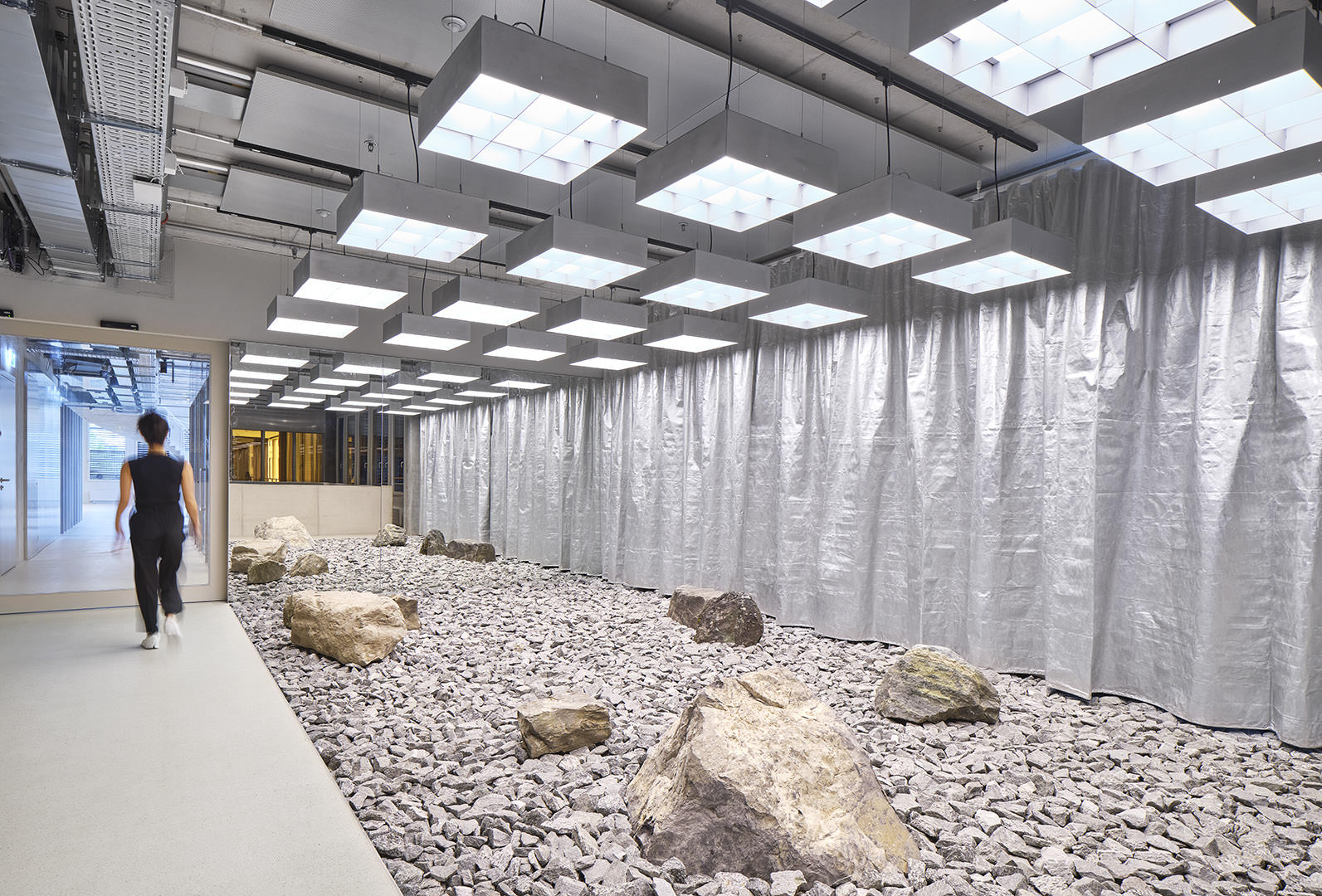 Photo by Eduardo Perez.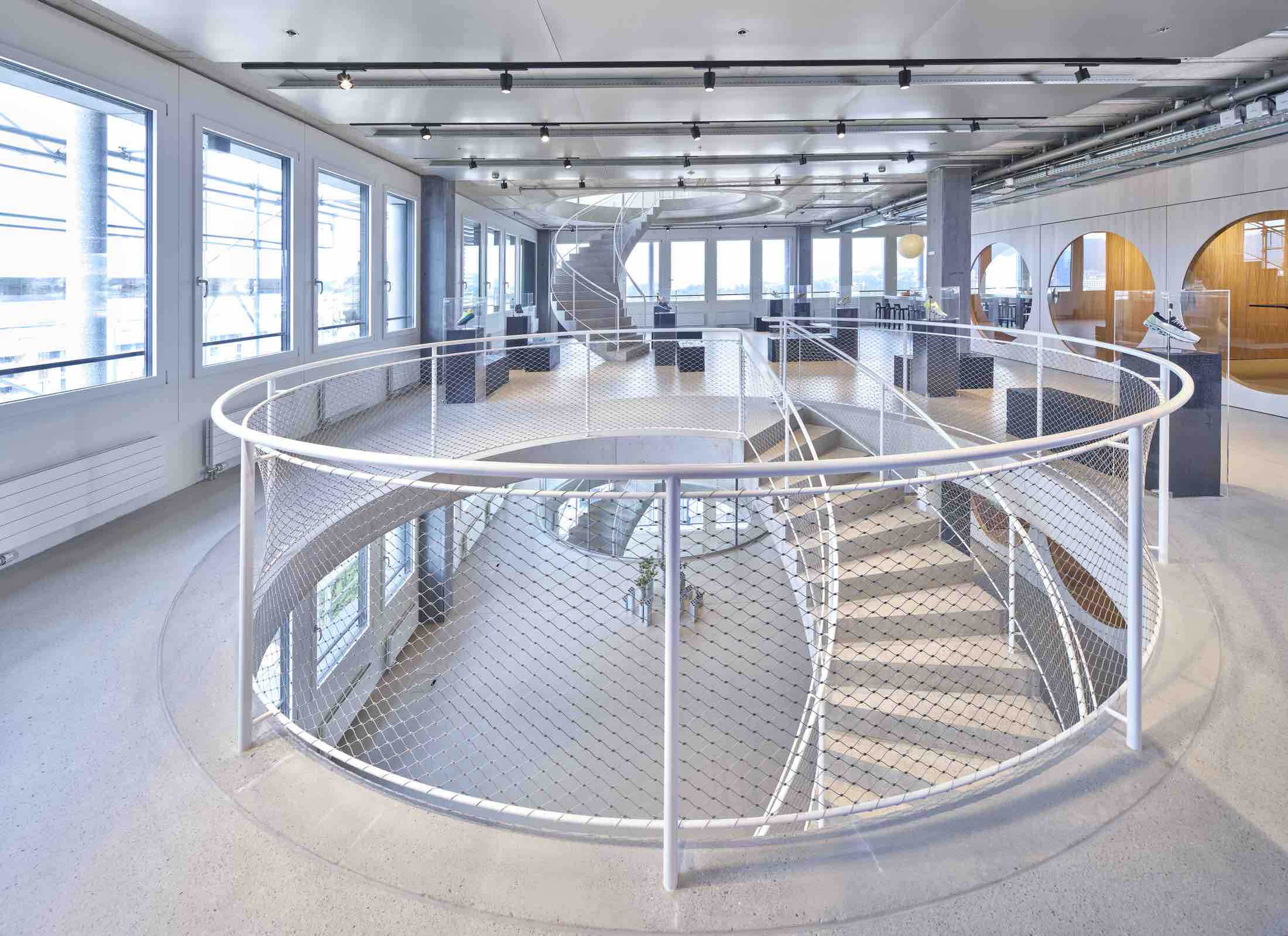 Photo by Eduardo Perez.
Perhaps the most mesmerising moment, however, would be the Engadiner pine, which is gracefully suspended—almost floating—above the mezzanine of the common area. Scattered across the offices are various carpets and upholstery elements that are all customised with topographical maps of the surrounding mountains. Above them, a network of neon tubes carry through a three-dimensional trail of mountain runs.
Through adopting diverse architectural arrangements and pairing them with civic dimensions, Spillmann Echsle, Specific Generic and On's creative team have laid out the bones for a living workplace ecosystem to feed off and thrive. Tailoring the workplaces to OnLab's functional requirements, their employees are housed within a highly flexible building that is designed to move with their work day and encourage them to inhabit all its floors over the typical working week.
---
[Images courtesy of Specific Generic. Photography by Mikael Olsson & Eduardo Perez.]