A Retro Modern Vibe: Beaumont Apartment Renovation by KIN Architects.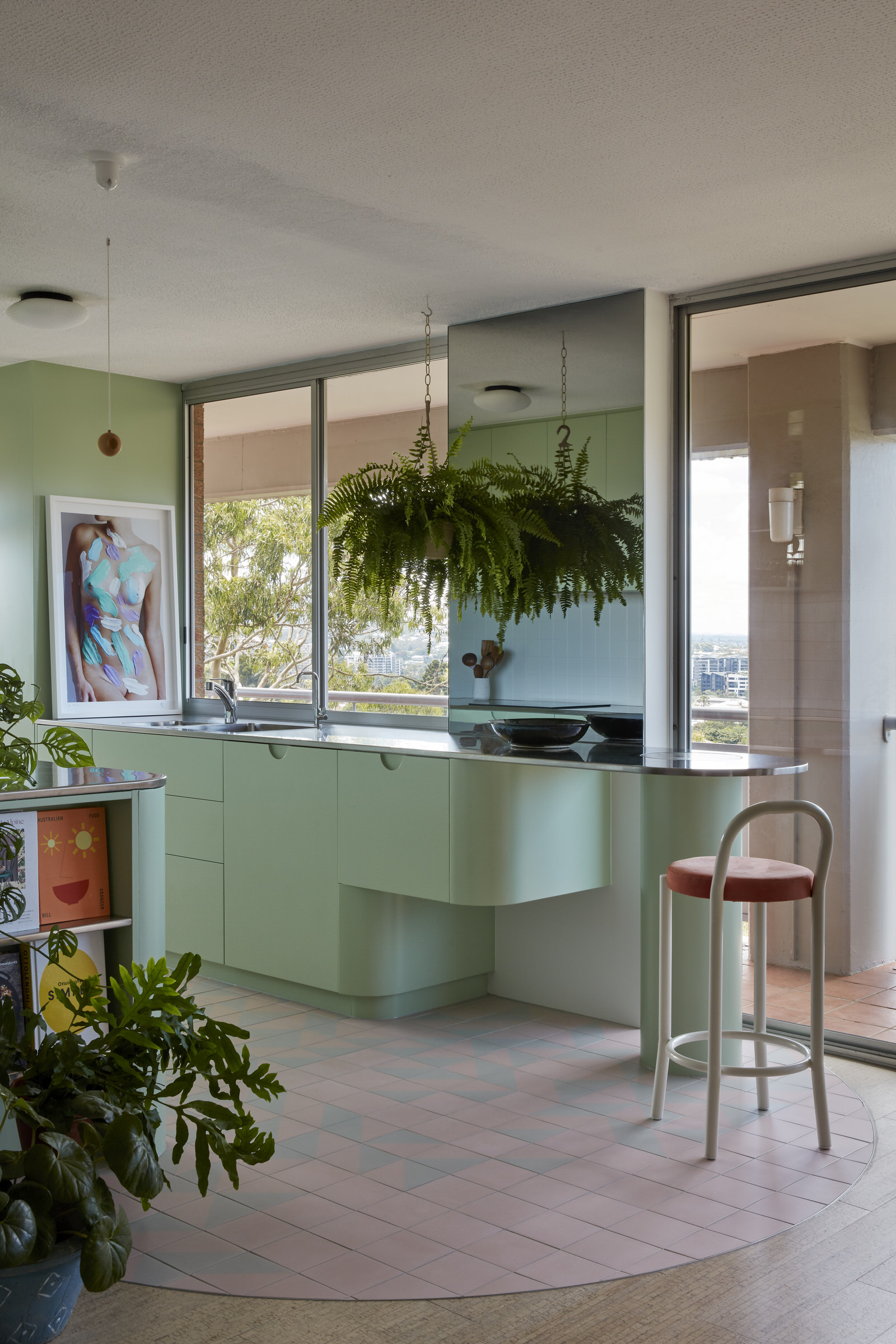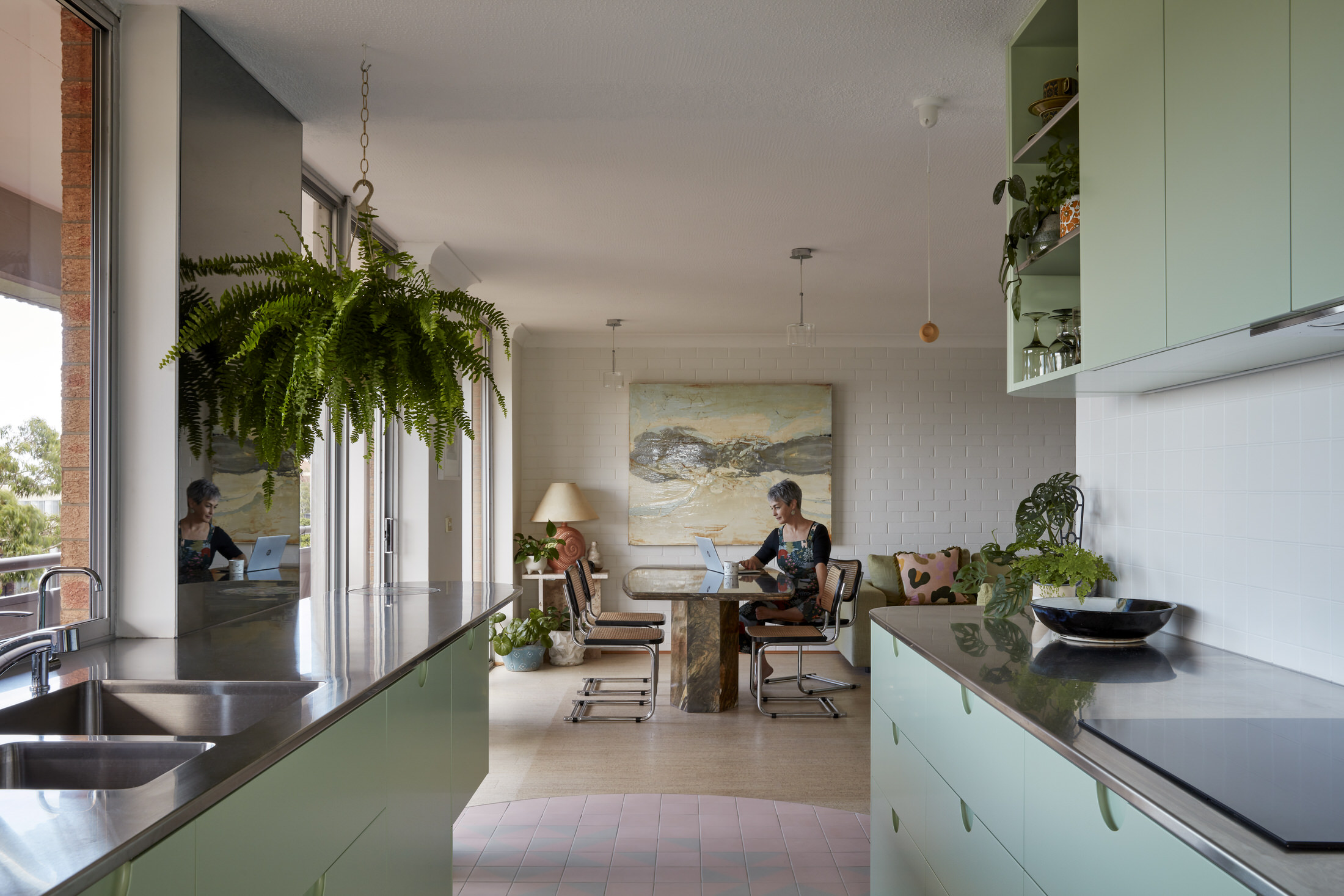 A passionate home cook's desire for a more spacious, functional kitchen lies at the heart of this Brisbane apartment renovation. Nestled in West End with beautiful city views, KIN Architects were tasked with building on the quirks of this existing 144-square-metre 1970s-era apartment. The interior happened to be an ideal setting to create a playful environment tailored to cooking and entertaining.
Vitally, the brief required a well-performing kitchen—we're talking a more generous space with plentiful storage, modern appliances and a natural flow into the living and dining areas. Working with Samadhi Builds and Mivis Joinery the team relocated the original laundry, to allow for a large pantry and spacious stainless steel countertops that imbue the kitchen with enduring functionality. The rounded end of one countertop forms a breakfast bar for two with views to the city, artfully fulfilling an important element of the brief to blur the lines between kitchen and living.
The kitchen at the concept stage. Render by Virago Visuals.
Apartment's new layout by KIN Architects.
To further capitalise on the apartment's outlook, specific features were integrated to reflect both the view and natural light within the interior. Positioning a mirror plane between two glass openings creates a seemingly continuous view along the kitchen's border, and the reflective bench tops and glossy splash back tiles act to capture and amplify light entering the space.
Surrounding these elements are design choices informed by the client's fondness for a retro aesthetic, and a desire for a colourful and unique kitchen.

The embedded Waste Terrazzo cheese plate by Five Mile Radius.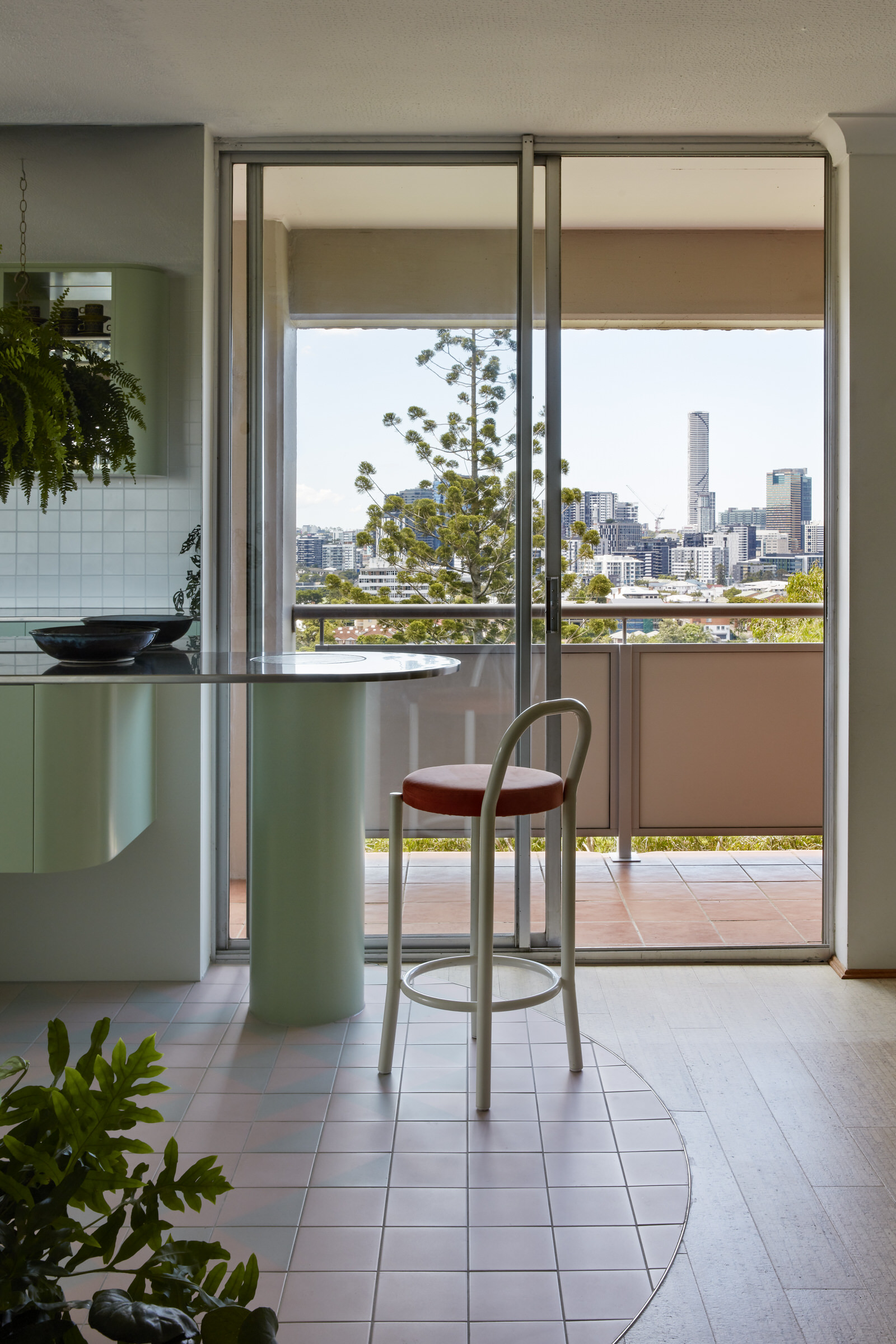 The terrazzo platter embedded into the curved countertop thanks to Five Mile Radius, breaks up the stainless steel to become a functional serving accessory, while the rose and minty green floor tiling by Ace Stone and Tile are a nod to the apartment's existing materials.
A modest intervention has opened up this home's potential, creating connected spaces that are infused with functionality, personality and longevity, allowing the resident to more easily engage in—and share—what she enjoys the most.
---
[Images courtesy of KIN Architects. Photography by Christopher Frederick Jones. Render by Virago Visuals.]