A Side of Ocean: Dunas in Belgium by Grain Designoffice.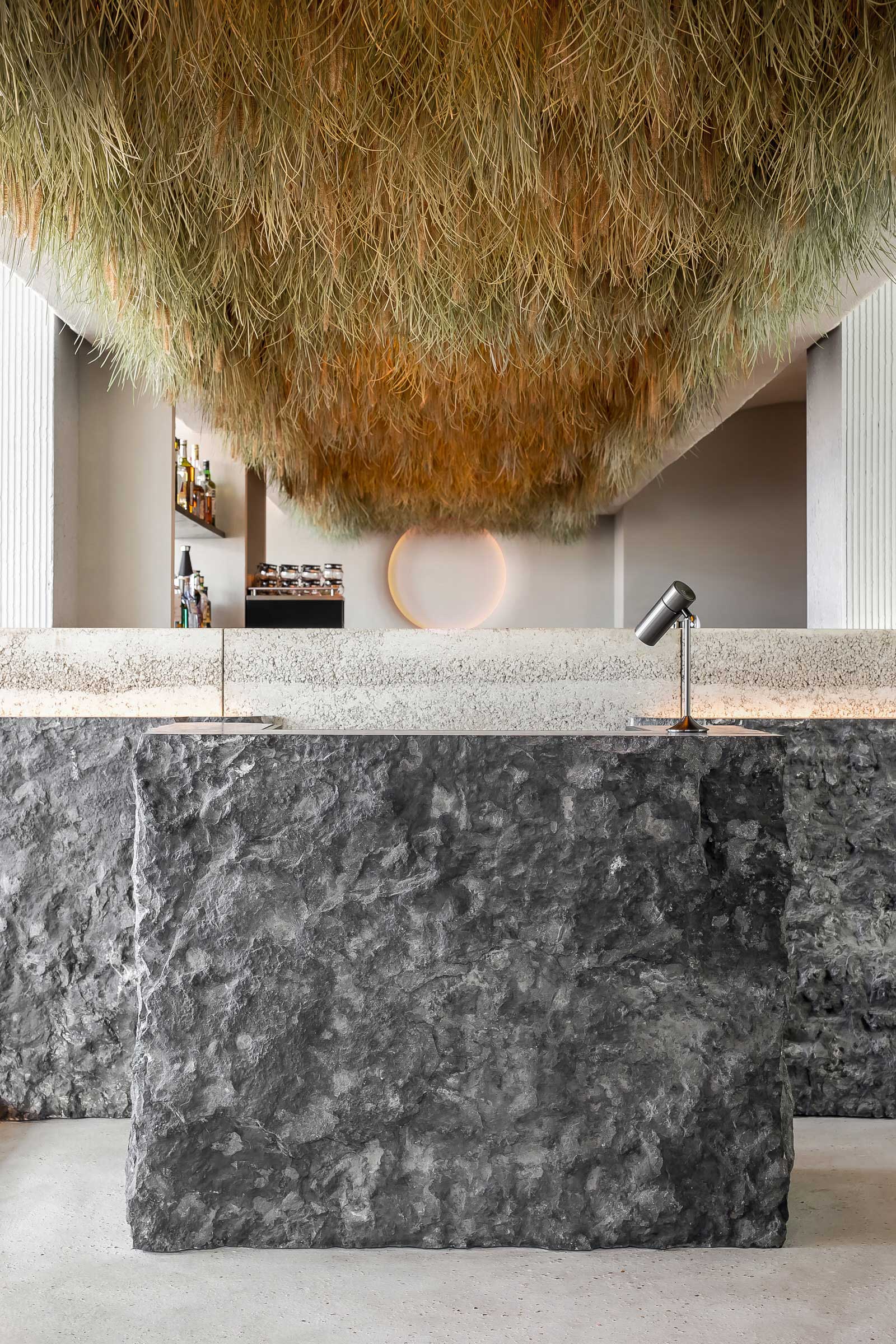 In the Belgian municipality of Knokke-Heist, not far from where the land meets the sea, is a restaurant that takes its name from the dunes that dot the coastline. To be fair, Dunas—designed by Belgian design studio, Grain Design Office—borrows more than just its name. The interior is a soft melange of natural materials and colours that hold a mirror to the North Sea—a phenomenon that multiplies as you venture deeper.
The reception is a scintillating island, with a Belgian bluestone reception desk, a dune-grass-growing ceiling, and lighting reminiscent of the setting sun (the colour of the lamp changes through the day, from warm white in the morning to orange-red in the evening).
Then, comes the water. The walls undulate like waves, this way and that, guiding patrons along an invisible seafloor. Along the way, appear glimmers of the shoreline: European larch pine and details in weathered brass and copper that nod to ships that have weathered a storm or two, and a broadloom wall-to-wall carpet by Pierre Frey that enlivens the ocean's wonders.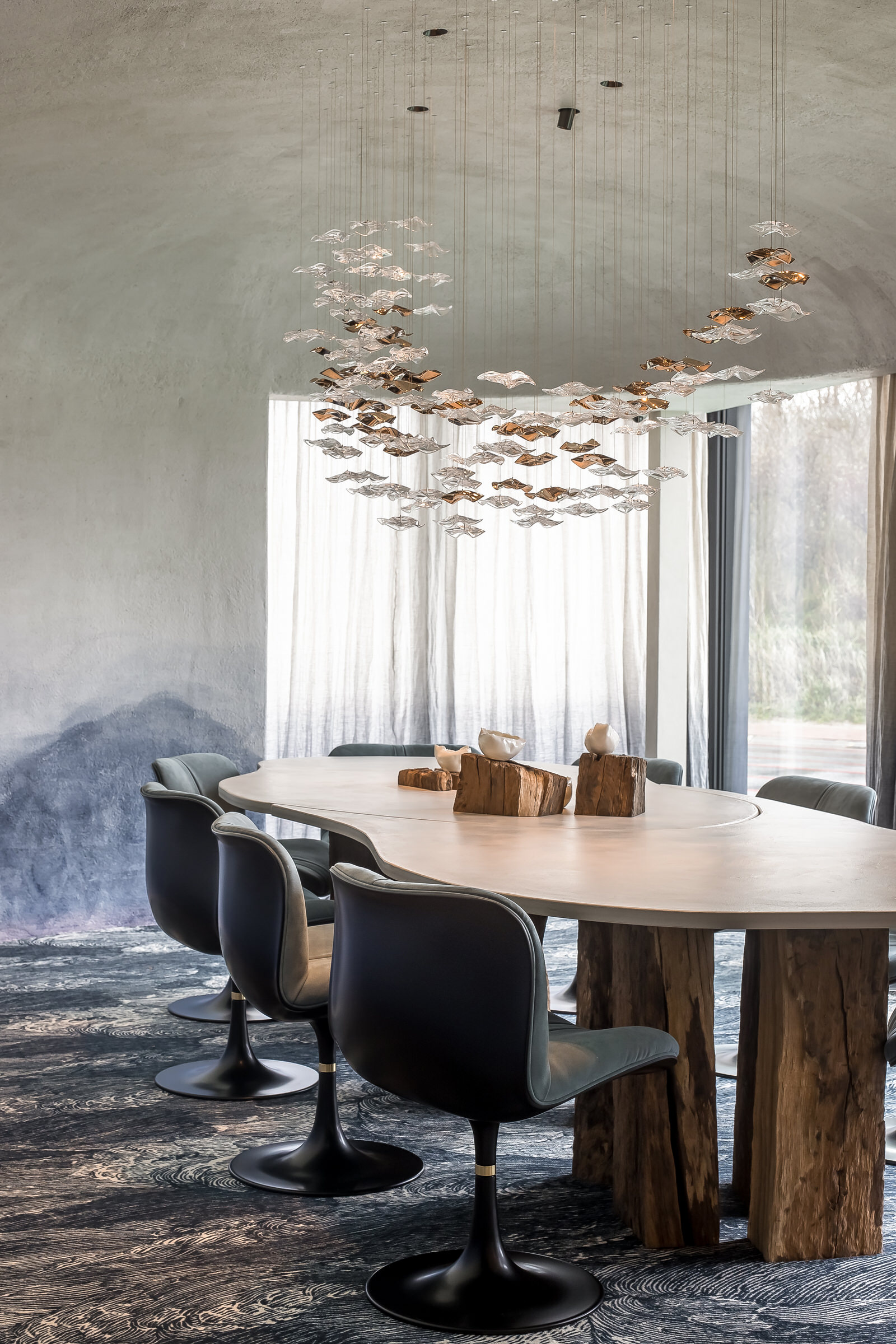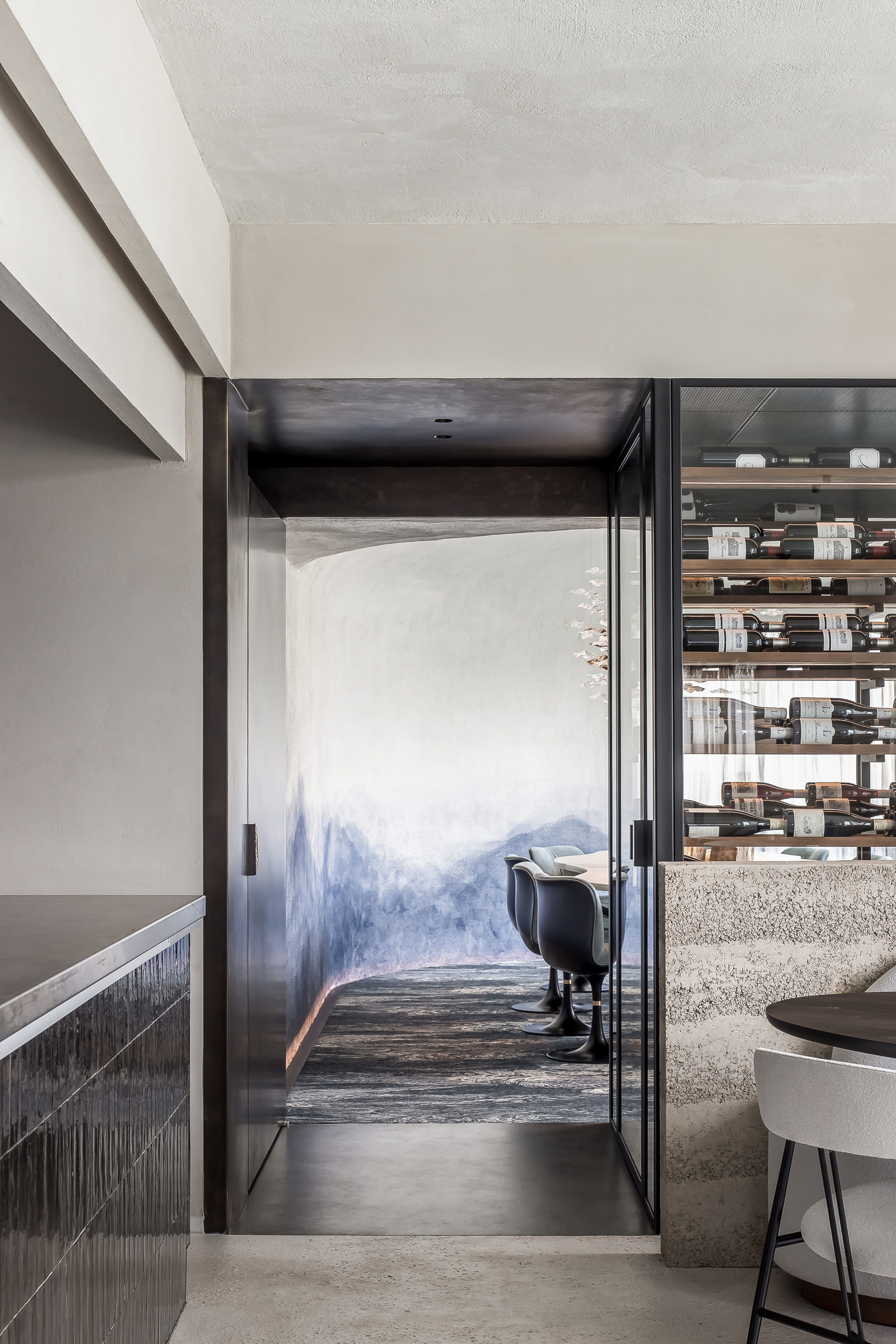 From thunderous blues and greys to greens and beiges that whisper to the waterfront, the interior is tranquil, meandering from one unexpected form to the next. The concrete back wall, for instance, curves around a constellation of benches, providing a veil of privacy to diners, while cutting a sharp contrast to the open bar at the heart of the space.
The restaurant could have been excavated from the briny deep. All the evidence says so. Take the organically shaped benches in prefabricated stamped concrete, or the floor emblazoned with shell fragments. Or even the transparent sand-coloured curtains. With tones and textures that allude to the ocean, it's hard to imagine anything here is manmade.
Similarly, the private dining area is a world unto its own, with acoustic plastering from ceiling to floor, a chandelier by Haberdashery that channels a flock of birds, and a table by Grain Designoffice with lake poles as legs. The only thing that brings you back to land, then, is the signal sense of order: the balance between open and closed spaces, high and low seating, soft and rough textures. That, and the peninsula-like DJ booth with a vintage light by Hans-Agne Jakobsson.
Dining here is dining on the North Sea, where aesthetic and gastronomic delights crest the currents of heightened activity and guests enjoy a moment of tranquil in the slipstream of that ever-flowing wave.
---
[Images courtesy of Grain Design Office. Photography by Cafeine.]