A Young Art Collector's Home by Corpus Studio.
Paris isn't the only happening area in France. To the west, Les Hauts-de-Seine is one of the booming neighbourhoods gaining attention on the outskirts of the French capital. Just 15 minutes from the city centre, the mix of apartment blocks, villas and townhouses — many with gardens — as well as restaurants, small boutiques and parks provide a lifestyle that more and more people are looking for. The owner of this 75-square-metre triplex home, nestled in a 1920 brick townhouse with a slight industrial character due to the steel lintel on its façade, is one of those people who was attracted to the region. While narrow, the interior spaces are filled with natural light that come in from both ends of the house.
A young art collector, the homeowner trusted Corpus Studio — founded in 2017 by Konrad Steffensen and Ronan Le Grand — to maximise the potential of the spaces. The home is organised with one function per level (sleeping, living, eating), with each level connected by a vertical shaft. Through this project, the architects played with volume, form, light and shadow.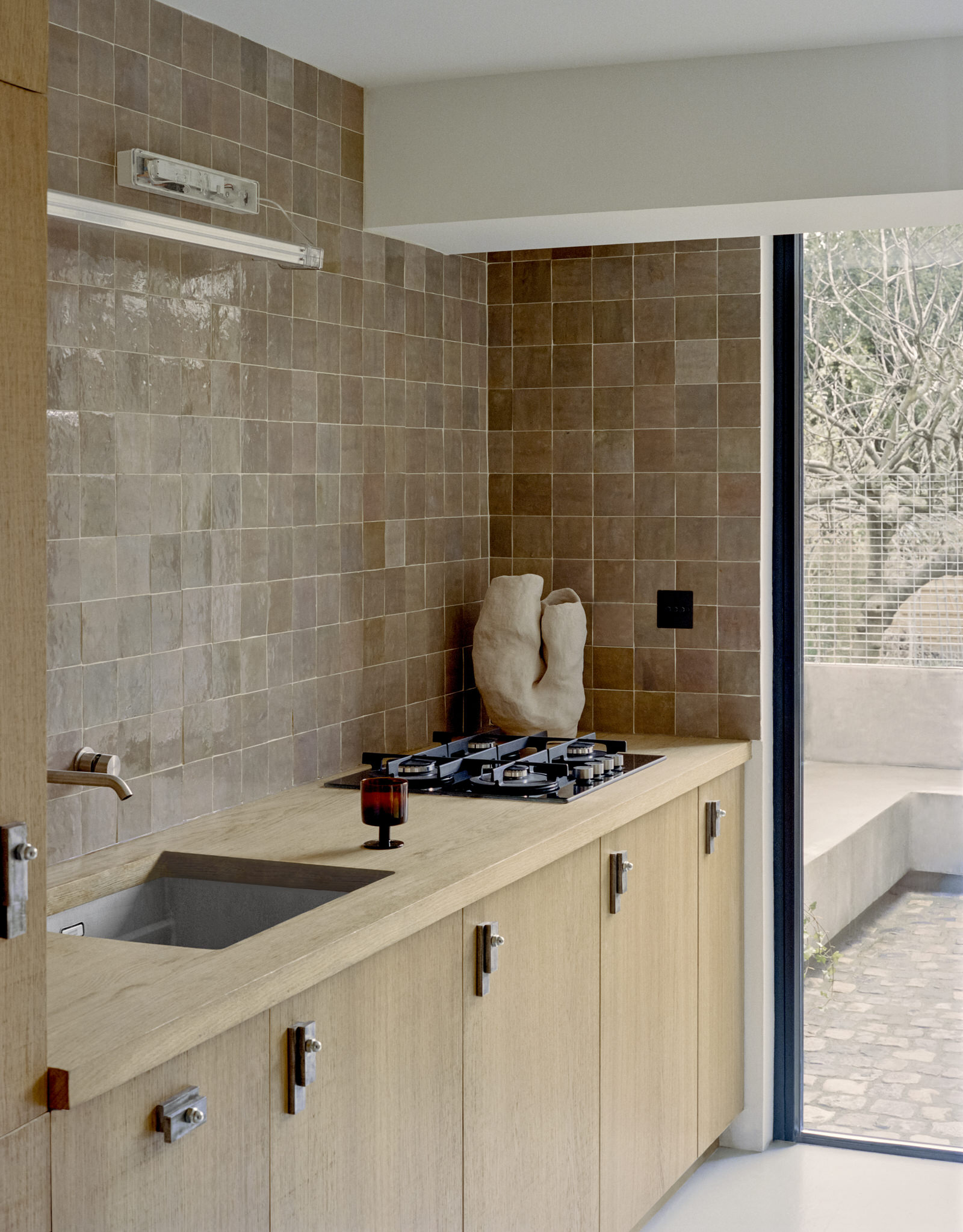 Significant structural modifications were made, such as opening holes in floors, walls and ceilings to put in place new windows and the central staircase, echoing the work of American artist Gordon Matta-Clark.
"We had some access difficulties when installing the minimal sliding frames because the large glass panes were restrictively large, but we found a way", remembers Steffensen and Le Grand. "The project took 1.5 years including planning approvals."
Everything was carefully considered, from the biggest spatial changes to the smallest details. The duo drew inspiration from several sources for this raw and glam house filled with pieces by Ennio Chiggio, Kalou Dubus, Dominique Zimbacca, Marcel Delmotte, Christopher Boots, Thomas Duriez, Martin Goerg and Matti Suuronen, among others. London's architectural scale; the volumes and large windows of early century Parisian artists' studios; Italian architect Carlo Scarpa's sense of details, metalwork, and nuanced marmorino walls; and Austrian architect Adolf Loos' theory of design, known as Raumplan; all had influence here.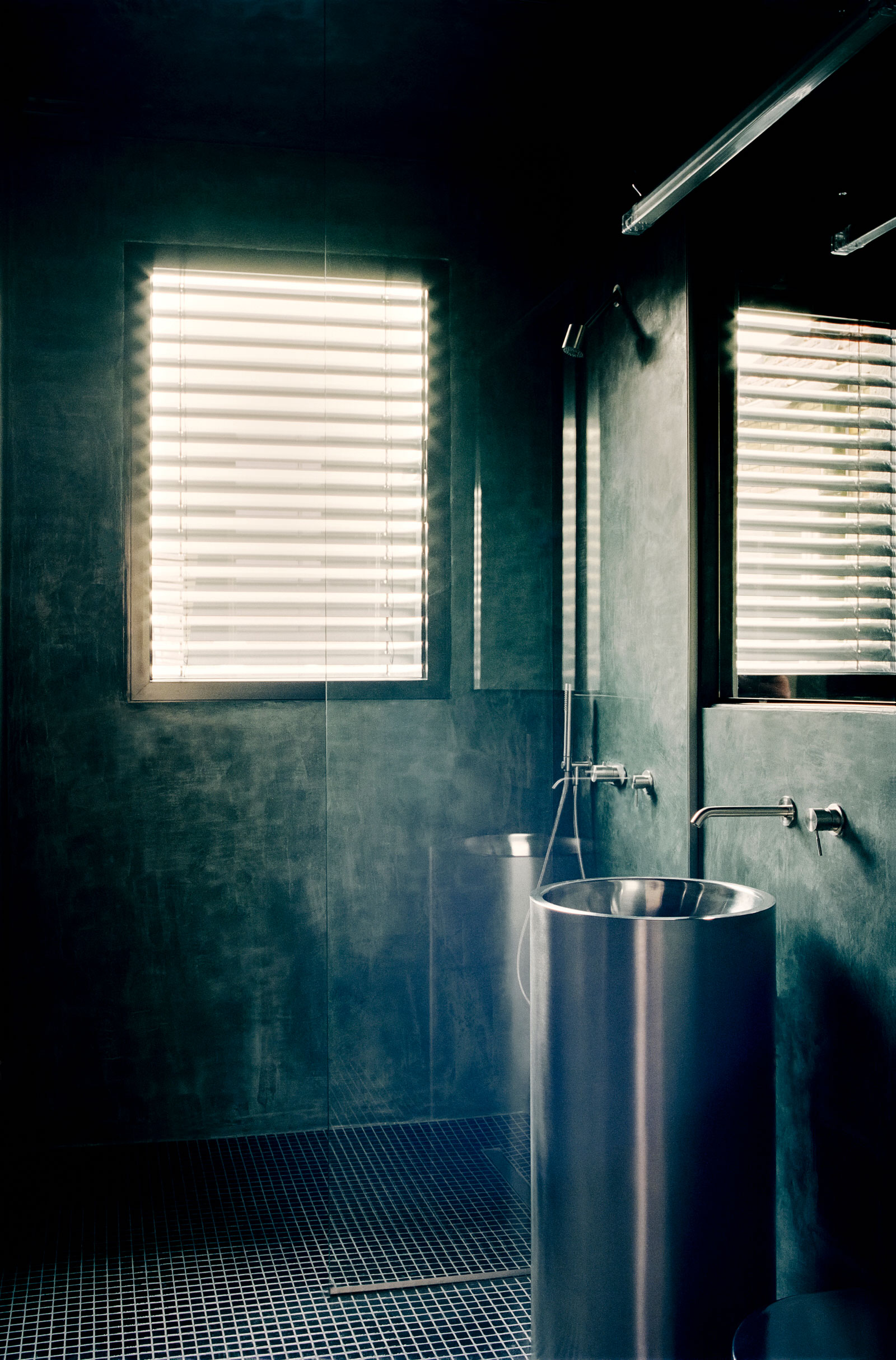 "It was very important to shine a light on the strong colours we chose throughout the project, while not overdoing it so that the natural materials and textures could be appreciated too", says Steffensen.
Douglas and oak wood, plaster, limewash paint, granite paving, steel, aluminium and zellige tiles add some warmth to the austere look. The neutral architectural finishes are complemented by touches of colour through the decoration, such as the canary/sherbet yellow in the kitchen, the mustard velvet sofa and cognac leather chair in the living room, and the terracotta Leliévre curtains in the bedroom furnished with a Pierre Chareau floor lamp and a Pierre Augustin Rose armchair.
"Harmony was found in juxtaposition and unexpected but complementary compositions", conclude Steffensen and Le Grand. "No rules, periods or styles prevail; everything came naturally and instinctively."
---
[Images courtesy of Corpus Studio. Photography by Christophe Coënon.]