Bakken & Bæck's London Office by Archmongers.
Archmongers has designed the new London office for Norwegian design studio Bakken & Bæck. Spread across two floors, the refurbishment of the industrial building in Hackney utilised durable and sustainable materials, such as fast-growing timber, recycled rubber, natural wood stains, and structural cardboard, to minimise its carbon footprint.
Not shy of a bit of colour, all the walls, ceilings, fixtures and fittings are coated in a soft, playful lime. The bespoke, free-standing timber table and deep window on the ground floor allow the main area to be configured as a boardroom and event space at will. To the side, an informal room is set up for conversation and collaboration demarcated by floor-to-ceiling curtains.
It's a casual, more free-wheeling office than some may be used to. "Our design evokes a homely environment rather than a conventional workspace. We were mindful of the need to coax people back from their home offices, through providing attractive, comfortable spaces that encourage collaboration," explained Johan Hybschmann, managing partner of Archmongers. "Considering the environmental impact of design is really important to us. We focused our efforts sourcing a materials palette that is sustainable and hardwearing, but also enduringly beautiful."
Black rubber-clad steps lead to a mezzanine space, its deep purple walls contrasting with the natural light introduced from angled ceiling mirrors. Scalloped cardboard wallpaper plasters the double-height stair void, connecting the ground and first floors. The stairs blackened steel handrail leads to the first-floor kitchen where dark Fenix doors contrast with oversized white handles, a white marble terrazzo bench top and brass fixtures.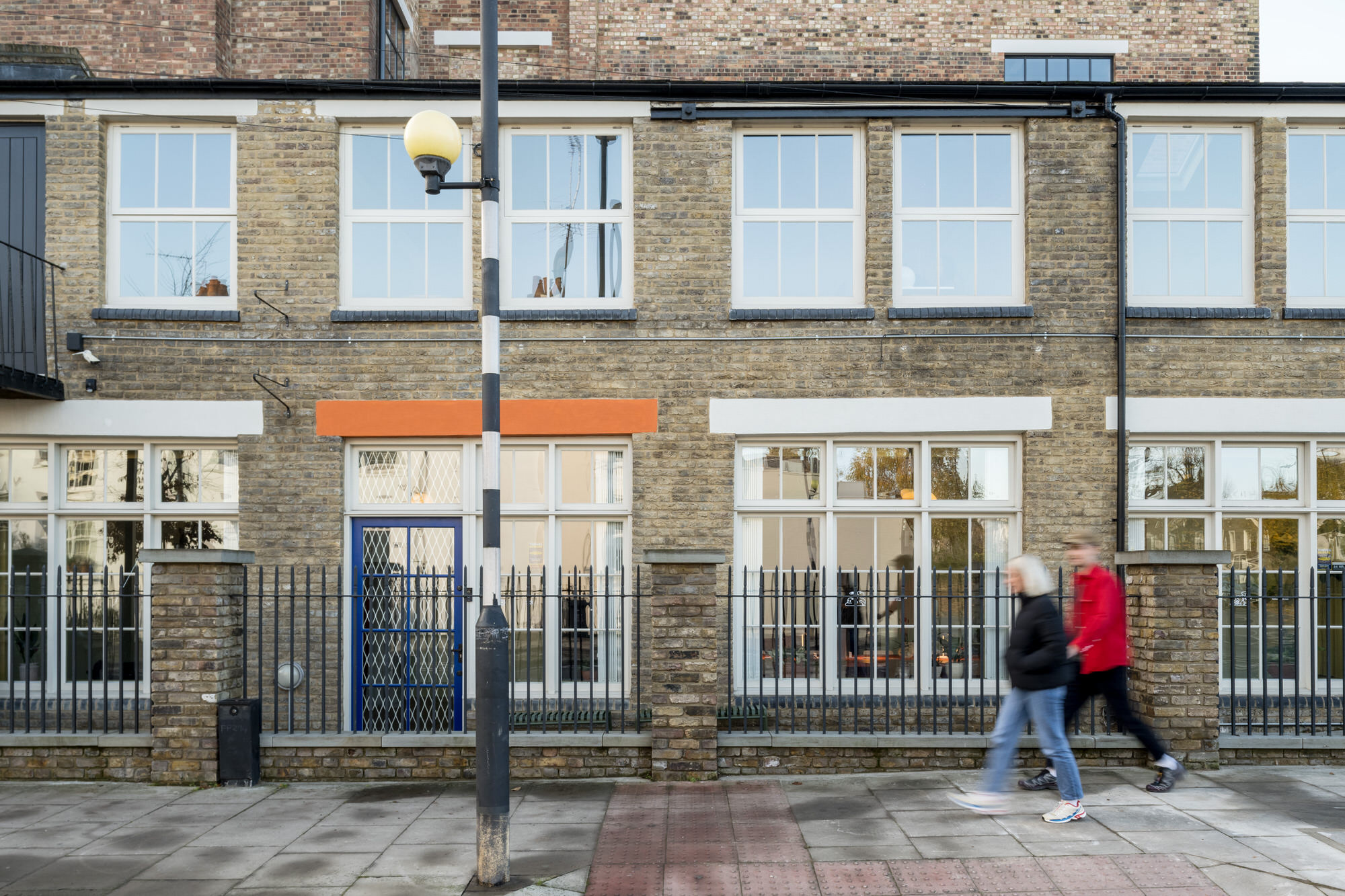 Space is maximised with exposed ceiling trusses and private meeting rooms are distinguished by an orange-stained douglas fir frame, matching the table downstairs. Textile-clad panels soften the meeting room acoustics, its speckled fabric complementing the palette of the timber. Classics and contemporary pieces from Alvar Aalto and Panton to Barber Osgerby and the Bouroullec brothers blend quietly into the unique office, adding a quiet confidence to the space.
For Bakken & Bæck, the project felt like an extension of their work practice, "At BB, we're super collaborative in our approach so working with Archmongers felt like a natural fit from the beginning. From first brief, including how we could aesthetically connect the design to our other offices, through to the details and consideration of environmental factors, the process was open and easy," elaborated the team, now with a new office that's as dynamic as they are.
---
[Images courtesy of Archmongers. Photography by French + Tye Photography.]