Before and after: a stunning kitchen refurb using existing layout
"This ol' gal with her timber benchtops, exposed canopy rangehood, above bench microwave hood and glass fronted overheads was due for a facelift. She'd been the backbone of the family for many years, however it was now time for her to take a starring role again," says interior designer Silvia Roldan, who recently transformed this kitchen for her clients without changing the layout.
"Our client's brief was simple: retain the layout, location of all appliances and the gloss white 2Pac joinery. Everything else was open game!"
With an elegant combination of colours and textures, Silvia set about transforming the kitchen. With natural stone benchtops, organic Moroccan tiles and antique brass finishes on the tapware and joinery handles, it was instantly updated.
"Materiality is paramount for us, so selecting the right stone for the benchtops meant the new design would have longevity and a timeless character," said Silvia, owner of Studio Esar.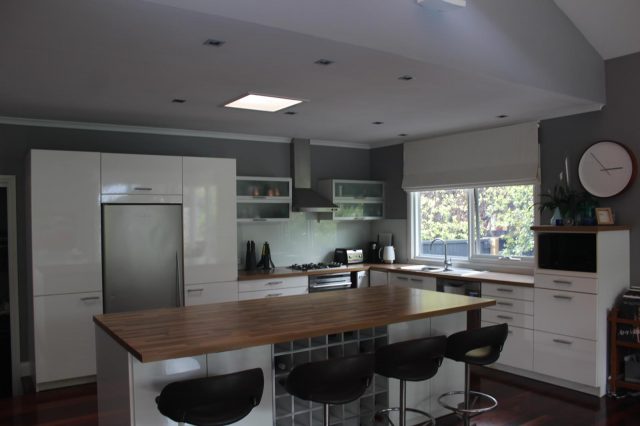 The glass fronted overhead cupboards were given an overhaul with more contemporary 2Pac doors and the grey on grey of the overheads and natural stone benchtop in New Grey Tundra created a tonal harmony. The open wine rack underneath the island bench was concealed behind new door panels.
"To signify the end of the kitchen, we removed the hood where the microwave was housed (and relocated it to inside the pantry) and replaced this with new overhead joinery consisting of a cupboard and open shelves. This not only opened up the area but created a quaint end to the rear bench and allowed our client to display some of her collected ceramics," said Silvia.
"Each space we create is highly tailored and rather than following trends, our studio is led by emotion and mood as we understand the power an interior can evoke. We pride ourselves on having an eye for detail and with this precision, we create textural and colourful spaces that are contemporary and classic," said Silvia.
For more on Studio Esar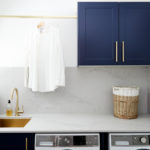 My new navy and gold laundry revealed: before and after
Our kitchen was the very first room we renovated in this house, almost four years ago. It was a case…
Australian kitchen trends: New cooktop combines induction & gas!
From a brand new style of engineered stone to a combined induction and gas cooktop, there are plenty of inspiring…