Bohemian spirit infused in art-filled St Kilda apartment reno
"Moving from a sprawling modernist house to an apartment would normally be a difficult adjustment, but after a substantial cull, it was a surprisingly smooth transition," says Kate Cowen of her charming beachfront mansion apartment that's located inside an historic 1861 St Kilda building.
Kate made the decision to downsize due to the changing dynamics of her family – her two daughters are now adults, and she doesn't need so many rooms. Having engaged Bower Architecture and Interiors on her previous home, Kate entrusted the practice again with the interior refurbishment of the apartment that had been home to the previous owners for the past 30 years.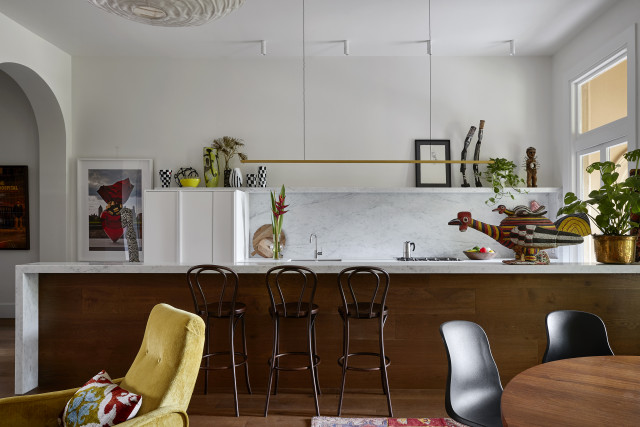 "Kate's brief to us was to transform the existing dark spaces into a refuge that she would love spending time in. It was to be unapologetically a space for her and the rich and joyful life she leads as a fabulously single woman," says Anna Dutton, co-director at Bower Architecture and Interiors. A frequent entertainer, the home also gracefully adapts to host large and small groups of family and friends with the interiors providing a canvas for Kate's large collection of artwork and sculptures.
"Kate is a collector of magical objects and art, frequently finding curios in auction houses, second hand store or even left by the side of the road, restoring them and giving them a second life. Artworks have been selected with passion over time with many of them reminiscent of different eras throughout Kate's life," says Anna. Rather than compete with the collection, the refurbishment features pared back, timeless lines and finishes that also celebrate the existing character of the Victorian interior.
The spaces were reconfigured to subtly conceal the more private areas of the home from the first floor living and entertainment zone. "There are few rooms, but the volumes are breathtaking. The four metre ceilings and living area overlooking the beach are gob-smacking – everyone who visits has the same reaction," says Kate.
A refined steel staircase connects to the lower level of the apartment where the master bedroom, second bedroom, retreat/third bedroom and bathroom are now situated in what was originally two voluminous Victorian spaces complete with ornate cornices and fireplaces.
"Rather than break the majesty of the original spaces, we carefully introduced walls which are separated from the ornate ceilings by fine steel framed windows which allow the lines of the original rooms to flow through them. In addition, they spread natural light throughout the spaces," says Anna.
And while many of the finishes are on the neutral side, there's an explosion of colour in the powder room and bathroom where saturated turquoise Moroccan Zellige tiles are combined with a curved tiled ceiling in a nod to St Kilda's colourful bathhouse history.
Photography: Shannon McGrath | Styling: Kate Cowen
For more on Bower Architecture & Interiors
Minimalist makeover gives dark Melbourne terrace a light new look
Another project by the talented Melbourne architect Bonnie Mills, this Richmond home was renovated recently with a clean, minimalist design…