Brisbane new build inspired by Scandinavia and the Mediterranean
Despite its relatively diminutive proportions (it sits on 405 square metres of land and has a 10 metre frontage), this Scandinavian inspired Brisbane home sits proud on the street. "Even though our house is only eight metres wide it looks quite grand because we don't have a garage attached to the side," says the home's owner and interior designer Christal Fysentzou.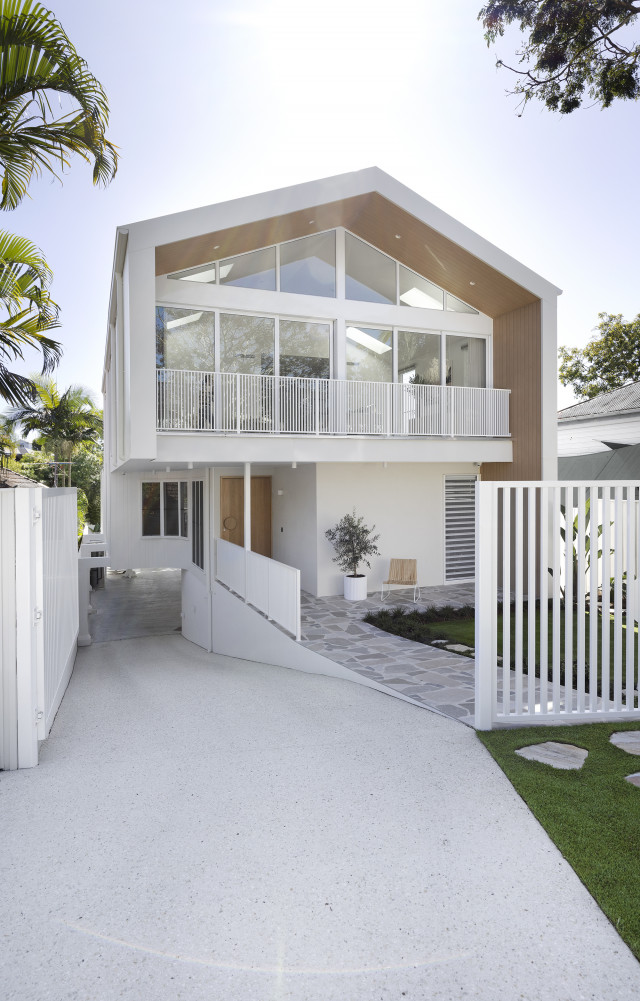 Designed in collaboration with Koda Design, Christal managed the interiors while her husband Chris Fysentzou was across the build – all under the banner of their company Zou Build.
"We wanted to create a different form of Queenslander as we are in an area with a traditional character overlay. We really like Scandinavian design and there are lots of gables in Queenslanders too," says Christal. Gable aside, the balcony and balustrade details are two more obvious nods to the classic Queenslander design vernacular.
Inside, the interior looks to the Mediterranean for inspiration with lots of organic tones and finishes including a rendered, textured finish that features on the downstairs living room wall, kitchen island bench and rangehood. The kitchen also features Stone Ambassadors engineered stone in 'Ottoman Grey' and plenty of curves. "The kitchen curves work to soften the space and give it that Mediterranean feel," says Christal.
Grey limewashed American Oak timber floors work to further soften the spaces. "We tried to make the house light and bright and kept the interior neutral and fresh," says Christal. 16 internal skylights were key to realising that dream and ensure that neighbouring properties will never be able to build out the home's light.
A clever design feature, that really works to maximise the block, there is a multi-purpose space that sits under the house. The area can fit four cars but also acts as an extension of the backyard and pool. "It's a great place for the kids to play," says Christal of the outdoor area that gets a lot of use by the couple's two daughters Andrea and Sophia.
A statement spiral staircase connects the home's alfresco area with the pool and outdoor fireplace and nearby Astroturf was a low-maintenance option. "We love that we can entertain all year round in our garden – the pool in summer and fireplace in winter. We have such great weather in Queensland and it's important to emphasise that in our houses," says Christal.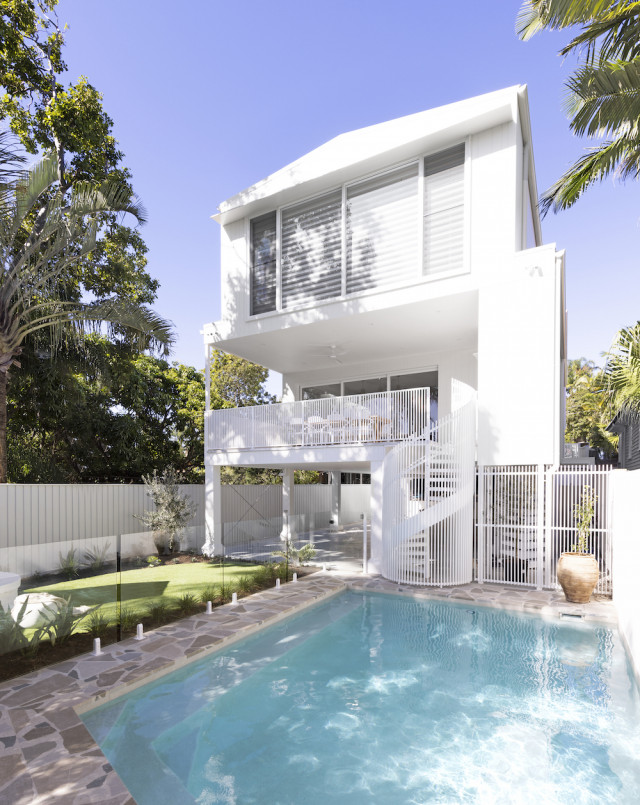 Photographer: Louise Roche from Villa Styling
Zou Build has created a mini-series on the making of the home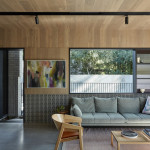 Architect's Brisbane home unique take on traditional Queenslander
Inspired by the features of a typical Queenslander, this family home flips the tradition. While most Queenslander homes are weatherboard…
Brisbane pioneer's 1912 Queenslander given new lease of life
Once home to Thomas Mathewson, a pioneering Brisbane photographer, councillor and historian, this beautiful abode has been given a new…