Casa Rubens in San Lorenzo del Escorial by Estudio Reciente.
Oh, Ruby Blue—is that you? When stepping inside Estudio Reciente's recently renovated Casas Rubens, I can't help but hear that line in my head on repeat. Located at the foot of Monte Abantos, in San Lorenzo del Escorial, the 120-square-metre house has been converted into a lovely holiday home for a family of four. Touches of bright colours that draw on summer dreams and nostalgic hues that speak for milkshakes and ice creams, feel like a Super Studio collage being super imposed onto the overall aesthetic.
Situated close to the Monastery of El Escorial—a castle of great significance to Spanish history—Casa Rubens resides inside a masonry building that is surrounded by a wall enclosure. The overall shell has minimal touches due to a special protection linked to its close proximity to the castle, thus only small coats of colour were applied to the exterior. Unfortunately (or fortunately!) the interior did not stand to the test of time. With derelict structures that included the floor and structure, it prompted a complete gutting of the inside while offering a second life for the would-be holiday home.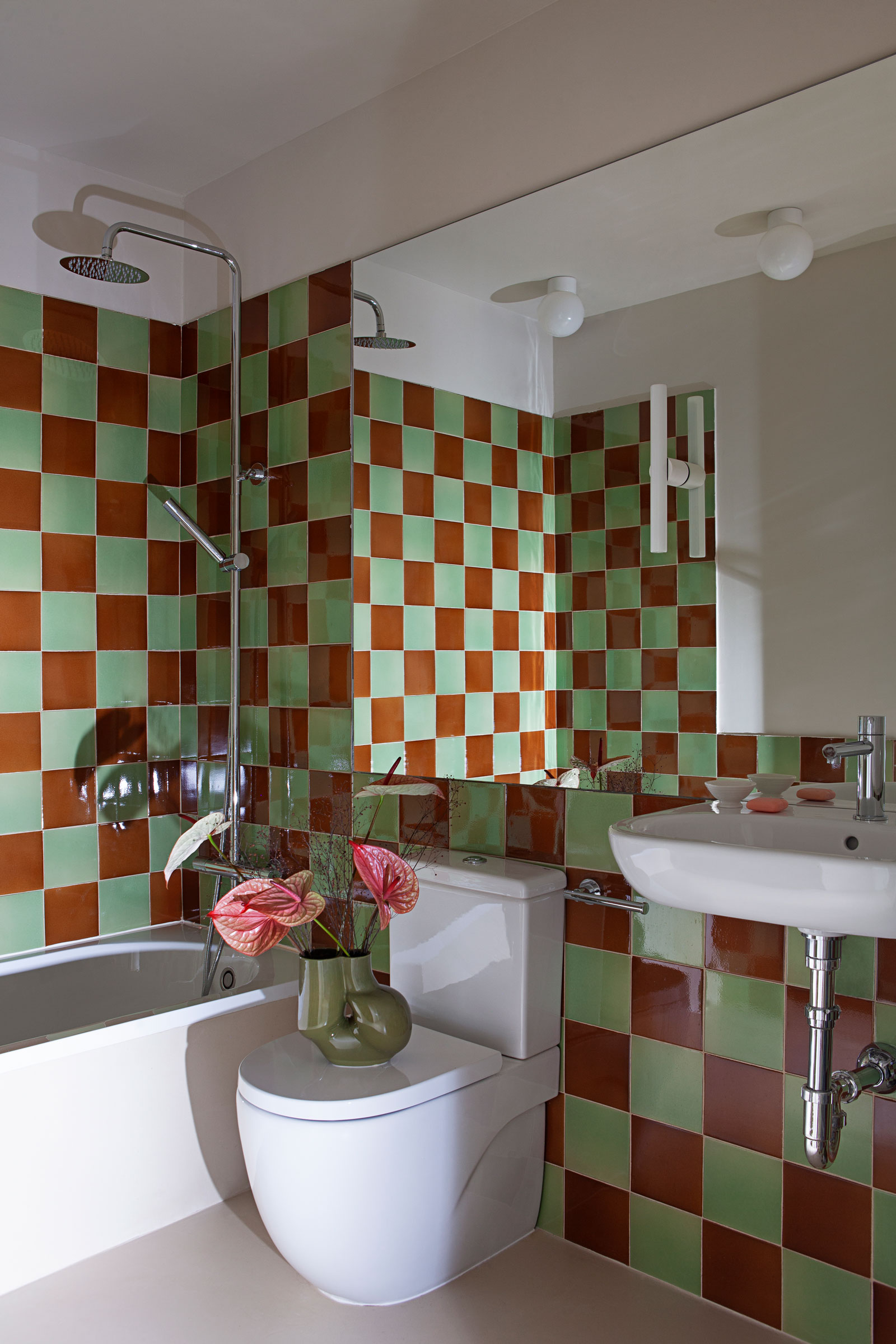 An overall intervention resulted in the space being divided into two levels (with one being the mezzanine) for better use of the space and envelope. The ground floor footprint is distinguished between the public and private areas—kitchen and dining at the front half while the sleeping and washing amenities are banked in the latter half. At the heart of the plan rests an impressive spiral staircase that transcends towards the mezzanine containing a separate study area that observes the dining space.
"(The interior) takes the summer homes of Cadaqués from the 1950s as a reference," the architects explains. Of course, the overall shell, including the existing brick elements was repainted in white. And in classical Mediterranean colour fashion, bold and nostalgic colour combinations were selected to give a slight caricature to structural or framing elements. These include the powder blue from the stairs that bleeds into the kitchen tiles to the window frames, to the checkerboard colours of deep ruby reds and muted greens in the structure and bathroom tiles.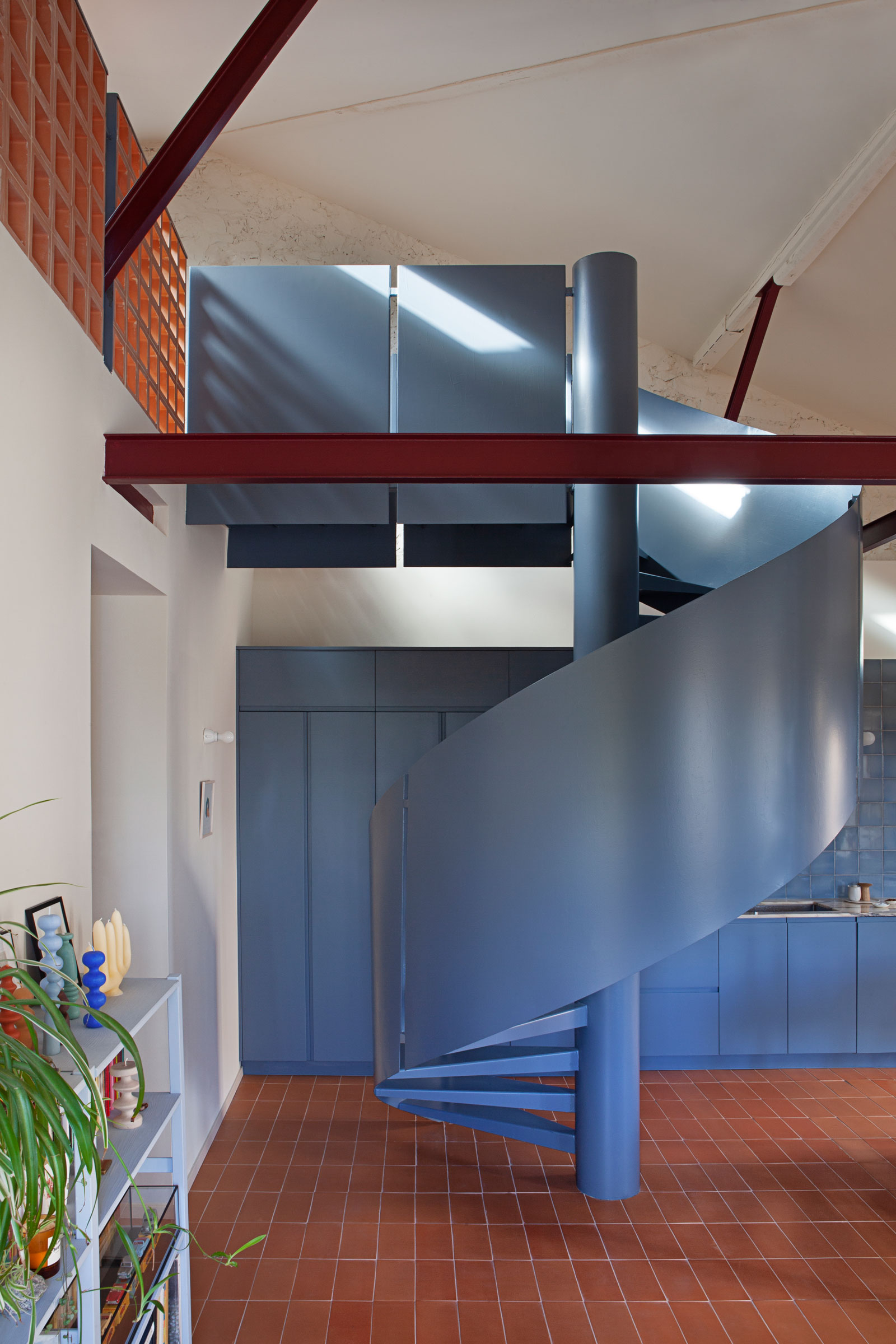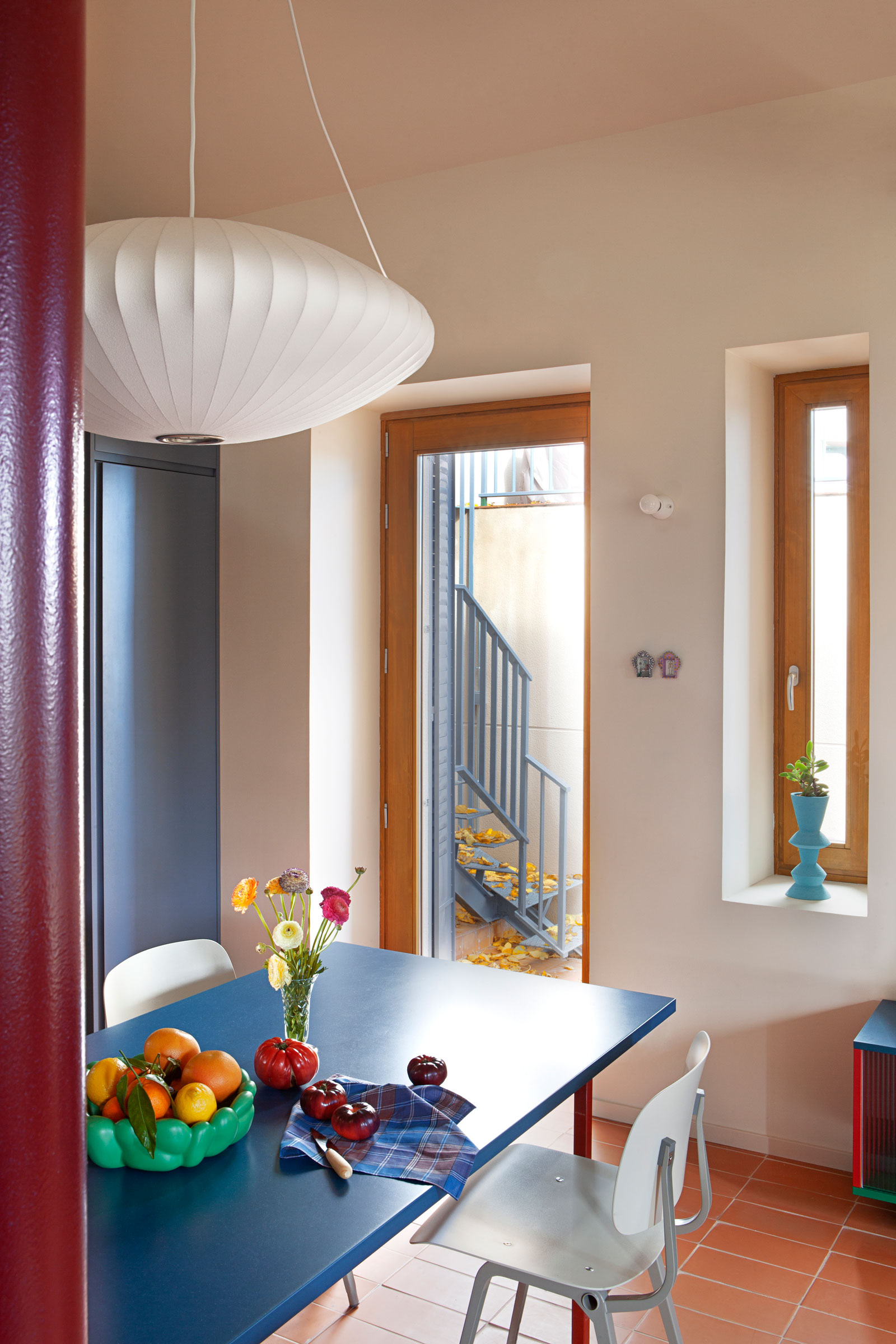 Illustration for inspiration by Madrid-based creative Ana Olmedo.
Despite the bright colourful additions, they're a special celebration of the former structure that once was. New garnet lacquered steel members straddled in the ceiling and columns standing proudly replaces the wooden structures that once graced the overall space.
Alongside Ana Olmedo's illustrations serving as a companion to the overall aesthetic, Casa Rubens's interior holds a double entendre of the narrative. Bright colours to bring vibrant joy within a family home in the holiday seasons, albeit highlights a deep thread of gratefulness to the past that has given inspiration for a magnificent outcome. Oh, Ruby Blue—is that you?
---
[Images courtesy of Estudio Reciente. Photography by Asier Rua.]