Decorator takes on biggest challenge yet with her own home
Interior decorator Gemma Del Vecchio took on her biggest project yet with her recent own home renovation but she was able to see its hidden potential more than most. The eastern Sydney home is barely recognisable from its former self.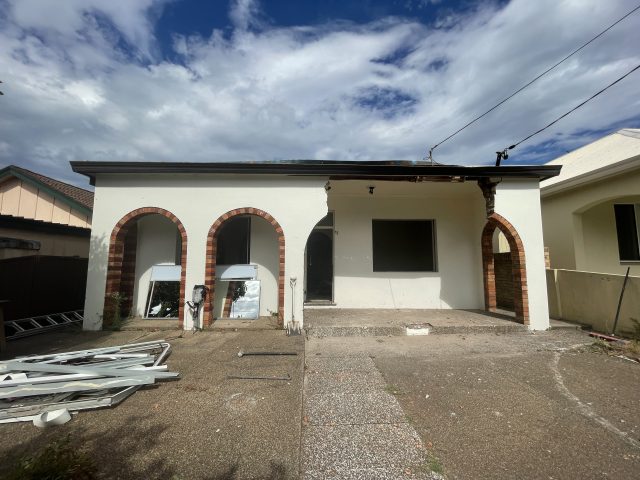 "It was a very rewarding experience renovating my own home, after many years of working on beautiful homes for clients," Gemma said. "The original home was built in the 1900s and had been through a series of dubious extensions and updates in its time. The interior was dark and decrepit, with a monolithic concrete staircase in the centre of the home.
"But the back yard received beautiful sunlight and the block was a good size, in a lovely location, with an opportunity to add parking. So we decided to take the plunge, even though we knew it would be a much larger project than what we were originally looking for."
The renovation process started with a thorough assessment of the house's structural integrity. Double brick external walls were found to be the house's only redeeming feature. Crumbling internal walls, an uneven floor, rising damp and a host of other issues meant the rest of the house had to be demolished, replaced with a solid new slab, and all new internal walls and ceilings.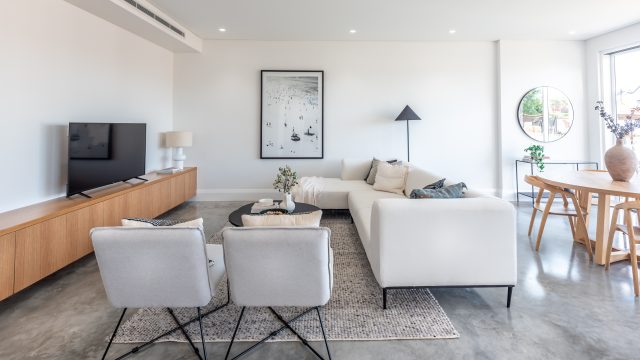 It was a nail-biting process with material costs sky-high and interest rates continuing to rise, so she tried to be as efficient as possible to keep costs down. "We were able to be on site almost every day to troubleshoot any issues that arose so that there were no delays."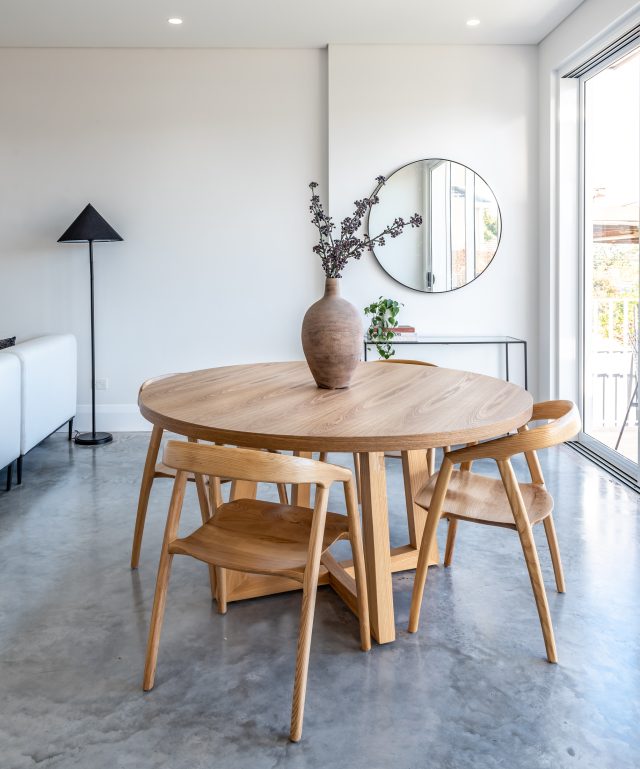 Gutting the house involved stripping it down to its bare bones. The team of contractors embarked on a meticulous deconstruction, removing damaged walls, floors, and all internal fixtures and fittings. This phase revealed hidden surprises, such as hidden mould, compromised wiring, and an entire subfloor storage area filled with junk.
Once the house was gutted, the focus shifted to re-establishing its structural integrity.  Collaborating closely with engineers and construction experts, steel support beams were craned in and new walls built. Wiring was replaced, plumbing upgraded and new energy-efficient heating and cooling solutions implemented. The restored house is now a haven of comfort and functionality. Cramped rooms were reimagined, opening up spaces to allow natural light to flood in.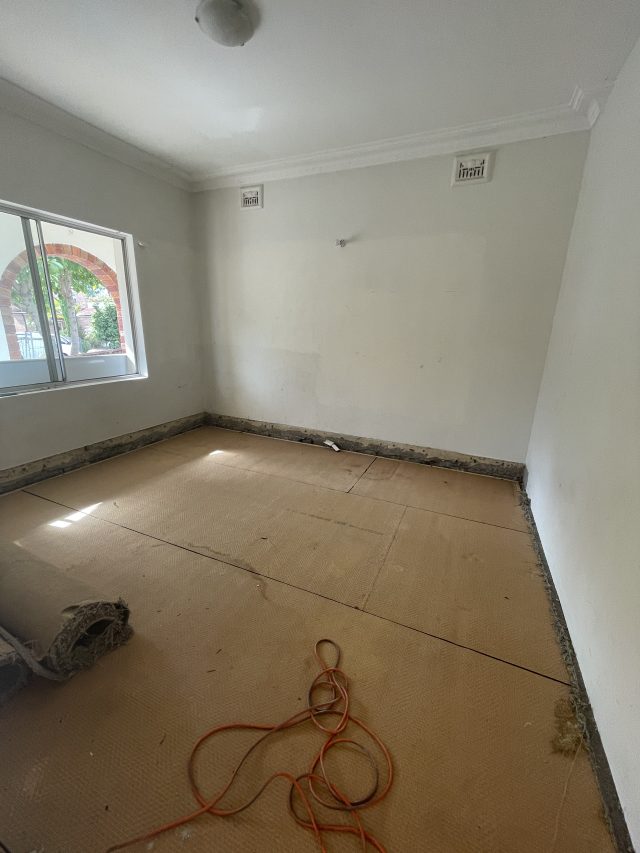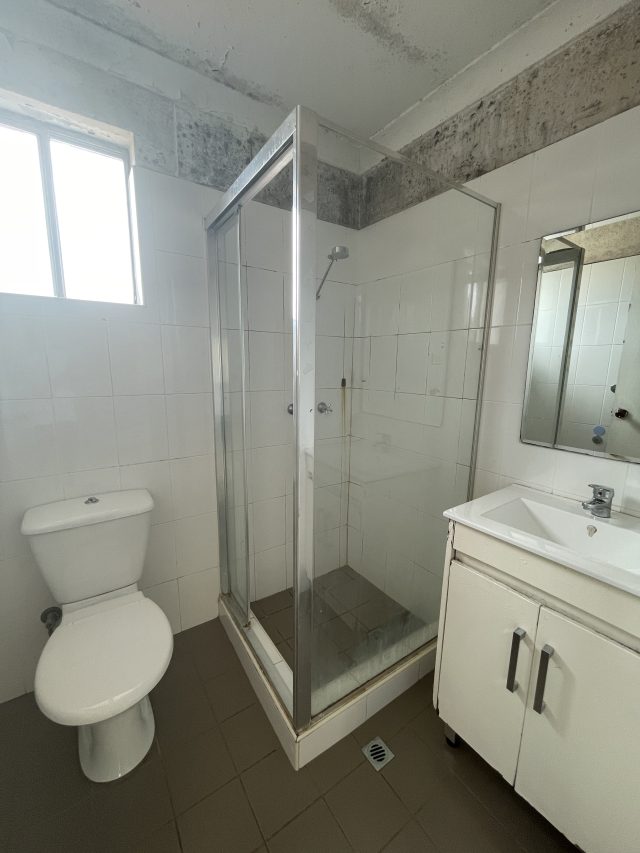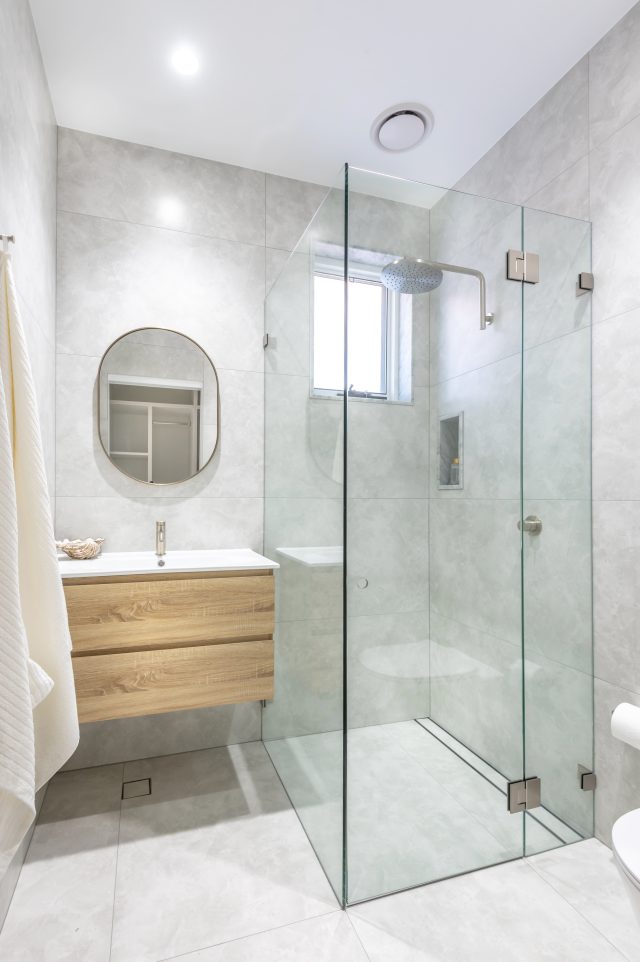 To give the house character and make it feel like a home, Gemma and her team spent time on the finer details including bespoke skirting and architraves, marble window frames, slim Shaker profile cabinetry, burnished concrete floors, French pattern travertine tiles and Australian designed lighting pieces. "These details are what makes the home unique and bespoke and speak to the level of craftsmanship and quality that has gone into every aspect of the home."
While she has worked on a number of other renovations for clients, as a full scale knockdown and rebuild, this was the largest project Gemma had undertaken. "This project broadened my understanding of all that goes into the construction of a complete home, from demolition, to connecting all new services, laying the slab, pouring the driveway, to building the internal structure and roof. Followed by the internal finishes and works that I am across regularly: the flooring, kitchen and pantry, bathroom fixtures, joinery and lighting and managing all the contractors and suppliers, timeline and budget. We were grateful to work with excellent tradespeople who made the overall experience run smoothly."
Gemma considers herself to have been a good client! "Working in interiors was helpful as I was able to make decisions about fixtures and finishes very quickly. Doing the interior design work myself meant that we previewed everything as I created rendered plans, elevations and 3D models before making decisions and could therefore make changes quickly and act decisively.
"That was helpful for the trades and contractors as our materials, colours and fixtures were all selected early on and no time was wasted waiting for products or materials to arrive. We also had a good understanding of the timeline meaning that trades weren't working on top of each other and works were completed in a logical and efficient way."
The revitalisation of the old house extended beyond its interior. The neglected pergola was transformed into a stylish entertaining area, with a family friendly yard below, planted with simple, elegant natives for shade and privacy.
"The gutting and transformation of this dilapidated house was an arduous yet immensely rewarding journey," Gemma says. "It required a dedicated team, meticulous planning, and a shared vision of breathing new life into a forgotten space. The resulting transformation is a stunning home that stands as a testament to the power of renovation and restoration."
For more on Gemma, who also offers decluttering services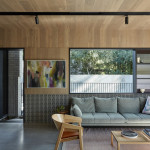 Architect's Brisbane home unique take on traditional Queenslander
Inspired by the features of a typical Queenslander, this family home flips the tradition. While most Queenslander homes are weatherboard…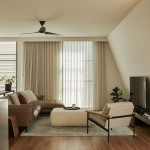 Architect's new family home brilliantly separates work and play
Browsing the images of any designer home, it's not uncommon for mere mortals to find themselves wondering where all the…