Dine alfresco: how to style your outdoor with Alisa & Lysandra
Whether it's cocktails on a rooftop, a casual picnic in the park or a family barbeque on the patio, alfresco dining is an intrinsic part of Australian culture. Now more than ever, Australians are looking for ways to incorporate outdoor dining spaces into their homes – and no one does this better than Alisa and Lysandra Fraser, former Block contestants and co-founders of the Alisa & Lysandra Interiors. 
"Alfresco dining spaces are becoming increasingly popular in Australia. They are essentially an extra space within the home that adds value to the entire property," said Lysandra. "Importantly, they create a relaxed environment that you can share with family and friends – there's nothing like sitting outside in the fresh air and sunshine and enjoying a meal with loved ones."
For their latest project, an exquisite waterfront home in Queensland's Paradise Point, the pair were determined to create a stylish, hardwearing space that would allow the owners to enjoy outdoor drinks and meals year-round. The epitome of a well-designed alfresco, Paradise Point combines beautiful aesthetics with sturdy products and sustainable materials – including cutting-edge architectural sintered stone surfaces from premium European brand Neolith. 
Here, Alisa and Lysandra reveal exactly what it takes to create a good alfresco:
Functionality is everything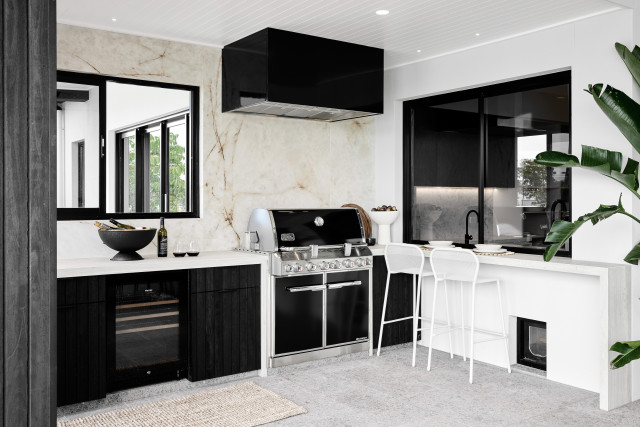 "Like any area that involves cooking and entertaining, functionality is huge. There is no point having a space that is not functional," said Lysandra. "The sky is really the limit depending on the space, you may choose to include a feature that encloses the area during bad weather, add cooking and prep areas if you have a BBQ, or even bring in a beverage fridge for convenience."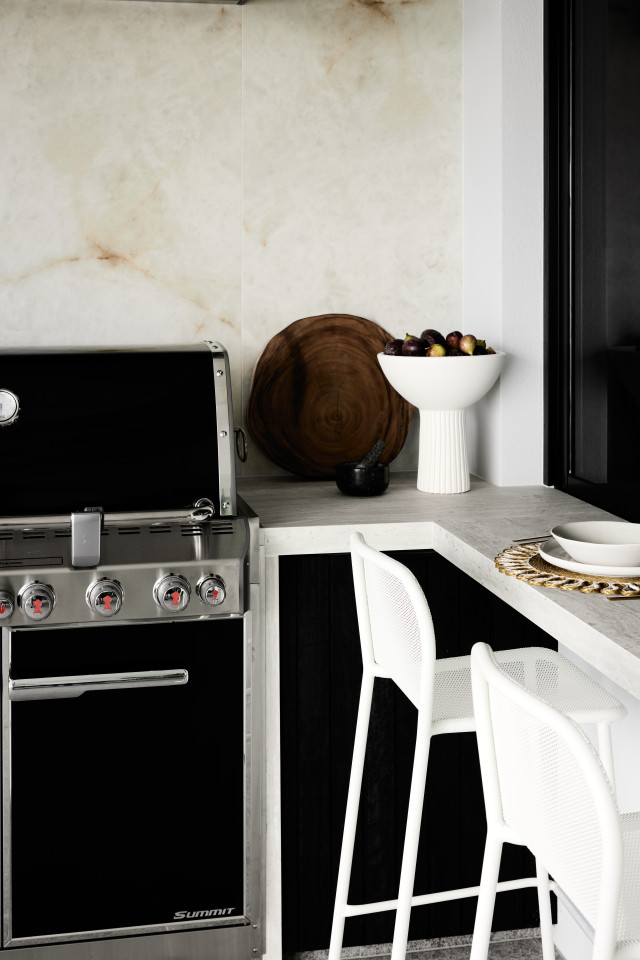 When designing the alfresco at Paradise Point, Alisa and Lysandra ensured it would cater to the owners' needs and make the most of the house's key attributes. "The house itself is positioned in a magnificent waterfront location, so the natural environment was an important part of the design process," said Lysandra. "As well as looking appealing, we wanted this area to function well and serve as an extension of the home."
"The space has been designed to be used as an entertainment area all year round and takes advantage of the waterfront views. There is also a servery window from the butler's pantry that connects to the outdoor dining area, which is especially convenient when cooking and entertaining," said Alisa. 
Choose your colours wisely 
An alfresco is an extension of the home, so it's important to choose a colour scheme that harmonises with the rest of the interiors. That doesn't mean there isn't any room for creativity, of course. At Paradise Point, Alisa and Lysandra combined an array of colours and textures in order to create a warm, tranquil space filled with personality whilst remaining consistent with the interiors' distinctly urban feel.
"We really wanted this to be a place with a really relaxing, fun vibe – somewhere highly usable and perfect for an impromptu BBQ or drinks with friends. This was important because, being based in Queensland, we enjoy lots of beautiful weather and know spaces like these are frequently used," said Lysandra.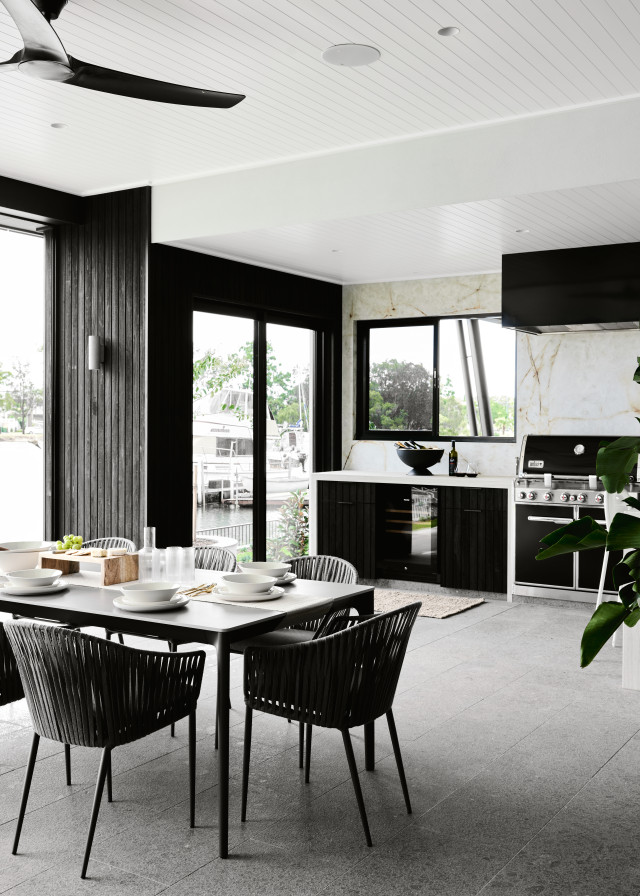 "Stone has been featured throughout and complemented by a marble-look splashback and a countertop that emulates the look and feel of Italian silver travertine. These strong, statement features have been softened with darker tones and elegant brass details."
"We carried the moody tones from the interiors throughout the alfresco space, combining dark, charred timber cabinetry with soft, silky grey surfaces and a Himalaya Crystal, marble-look splashback from Neolith," said Alisa.
Pick the right materials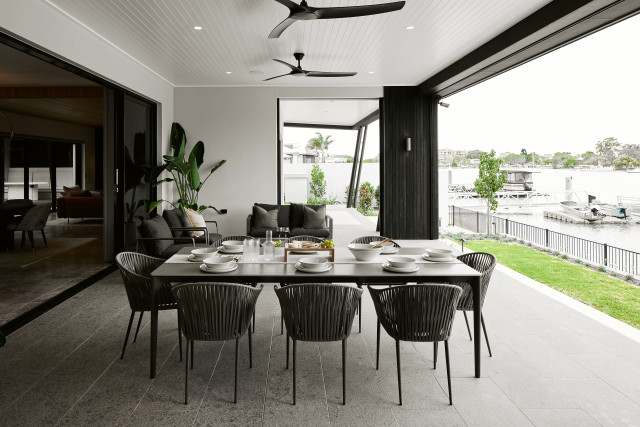 There's more to an alfresco than just the look and feel – it's important to think about durability, too. Prioritise selecting high-quality, robust materials that will stand the test of time and endure through practically any climate. For Alisa and Lysandra, this is one of the most important things to consider when designing an outdoor dining space.
Their project at Paradise Point was no different. Being an area that is exposed to the elements like weather and sunlight, they needed to select sturdy, long-lasting products that could withstand all of this and more. "It was important we use high-performance surfaces that were designed to withstand heat, scratches, stains and UV radiation," added Alisa.
For more on Neolith
Outer team up with Queer Eye's Bobby Berk on outdoor dining sets
Outer's first ever dining collection has arrived in Australia just in time for summer. To celebrate the launch, they teamed…
A playful and exciting revamp for a mundane dining room
After a long day at work or school, dining rooms can be the ideal place for families to reconnect and…