Dive into the Magnificence: Highlights From Milan Design Week 2023.
Milan Design Week and Salone del Mobile need no introduction—their legend in the world of design is well and truly known. The 2023 edition came roaring back into its regular April slot after a three-year hiatus due to global pandemic disruption, and boy, was it a blast! This year, Milan felt renewed, its vibrancy touching every corner and filling every street. The city was bustling with attendees and teeming with shared social content.
As a twelve-time attendee (though I baulk at the term 'veteran'), I witnessed Milan ablaze with creativity. Yet, this year, an undercurrent of fragmentation was evident, mirroring our collective efforts to piece together our post-pandemic lives.
Shows? They were everywhere! The city was a playground of exhibitions, hidden gems sparkled in the most unlikely corners. While some eluded even our seasoned radar, we delved into the city with a meticulously planned itinerary over seven adrenaline-fueled sleep-deprived days.
One thing everyone seems to ask me post-Milan is—how was it?—which I find a little frustrating. Summarising my Milan adventure in a few words feels akin to squeezing an elephant into a suitcase (or fitting in my pants after a week of intense carb loading—totes worth it, though). A concise 90-minute presentation at our MILANTRACE 2023 Live events is challenging enough and often feels like it barely scratches the surface.
But if I were to attempt a brief description, I'd say Milan was back to feeling overwhelming—a true sensory overload across a multitude of design shows and precincts spilling over with creativity. Reaching them was a journey in itself. My week was a rollercoaster of exhilaration, stimulation, inspiration, unexpected surprises and yes, a few emotional moments too. Who, me getting emo and teary-eyed? Can you believe it?
The speed at which the world moves on post-Milan Design Week never fails to intrigue me. I often feel like I've just begun to unravel the wealth of experiences, the meaning of what we witnessed, and how these precious nuggets from what can only be described as the Annual Design Olympics will shape our world in the years ahead.
Today, we're thrilled to share a taste of the excitement with a quick overview and a visual diary of highlights from our week. Our video coverage, MILANTRACE 2023 Live Talks, and a whole new Digital Experience are all in the works—there's so much more in store.
If you're seeking the ultimate Milan Design Week and Salone Del Mobile experience, our legendary Live Events are your golden ticket. Presented in partnership with Living Edge, these CPD-accredited events are coming to Brisbane, Perth, Sydney and Melbourne this June.
With nothing but love, Mama Yellowtrace x
COME TO MILANTRACE LIVE!
Brisbane: Tuesday, 20 June 2023 (Evening Session)
Perth: Thursday, 22 June 2023 (Evening Session)
Sydney, two sessions: Monday, 26 June 2023 (Lunch & Evening Session)
Melbourne, two sessions: Tuesday, 29 June 2023 (Lunch & Evening Session)
Casa SEM's immersive exhibition was designed by Motta Architecture, set with a historic Milanese building that housed the new néolithique collection. Seriously gorge.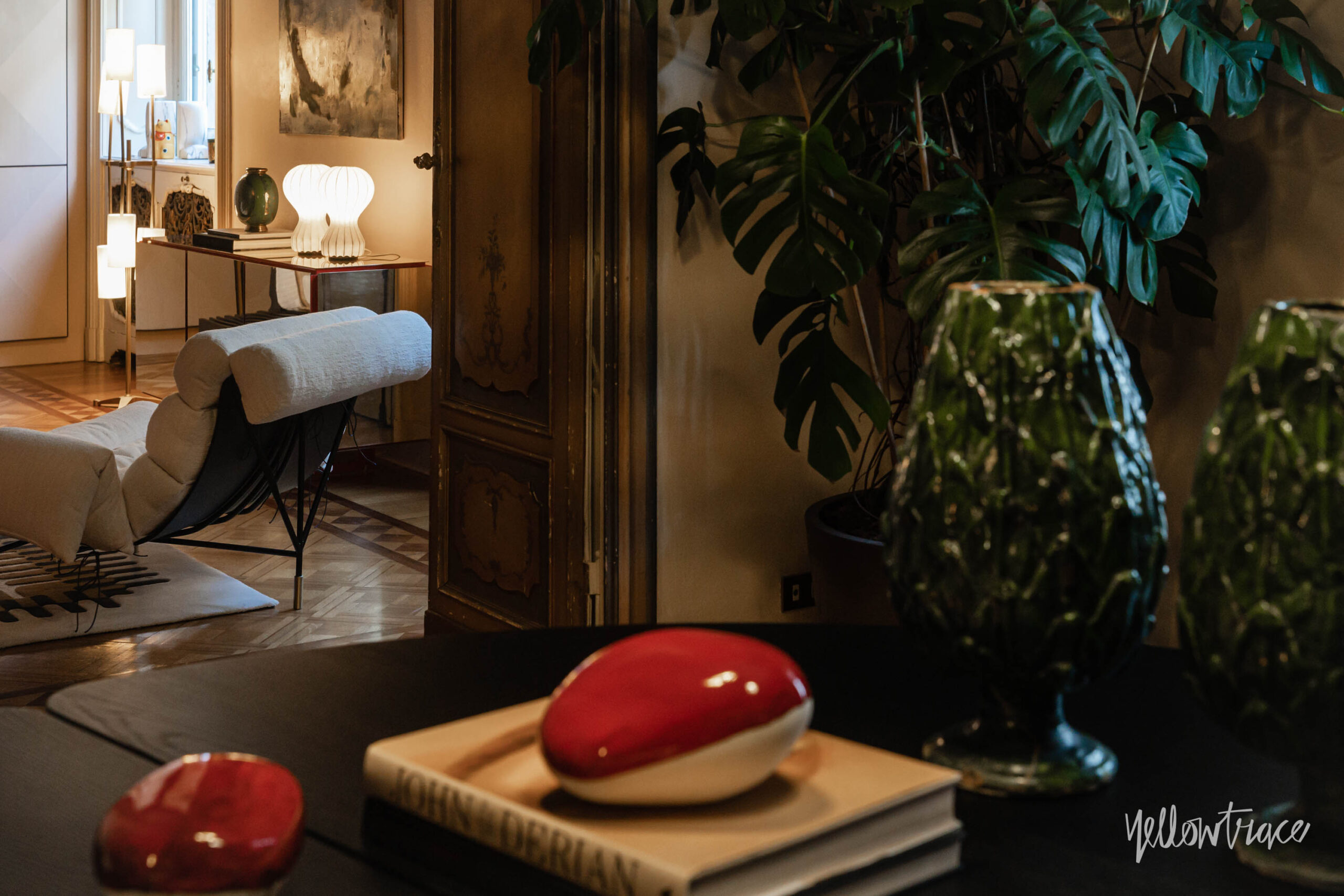 Augusto Betti, artist & designer. An amazing exhibition presented by Paradisoterrestre at Fondazione Sozzani, with a set designed by one of the queens of Milan, Elisa Ossino.
Augusto Betti exhibition, presented by Paradisoterrestre at Fondazione Sozzani.
Patricia Urquiola for Mutina at Nilufar Depot.
Chatting to the delightful Valentina Ciuffi at Nilufar Depot.
Poikilos by Objects of Common Interest—a site-specific installation co-curated by Nina Yashar and Valentina Ciuffi presented at the ground floor of Nilufar Depot.
Filippo Carandini cabinets & Sophie Dries carpets at Nilufar Depot. Major swoon!
Also at Nilufar Depot, a solo show by Audrey Large with additional pieces by Hsin Min Chan and Maximilian Marchesani—curated by Studio Vedet.
Catching a bit of tennis with Luka at Cristina Celestino's Clay Court Club, held at Bonacossa Tennis Club.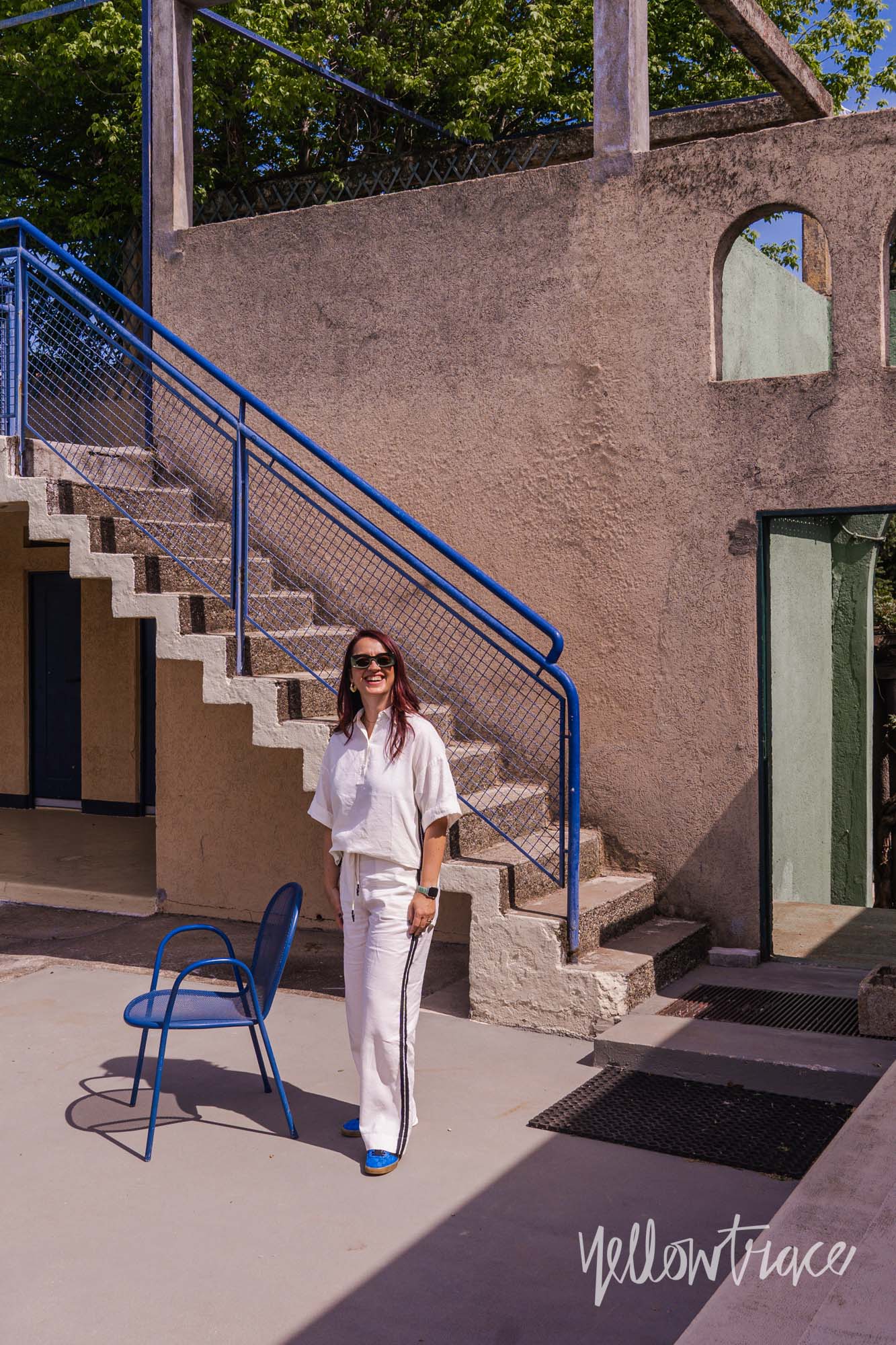 Arrived dressed for tennis. LOL.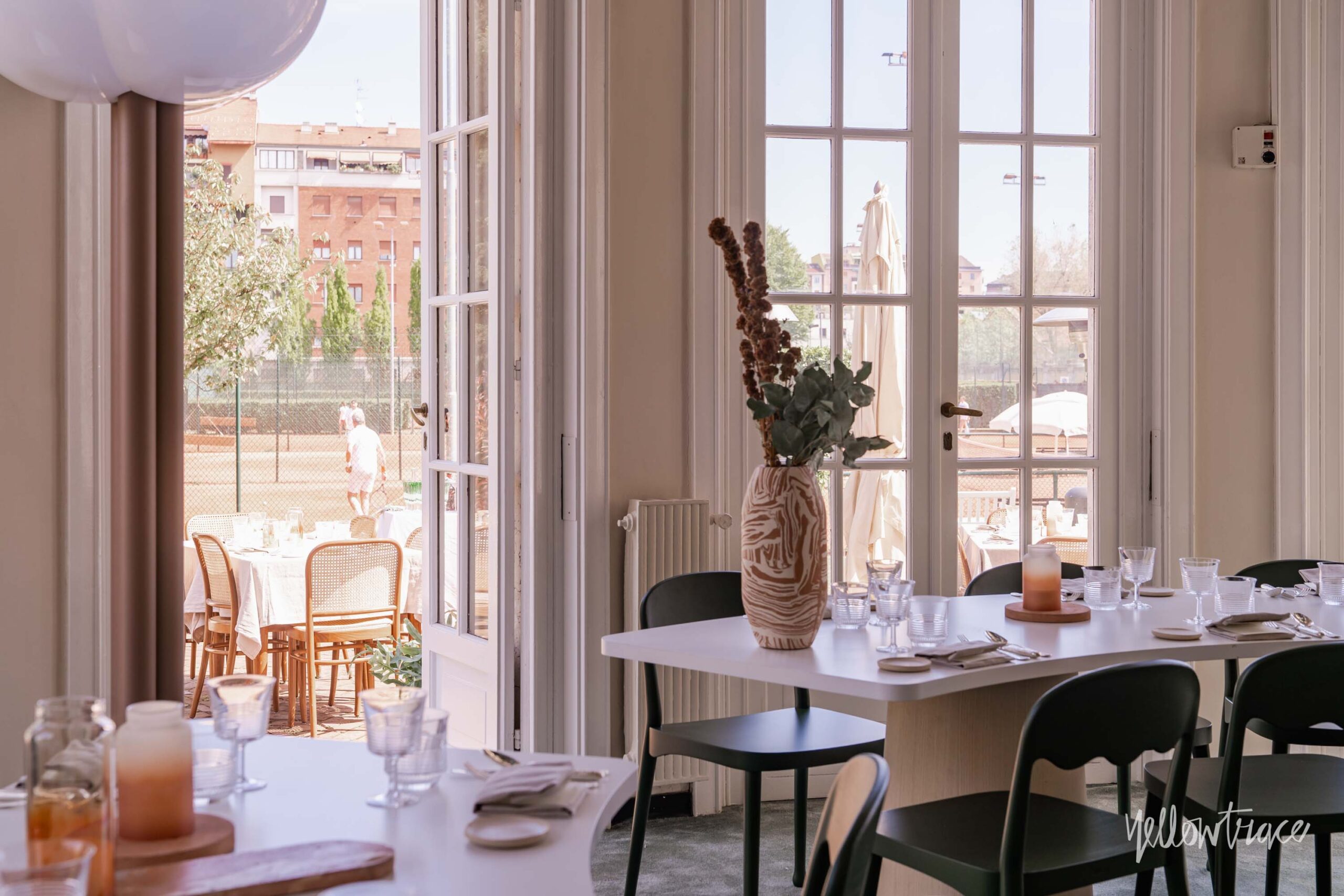 We Are Ona pop-up restaurant at Clay Court Club installation by Cristina Celestino presented at Bonacossa Tennis Club.
Google presented Shaped by Water—co-created by VP of Hardware Design, Ivy Ross and her team, and water, light and sound artist Lachlan Turczan. One of Milan Design Week's major highlights.
We were lucky to spend a quiet hour with Google's VP of Hardware Design, Ivy Ross, and clever young artist Lachlan Turczan. Can't wait to share more with you about this experience in our talks!

A little moment before our interview with Lachlan Turczan.
Ingo Maurer's magical installation at Porto Nuova, Milan's Piazzale Principessa Clotilde—one of the four city gates.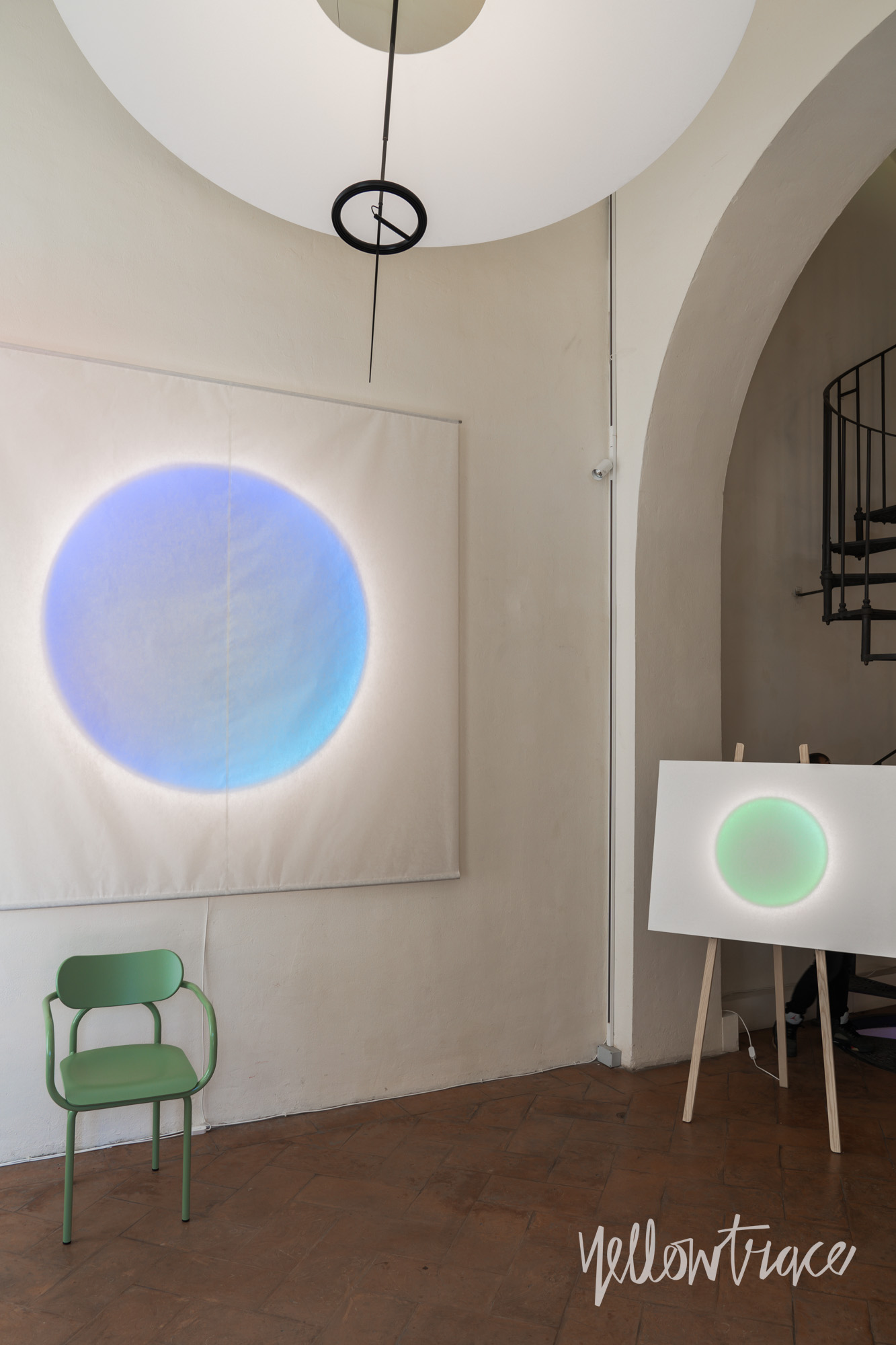 New and classic products from Ingo Maurer's extraordinary lighting collection.
Casa Mutina presented two new collections this year. This one was by Michael Anastassiades.
A rare glimpse of Nick (left) who's behind the camera in all of these beautiful images. And me dressing to match the installation—a strong theme of the entire week. Hilarious!
Solid Nature presented Beyond The Surface—an epic series of installations in Brera.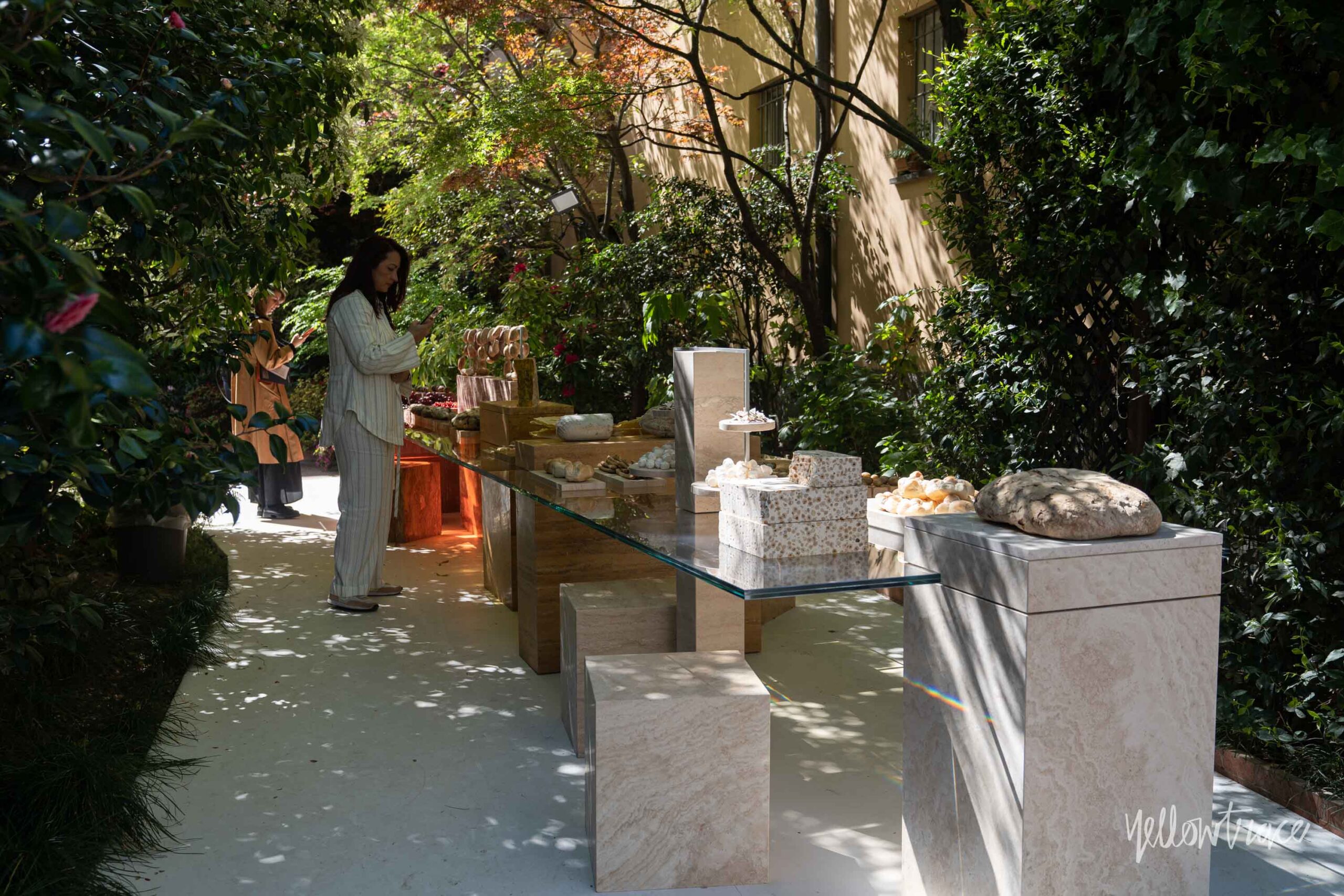 In the courtyard, a travertine table designed by Sabine Marcelis for Solid Nature, with a foodscape by Laila Gohar.
Solid Nature: Beyond The Surface exhibition continued underground with an epic intervention by OMA.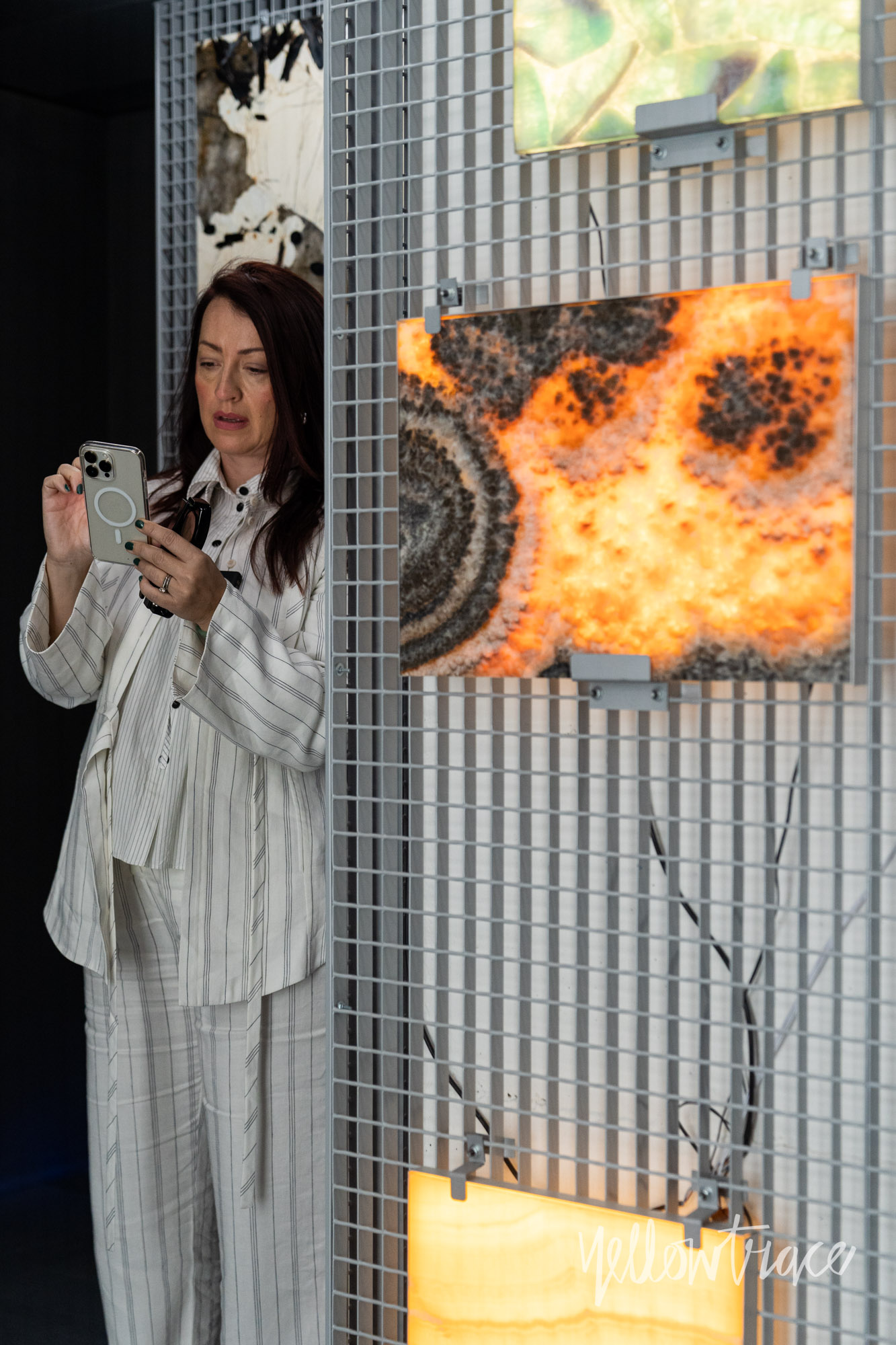 A cool exhibition of Solid Nature's various stones was also located underground. They spent some MAJOR coin here.
Held at La Pelota, Hermès took a minimalist approach for its Milan showcase. An installation catered to time and place, the show communicated the luxury house's attention to detail.
It was all about stripes at Hermès, and although it definitely doesn't look like it—I did not deliberately dress to match.
Elle Decor presented The Art of Light at Palazzo Bovara, an installation designed by Giuliano Andrea dell'Uva and Metis Lighting.
Colourful moments from Elle Decor's The Art of Light
Scenes from beautiful Milan. Ahhhhh, man, I wish I could go back right now.
There she is—Milan's famous Duomo.
GUBI Salone 2023, presented at the stunning privately owned property and grounds never-before-opened to the public—Bagni Misteriosi.
The library space at GUBI's Salone 2023 presentation, held at Bagni Misteriosi.
Catching up with Chiara & Ariana from Studiopepe at L'Impero Dei Sensi, presented at Visionnaire Design Gallery—one of several projects the duo unveiled during the week.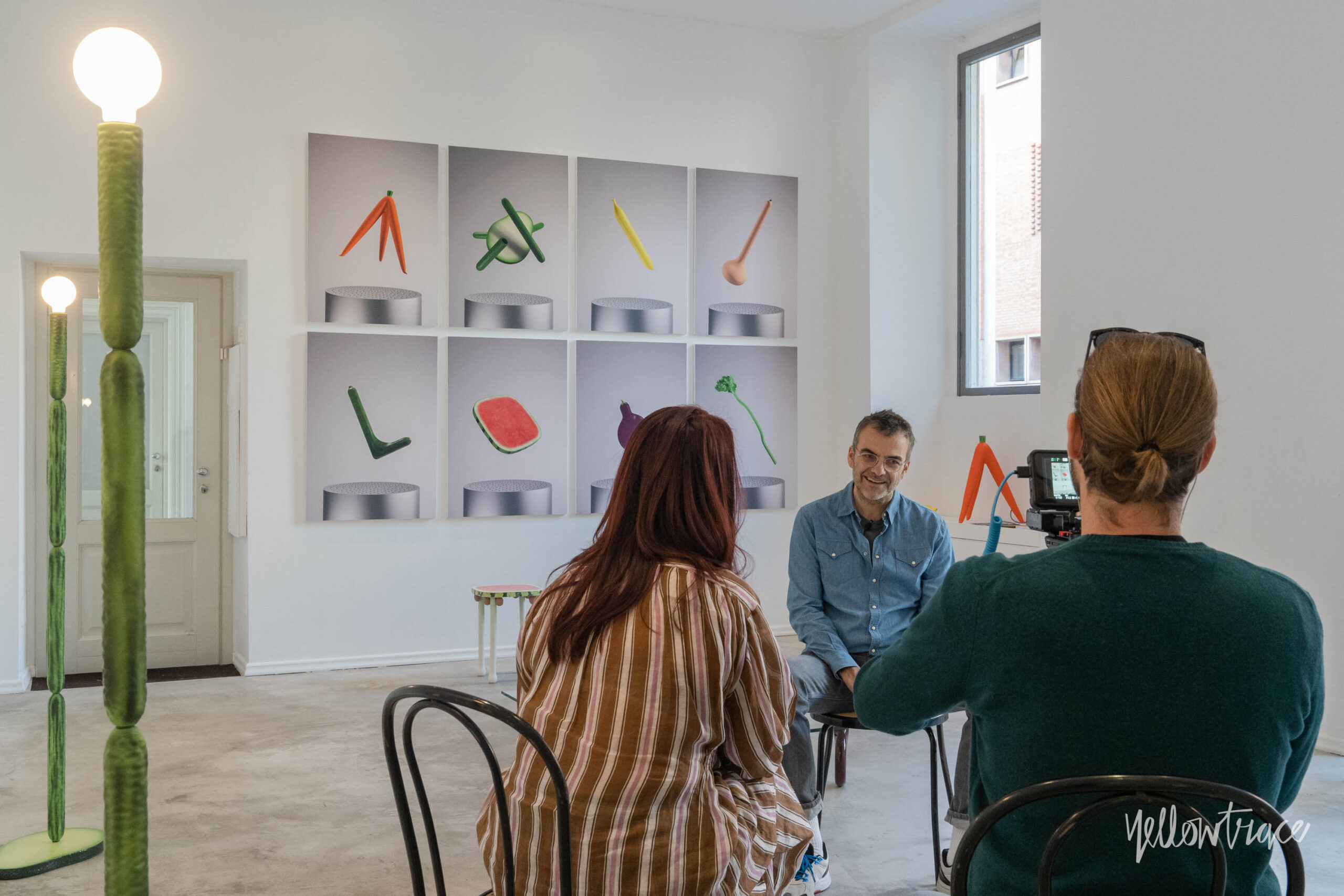 Chatting to Robert Stadler, who unveiled his show OMG-GMO of handmade ceramic objects made by Bitossi, and presented at Carwan Gallery pop-up with an exhibition curated by Nicolas Bellavance-Lecompte.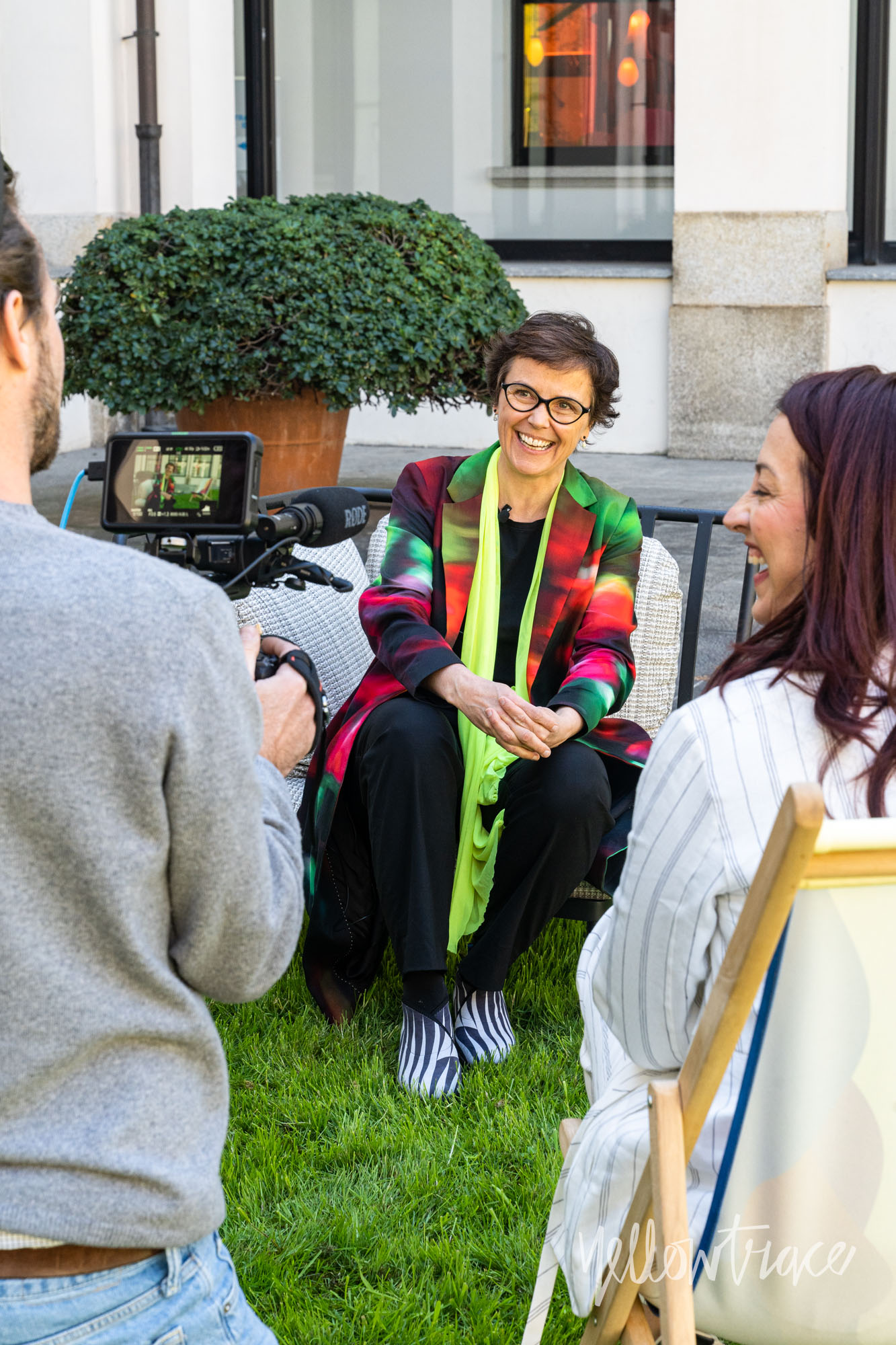 Chatting to French designer
Constance Guisset
, who presented the Surprise Party exhibition.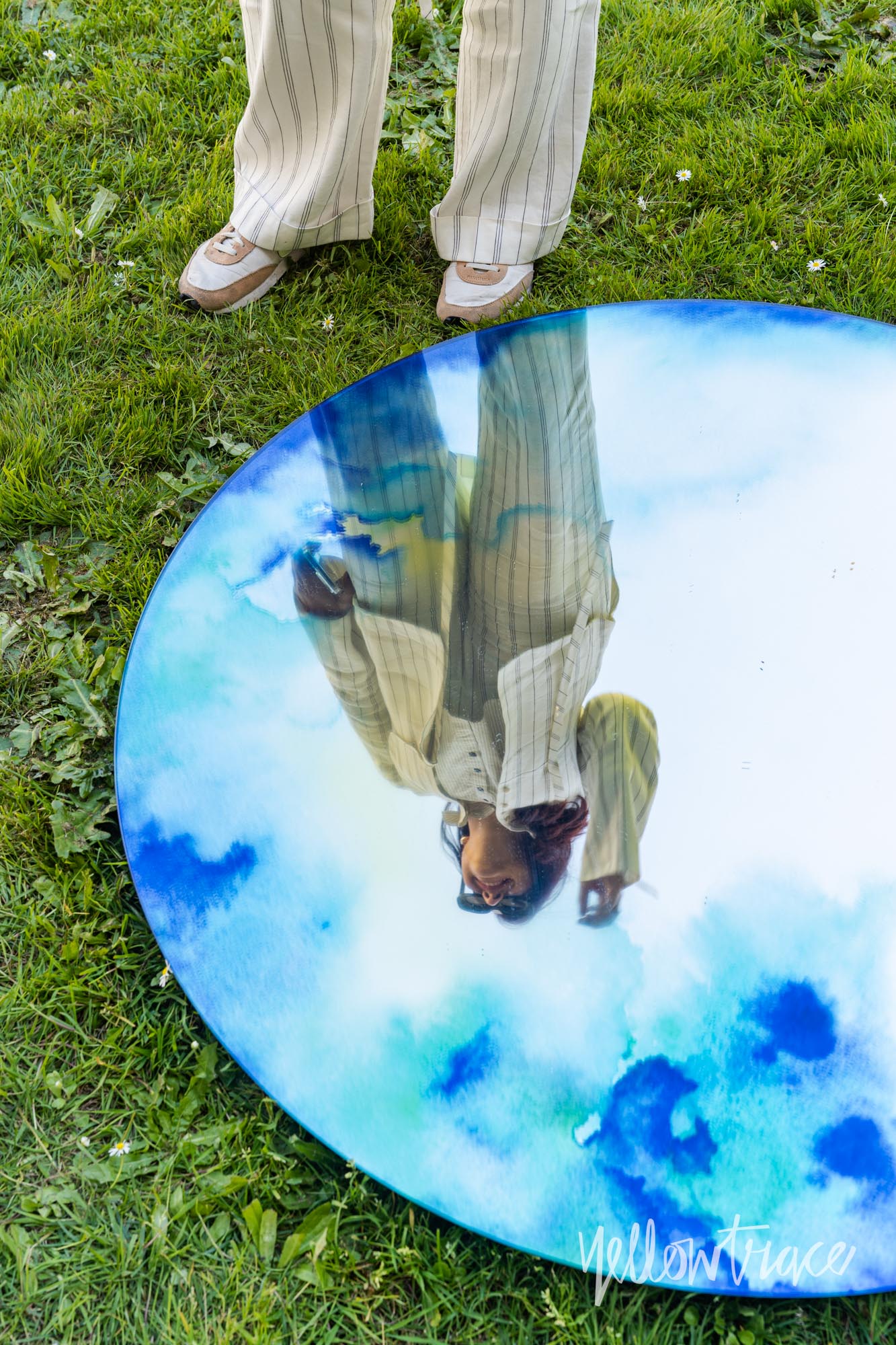 This
Constance Guisset
mirror situation was too good not to take a photo.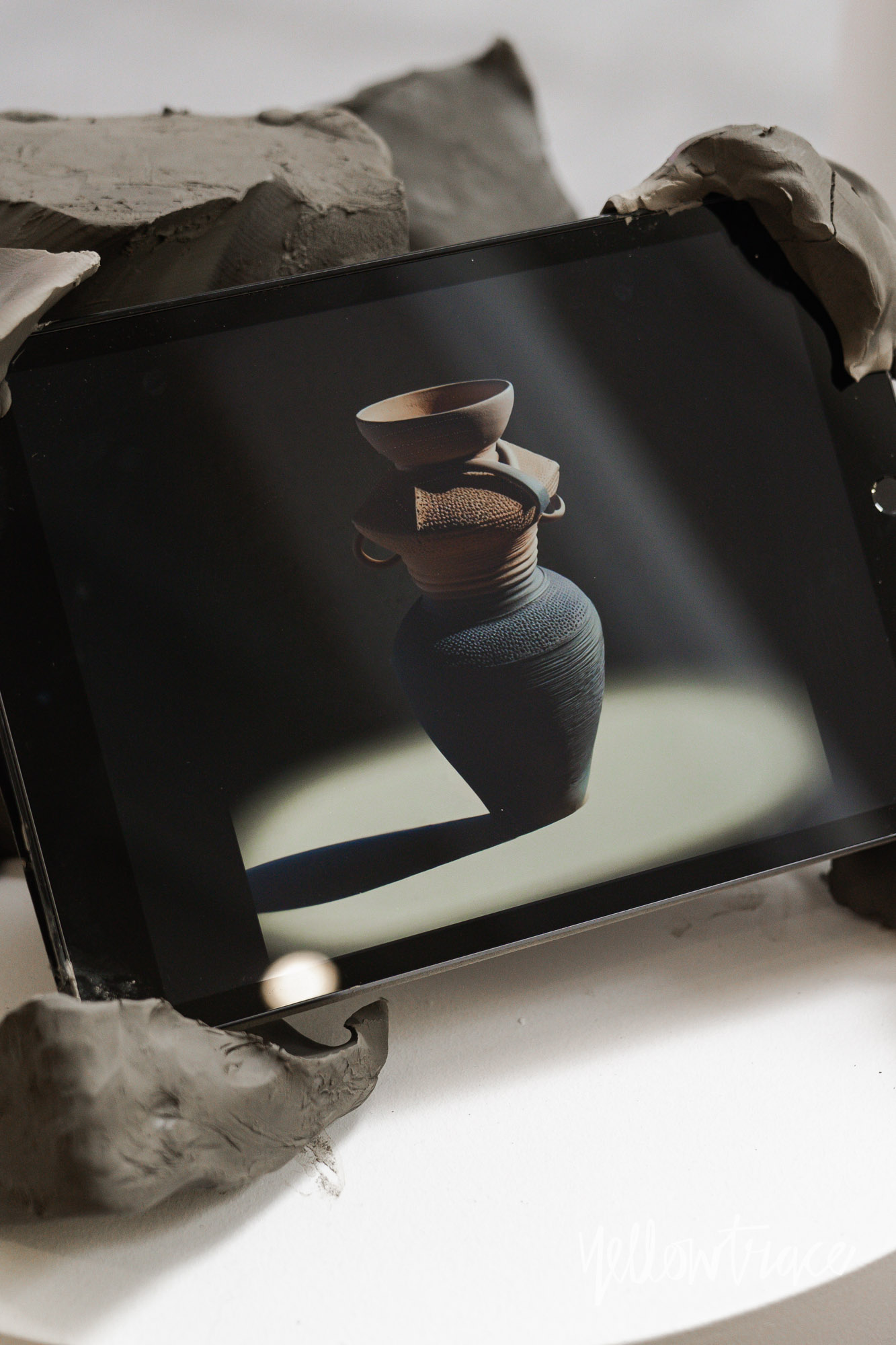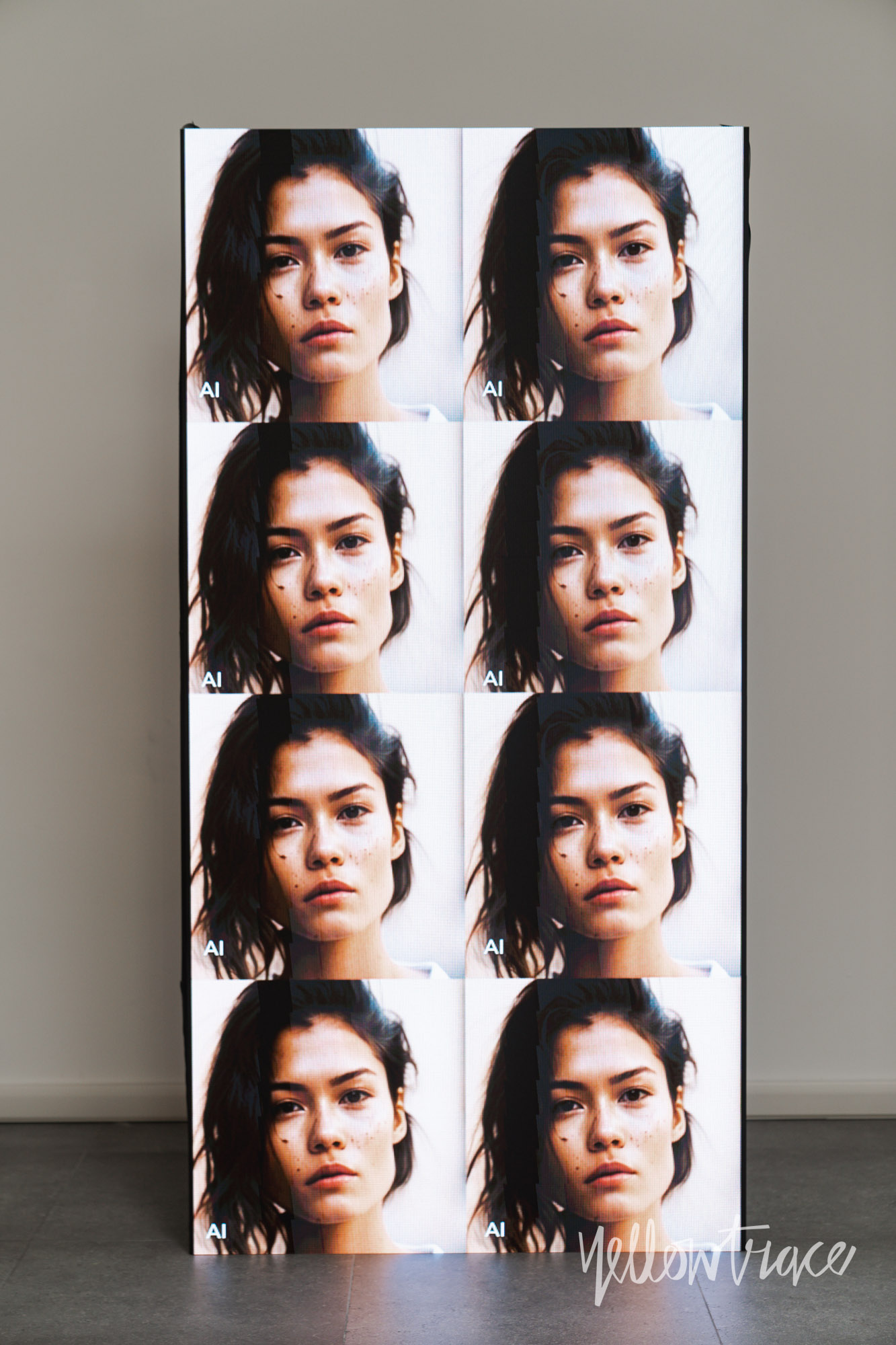 Studio Snoop presented Bauhau-AI, and introduced the world's first AI designer, Tilly Talbot.
Scenes from Alcova 2023, a group show that's grown from strength to strength since its inception seven years ago. Alcova brought to life the monumental venue of the Ex-Macello di Porta Vittoria with projects by over 90 designers.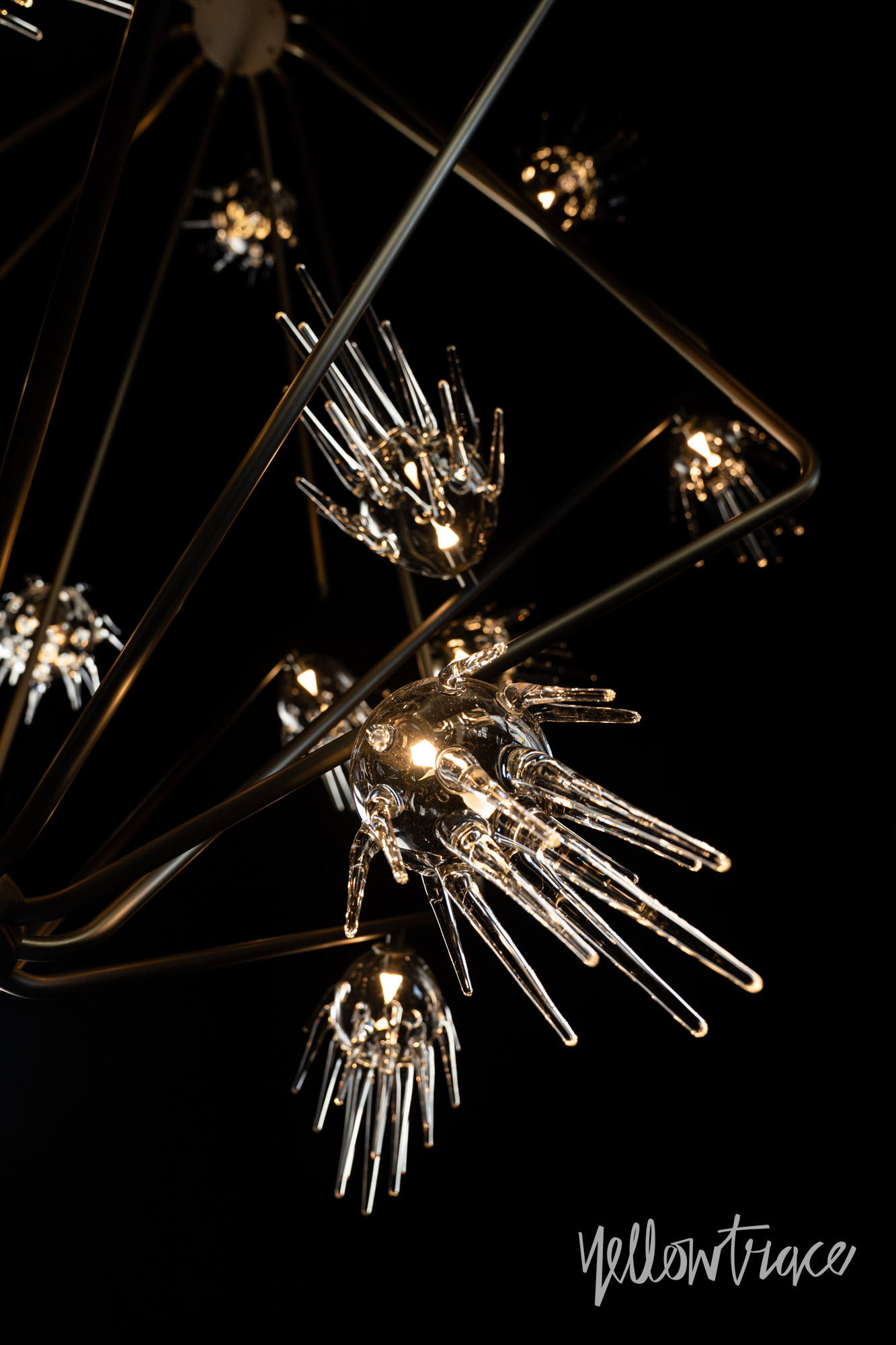 New lighting collection by Lindsey Adelman, presented at Alcova.
New lighting collection by Lindsey Adelman, presented at Alcova. And no, this isn't a studio shot. Crazy, right? Hat tip to Nick.
Primitive Island presented by Elisa Uberti at Alcova.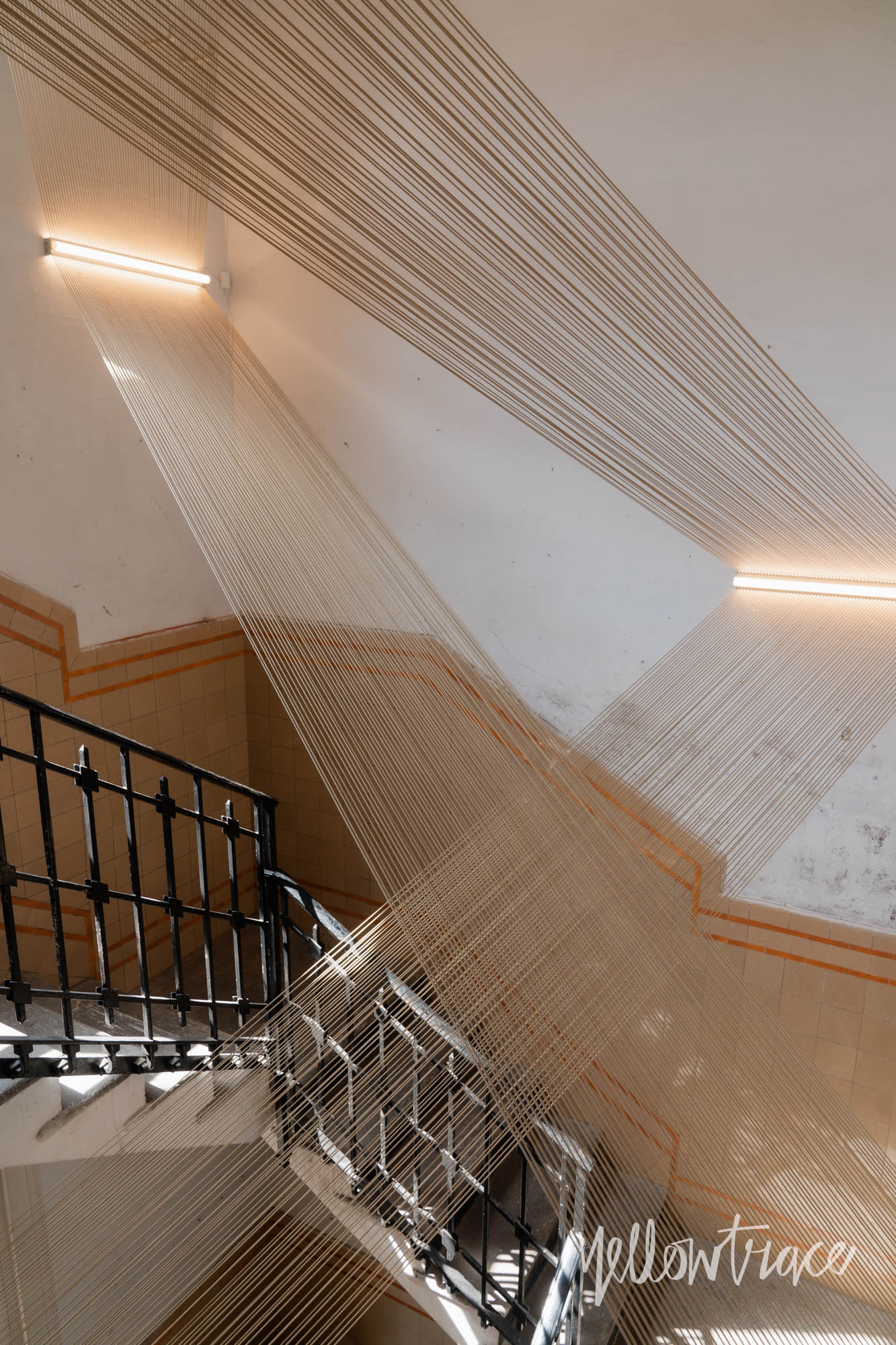 Side table by Project 213A at Alcova.
Act of a Line,  stunning wall sculptures by RDMDC/ Marijke De Cock at Alcova. Mesmerizing volumes are transformed into an infinite multitude of minuscule glass beads by traditional artisans in India. Swoon!
Stantec's fascinating installation of used building materials at Alcova.
Job Studio /Jonathan Bocca at Alcova.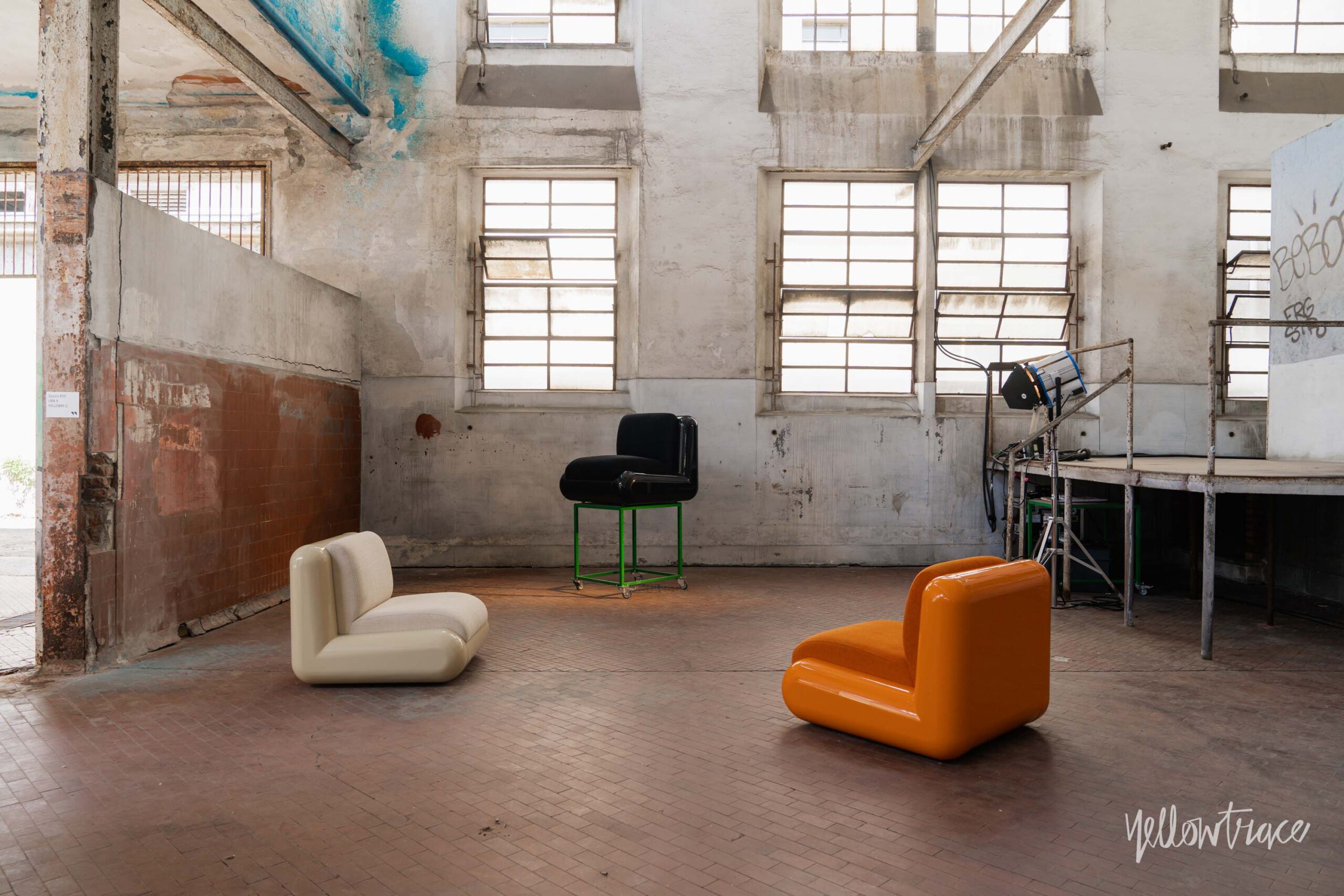 Holloway Li's limited edition seating collection at Alcova.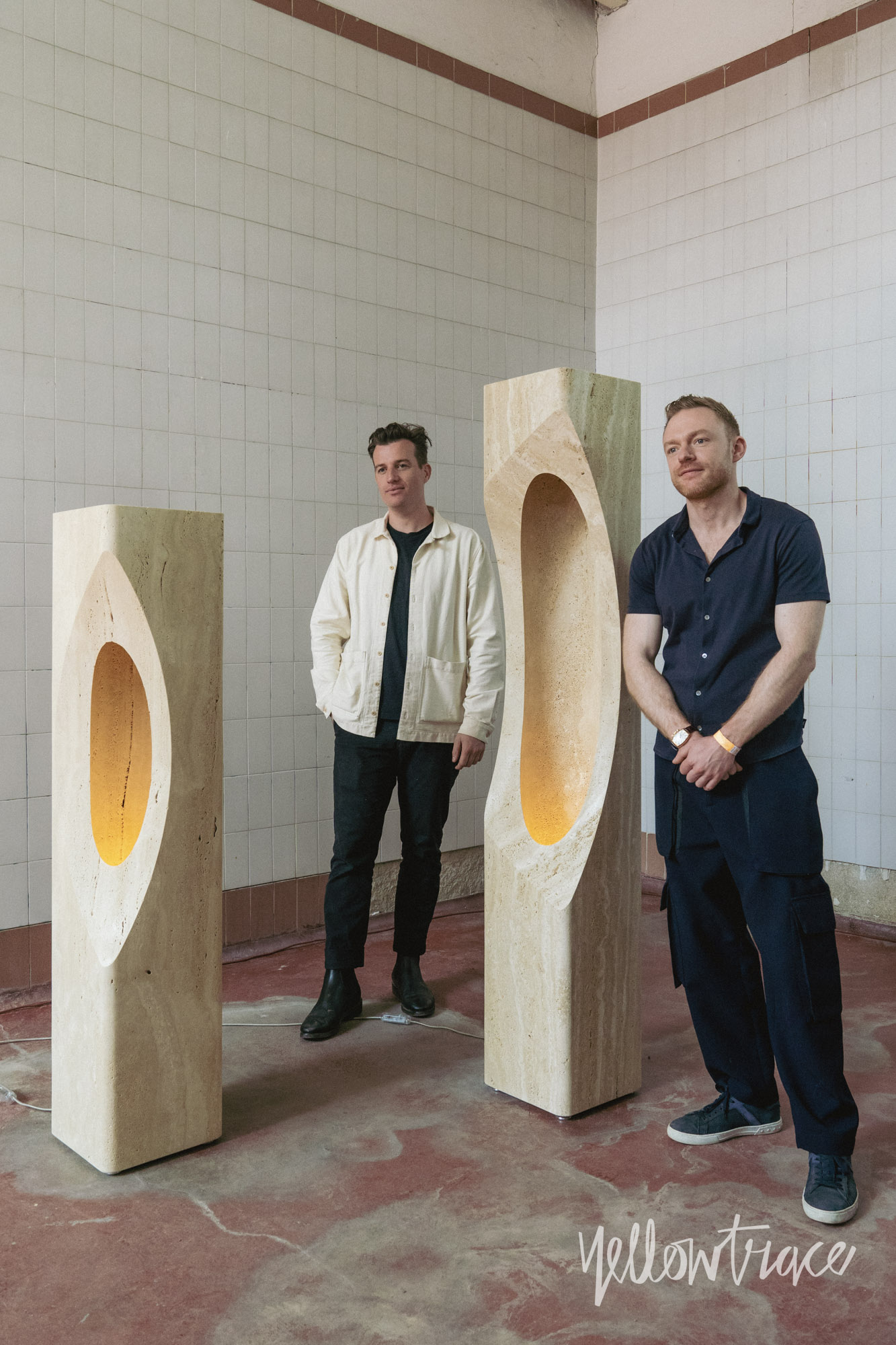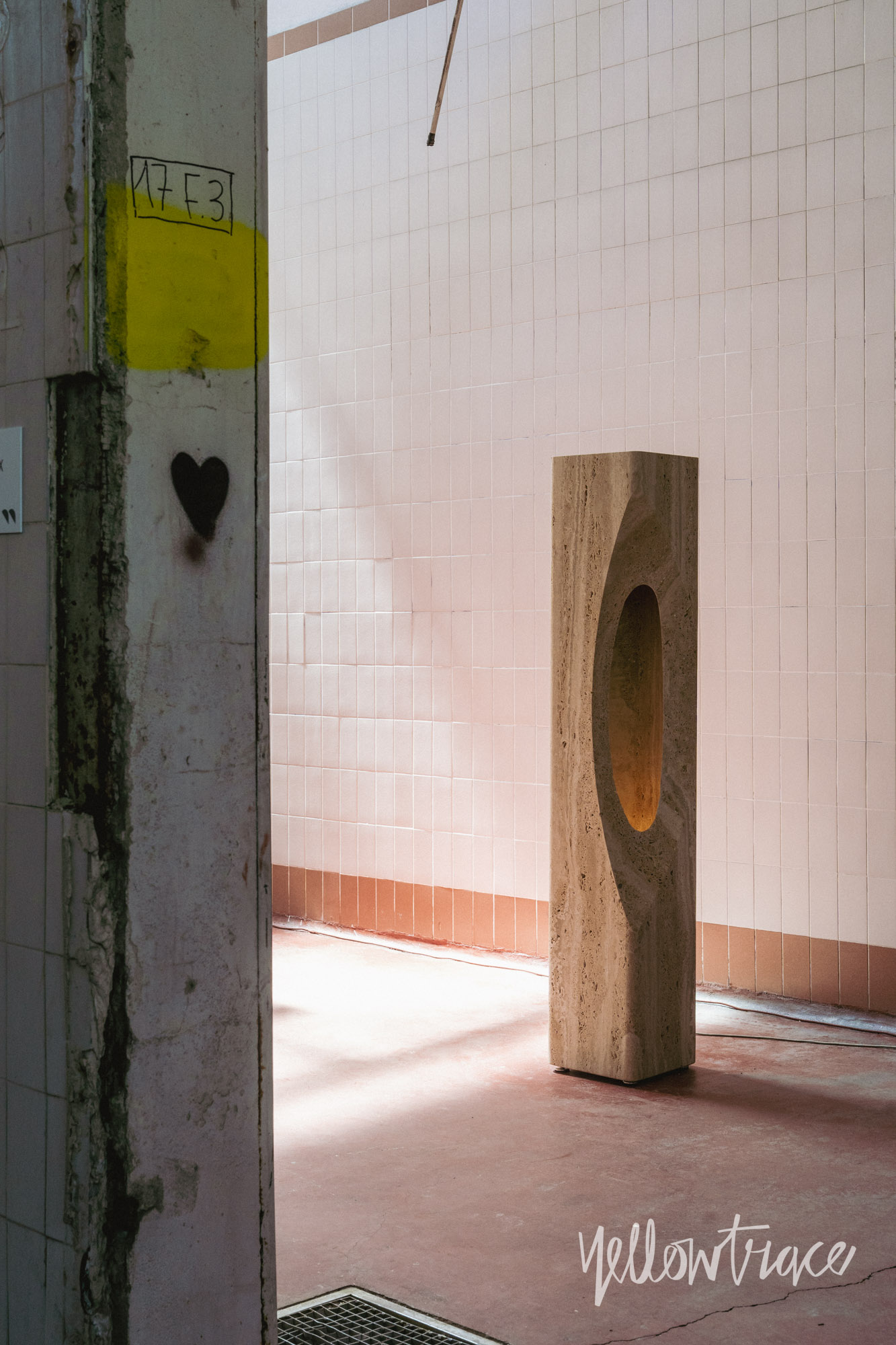 Still at Alcova, Australian designer Tom Fereday collaborated with Agglomerati, a company founded by another Australian designer, Sam Henley, on Cor—a collection of illuminated sculptures.
Atelier Luma installation at Alcova. So good. A lot more to come on this.
Brazilian design studio Estúdio Rain has developed Rícino, a series of lamps that filter light with plant-based polyurethane made from castor oil.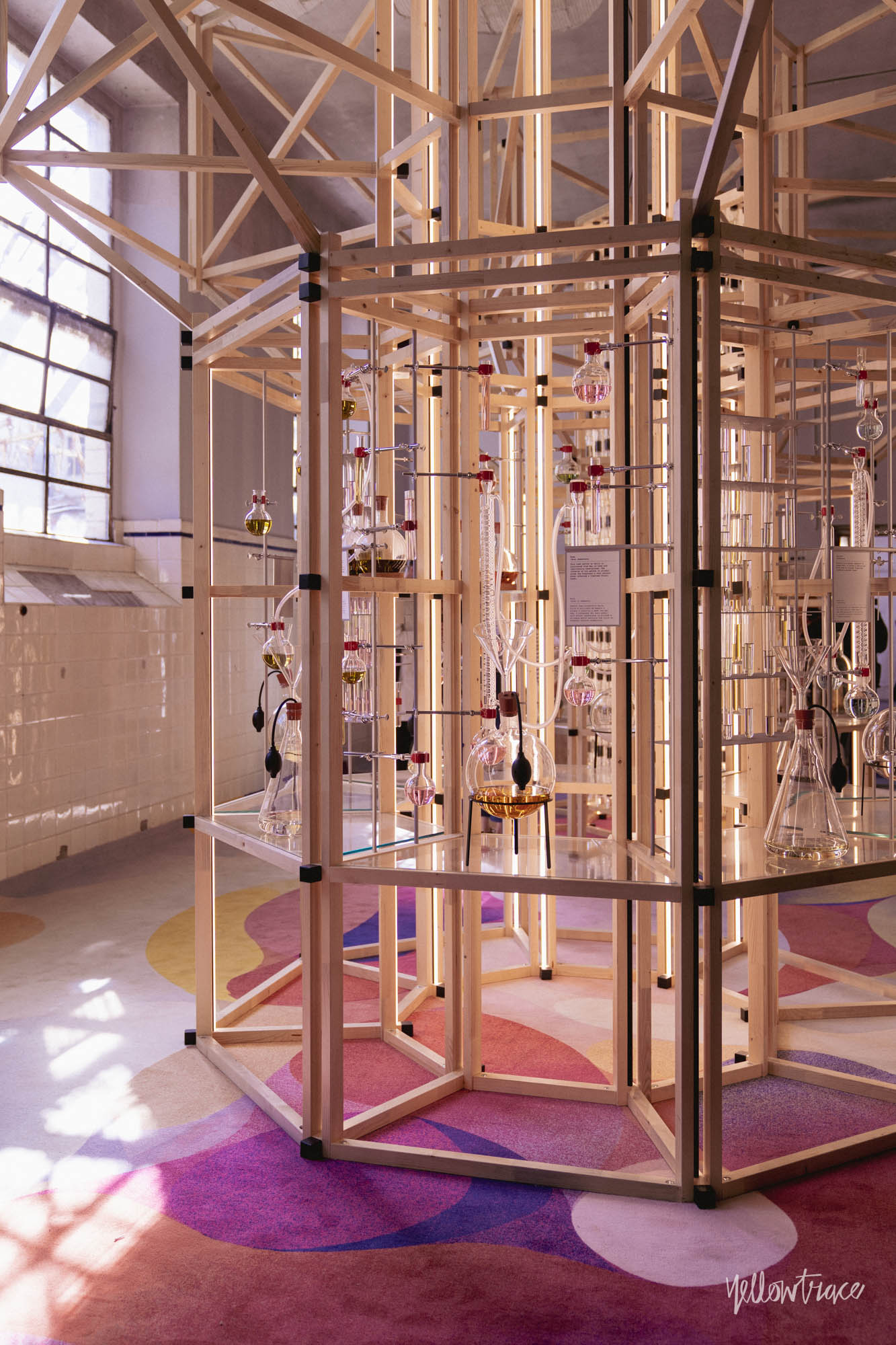 I adored Expériences Immobiles, Les Eaux Primordiales' installation by DWA Design Studio at Alcova. Inspired by the aesthetics of industrial buildings in Northern France, the geometric shape of two laboratory towers was reminiscent of old factory chimneys which the creator of Les Eaux Primordiales, Arnaud Poulain, admired as a child.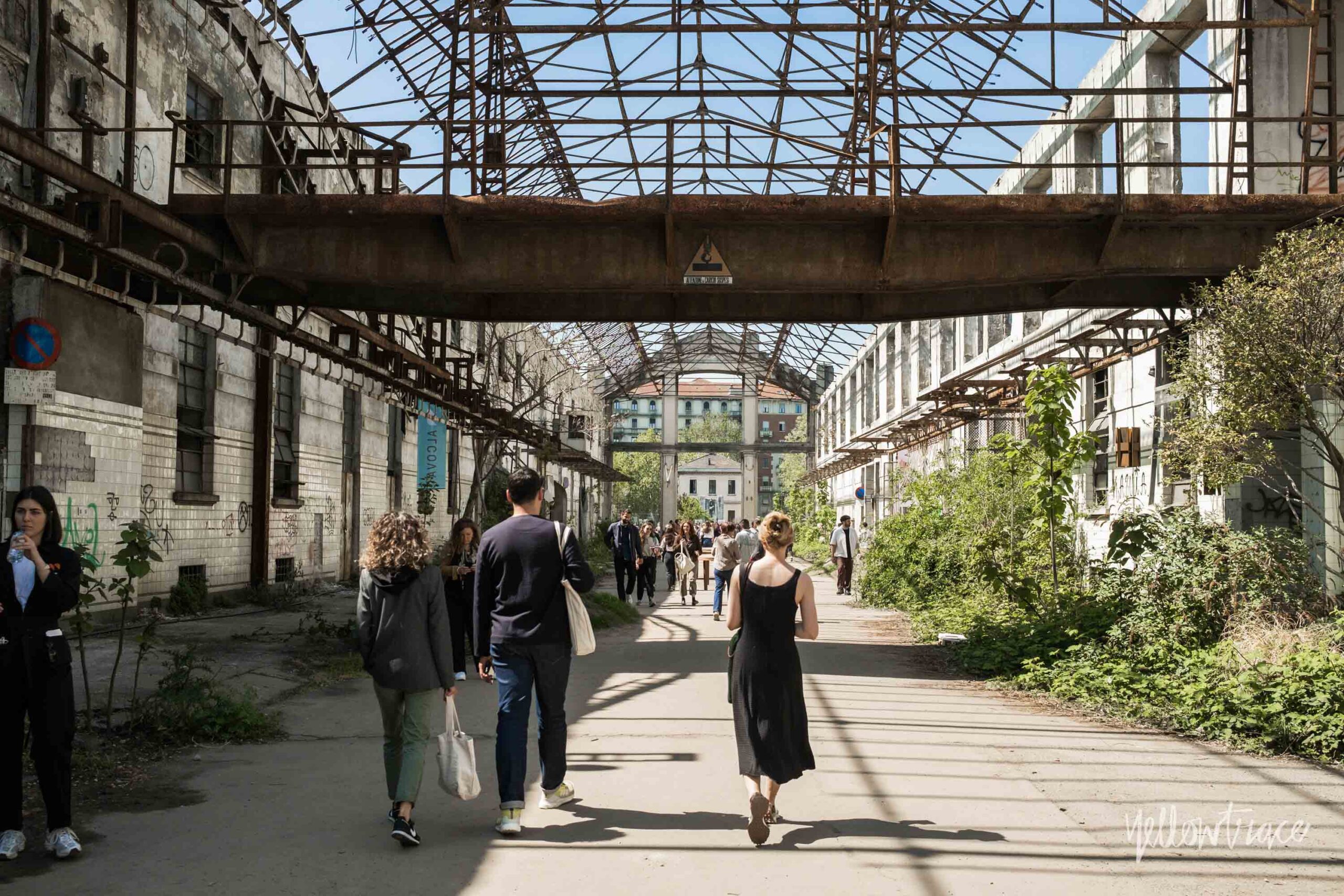 Scenes from Alcova 2023, set within the city's decommissioned abattoir. Pretty wild!
Chinese designer, Mario Tsai's lights at Alcova.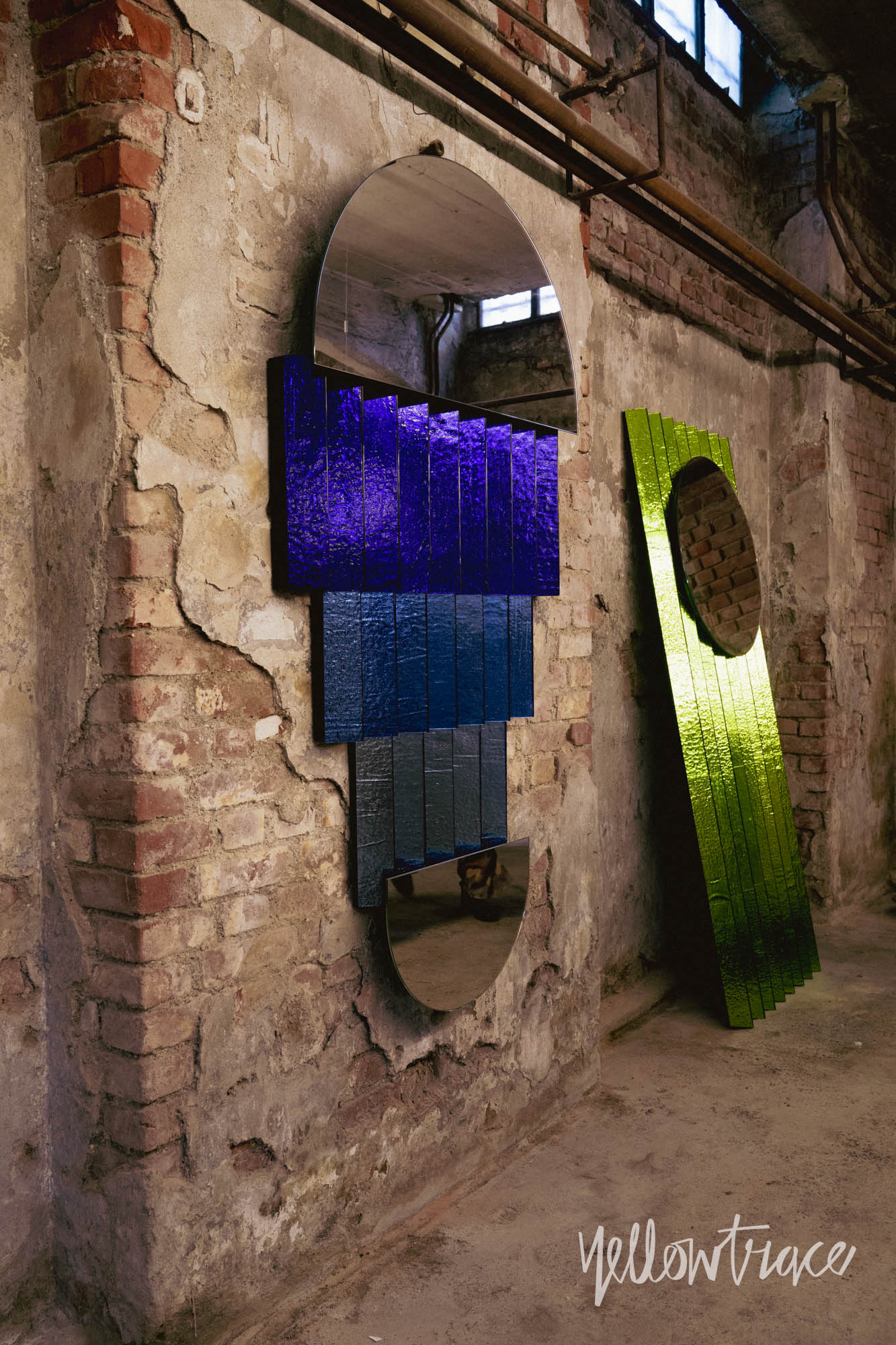 Barbini Specchi Veneziani's mirrors at Alcova.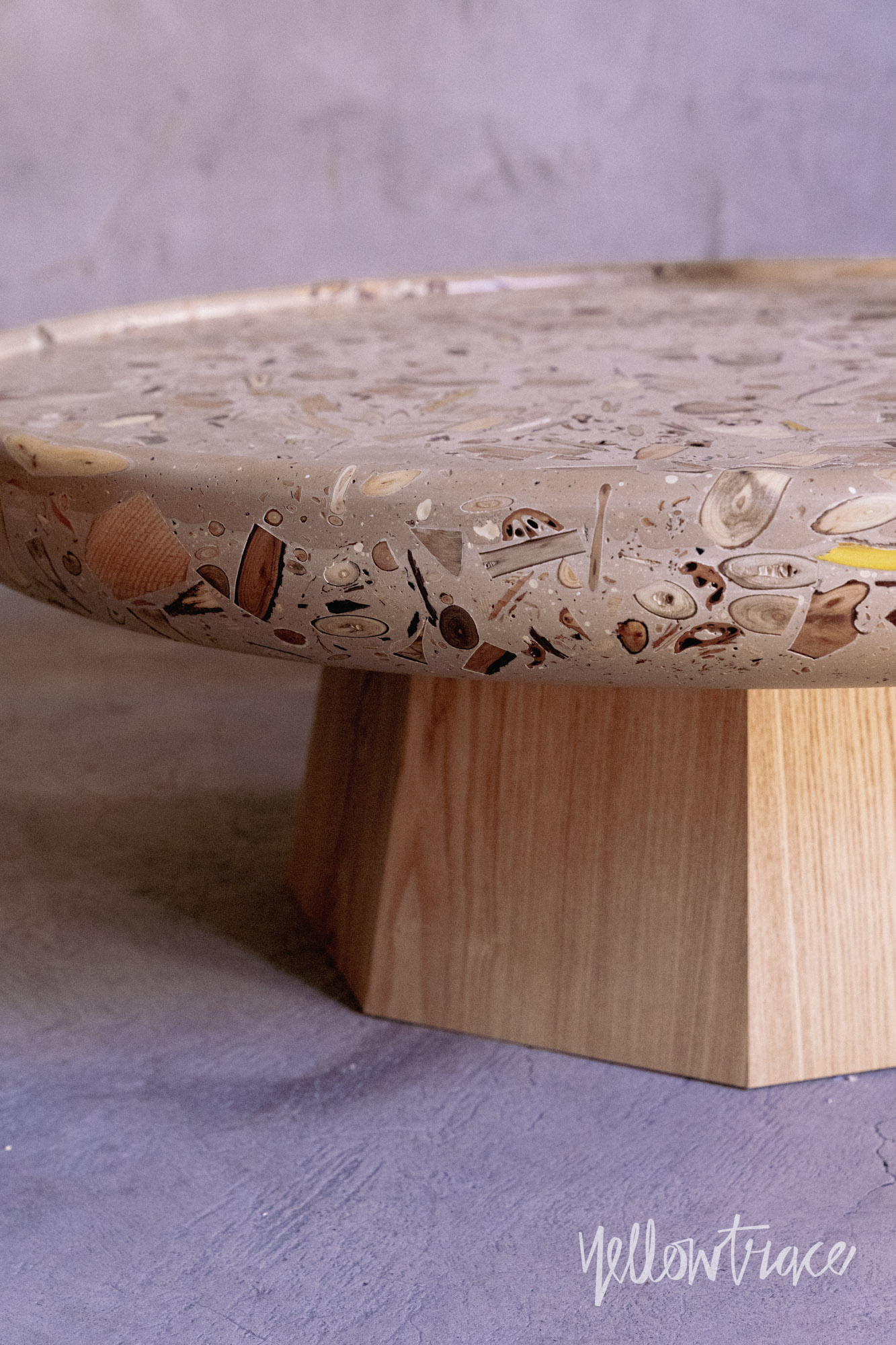 Yuma Kano X Sho Ota projects at Alcova was one of my favourites. More to come.
Atelier Areti at Alcova.
Osangmin Studio at Alcova.
Entrance to Alcova 2023.
Curated by Federica Sala, Campo Base was the manifesto project on interior design by six Italian architectural studios. This room was by Hannes Peer.
Details from Hannes Peer's beautiful space, Atelier des Nymphéas.
Chatting to Adelaide and Andrea of Marcante Testa at Domestic Confessional, the duo's installation at Campo Base.
Omphalos—Studiopepe's installation at Campo Base.
Details from
Studiopepe's installation at Campo Base
.
AMMONITE, A space between Earth and Sky by Giuliano Andrea dell'Uva at Campo Base.
Eligo Studio's installation at Campo Base was an homage to the late Italian architect, Lorenzo Mongiardino.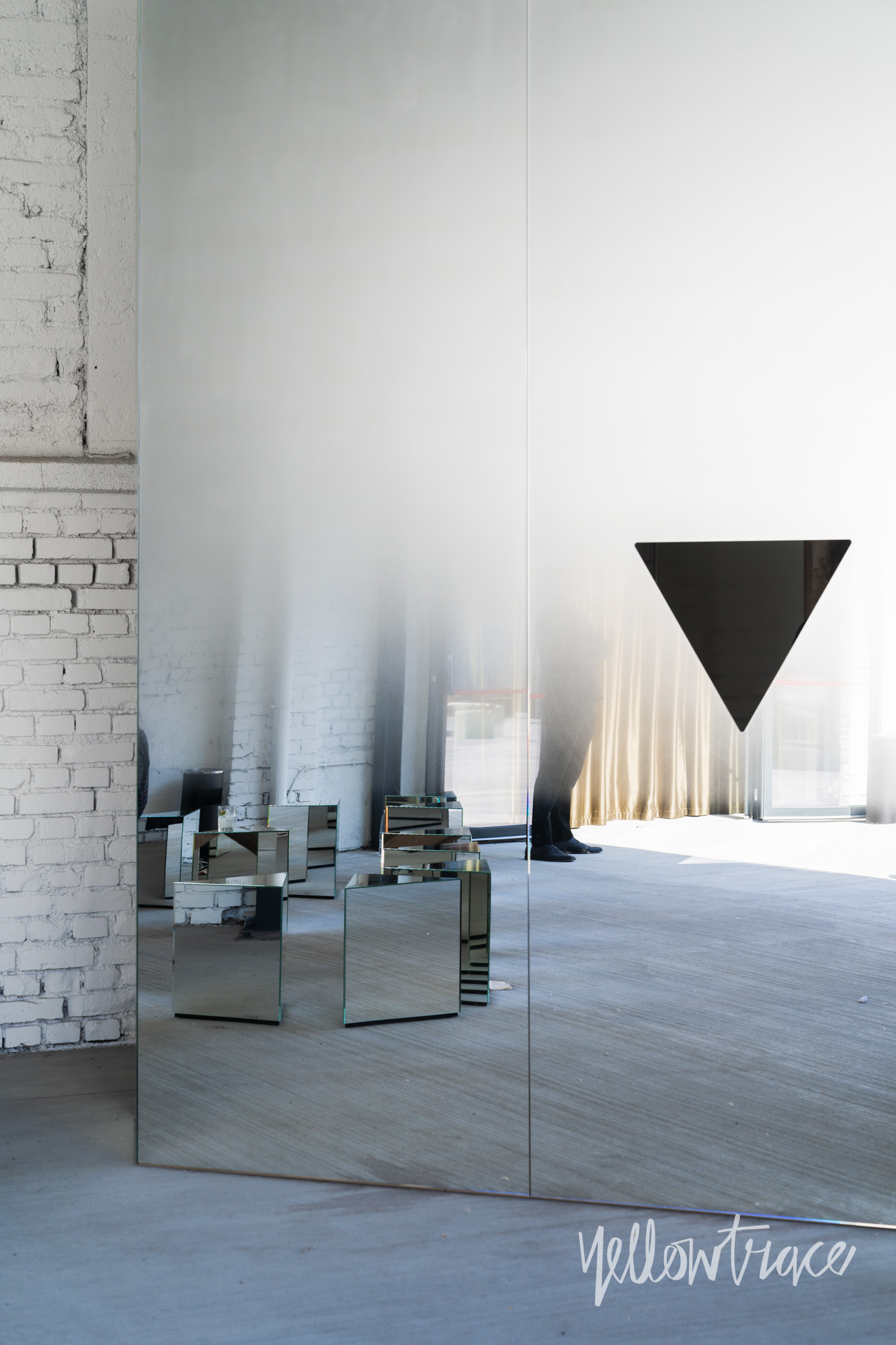 A mirrored
installation that doubles as a bar with triangular openings for the service of drinks at Campo Base
.
Stamuli's installation at Convey presented at Basic Village.
Marimar installation at Convey presented at Basic Village.
Scenes from Convey.
Super cool lights by NM3 for 6:AN Glassworks at Convey.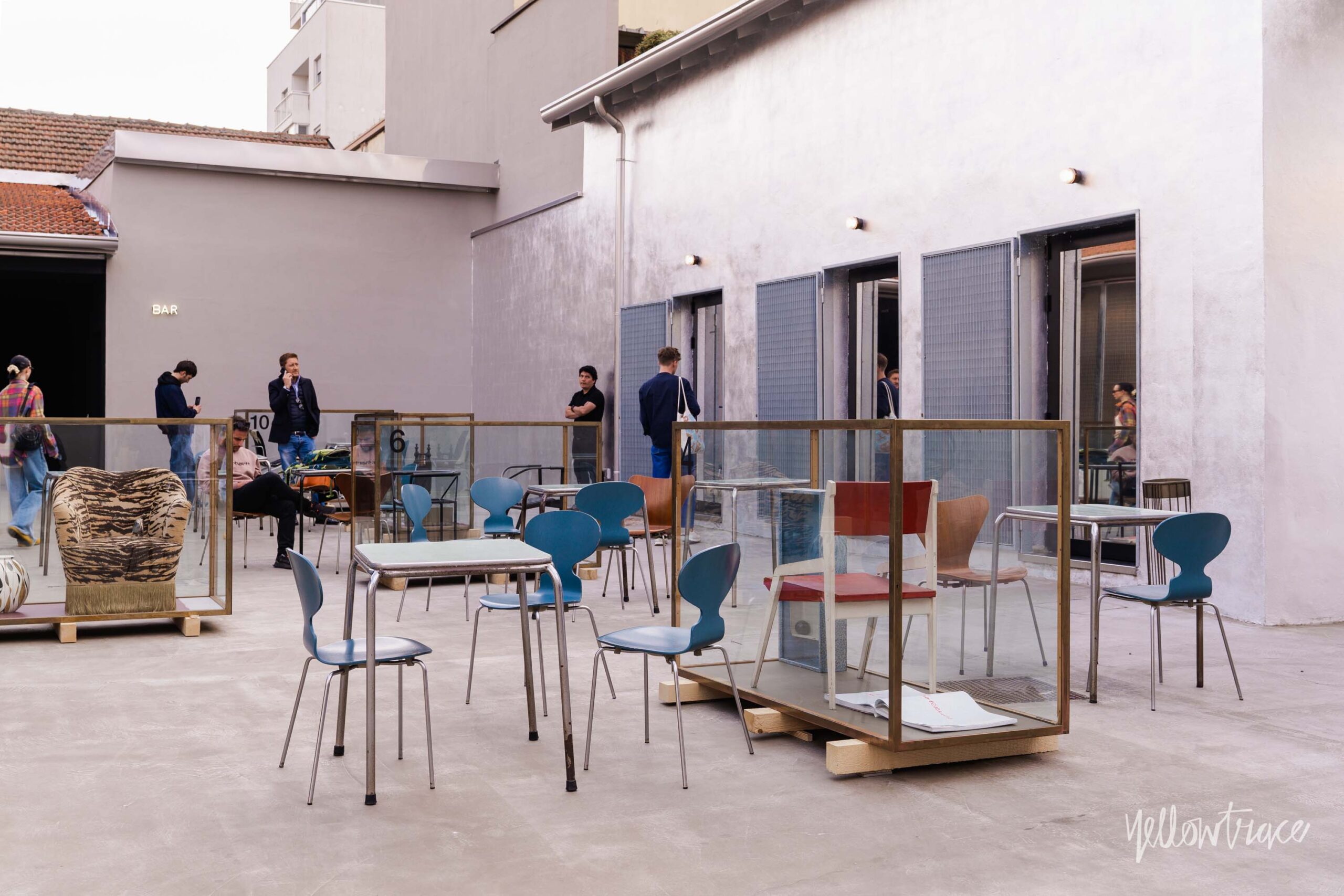 DIMORESTUDIO celebrated its twentieth anniversary with two projects for Salone del Mobile 2023. This was the courtyard at Dimorecentrale.
Silence by Dimorestudio at Dimorecentrale was quite incredible, unfolding across five dream-like atmospheres.
Presented at Teatro Albers, AMO interpreted and reproduced products from the archive of Josef and Anni Albers, with works by London-based designer Marco Campardo and master weaver Laura de Cesare.
Desacralized by Galerie Philia featured over 20 established and emerging international designers, each exploring the concept of desacralisation. Staged in the 11th-century deconsecrated church, Desacralized is the first major exhibition to take place in this space.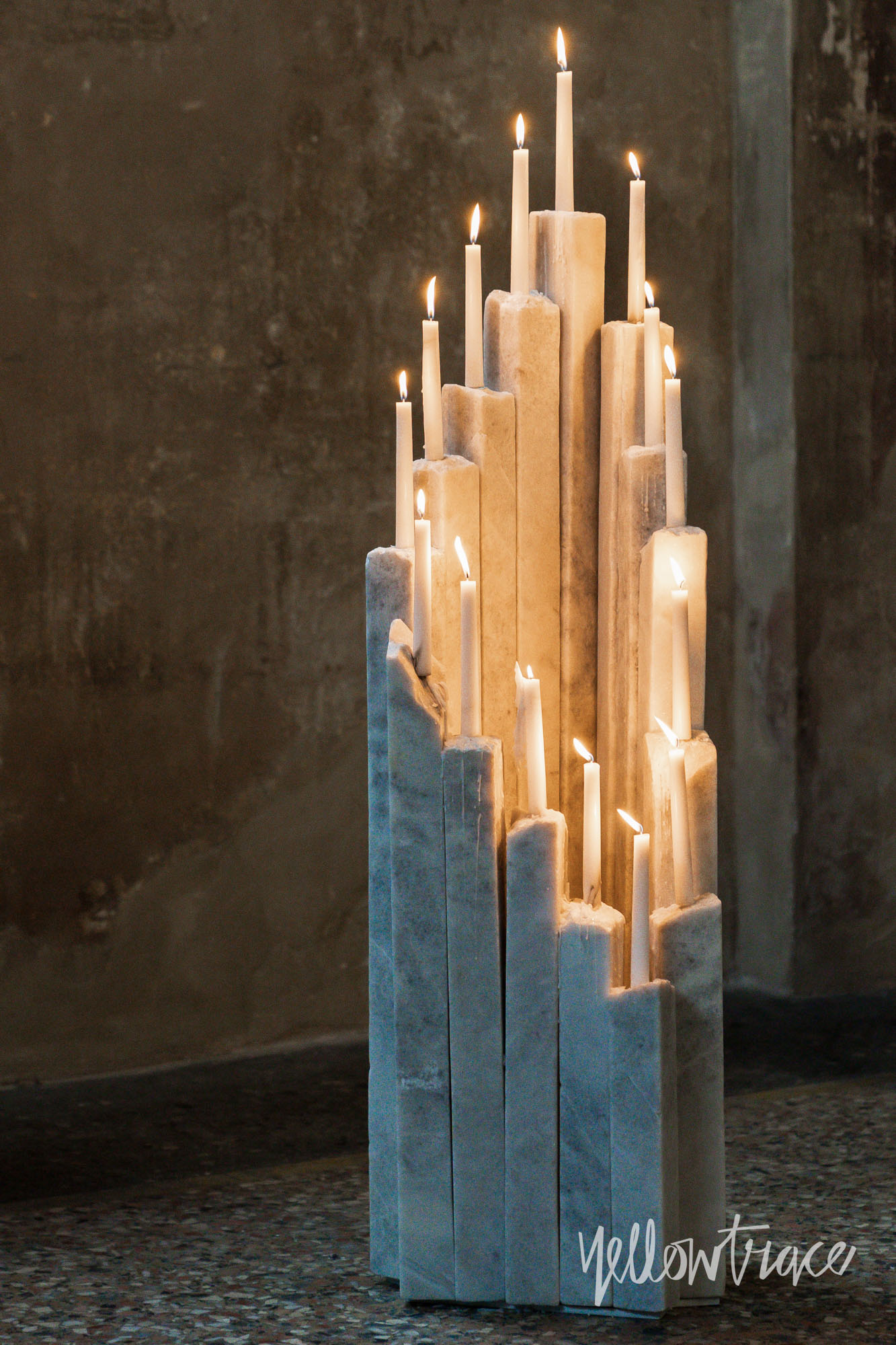 Sadly, I don't recall who this epic candelabra is by.
The Pagoda Lamp by Studio Henry Wilson.
Void floor mirror by Boldizsar Senteski.
Set of abstract shell lights by Elsa Foulon.
One of the many exhibitions that graced the halls of Euroluce 2023.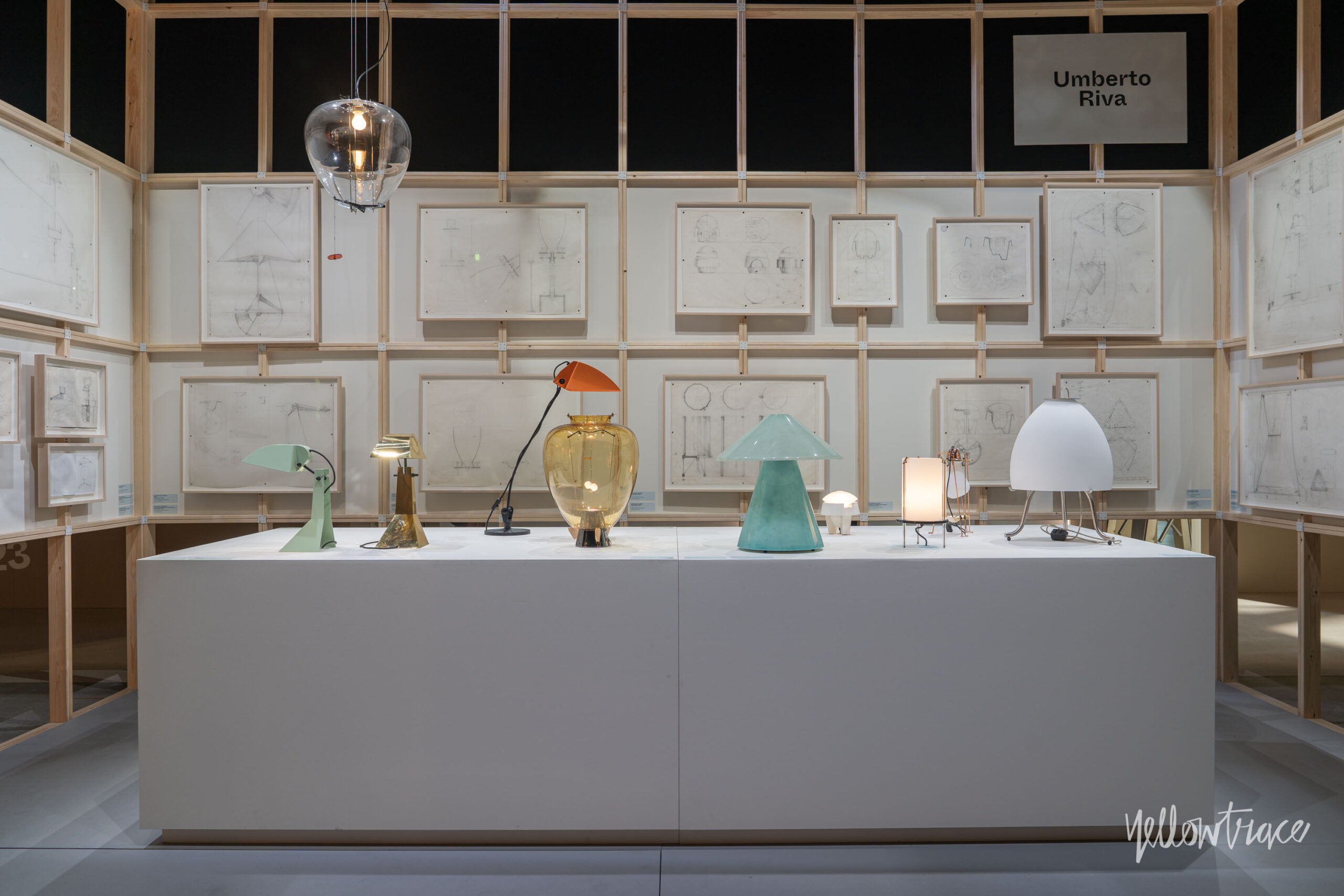 Umberto Riva's exhibition at Euroluce 2023.
Cloud by Maxim Velcovsky for Lasvit at Euroluce 2023.
Newness by Michael Anastassiades at Euroluce 2023.
Philippe Malouin's debut light for Flos.
Ronan Bouroullec's ceramic light for Flos.
Tom Dixon at Euroluce 2023.
Bocci unveiled its permanent Italian base in the form of a showroom/ apartment on via Lorenzo Mascheroni.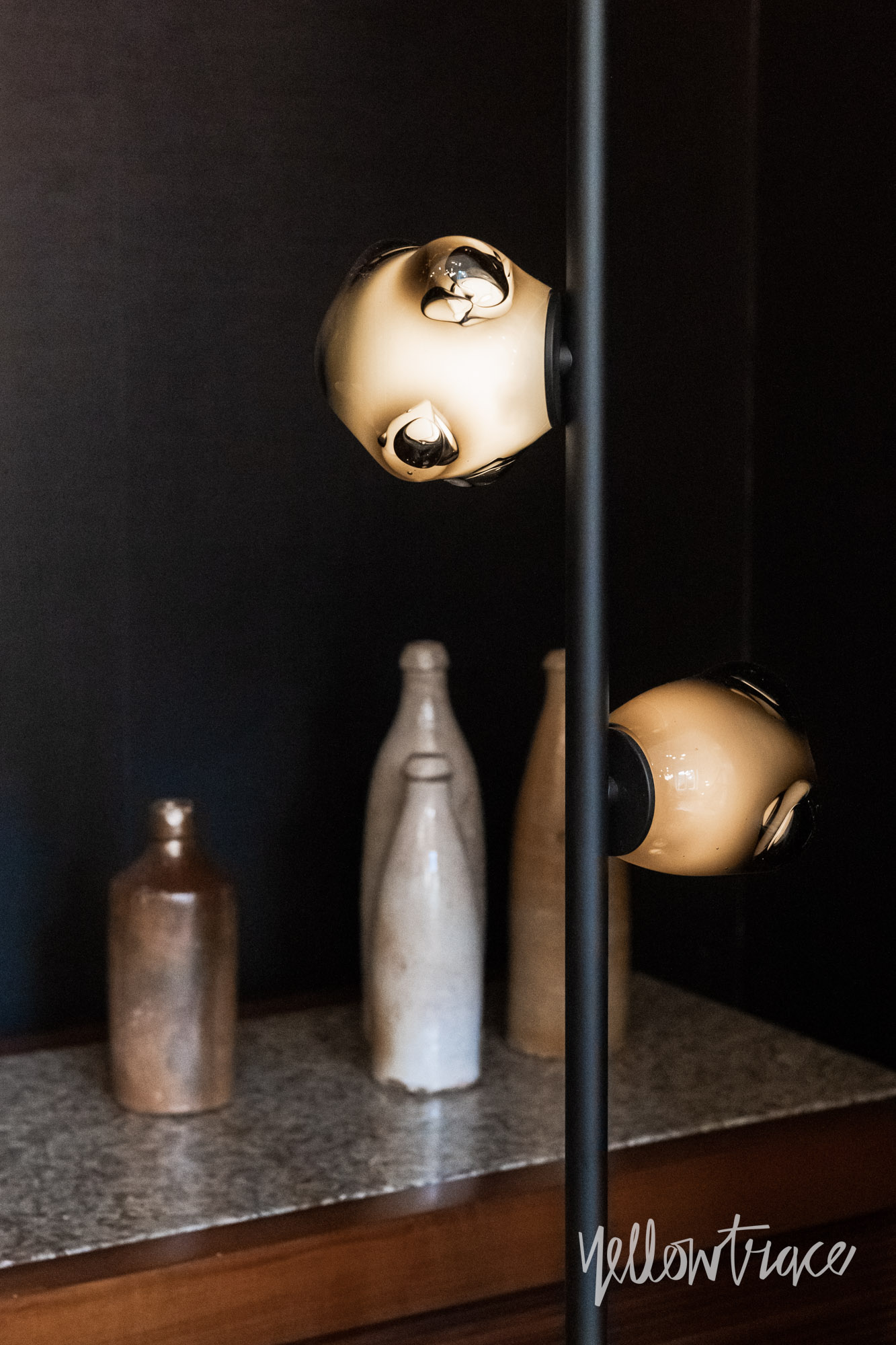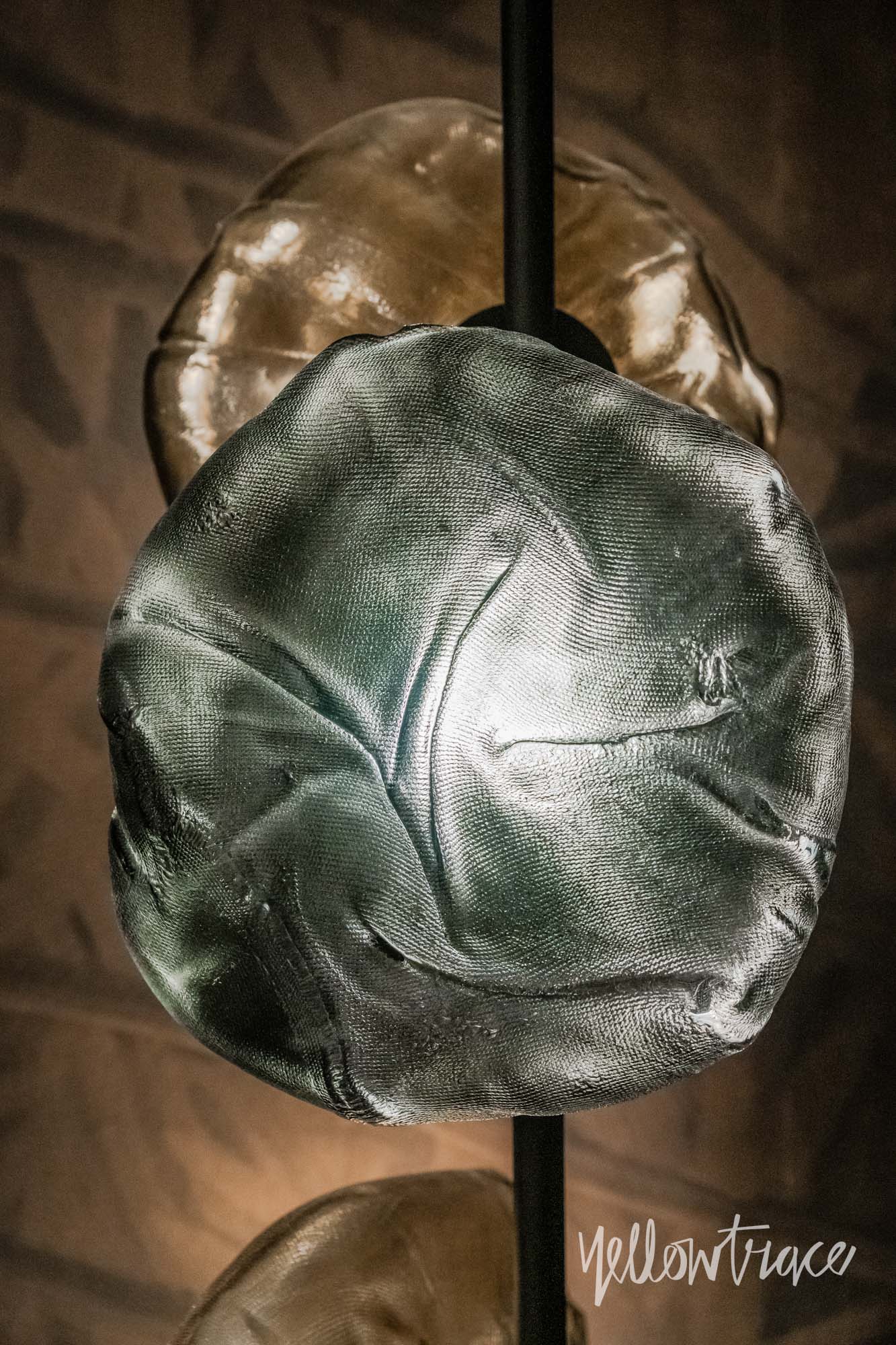 The apartment invites guests to experience Bocci designs in an intimate residential setting.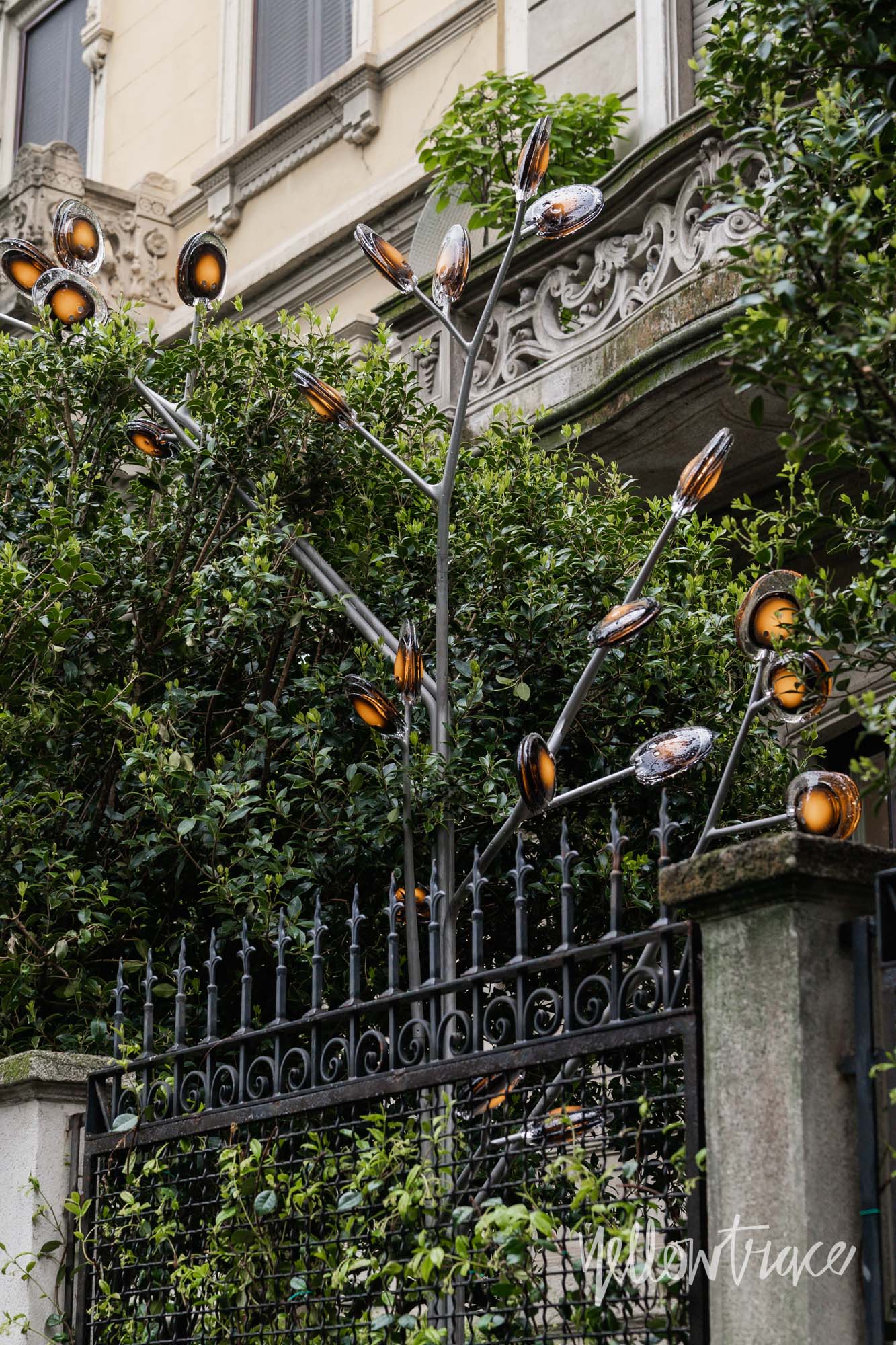 View into the Bocci apartment bedroom.
Blending in like a total pro.
Apartment building entrance hotness alla Milanese
ECHOES 50 Years of iMaestri by CASSINA at Palazzo Broggi—a show curated by Patricia Urquiola and Federica Sala.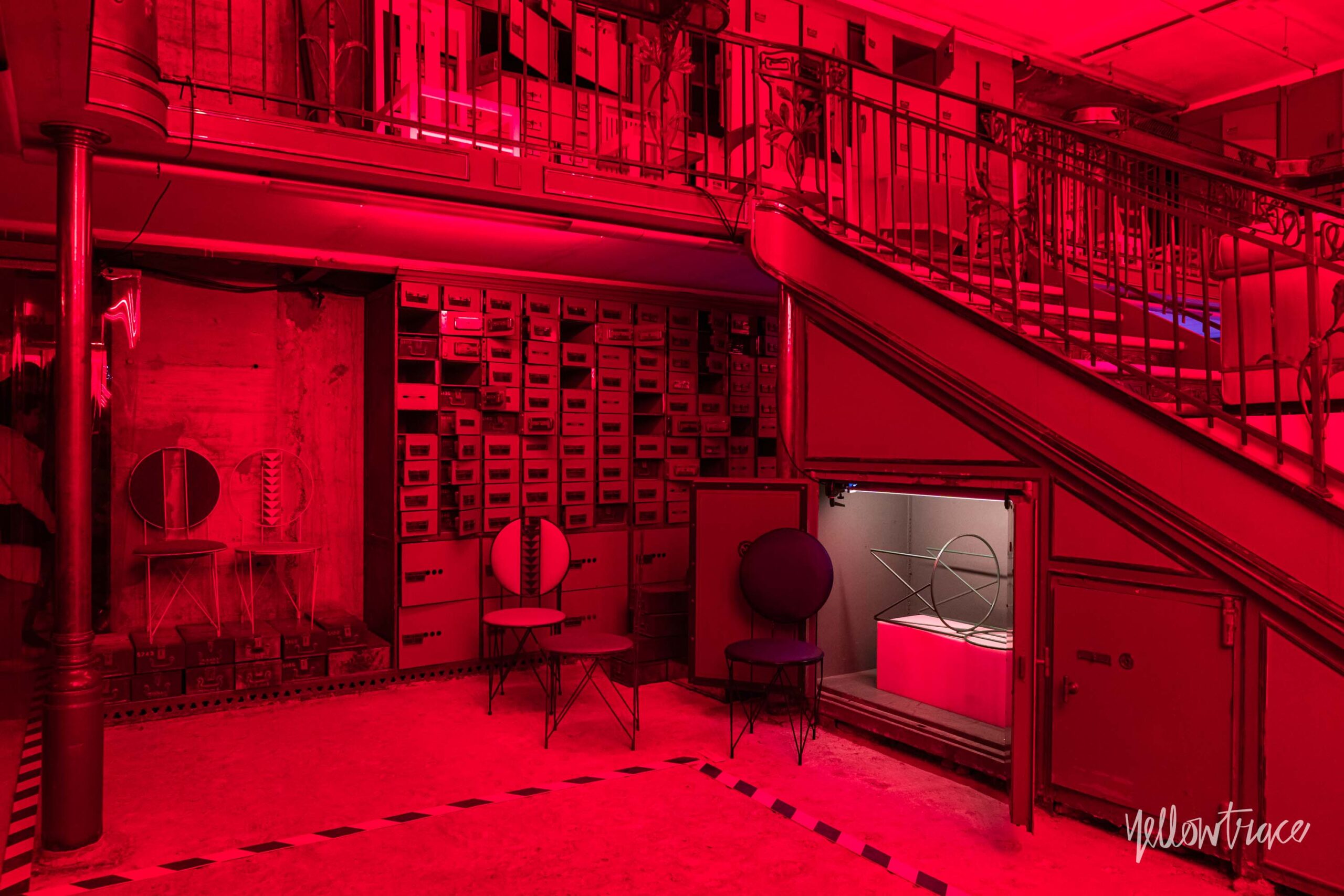 Hitting the streets of Milano, rain, hail or shine.
Peres Projects presented—BD Barcelona, A New Perspective, celebrating the Spanish brand's 50th birthday at Piazza Belgioioso.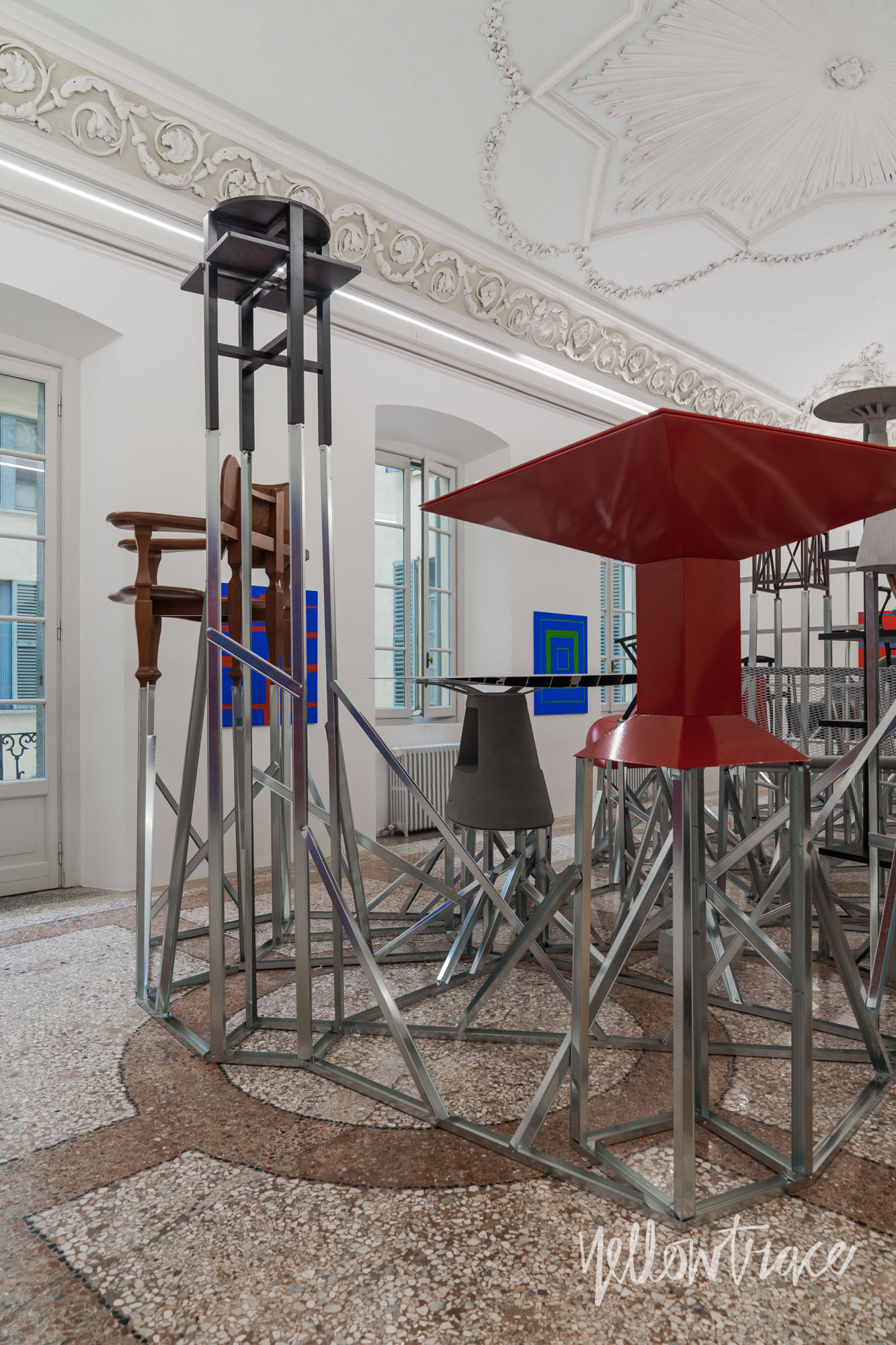 BD Barcelona's A New Perspective at Piazza Belgioioso.
WonderGlass was back at Milan's institute for the blind with Abrakadabra—a sublime exhibition that showcased pieces designed by eight international artists, all celebrating the beauty of glass.
Venetia glass 'curtains' by Elisa Ossino for WonderGlass were my fave.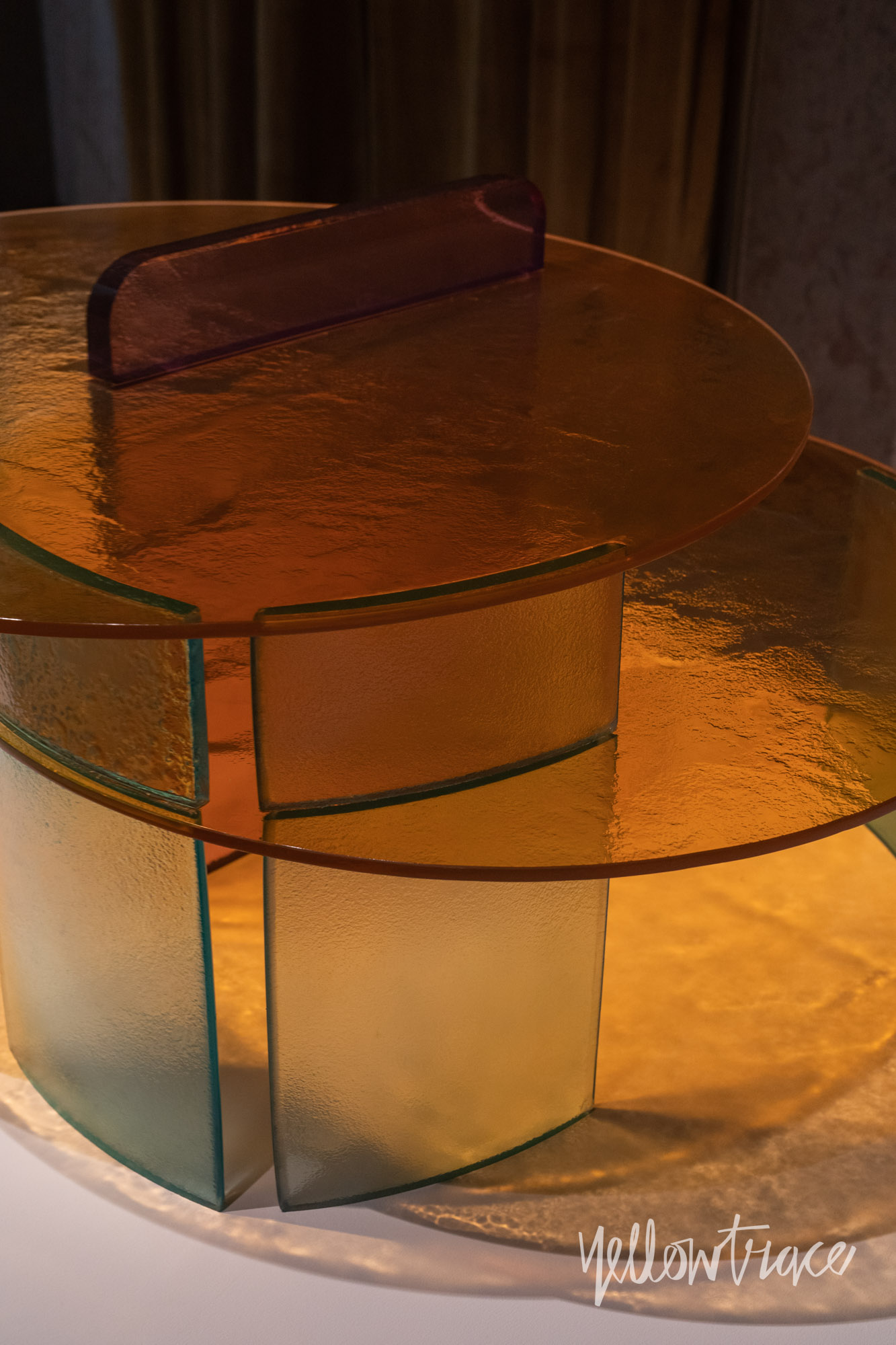 Taliso by Elena Salmistraro for WonderGlass.
Berg by John Pawson for WonderGlass.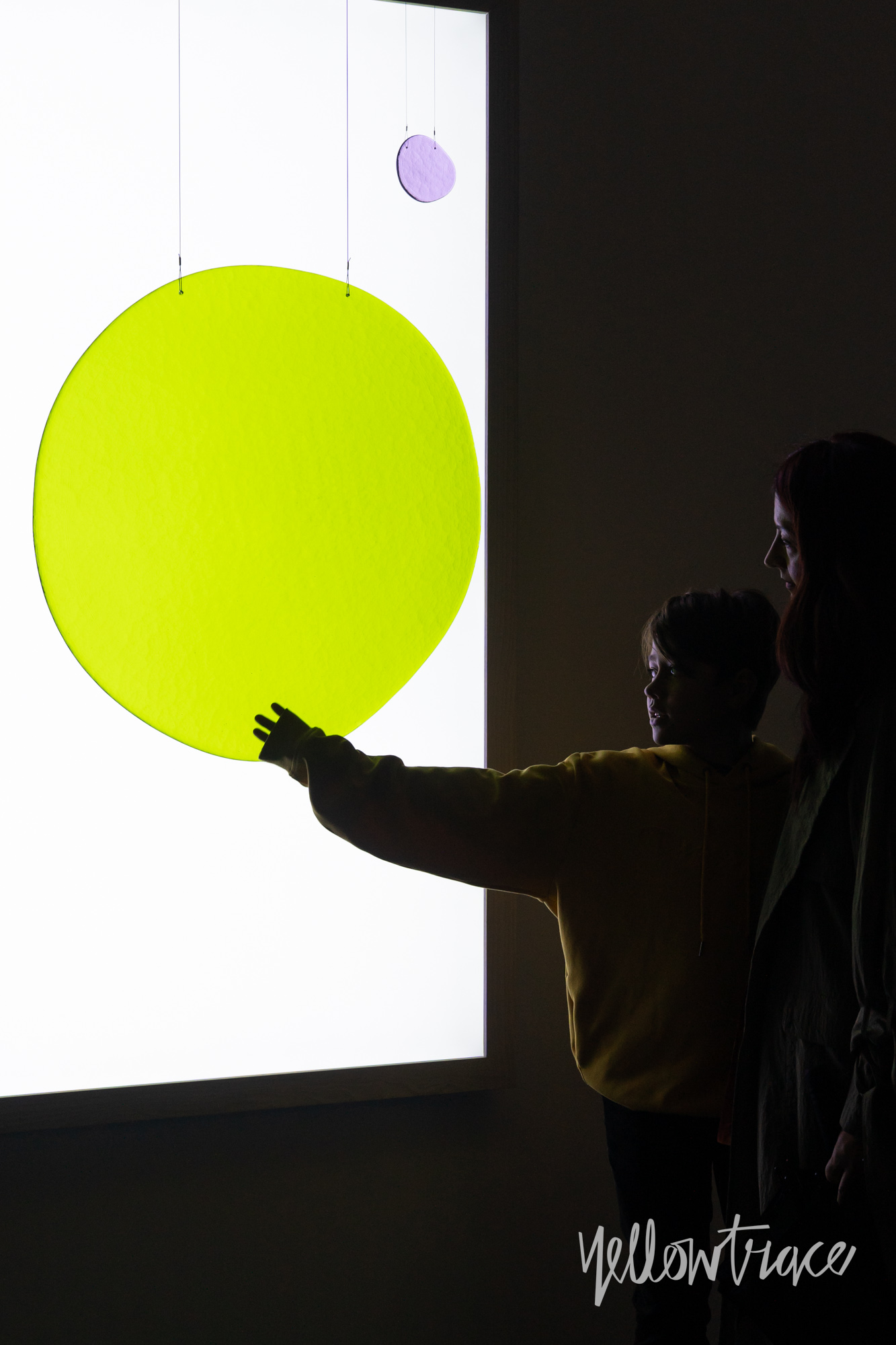 Wander by Paul Cocksedge for WonderGlass. No prizes for guessing Luka's favourite.
Spending an afternoon speaking with Michele de Lucchi in the AMDL Circle's office in Brera was a major highlight. Here we are, obviously discussing very important design matters!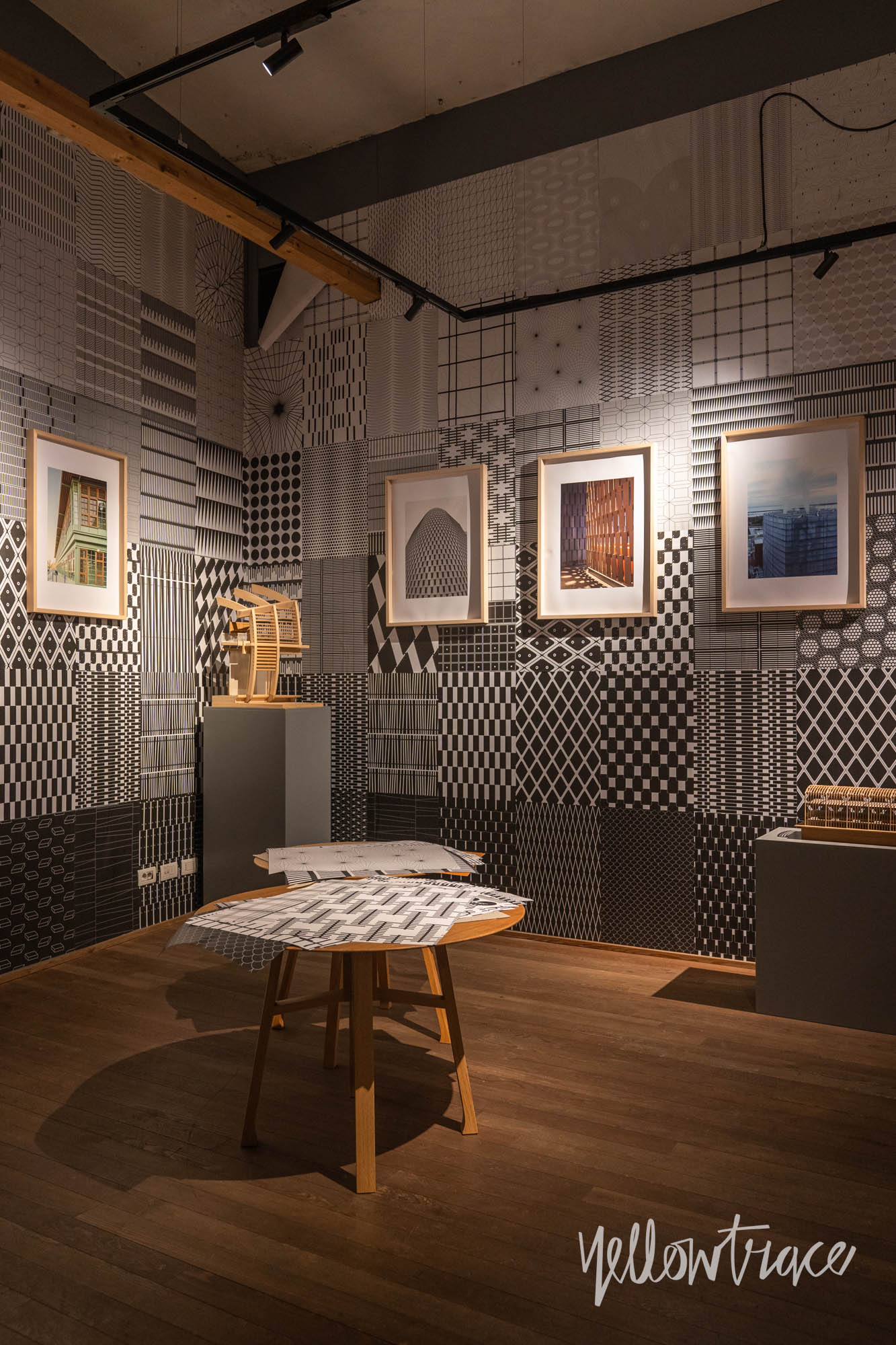 The foyer of Michele De Lucchi, AMDL's Circle studio.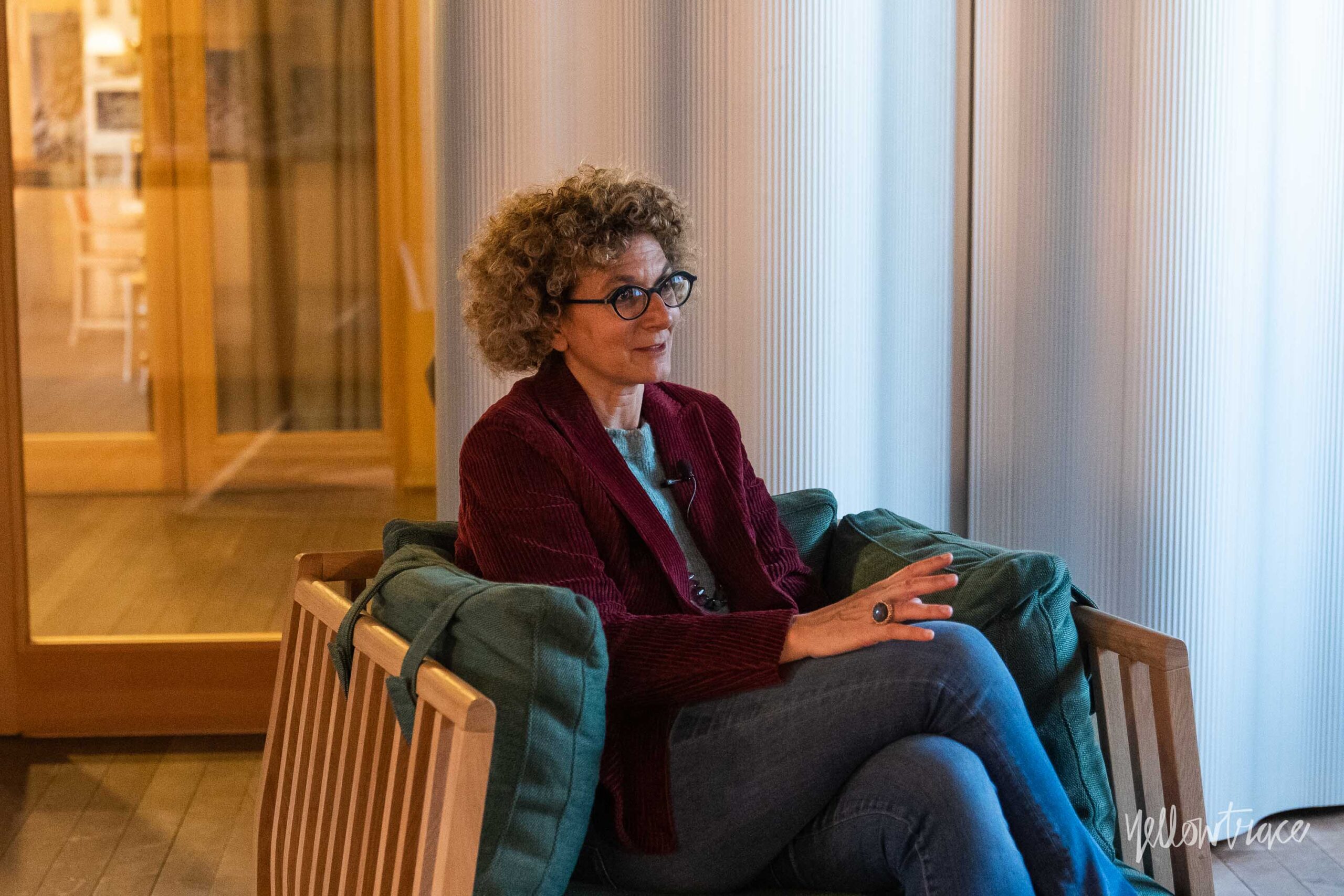 Interview with talented Milan-based design curator Federica Sala. Federica was behind countless installations and exhibitions at this year's Milan Design Week.
At Nilufar Gallery on via della Spiga, Unveiling the Bright Side of Design explored the works of Maximilian Marchesani (left) and Gal Gaon (right) among many others.
Japanese lighting company Yamagiwa returned with "The Harmony of Form and Function", an installation designed by Shigeru Ban, showcasing lighting masterpieces by Frank Lloyd Wright.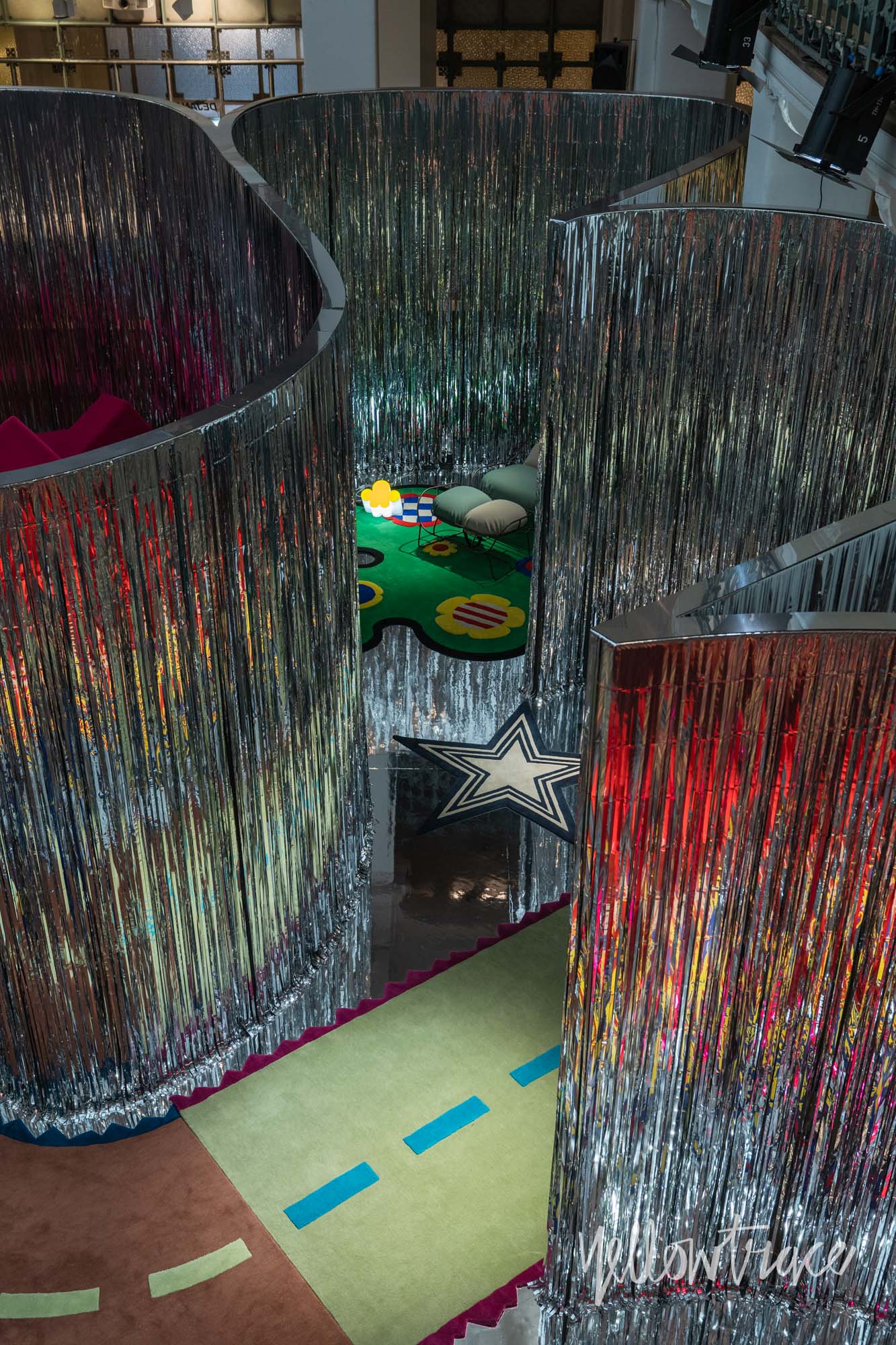 Milan is always full of shiny attention-grabbing things, and Poltronova's installation at Design Variations was no exception.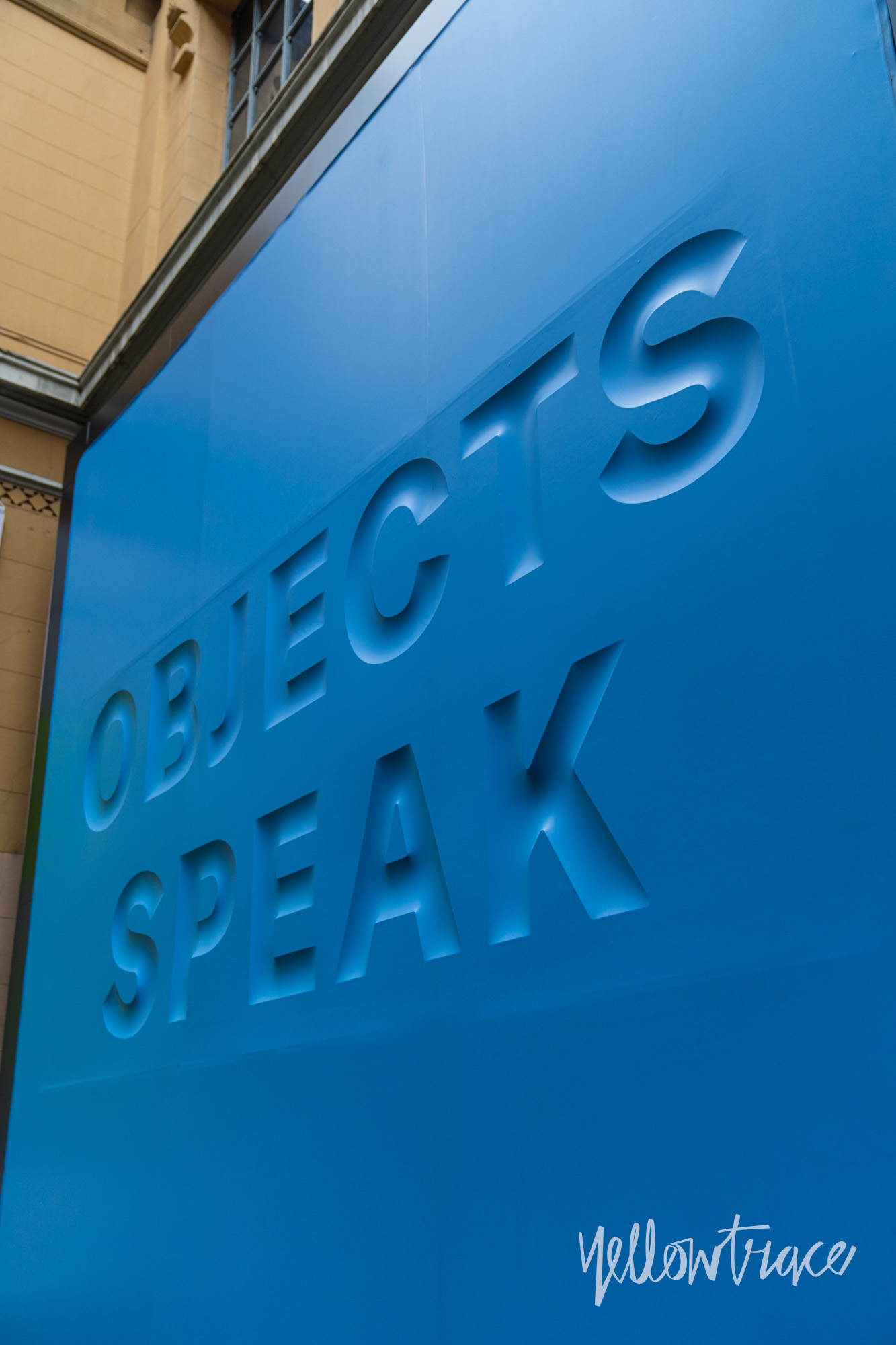 A very cool installation by Zaven at the entrance of Design Variations at Circolo Filologico Milanese.
The inaugural edition of Capsule Plaza, a hybrid between a fair and a collective exhibition, brought together designers and companies from various creative fields, spanning interiors and architecture, beauty and technology, ecology and craft.
Bal D'Afrique installation by Dozie Kanu for Byredo at Capsule Plaza.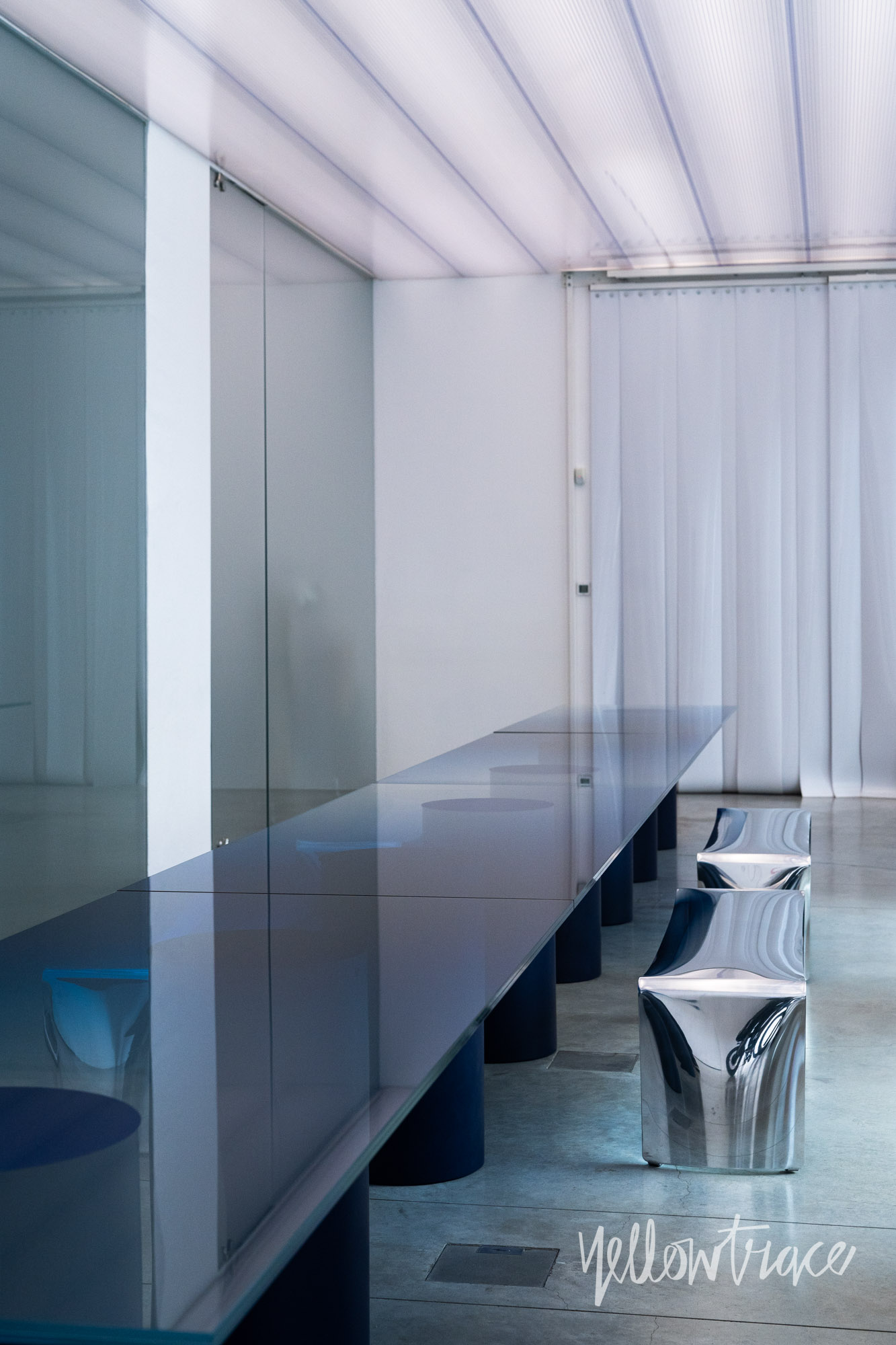 The Cobalt Room by Sabine Marcelis for La Prairie at
Capsule Plaza
.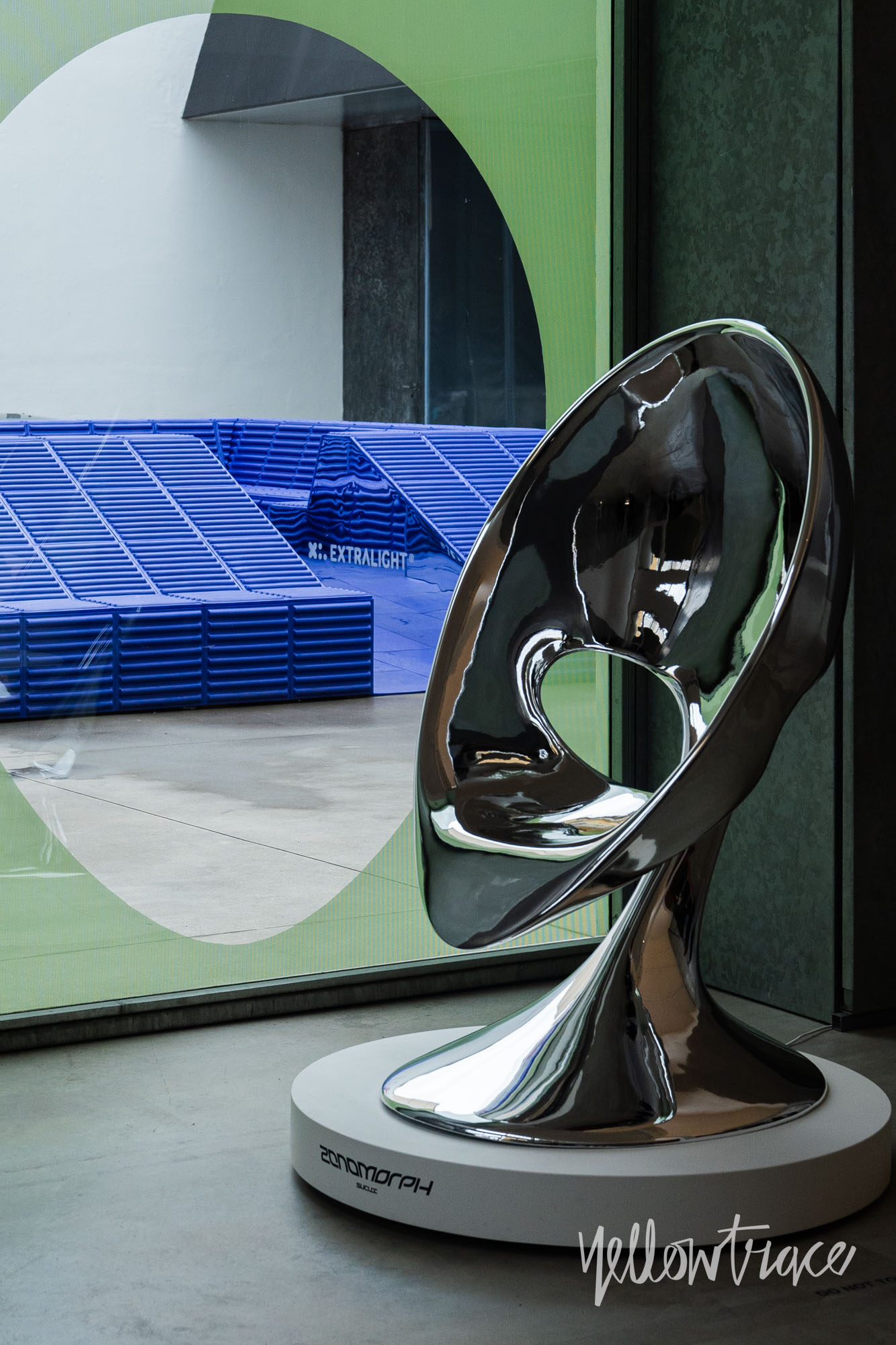 Xenomorph by Sucuk Und Bratwurst at Capsule Plaza.
Lounge by New Tendency at Capsule Plaza.
Tacchini Flok by Formafantasma at Capsule Plaza.
The Sculpted Series by Snarkitecture for Gufram at Capsule Plaza.
Listening Room by Devon Turnbull and Willo Perron at Capsule Plaza.
Softscope by Panter & Tourron for XL Extralight at Capsule Plaza courtyard.
Design for Communities installation at Assab One by Giacomo Moor for Live in Slums. Curated by Davide Fabio Colaci in collaboration with Federica Sala.
Australian designer Ross Gardam presented his first solo lighting exhibition in Milan. Go, Ross!
Details from Ross Gardam's solo exhibition.
Edra Palazzo Durini epicness. Far out.
Moments from Edra Palazzo Durini.
B&B Italia showroom on via Durini.
Herman Miller celebrated 100 years with a small exhibition in their Brera showroom.
Buccellati's Rosso Maraviglia showcase, curated by Federica Sala, featured a new rooftop structure designed by AMDL Circle and Michele De Lucchi.
Floral installation by Lily Kwong alongside a new collection by Venini.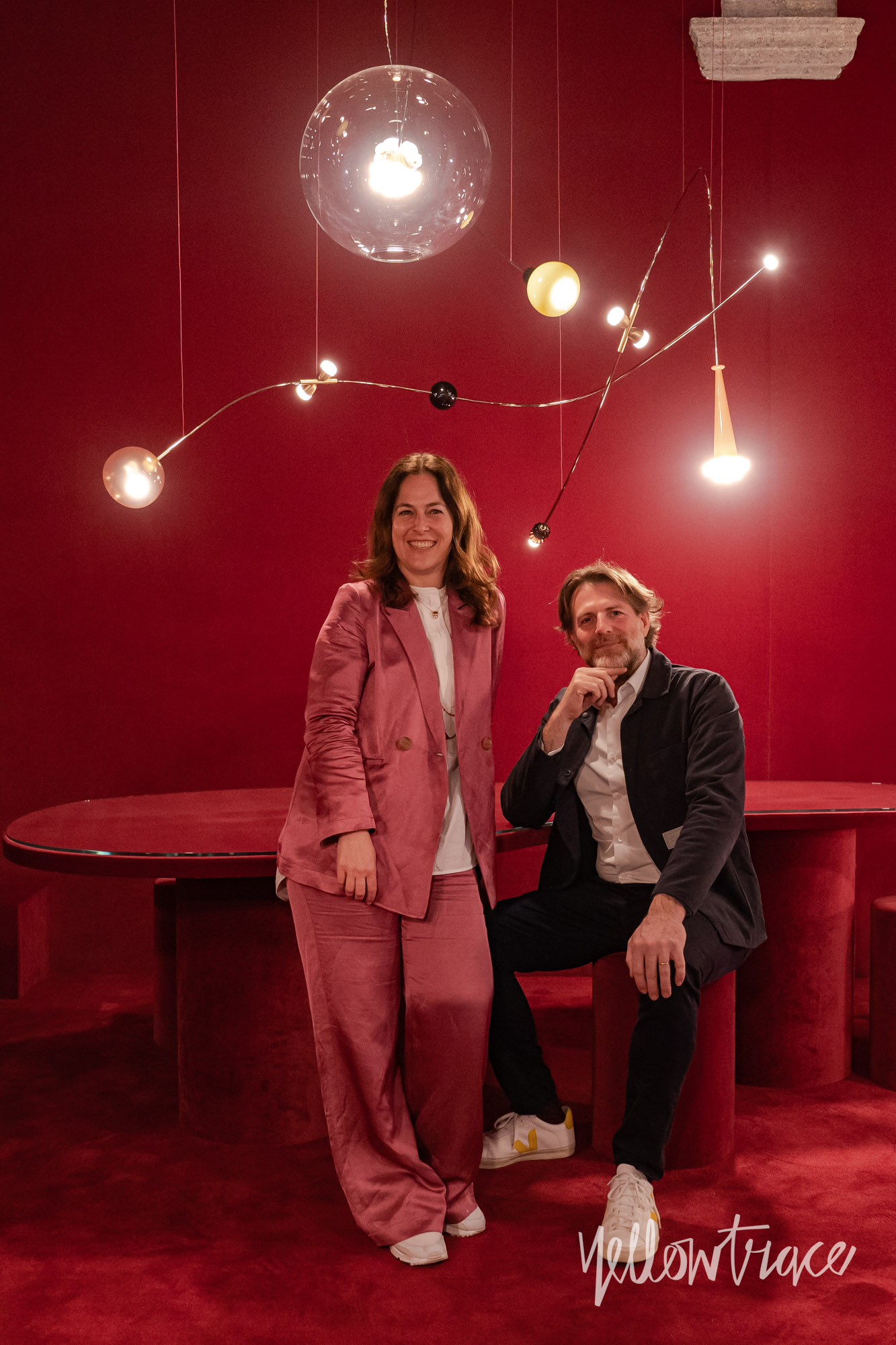 Giopato & Coombes' 18 Pockets exhibition of experimental lighting was an immersive journey into six years of research.
St Louis, in collaboration with Nontak Studio, presented LUMIÉRES—an incredible lighting exhibition set in an old church.
Mama Yellowtrace and Luka on the balcony at 5Vie.
L'Appartamento by Artemest featured multiple rooms designed by different creatives.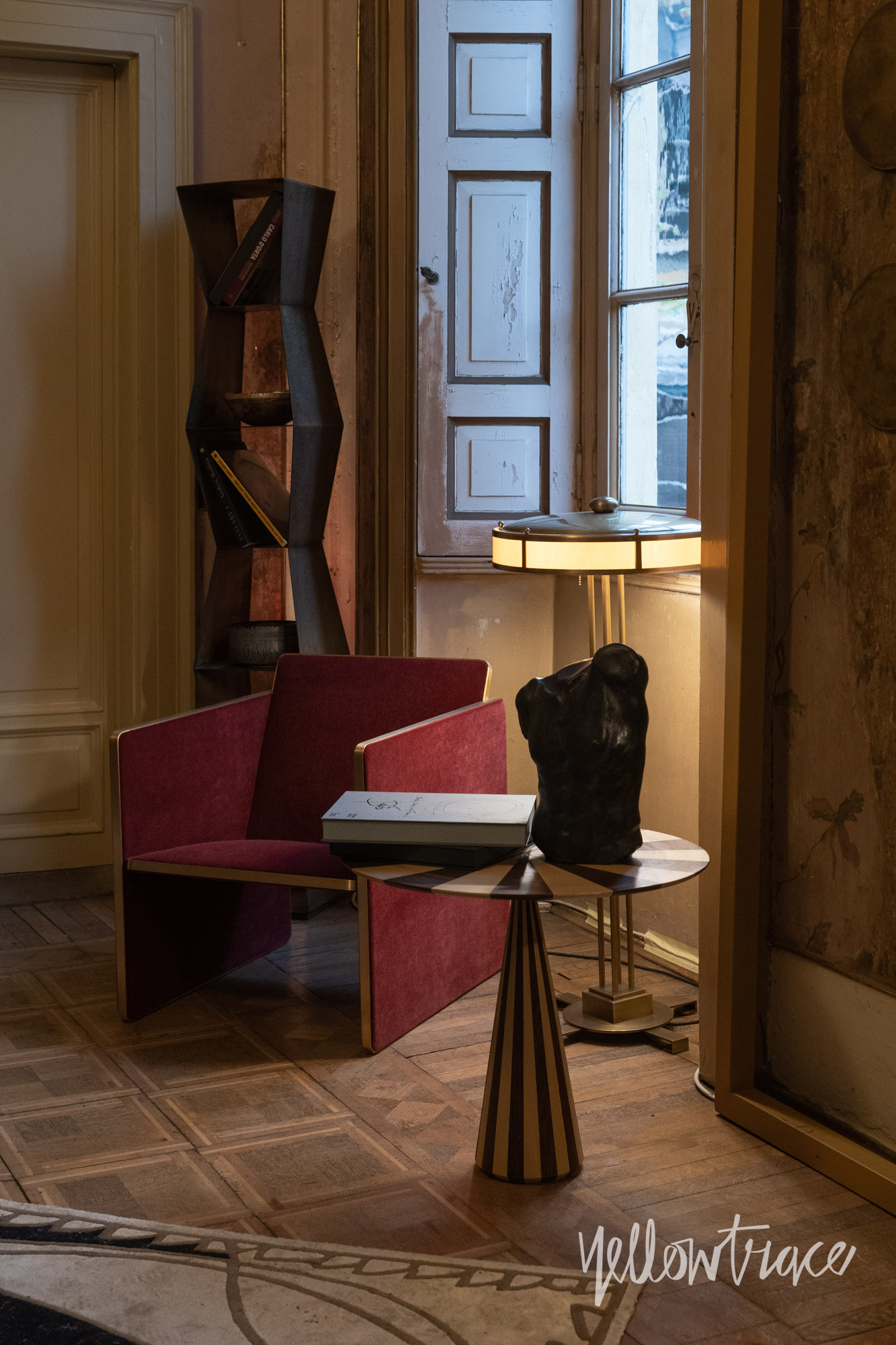 Found my favourite tiles at
Artemist L'Appartamento—Margherita Rui's Alfabeto Collection for Ninefifty, a young, Sicilian atelier specialising in clay and majolica lava stone production.
---
[Production by Studio Yellowtrace. Photography by Nick Hughes/ Yellowtrace.]