DIY designer look table made from a $50 Marketplace find
Grace Carpenzano says she saved herself thousands making this designer look round dining table, just the latest in her collection of impressive and wallet-friendly furniture upcycles.
"I was always seeing photos of ribbed tables pop up on Instagram, sometimes from stores and other times from people's homes. I really loved the style and I had been getting into DIYs for about a year. I went on the hunt for a table that I thought would be able to recreate the look, as the ones online were in the thousands and something I couldn't afford. I found one on Facebook Marketplace for $50 and I knew it would be perfect for the idea that I had in my mind."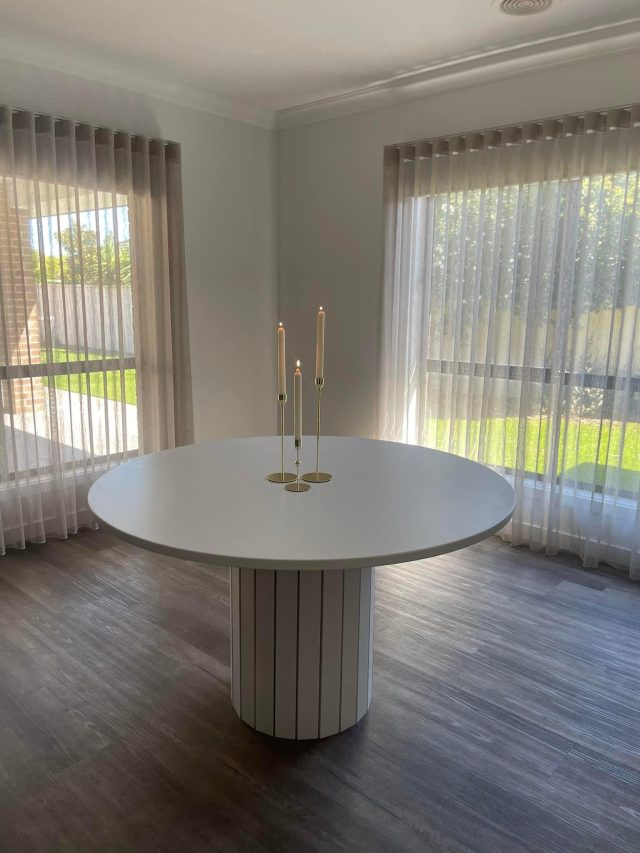 She got everything she needed from Bunnings. "For the tabletop I used an electric sander, two coats of Taubmans Advanced Adhesion & Mould Blocker prep coat, and two coats of Dulux Aquanamel semi gloss in Dreamy White. For the base, I used two small round wooden boards. The thick wooden beams inside for stability were grabbed at Bunnings; some random wood that was free! I used long wood nails for attaching the round boards to the beams inside and Selleys Liquid Nails to make sure everything is extra strong.
"The white panels around the base are actually white skirting boards, but I also painted them to match the tabletop. I also used the Liquid Nails to glue the tabletop to the base. I had the white panels cut at Bunnings so they were all the perfect height."
It took Grace around two weeks to complete her project, doing little bits as and when she had spare time. "The paint layers need time to dry and the glue also which means wait times."
She's made all sorts of things before: a ribbed hallway table in oak, a coffee rest for the arm of her couch, a mantle made out of cardboard, and an upcycled water cooler. "I love challenging myself and this was a great new project."
The total cost was around $300, with the paint being the most expensive. "I already had some tools such as the electric sander and hammer. I was able to get the wood beams for inside the base for free which helped. My advice is to try and source things from Facebook Marketplace, garage sales, and even scrap wood."
Grace adds: "I recently posted my table to Instagram and Facebook and have received beautiful feedback and compliments. I would tell people who are wanting to try to simply do just that, give it a try. You can start with something small like a makeover on a coffee table or making a coffee rest. The more you do, the easier it becomes as you become familiar with using tools and you might also find painting to be a relaxing activity.
"The beauty of doing a project at home is that there is no rush at all and you can take your time; weeks and months if you like! Once you have the main tools you can do all sorts of things. It's so rewarding."
Do you have a great DIY Upcycle or room reno to share? Get in touch!
How to: bench seat with storage for just $1200
After fours years of saying "a dining nook would be great there…" South Australians Claire and Andrew Groves finally got…
Lime wash blonde brick house makeover for just $50! Really!
We can't believe it either but this before and after exterior transformation by Lisa Purvis cost just $50 and that…