Ferguson Apartment in Glasgow by Almost Blue.
Step inside an unconventional apartment transformation has been decluttered and recluttered in all the right places through the collaborative effort between an 'architect, maker, and developer'. The trio — Lee Ivett, Simon Harlow, and Duncan Blackmore — (known as Almost Blue solely for this project) gave a tiny 25 square metre apartment in Southern Glasgow a facelift. A studio apartment that was overcrowded by conventional placement of partitions is revealed into a niche homestay that is compact and creative in all the right places.
Ferguson — named after the nameplate found attached to the apartment — was once a simple shell with four internal walls to house an entrance threshold (sarcastically considered as the 'dead-end'), bathroom and an alcove kitchen with the rest of the space being an open studio for free planning layout. Blackmore, who purchased the space as a stay while overseeing other projects nearby wanted to transform the new home that is fun while providing the absolute basic functions within.
Alongside long-time collaborators Ivett and Harlow, the trio envisioned and revamped the space during lockdown. Added the virtual communication that has now woven into our everyday routine, what was an awkward apartment is opened with new possibilities.
Axonometric of the tight interior, with mezzanine above.
Where the apartment was once a single level with a generous 3.4 metre high ceiling – the height allowed for a mezzanine to be introduced into the tiny space. The generous addition transformed the outlook of the former apartment, with the mezzanine to offer a private space for sleeping.
Meanwhile the ground floor retained a similar language of separating the kitchen and bathroom, although it has taken over the place where the entry room would've been. A long floating bench is also installed adjacent to the south-facing sash windows as an additional workspace.
Of course, within the nifty design comes with fun ideas. The existing walls reworked are ornamented with arched entry cut-outs. A little peephole installed on the mezzanine level enables a curious observation of the apartment from a different angle. Among the creation, Little-Miss-Sunshine Yellow predominantly blocks itself against the white plasterboard walls for an uplifting personality.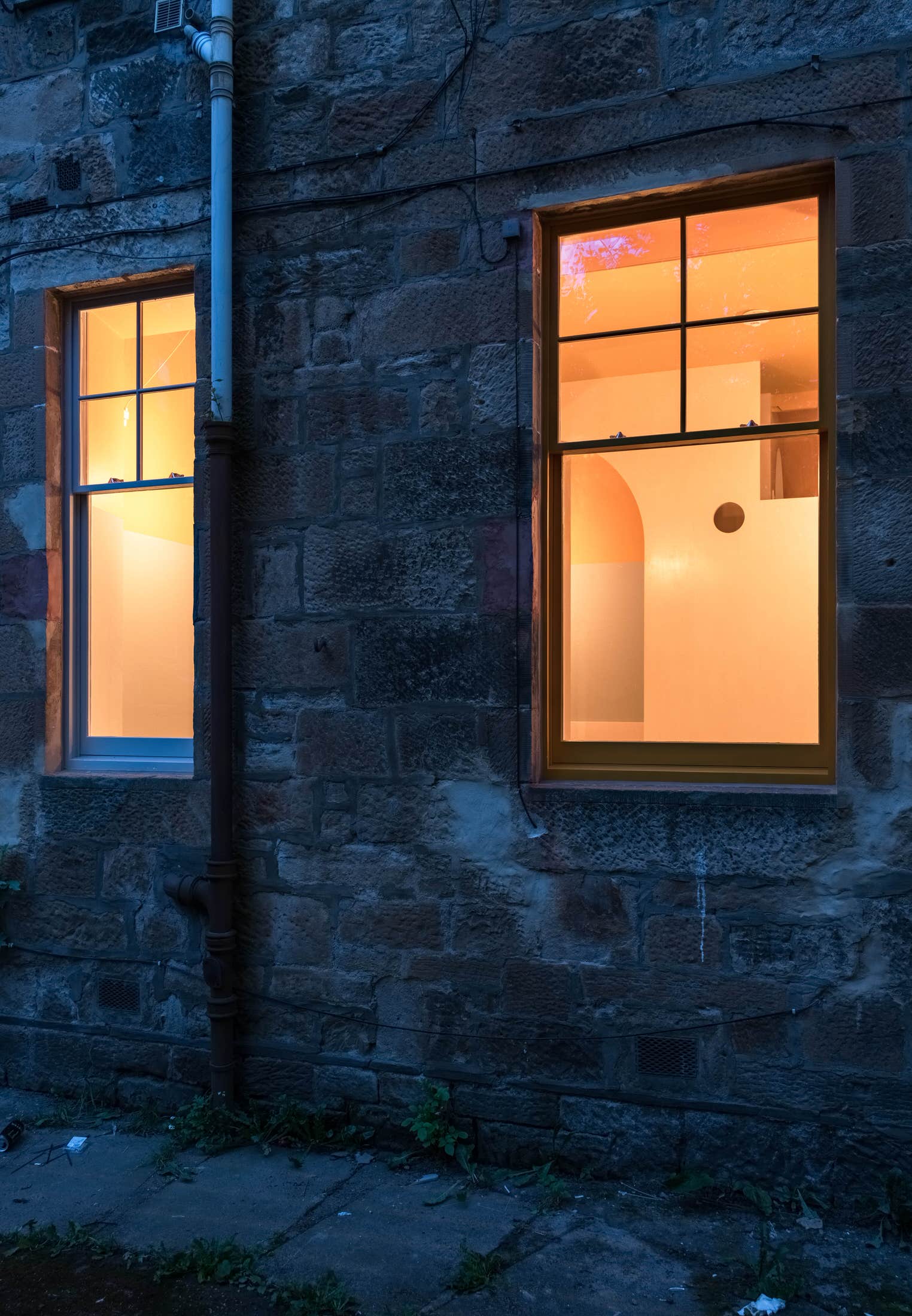 The bathroom is appropriately adorned in shades of blue, not to mention the terrazzo counter with blue specks speaks playfully towards a yearning for summer. The kitchen itself, a butler's kitchen fashioned with a red cast concrete sink speaks volumes about the functionality of the owner within the space.
Stepping back from Ferguson, I'd like to think the interior is a result of the principles from the De Stijl's movement and a bit of Escher and a bit of Modernist being thrown into a blender, poured and shaped. With walls looking like they are reaching on top of each other to create these intricate spaces and added the use of primary colours, the collaborators have painted a residence that you can live within.
---
[Images courtesy of Duncan Blackmore. Photography by Pierce Scourfield.]