Forest Marseille: A Solar-Inspired Restaurant by Uchronia.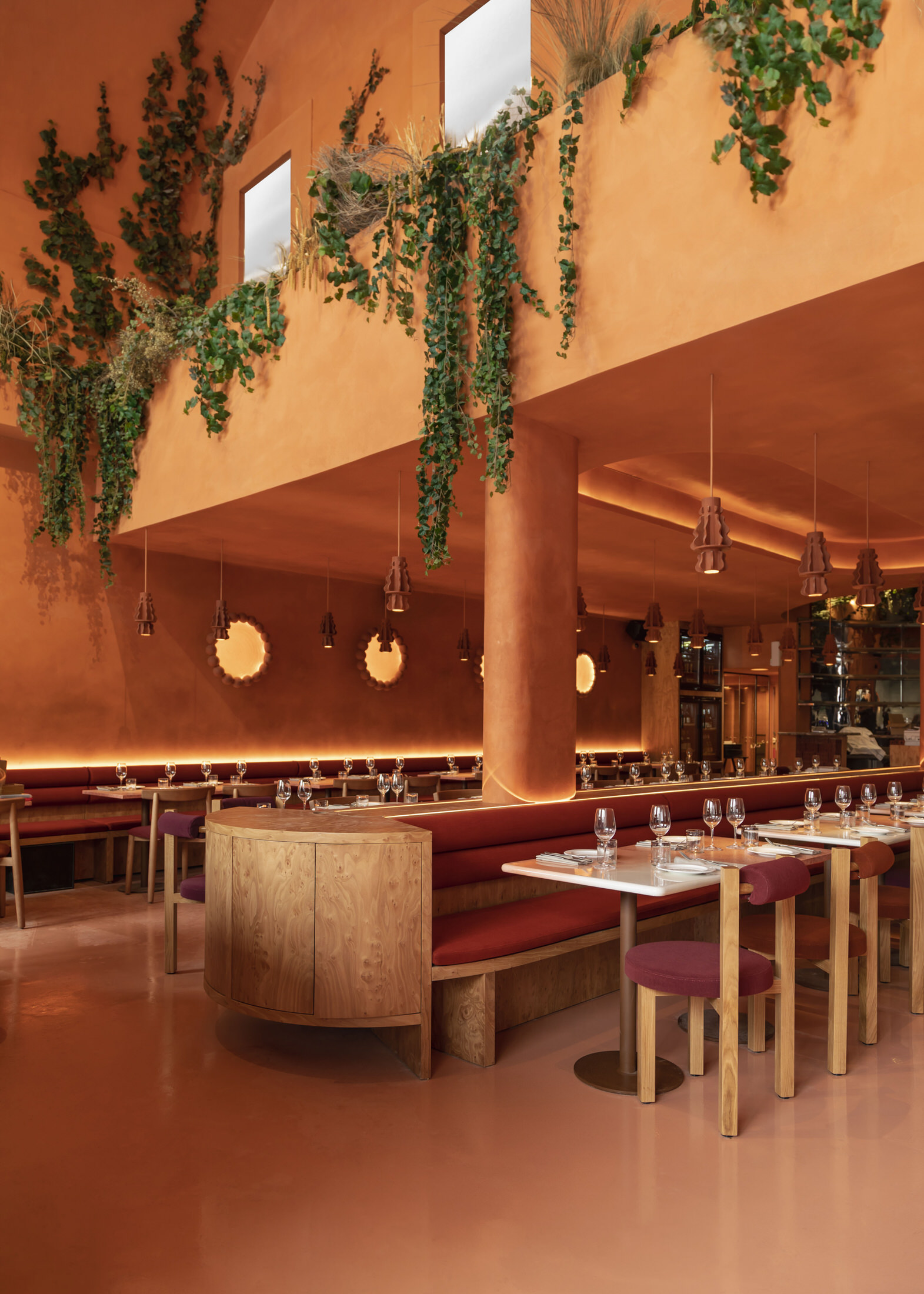 Forest Marseille is true to its name. Less restaurant, more forest, it's a smorgasbord of Mediterranean colours, shapes and forms that hold a candle to the sun. Designed by Julien Sebban of Paris-based multidisciplinary collective Uchronia, the seafront idyll—situated on the quay of La Joliette—serves as the southern counterpart of its Parisian cousin in the Museum of Modern Art in Paris.
Nothing about Forest's Marseille outpost reminds you of its flagship in the capital. Not the ambience. Nor the decor. Not even much of the menu. "Marseille inspires authenticity and fragility. The encounters, the freshness, the flavours, everything gives rise to vibrations and new ideas. With Forest Marseille, chef Julien Sebbag invites you to a unique cooking experience without copying and pasting the one in Paris. Everything is local, from the products to the culture to the craftsmanship," says Julien (the designer, not the chef).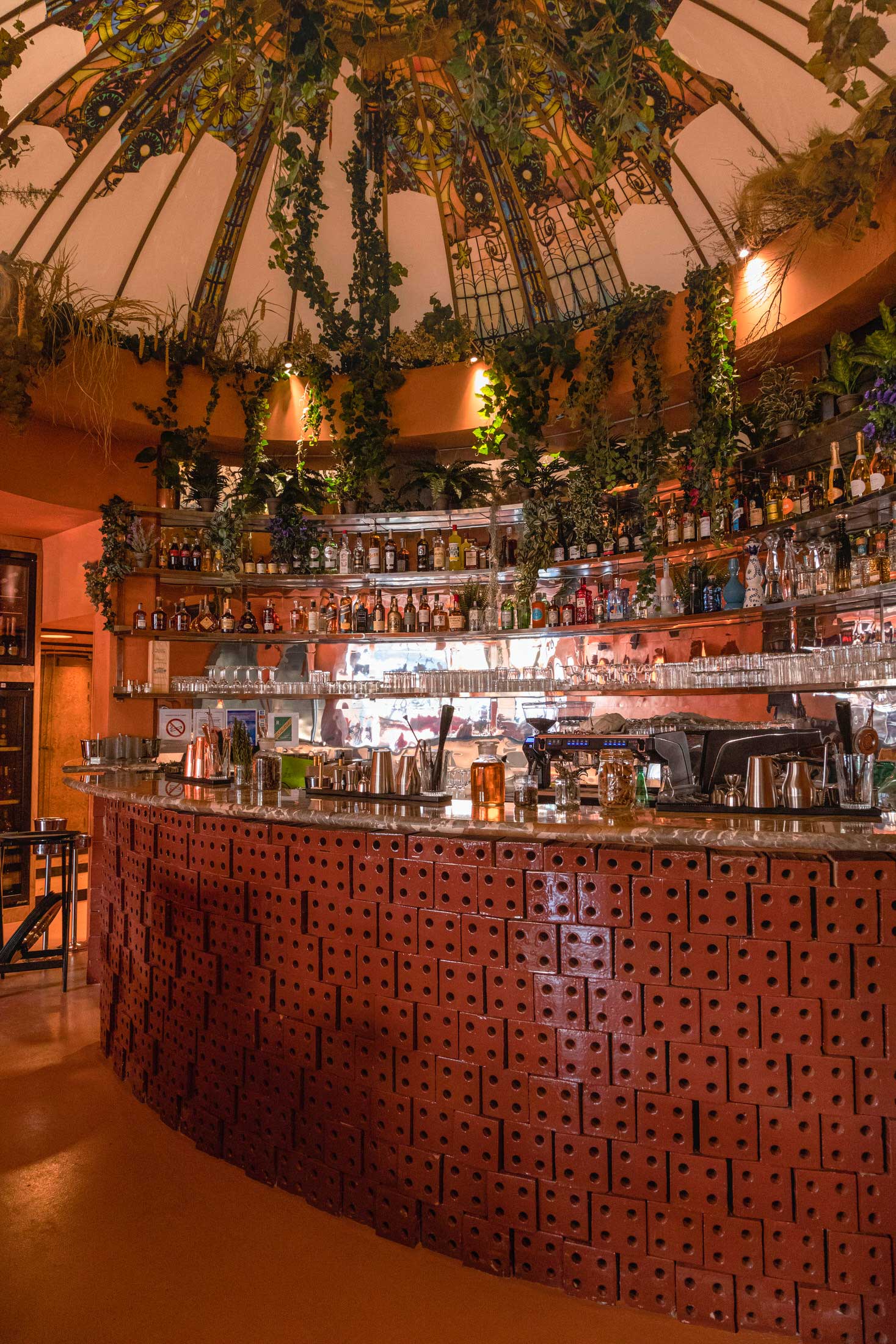 The restaurant begins with a terrace of arcades that parlay into an interior steeped in clay, ochre and orange tones. Lime-dipped decor makes the walls breathe, while vegetation spills off the ceiling, threatening to swallow the surroundings. Some design highlights include terracotta bricks, orange banquettes with olive wood formwork, dégradé enamelled tables with lava-stone tops, starfish-shaped wall lights, and terracotta pendant lights that channel a school of undulating jellyfish—the latter two fabricated by ceramist Olivia Cognet.
"The decor of Forest Marseille is the solar counterpart of Forest Paris. It's a world enamoured with the warmth and authenticity of the South", says Julien.
The sun fades away, if only momentarily, in the arched midnight blue alcoves that line the walls. The atmosphere here is dark and hushed, and the glow is almost lunar. A tonal blue banquette envelops each alcove, while the tables—crowned by a sculptural textured resin top and underpinned by a voluptuous glazed ceramic base from Ravel Pottery—tip their hat to the nearby ceramics town of Aubagne.
Julien Sebban of Uchronia, pictured with Forest Marseille chef, Julien Sebbag.
From shells and corals to collections of sparkling butterflies, the seafront allusions appear across tables, walls and ceilings, almost as if washed up by the tide. Artistic plates by ceramist Emmanuelle Roule camouflage against the tables, while the bar is overarched by a stained glass dome that casts specular reflections as the sun drifts lazily overhead.
From the inside, the dome serves as a dazzling kaleidoscope to the sun and the stars. And yet, the vantage is equally special when inverted (although you'd probably need a drone to see it).
Which view is better is a question still up for debate.
---
[Images courtesy of Uchronia. Photography by Damien Fournier.]