Gatwick Private Hotel by Kosloff Architecture.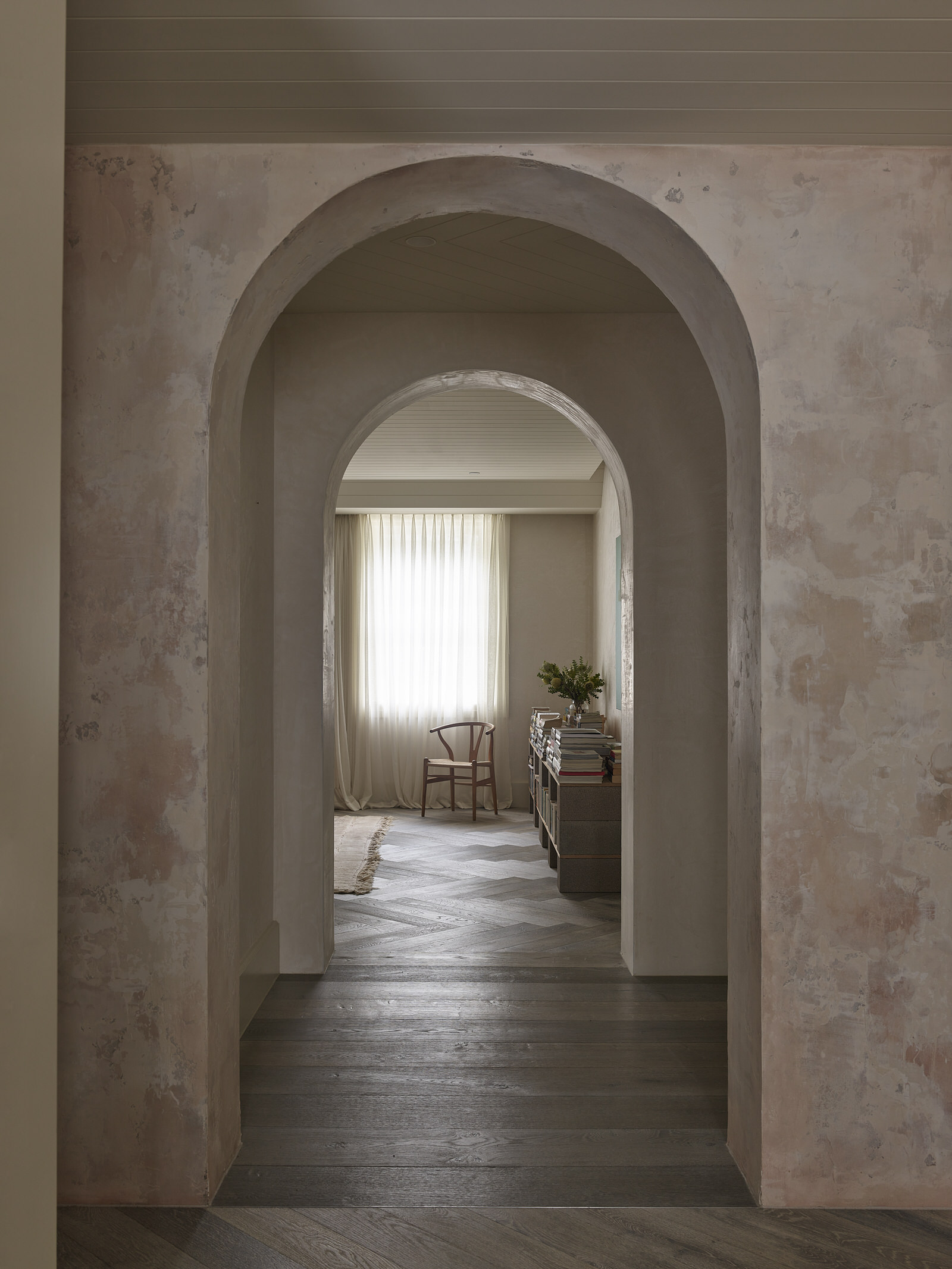 As a design opportunity that also poses a question on what it means to have a residence while addressing the future of living and ownership, Melbourne-based Kosloff Architecture proposes a layout that allows for flexibility and growing room within this revived residence. Whether it'd be a home or a short-stay studio—it's all within the careful planning that makes a difference to the outcome.
Set within Gatwick Hotel in Melbourne's St Kilda, the fans of the popular television series The Block may recognise the name of the building—yet not many may realise that not all the levels were touched during the renovation show, and the ground floor is left as a shell. Prior to project commencement, the ground floor of the previous hotel (originally designed by Harry Raymond Johnson) was cleared in preparation for the television program. With an empty shell that appeared as two separate spaces, it was initially seen as a studio space with the potential to be an architectural office; however, through discussion and experimentation, the architects realised what is paved before them is a variety of outcomes that could be benefited from the real estate offered.
The array of ideas eventuated to a simple but divisive allotment of spaces. Upon entering the building through the preserved and unmissable Gatwick Hotel signage, the house maintains an air of mystery with its herringbone paved corridor that signals an implied divide of the private and lesser private areas within the residence. To the left is a luxurious master quarter before unfurling into another bedroom and study that adjoins a narrow courtyard.
Beyond the corridor is a central service core that houses the laundry and wet areas. On the right are the distinguished public areas that includes a large open studio with the kitchen and dining located beyond. The configuration allows for the house to be divided into separate and shared quarters if required.
Patina wall study test by Kosloff Architecture.
Inspired by principles and elements from Sala Beckett by Flores and Prats and pages from Burra Charter, an extensive study of the existing site was conducted to pave the strategies in planning and the eventual aesthetic. Remnants of the past such as floorboards and skirtings were reused and preserved. The raw yet majestic exposure and recycling of existing elements is complimented by a selection of contemporary mixed retro furniture and fixtures that include the sleek marble countered black painted island bench to a relaxed brown leather couch. Shades of white, creamy beige and taupe walls and flooring, the white shiplap ceiling elongates the sightlines within as a subtle homage to the Spanish Mission Style which the hotel was originally stylised in.
Though it has certainly undergone a series of changes impacted by numerous historical events, Kosloff thoroughly returned the vibrancy and charm of the original hotel. And rather than covering up the past, it is being celebrated in glamourous style.
---
[Images courtesy of Kosloff Architecture. Photography by Derek Swalwell.]