Home renovation features unique kitchen for family of foodies
Located in the inner north Melbourne suburb of Brunswick East, this double-fronted weatherboard house is home to a family of four who engaged Dan Gayfer Design to renovate it in a stylish yet understated way.
"The design brief was predominantly concerned with curating an arrangement of spaces and elements that reflected a distinct family lifestyle. As opposed to packing as much as possible into the space available, importance was placed upon facilitating the congregation of family and friends," says Dan. 
The design focuses on this coming together of people in a comfortable and interactive manner, encouraging both verbal interaction and activities between one another such as games, drawing and cooking. And interestingly, reflecting the idea that big doesn't always mean better, the family decided against adding a second-story addition. "Refreshingly, the owners were not concerned about spaces that were not relevant to their day-to-day lifestyle such as a TV room, home office, WIR or ensuite; another level simply wasn't required nor warranted," says Dan.
A key challenge of the project for Dan, and his colleagues, was ensuring that the renovation wasn't 'over-designed' as the family desired a functional yet simple solution. And although requiring significant refurbishment, the existing front four rooms of the home were retained whilst a fifth room (a bathroom) was also left in its original location. The remaining structure of the building was then removed leaving significant area to play with. "In like situations, one is often inclined to pack everything they can into such a generous area – including a second storey. In response, the addition is single-storied and modest in size with a distinct sloping roof and generous verandah area at the rear; this humble structure embodies the characteristics of mid-century Australian bungalows," says Dan.
Central to the design is the kitchen which is genuinely multi-purpose and acts as a family room, living room and dining counter. It's a space where family and friends can gather at any time of the day, even outside mealtimes, but the design also reflects the habits of the home's occupants who are bona fide foodies. "That this family's lifestyle is so kitchen-centric is no surprise, they are passionate cooks who are happy to cook every meal of the day if time permits," says Dan.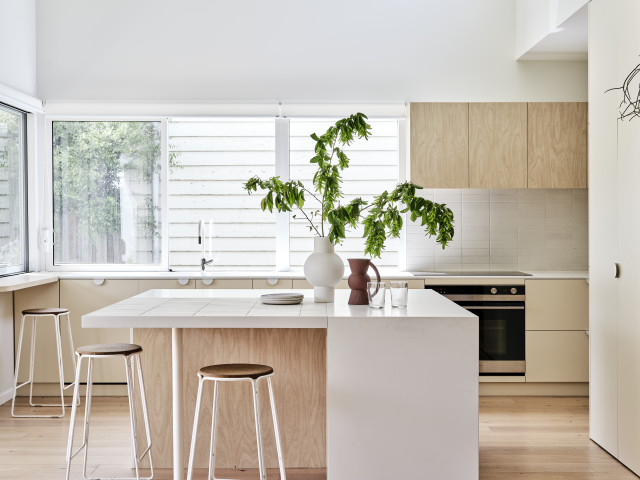 The kitchen cabinetry was finished in cost-effective laminate – a mix of Laminex 'Raw Birchply' and 'French Cream' which are integral in giving the home that soft Scandinavian inspired feel. "The faux timber colour, 'Raw Birchply', is realistic and is difficult to distinguish from real timber veneer. As such, it could somewhat be viewed as a bargain considering the cost of real timber veneer," says Dan. In contrast, given their enthusiasm for cooking, the home's owners splurged on the kitchen's appliances; a commercial grade rangehood, commercial sized fridge/freezer and heavy-duty double sink with drainer round out the mix.
The kitchen island is an interesting design that promotes conversation – it's more of a communal table and features a ceramic tile surface, steel edging and custom steel legs. "We are particularly pleased with the outcome for the kitchen, pantry and communal table. The kitchen design reflects not only how the family prepare, cook and serve food but also its tendency to gather and interact during these times."
Photography: Dean Bradley
For more on Dan Gayfer Design
Minimalist makeover gives dark Melbourne terrace a light new look
Another project by the talented Melbourne architect Bonnie Mills, this Richmond home was renovated recently with a clean, minimalist design…
Statement brick 'lacework' features in Melbourne new build
Located in Melbourne's Mount Waverley, this expansive 600 square metre home was designed by architect Michael Ong, of MODO. Tasked…