Homestead given new lease on life as picture perfect family home
With hobbies including styling and collecting anything old that tells a story, Gunnadoo Homestead was the perfect project for Melissah Yount and her American husband Ben, who live here on the Sunshine Coast Hinterland with their three children (and two dogs, six chickens and five Scottish Highland cows).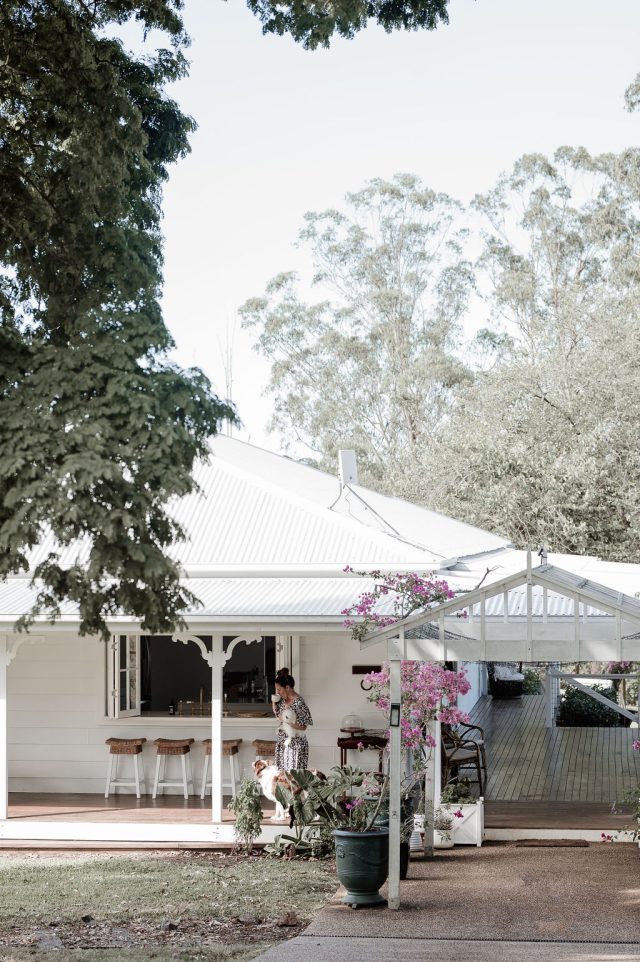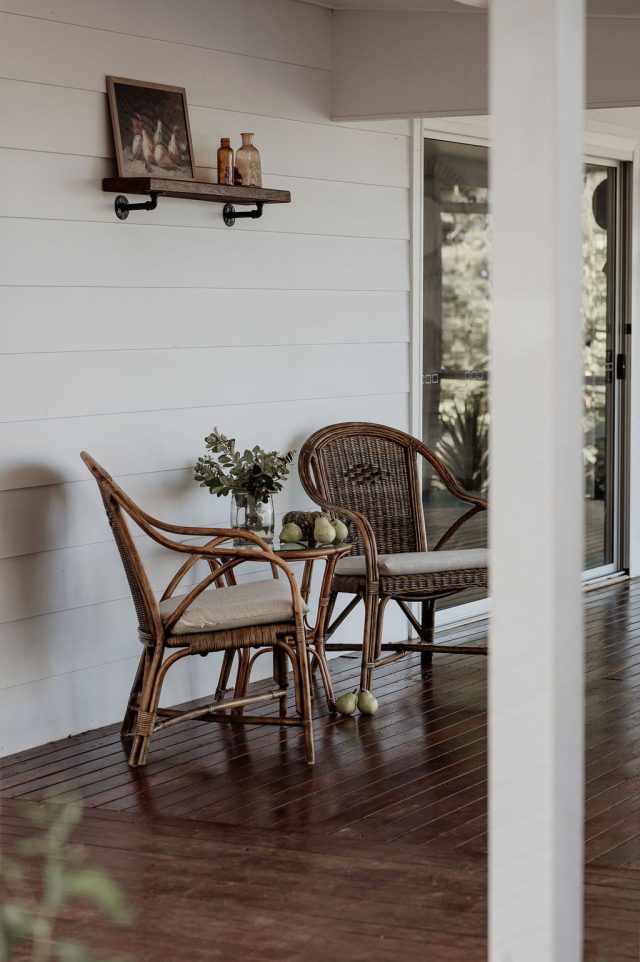 This beautiful country home full of history has been a labour of love for photographer Melissah. Today, we're sharing the kitchen and her son's bedroom.
Set on 12 acres, the home was built in 1946 after the land was gifted to veteran David William Howe for his service in the Second World War, and went on to become a fruit farm. In 1994, a supercell storm destroyed it, shifting the home's foundation. The local newspaper reported the storm sent veranda posts flying through the air like javelins and the then owners lost over $100,000 in fruit crops. 
Melissah and her family have been living here for four years, slowly transforming it from something extremely dated to the beautifully renovated yet sympathetic place it is today.
"There was carpet in the formal dining room and vinyl covering original timber floors but it had beautiful high ceilings and roses," she says. "It was a mix of the original and a 1994 renovation. The kitchen was very small and this needed changing the most. With walls separating the kitchen, living and dining, there were three enclosed small rooms. Not to mention the middle of the house was sinking."
Removing the wall between the original kitchen and dining to open up the space and create a new family room made the biggest difference of all. "Then we turned the original living area into our new kitchen and by doing this, we gained double the space in both areas and also added so much more natural light."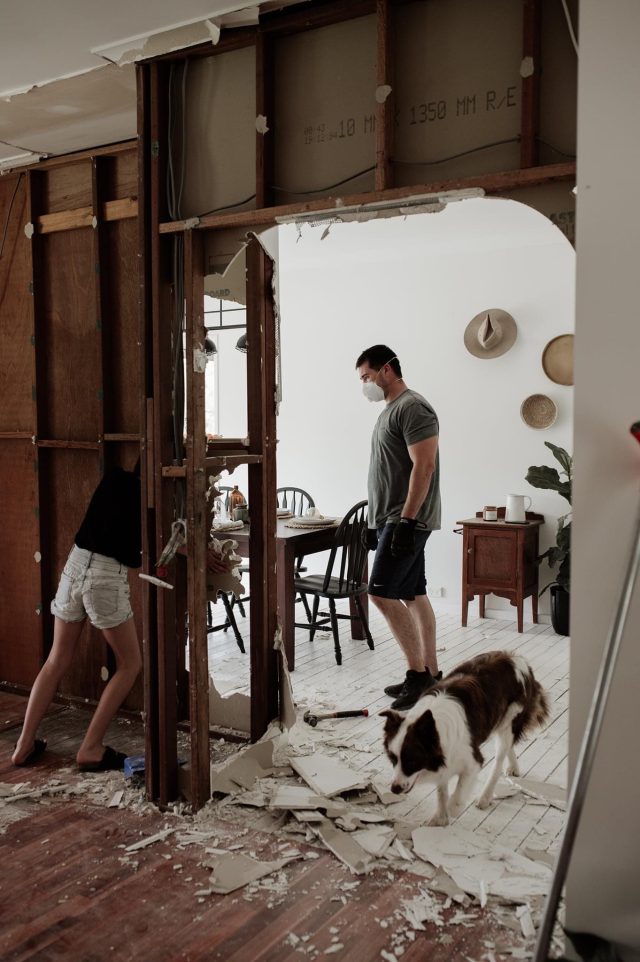 Melissah says they saved a lot of money by doing all their own interior and exterior painting and tiling, as well as finding a great builder that let Ben assist him. "We also removed our owns walls once it was checked over by an engineer." 
And then the fun part was the styling, using anything original from the farm as well as hunting at all the local op shops.
A few of Melissah's favourite items can be found in the kitchen. "I love love love my solid brass tap. It's always a conversation starter. It was a splurge at $1800 and I don't regret it at all! My farmhouse sink and custom rangehood canopy just give the whole farmhouse vibe."
Extending the stone benchtop outside to make a bar with bifold windows was another great move. "There is nothing like watching the kids play on our tyre swing and the cows roaming in the paddock from the kitchen window. It also allows entertaining  to be a breeze and having the kids able to run up and pass me fresh herbs straight from the garden to the sink is bliss," she says.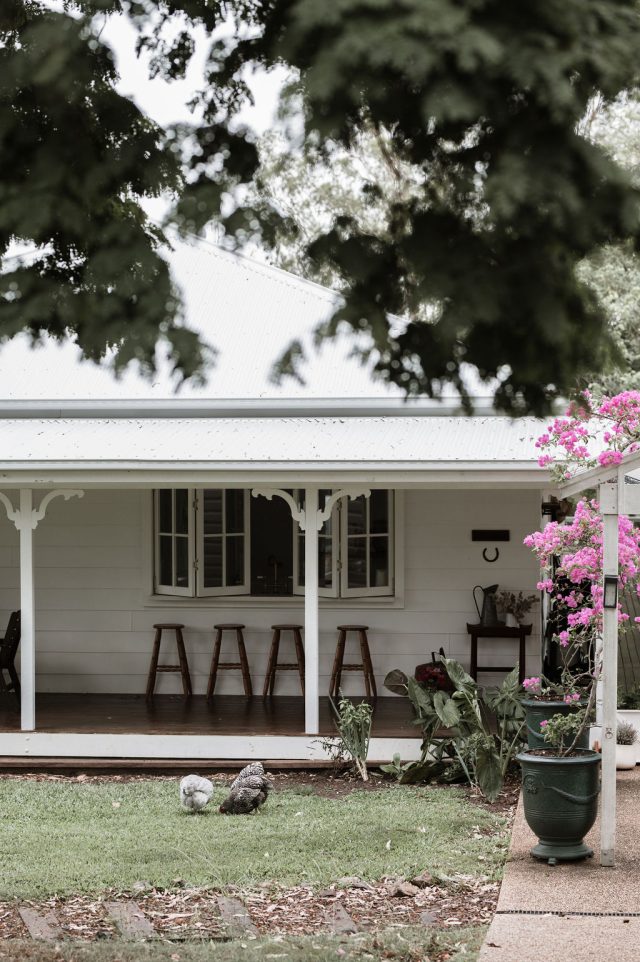 "We had the space so went with an extra large, 3.2m island bench, allowing more storage and comfortably fitting a large family. The kids do their homework there while I'm cooking, with plenty of room."
Melissah and Ben also replaced their roof and extended their deck.
What the kitchen cost (around $75,000)
Cabinets (2pac in natural white by Hill Built Joinery), 40mm Carrara Mist by Stone Ambassador benchtop, brass handles (Momo Handles) and custom made range hood: $47,000
Tap (Nicolazzi by Designer Tapware Co): $1800
Oven (Ilve): $6000
Pendant lights (Ivory and Denne): $600 
Window bifold with installation: $5500
Dishwasher: $1500
Tiles: $700
All trades (including engineer, electrician, builder, plumber, and plasterer: $8000 to $10000 
Sink (Temple & Webster): $1000.
Her son's bedroom
Follow Melissah and her home updates on Instagram
Here's how a designer styled her stunning country cottage
There's no better way to discover a designer's true style than to explore where they live; a place where these spatial…
Inside Neale Whitaker's stunning new modern country guesthouse
Set on the same one-hectare plot as their idyllic and recently renovated farmhouse, Taylor's of Berry is the stunning new…