How to Hamptons: An expert guide to the popular aesthetic
James Hardie has revealed that 'The Hamptons' is its most popular search term when people are looking at building new homes or renovating their existing homes, with its second most popular search term being 'modern coastal', considered a variation of The Hamptons theme. To help clear up what Hamptons actually is and how we can achieve the aesthetic, is Hamptons expert Natalee Bowen.
What is The Hamptons?
"The Hamptons can have many different variations but at its core is a mix of coastal relaxed sophistication that embodies a high-end layered look," said Natalee. "Overall, The Hamptons is a classic, traditional style with open plan living and beautiful cabinetry throughout. It should be identifiable from the outset with a weatherboard façade and contrasting trims. While the interiors feature wooden flooring, details of shiplap (horizontal boards) and wainscoting (vertical boards on the lower half or third of a wall) and a neutral palette of layered soft furnishings," she explains.
Variations on a theme
Increasingly, Australian homeowners are after individuality and diversity, and are reworking the Hamptons look to create architecturally designed, personalised variations. While there are the ubiquitous hallmarks of The Hamptons style, Australian homeowners have taken that style and morphed it into three main sub-categories: Traditional Hamptons, Contemporary Hamptons and Australian Hamptons.
Natalee explains the subtle differences between the three looks: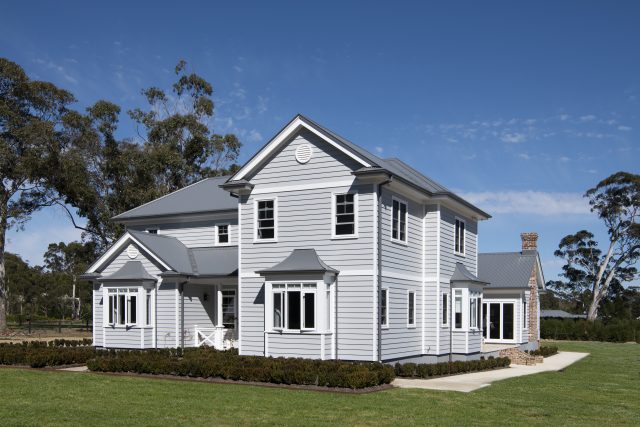 "Traditional Hamptons is a classic style made obvious with soft grey finishes and detailed white trims. It is full of character and beautiful, heavy detail. Every nook is an opportunity to create a feature and layer to its fullness," she says.
"Contemporary Hamptons is typically more of a minimalist look, pared back and monotone in colour, using mostly a black and white palette and more masculine touches. Taking design cues from the urban environment such as stone, steel and cement-based cladding, gives a slightly industrial feel. It allows us to still reach out in detail, however when furnishing this look, we stick to more black than white. The use of wrought iron brass also defines Contemporary Hamptons.
"Australian Hamptons is more laidback, with wider verandahs and pared back detail from the inside out. It is less fussy in its approach with a much more casual feel. The colourways are also more defined, using either a darker palette externally of blues and greys, or a white-on-white palate for a distinctly coastal look," Natalee explains.
According to Natalee, there is no right or wrong take on The Hamptons but it is important to take cues from the surrounding landscape. 
"For example, if you are in the suburbs you want to go with a colourway that creates a balance for the streetscape. Darker tones with darker roofs are generally used in dense areas and in leafier suburbs more lighter tones are used, such as grey and white. In rural areas we use grey and whites with lighter roofs that embody a farm style home with wider verandahs," says Natalee.
Trend watching in 2022 and beyond
As for future trends within The Hamptons genre, Natalee predicts adaptations to the theme with interiors but not exteriors. "What has been interesting is that the external façades still have the same distinct weatherboard and trim. However, internally we are seeing a few very distinctive looks.
"Classic is still very popular but modern coastal, defined as traditional coastal with a tropical twist, modern and country styles are all becoming more prominent and allow you to create your own character within the Hamptons style. I think this flexibility gives longevity to the overall Hamptons theme," said Natalee.
"Whatever Hamptons style appeals, there is no denying its lasting popularity with Australians. Perhaps it's our mild climate and love of indoor-outdoor living that makes the Hamptons work so well in any Australian setting."
For more inspiration, download James Hardie's Hamptons Look Book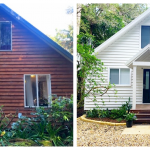 Before & after: cabin in the woods becomes Hamptons haven
We're so in love with this Hamptons style transformation which owner Michelle was keen to share to show you don't…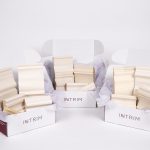 Hamptons selections in a box: the popular style just got easier!
Sponsored by Intrim While we often tell you it's the finer details that add up make an interior feel finished,…