How to turn your cramped backyard into a hidden gem
We've all heard the same story. Cities are becoming more populous, more expensive, houses are getting smaller and backyards are on the way out. While some see the shrinking size of the back garden as the end to an outdoor oasis for entertaining and relaxing after a hard week's work, a small garden can often be more easily transformed into a lavish exterior than larger spaces. According to Beaumont Tiles design specialist Rachel Gilding, with a bit of savvy styling and know-how, even the most modest backyards could be magically transformed into a lavish exterior with these three ideas: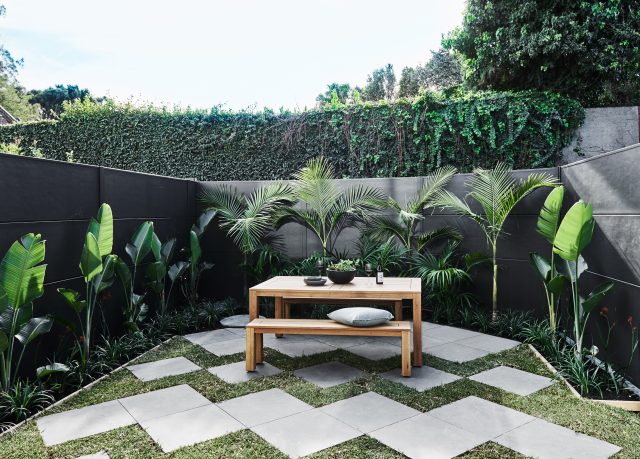 A calm watery paradise
Pending the size of your garden, Rachel said consideration should be given to a bath, spa, or water feature to help transform your patch into a bit of beautiful backyard bliss.
"Any water design feature can create a relaxing vibe and brightens any space with its brilliant bluey reflective hues," said Rachel. "The feature doesn't have to be big; water features can create that zen vibe without a massive loss of square metres.
She said a water feature matched with outdoor porcelain pavers will create a beautiful coastal feel. Just make sure your outdoor wall colour matches the neutrality of your paver to maximise this gorgeous aesthetic.
"On the other hand, you could opt for a darker paver which will give off a stunning, smooth modern feel that is sure to impress. And by opting for outdoor porcelain pavers, you have a durable and long-lasting surface that is slip-resistant and can handle exposure to any household chemicals. 
"Installing them with pedestals or raised supports is perfect for renters and small spaces with open joints creating great drainage which will solve any outdoor bath spills."
Add that firepit flare
Rachel said that while a firepit may seem unrealistic for a smaller backyard, there is a range of smaller braziers or fire pits available that overcome the challenge. "A fire pit is a design feature that draws the eye at a social gathering and is where people will naturally gravitate to.
"If you have modest space, try a freestanding outdoor fireplace to utilise that limited space you have, just make sure you check your fire regulations before installing this one.
"This, combined with a stone or wooden bench a safe distance around your brazier and a basalt grey paver as the base and some pot plants can create an amazing wanderlust sanctuary. Adding outdoor porcelain pavers with a concrete base can be the perfect accessory to this area, as pavers can be used as a suitable base thanks to being fireproof and durable."
Being porcelain, these thicker pavers have excellent durability for outdoor weather with UV fade-resistant qualities and they don't curl on the edges as some natural stones do.
Gorgeous greenery
An all-natural look can be a soothing focus for creating a hideaway from your nextdoor neighbours or the sprawling neighbourhood you live in, and you don't need too much room for this!
"This biophilic inspired design is sure to bring you closer to nature," said Rachel. "It's all about bringing nature into an overall design narrative, to bring harmony and wellness to the space. 
"One of the incredible ways to make the most of limited space is to make a vertical garden which can create a great privacy screen from your neighbours. It can also be used to grow herbs and vegetables for lovely garnishes for those home-cooked meals.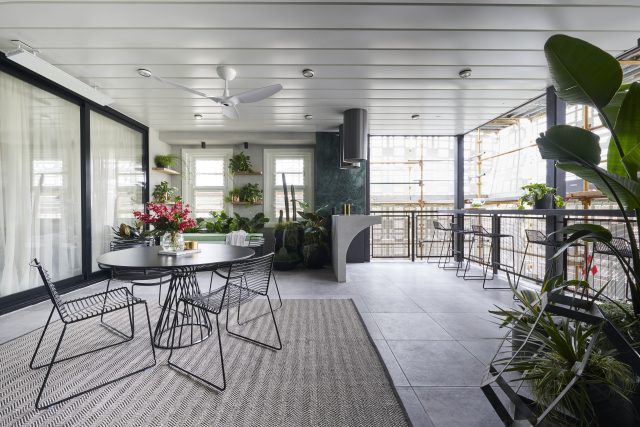 "Outdoor porcelain pavers are easier to maintain than many other types of material and when you lay them out in a diagonal pattern they will actually make your backyard look much larger than it actually is so you can get an expansive feel to your green sanctuary."
For more on Beaumont Tiles' outdoor range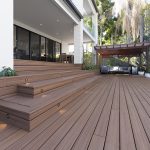 How to increase your home's sale price with some backyard renos
With our purse-strings getting tighter and pandemic life changing the way we work, many are considering selling their homes for…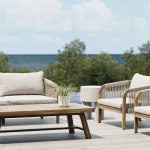 Bring your summer holiday home with BROSA's new outdoor furniture
Australia's increasingly unpredictable weather patterns mean durable outdoor furniture is a must. BROSA have announced their largest outdoor collection featuring…