Humble & Wholesome: City Beach House by Design Theory.
This quintessentially Western Australian home, originally designed by Duncan, Stephen & Mercer in the early 1960s, has been lovingly brought back to life by Freemantle-based interior design practice Design Theory.
From the first inspection, it was clear the City Beach property was in poor condition. The new owner was passionate about the existing house's character and mid-century charm. "She was happy to take our curatorial lead on modernising it while honouring its heritage and its place within the cultural landscape of West Australia," explains Lisa Reeves, who co-founded Design Theory in 2013 with her husband, Evan.
The client, an entertainer and dog lover, was after a home with existing rooms reworked to deliver a 3 bedroom, 2 bathroom configuration—"a place where she could cook for friends and live with her dogs in a durable pet-proof home," says Lisa. As is the case with most heritage renovations, a key challenge was bringing today's functionality level into an old building. Not to mention that, once work commenced on site, it became clear the entire structure was rotten due to termite damage, so extensive restoration work began.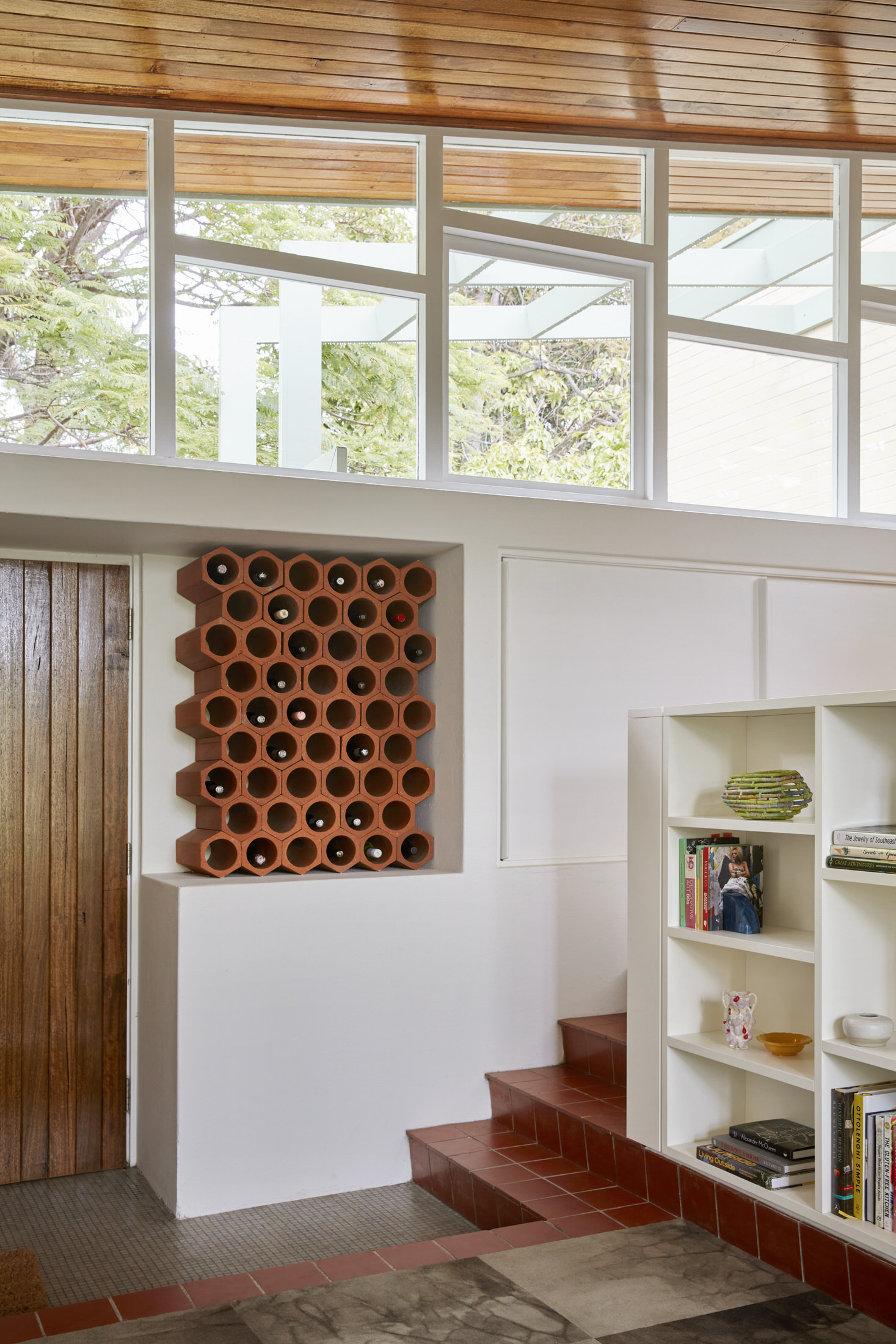 Design Theory managed all stages of this project—from building to restoration, interiors and furniture. "Our cues were taken from the era of the house's original design," Lisa explains, "a time of humble, honest materials and detailing." Where cabinetry needed restoration, it was updated respectfully, always with a nod to what may have come before us. Vintage furniture acquired with the house was retained and restored. Original door knockers and pendant lights were refurbished and reinstated, lending authenticity to the home's new life. The material mix has all the makings of nostalgia—blackbutt and mosaic tiles were used in the kitchen, Marmoleum lines the floors, while carpet tiles can be seen in the sunken lounge.
Colour lends a graphic element throughout, with the palette derived from the West Australian landscape. "From our first visit, we were struck by how Western Australian the home felt," reminisces Lisa. "We embraced a palette of eucalypt greens, warm timbers and sunset oranges." Furniture is a blend of classics, like the two Falcon chairs that came with the house, and new classics 'to-be '.
"Our Client's deep connection to the character of the house and the house itself were an ongoing source of inspiration," shares Lisa. "Detailing is hidden and unobtrusive, and materials are honest, speaking to the home and our client's grounded nature."
Designed for a lifetime and beyond, Design Theory focused on quality, repairable finishes that would improve with age and use. From the restoration of original architecture to interiors, lighting and furniture, this refreshed gem is ready to be treasured by another generation.
---
[Images courtesy of Design Theory. Editorial Styling by Gab Scott. Photography by Jack Lovel.]