In Continuous Transformation: Room on Fire by Lluis Alexandre Casanovas Blanco & Lys Villalba.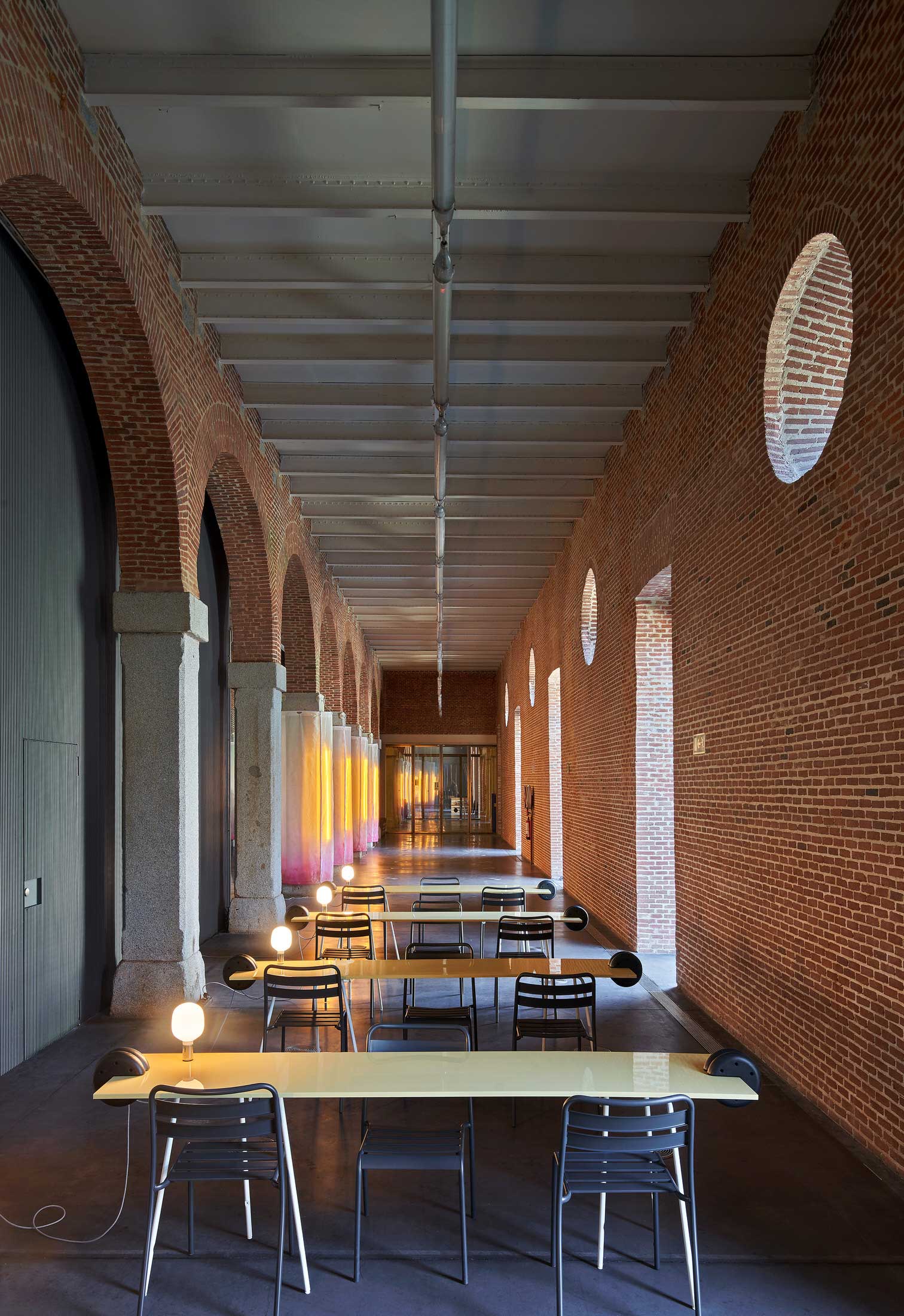 Room on Fire is a collaborative creation between two Spanish architects Lluis Alexandre Casanovas Blanco and Lys Villalba. Located in a multipurpose space at the former military barracks of Conde Duque in Madrid, the architects sought to create a minimal intervention within a space playing host to a variety of cultural activities for the city's youth.
The open room has a basilica-like floor plan defined by three bays of granite columns, delineated by brick walls. Being a heritage-listed building, all interventions to the existing architecture were limited, prohibiting any alteration of the original elements or the mounting of new ones.
With the parameters clearly defined, Lluis and Lys developed a scheme that not only didn't touch the existing building but was also able to be modified and altered at any moment. The heavy granite columns are dressed in 'tracksuits' of translucent plastic fabric ranging from white to pink ombre, complemented by neon lighting. Held in place with turnbuckles at the top and weights at the bottom for stabilisation, the three-metre-high zipped sides allow the room to be 'dressed and undressed' at a drop of a hat.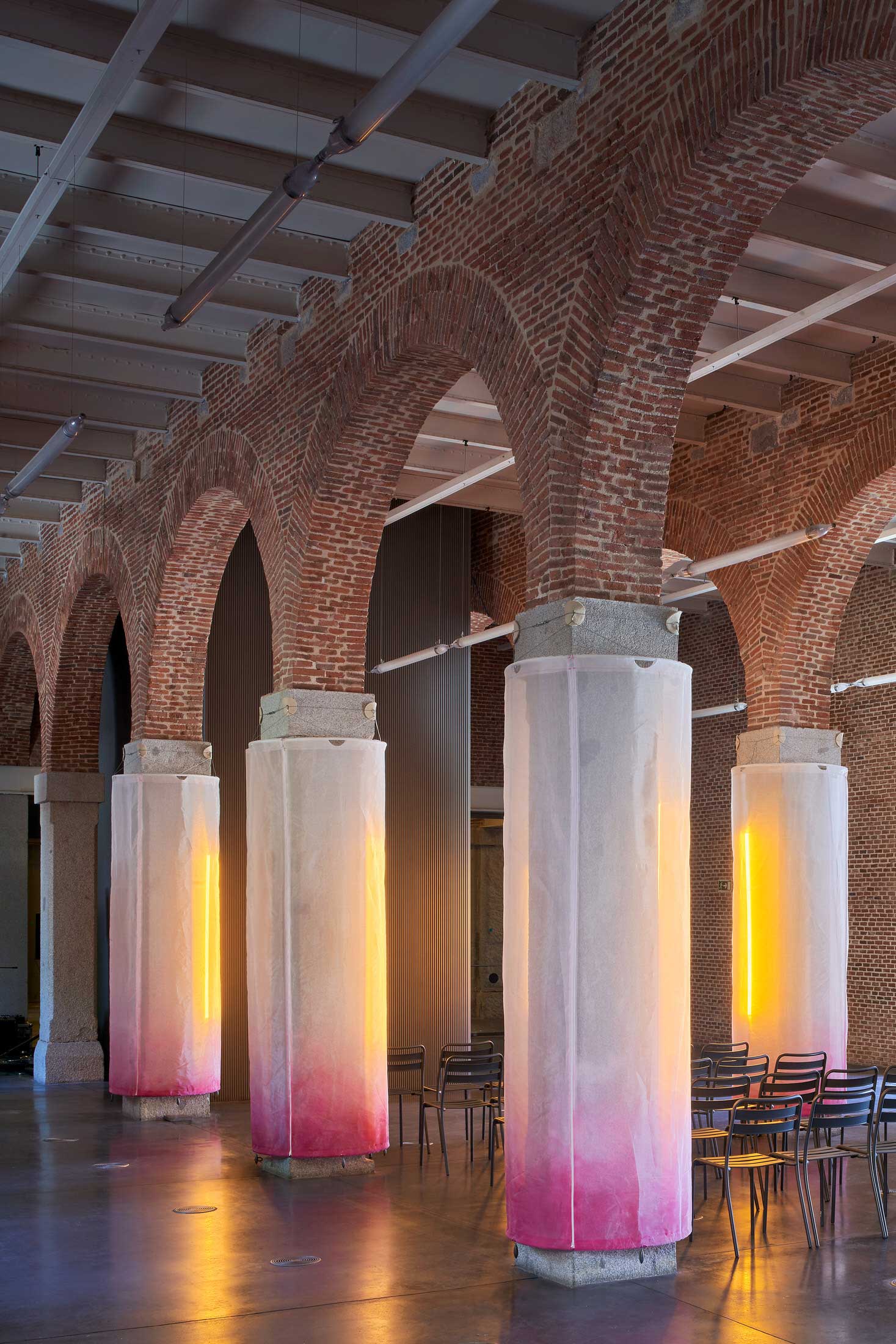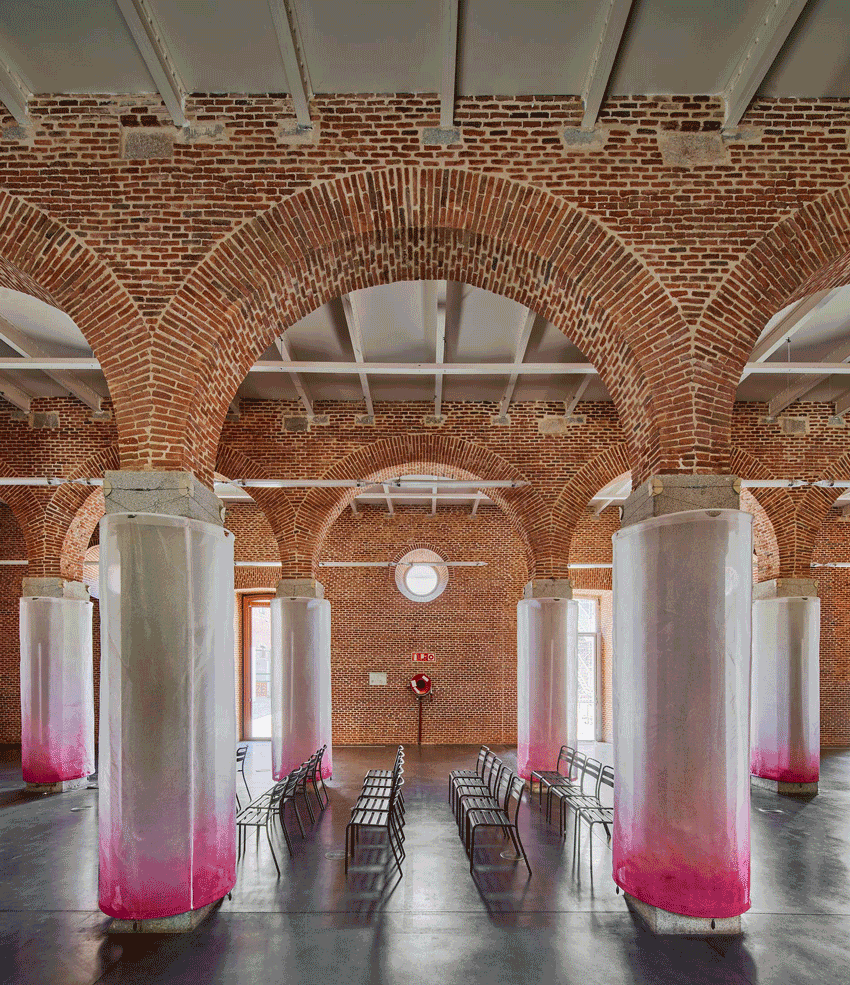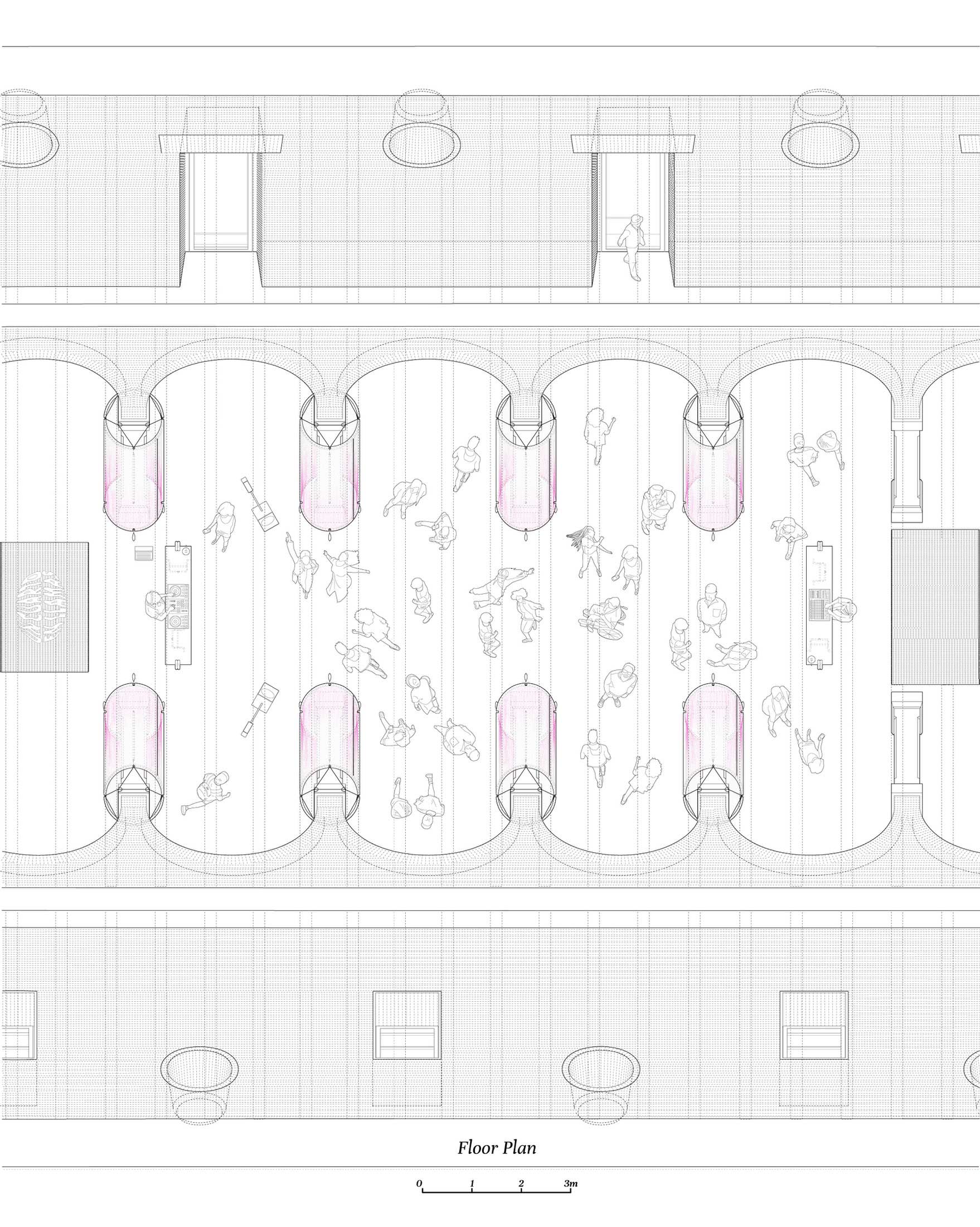 Floor plan showcasing the flexibility of the design alongside the architects 'touchless' strategy.
To keep the space as limber as possible, furniture became a crucial tool. The architects conceived a system consisting of eight tables that could be easily combined and rearranged. The furniture transforms the space, adapting to different uses and activities.
In the mornings, the tables form a collaborative workspace with computers. Designed as a very light and slender piece for easy reconfiguration and equipped with points of light, the table allows for fluid group work without the vision being interfered with by the tall screens.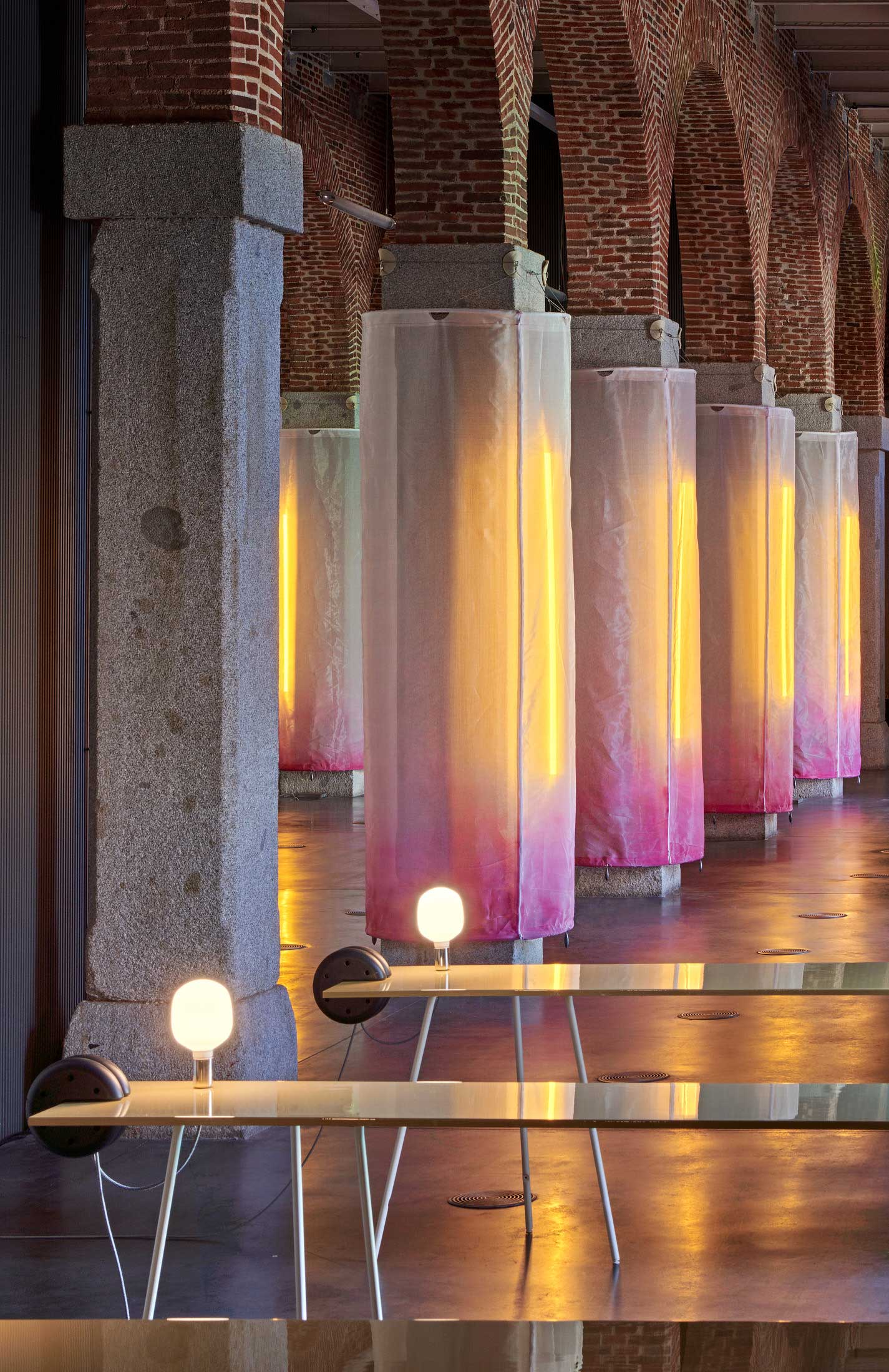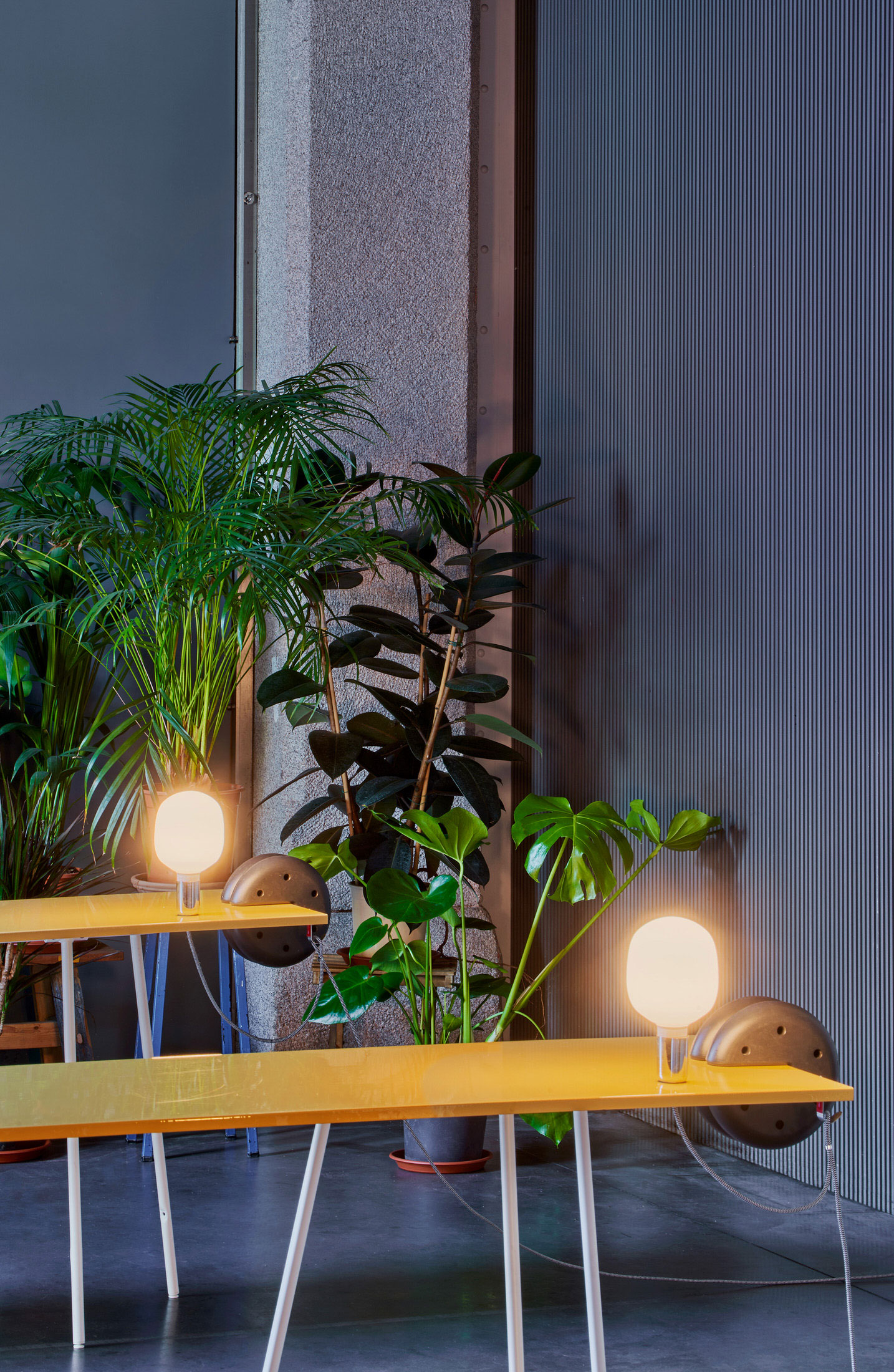 In the evenings, the furniture moves around the space, becoming DJ tables, support for sound systems, and equipment for workshops, debates and conferences—whatever may be needed. Depending on the load the table supports, a system of weights stabilises the deformation caused by long spans between leg support and the extra thinness of the wooden tops.
Developed in conjunction with Masquepalabras Collective, Room on Fire is a space in continuous transformation. The do-it-yourself spatial and material logic is designed to accompany the self-managed cultural production of the community of young people who inhabit it.
---
[Images courtesy of Lluis Alexandre Casanovas Blanco. Photography by Jose Hevia.]