Kooky Fun Pie: Gloss House by Studio Doherty.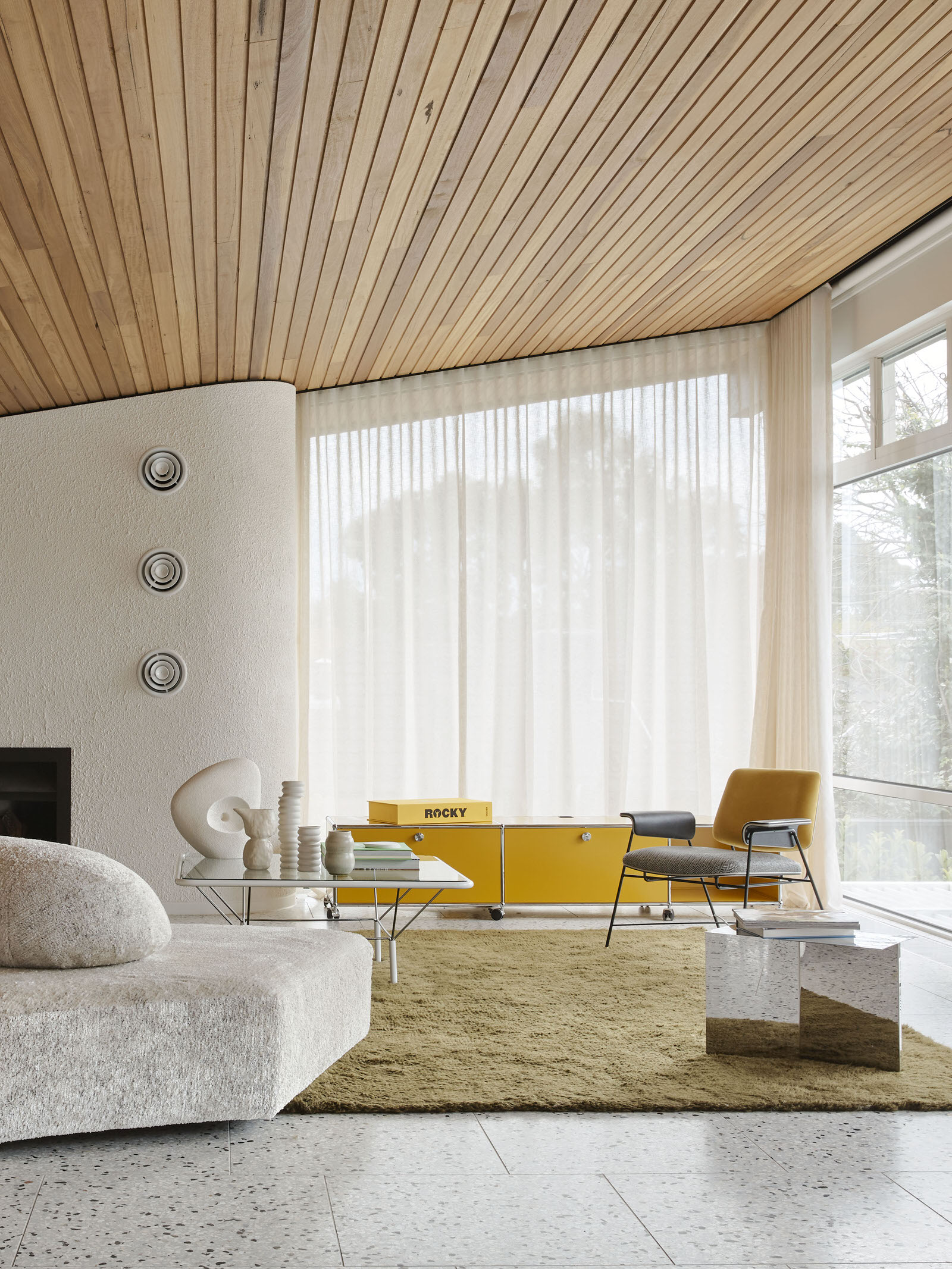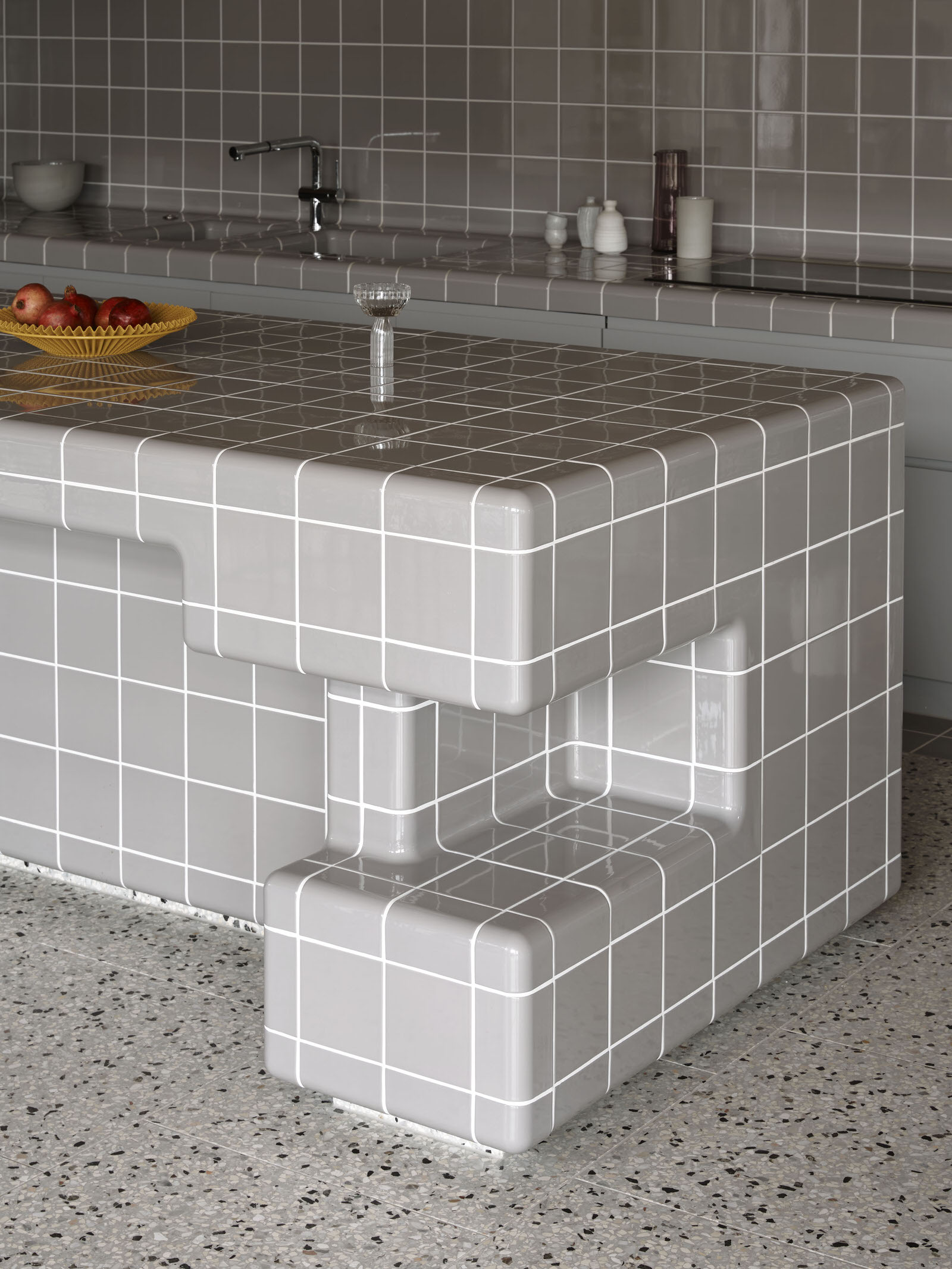 It can be tricky to pinpoint the era in which this Melbourne home belongs. One must know it's a new build to avoid assuming they are looking at a fancy 50s home renovation. The modest-in-scale, high-in-personality two-bedroom house was designed by Enth Degree Architects with interiors by Studio Doherty, landscaping by Mud Office, and built by Fort Building Solutions.
"Our challenge was to create a dynamic home that referenced, rather than imitated touchstones of mid-century design," explains Studio Doherty's principal, Mardi Doherty. "We wanted to draw on our clients' love for mid-century architecture, while weaving elements from other design eras. We took inspiration from the 30s to the 80s, and interpreted them through a 21st-century lens."
"The client brief was really exciting for us," continues Studio Doherty's Phoebe Lipscombe. "Michael, Lidija and their daughter Jesse emphasised their love of design, colour and kook—this ended up being the running thread throughout the project. It was not uncommon for a member of the Studio Doherty team or Michael to exclaim 'how can we kook it up more' when reviewing concepts." Another critical aspect of the brief was to create a home that caters to the client's generosity. "They have a large extended family, so a big emphasis was placed on having multiple opportunities to entertain," shares Mardi. "The outdoor BBQ is in the centre of the house, which speaks volumes."
From the outset, the design focused on intricate and unexpected detailing and materiality was at the forefront of everyone's minds. Unsurprisingly, the clients, who are the owners of the terrazzo stone company Fibonacci, were keen to use terrazzo, but on the condition that it wasn't the hero material. "Jesse summed it up perfectly in one of our early briefings when she said—' It can't look like Mr & Mrs Fibonacci's home'," explains Mardi. "Instead, they were excited by the prospect of a diverse range of finishes, and gave us the freedom to apply these materials in unconventional ways."
"Michael and Lidija were completely on board with introducing bold colour and materials," continues Phoebe. "If anything, they often encouraged us to be bolder and push the limits, which for a designer is so liberating."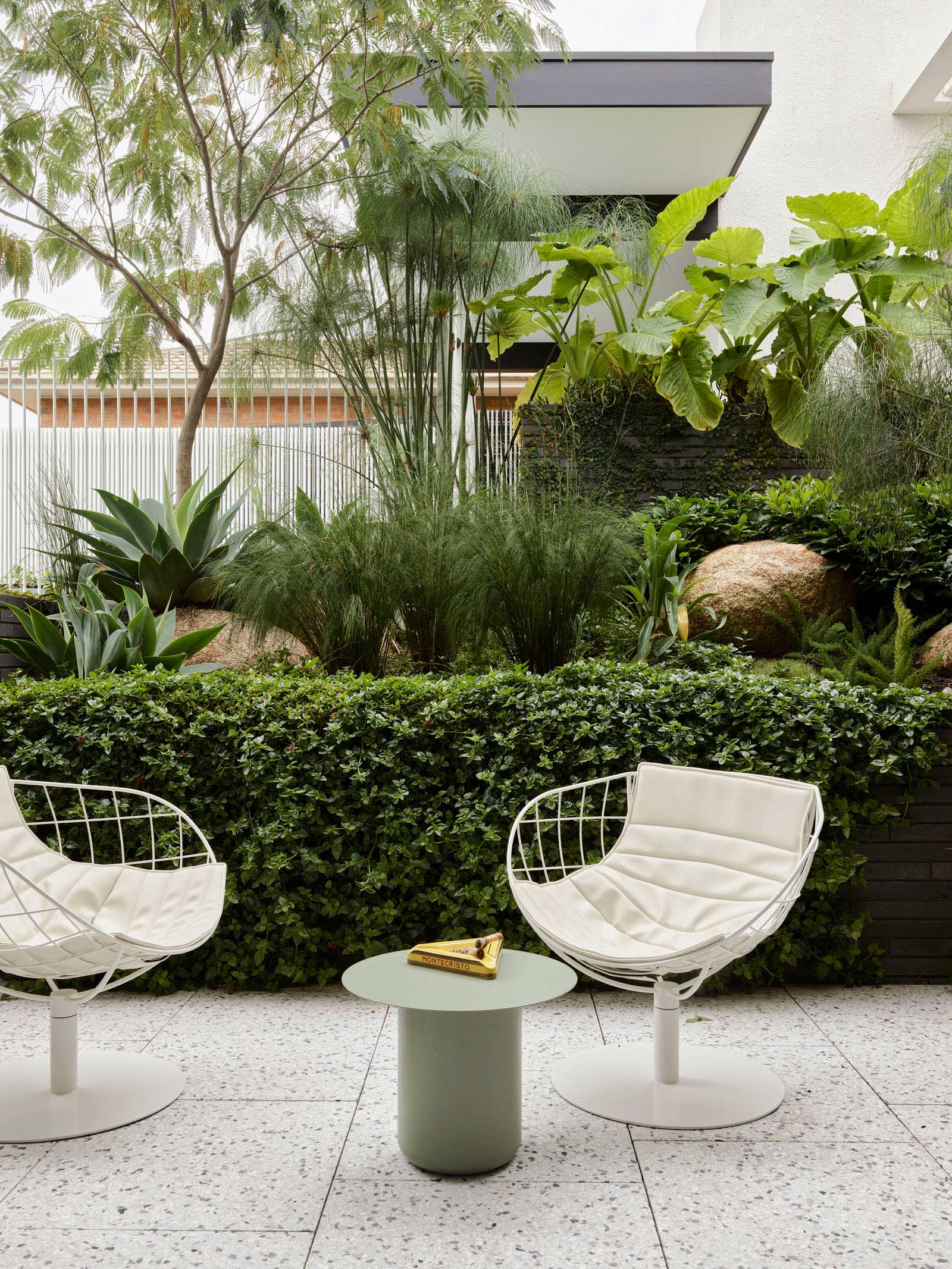 A custom spiral steel staircase in an ultra-glossy electric blue greets visitors upon entry. This pop of colour is just one of many dynamic inserts that pierces through a neutral base of white stucco, soft grey terrazzo floors and warm timber seen in ceiling and wall cladding.
The sweeping raked ceiling over the kitchen, dining and living spaces drops intentionally low towards the back to embrace the human scale—one of the core principles defining modernist architecture. Studio Doherty wrapped the entire length of the back wall in the DTILE system. Its curved profile allowed the freedom to achieve complex sculptural forms while creating a glistening surface that reflects the afternoon light.
The main bedroom and ensuite appear as a relaxing retreat that provides all the creature comforts of a boutique hotel. Among other hero materials in this project is the mint green mosaic tile on the main ensuite's walls, floors, bath hob, and vanity. "This idea of blanketing surfaces, and in turn minimising the amount of white plasterboard, was utilised throughout," explains Mardi. "On reflection, we're delighted with how this layered and textural approach to materiality was able to add warmth and interest throughout the spaces."
Downstairs, the idea of kook is taken to the next level. Intricate joinery envelops one end of the space while a complex system of scalloped timber, mirrored laminate, steel rods and shelves form the study zone. Opposite sits an epic 13-metre-long conversation pit clad in orange carpet with matching orange sofas. This room, complete with the arresting portal window to the outdoor pool, is playfulness in peak form.
With clients this individual, the brief came with its fair share of quirks. "Lidija has the most incredible bright blue hair, and we needed a space that would allow her to dye her hair at home without worrying about staining any surfaces," shares Phoebe. "The laundry was the natural fit for this—we used a bright yellow DTILE on the benchtops, and the tiler was amazing in providing grout samples to ensure they were stain-proof. It is probably one of the more unconventional briefs we've been given, but we loved designing for this purpose—the brief was a bit kooky, fun and fantastic—just like our clients."
Through their close involvement with the industry, Michael and Lidija have an intimate understanding of the building process and an understanding obstacles inevitably pop up during any build. By encouraging an open and steady flow of communication, they paved the way for a project that's an example of true collaboration, where the client, designer, architect and builder are not only invested in the outcome but the entire process.
"We're so proud of this project—the design outcome and the impact this new home has had on our clients' lives," concludes Mardi. "However, we're proudest of the friendship we've built with Lidija, Michael and Jesse by working together for three years. For us, this is the most valued part."
---
[Images courtesy of Studio Doherty. Styling by Sarah Weston. Photography by Anson Smart.]