Luxury and Approachability: Doria Apartment in Sydney by Studio Prineas.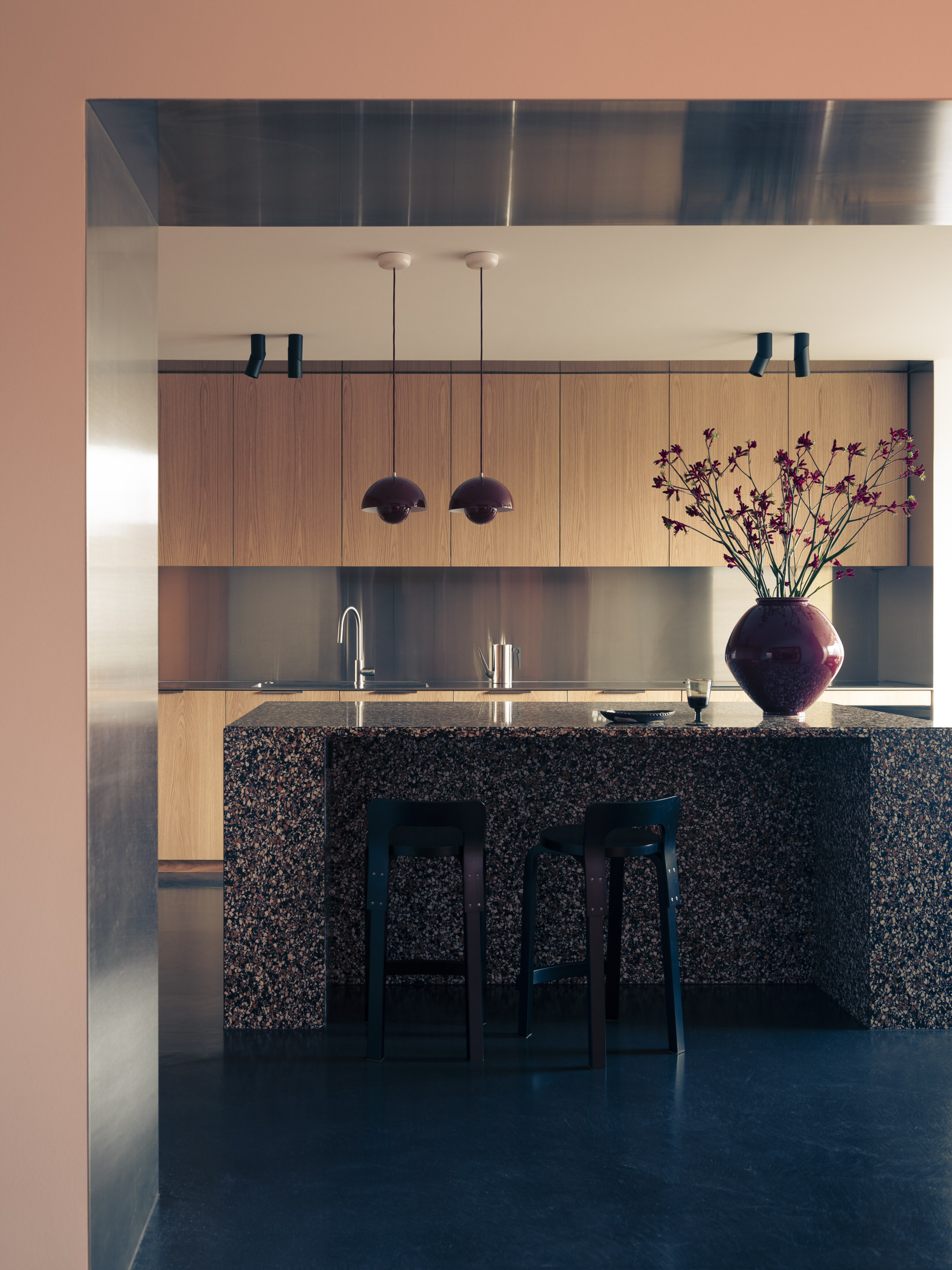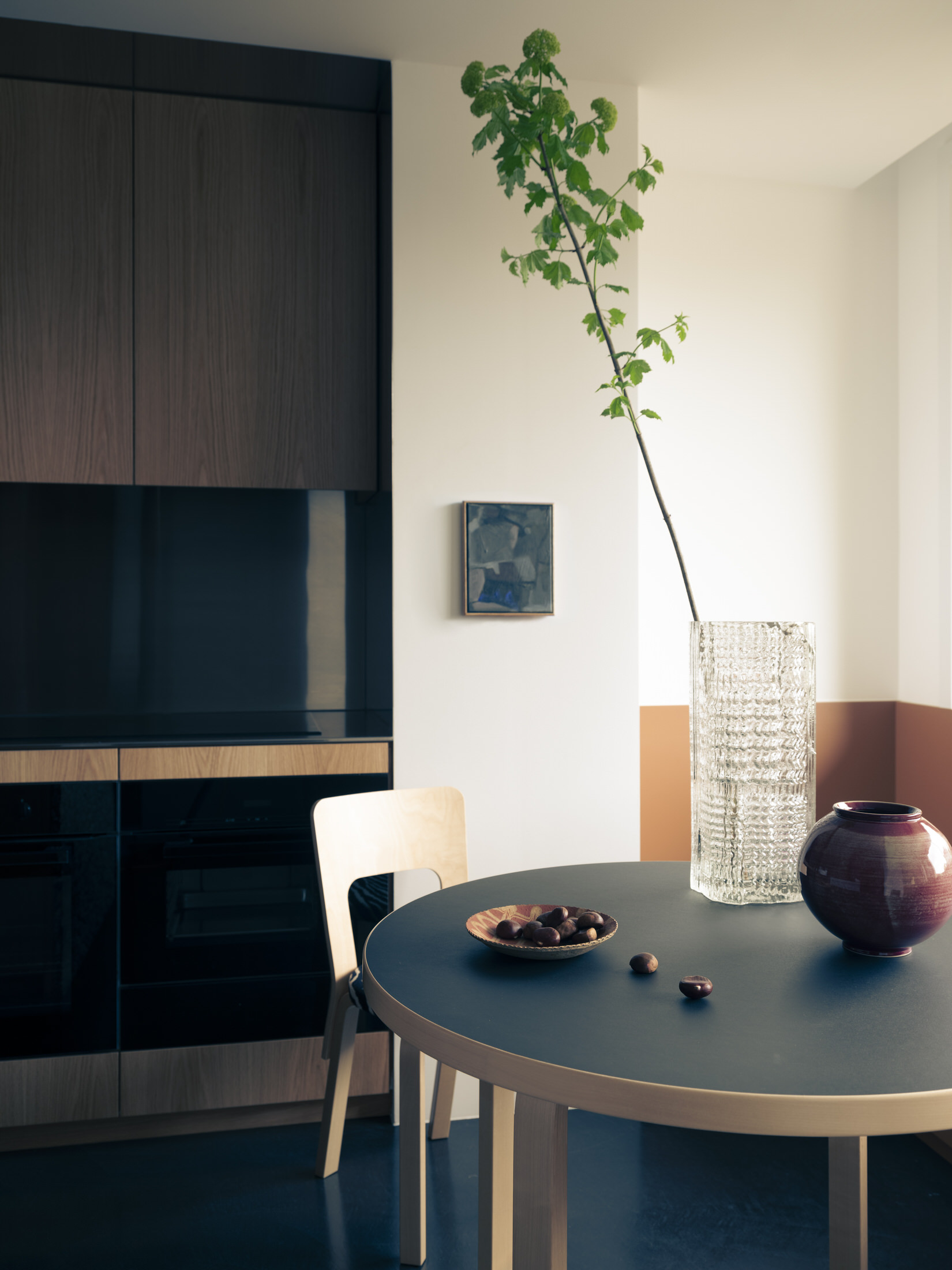 What happens when the phrase 'functional family apartment' is paired in the same brief with 'feelings of a design-centric hotel'? Studio Prineas' Doria Apartment is a project that strives to deliver just that. Nestled in Sydney's Harbourside suburbs of Double Bay, Doria Apartment takes an existing 1990s shell and embeds it with an experiential depth typically found in luxury hotels for a family of five. It is a renovation that embraces both aspects of the client's brief and melds them into a family-orientated space that oozes class and comfort.
Much like many typical family homes, the apartment's living room binds itself to the kitchen, although, here it is done via a mirrored portal, to introduce some of that hotel-esque charm that the clients desired. Also located off the kitchen, a secondary, more casual dining area takes the form of a banquette seat, again, nodding to a more hotel-like concept.
The terrazzo island bench, while boldly monolithic and mature, offers a place for not only cocktail parties, but for the clients' three children to do their homework. Modern family conveniences, such as televisions, games and the general mess of everyday life are masked elegantly within walls of dark, moody cabinetry throughout the home. Laced with references to typical hotel design, Studio Prineas have appropriated these moments to suit modern family life, while retaining a sense of luxurious flair.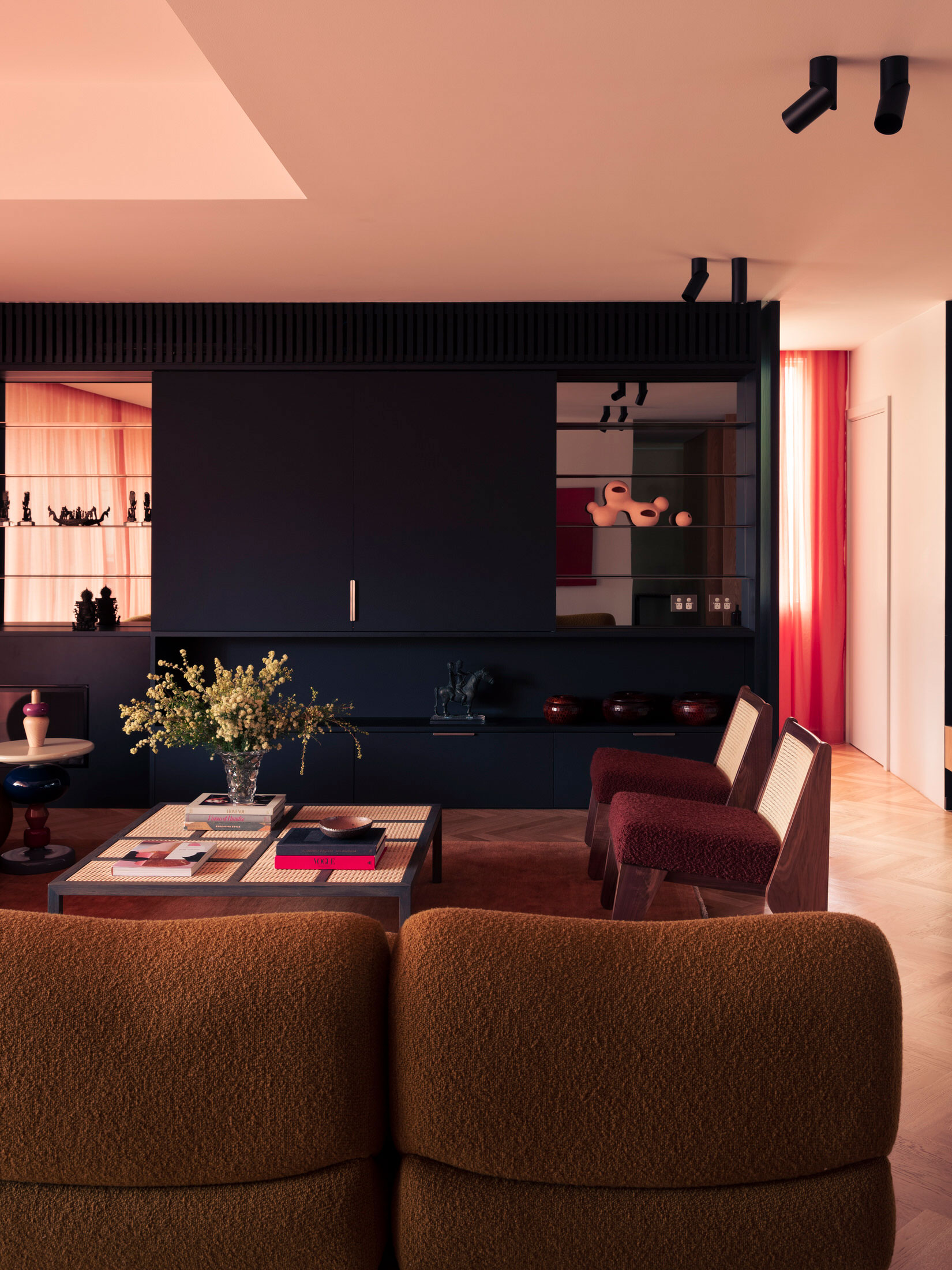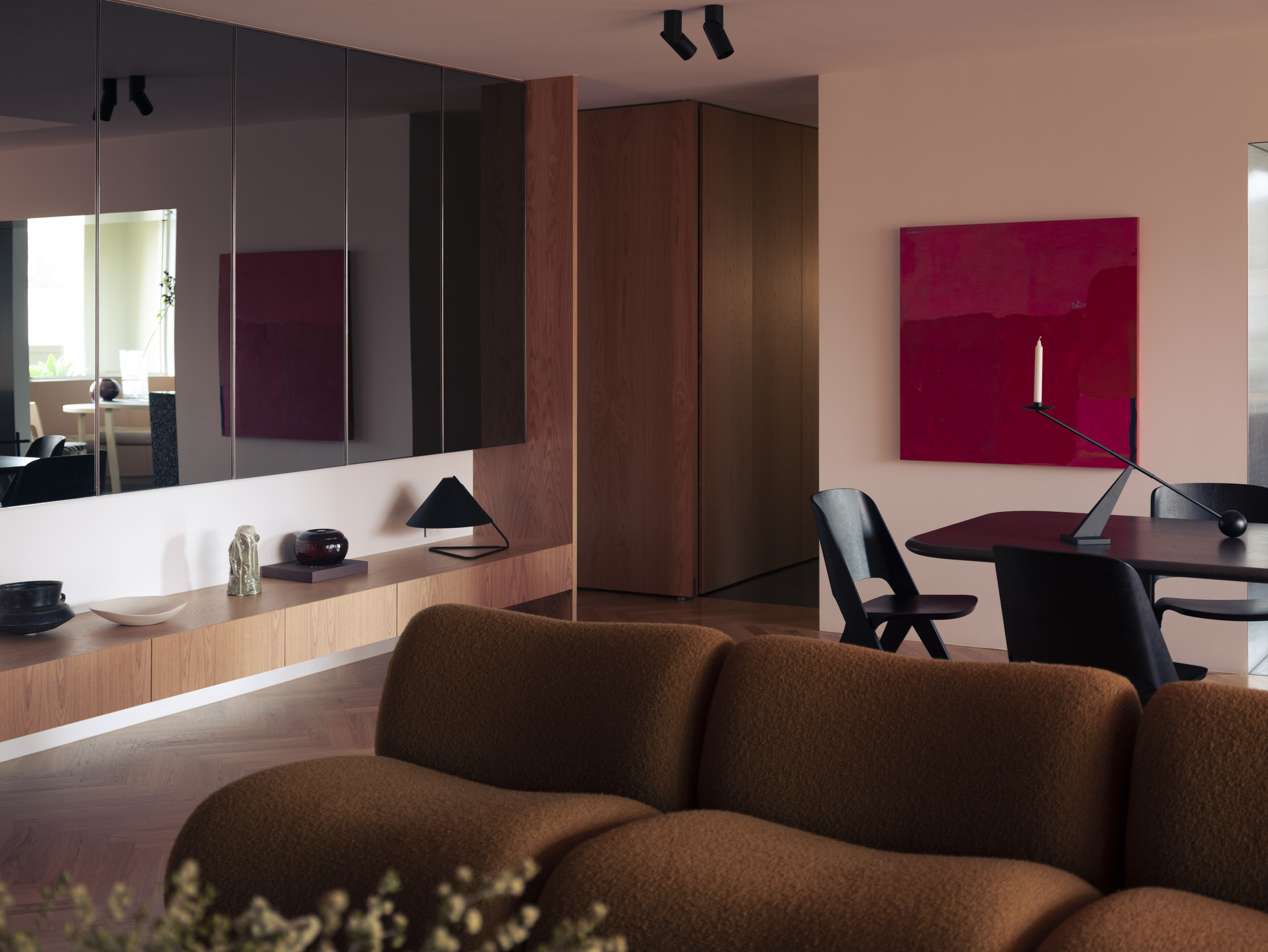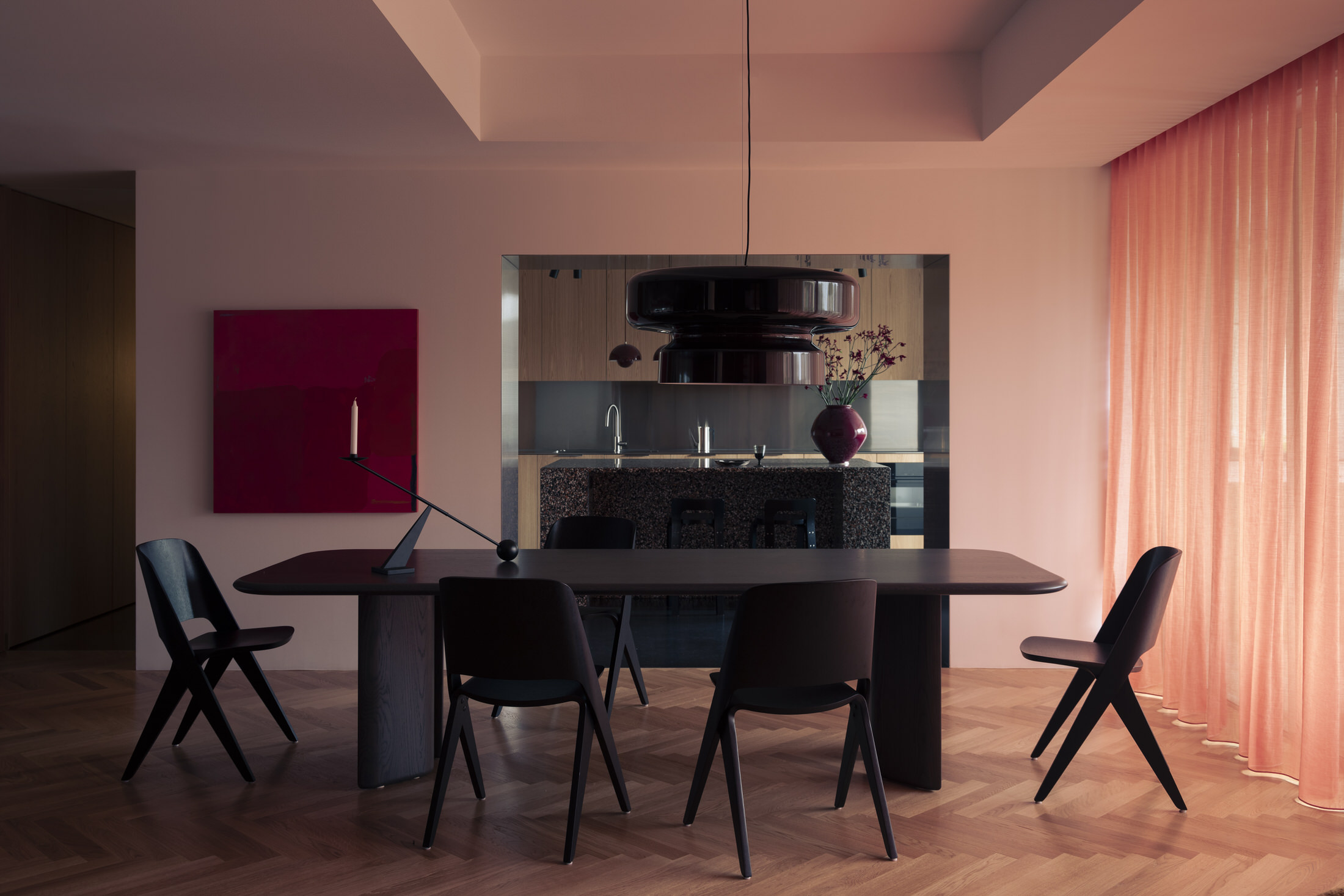 The heavy use of various types of mirrors and reflective surfaces work to elevate this space, while also playfully bouncing light into areas it otherwise wouldn't reach. Smokey mirrored cabinetry opposite the large living room windows reflect the peach-toned curtains, washing the living room with a warm, all-embracing light. Mirrored backing to joinery units introduce a more infinite feel within the small footprint apartment. Various thresholds are lined with metals or mirrors, elevating the otherwise ordinary openings to something more special.
Principal of Studio Prineas, Eva-Marie Prineas, shares how the existing building, while "offering good bones", came with "defined parameters around what could be changed from a structural and plumbing perspective". This project was very much about thoughtfully rationalising existing elements with the aspirations of the home, and avoiding unnecessary alterations.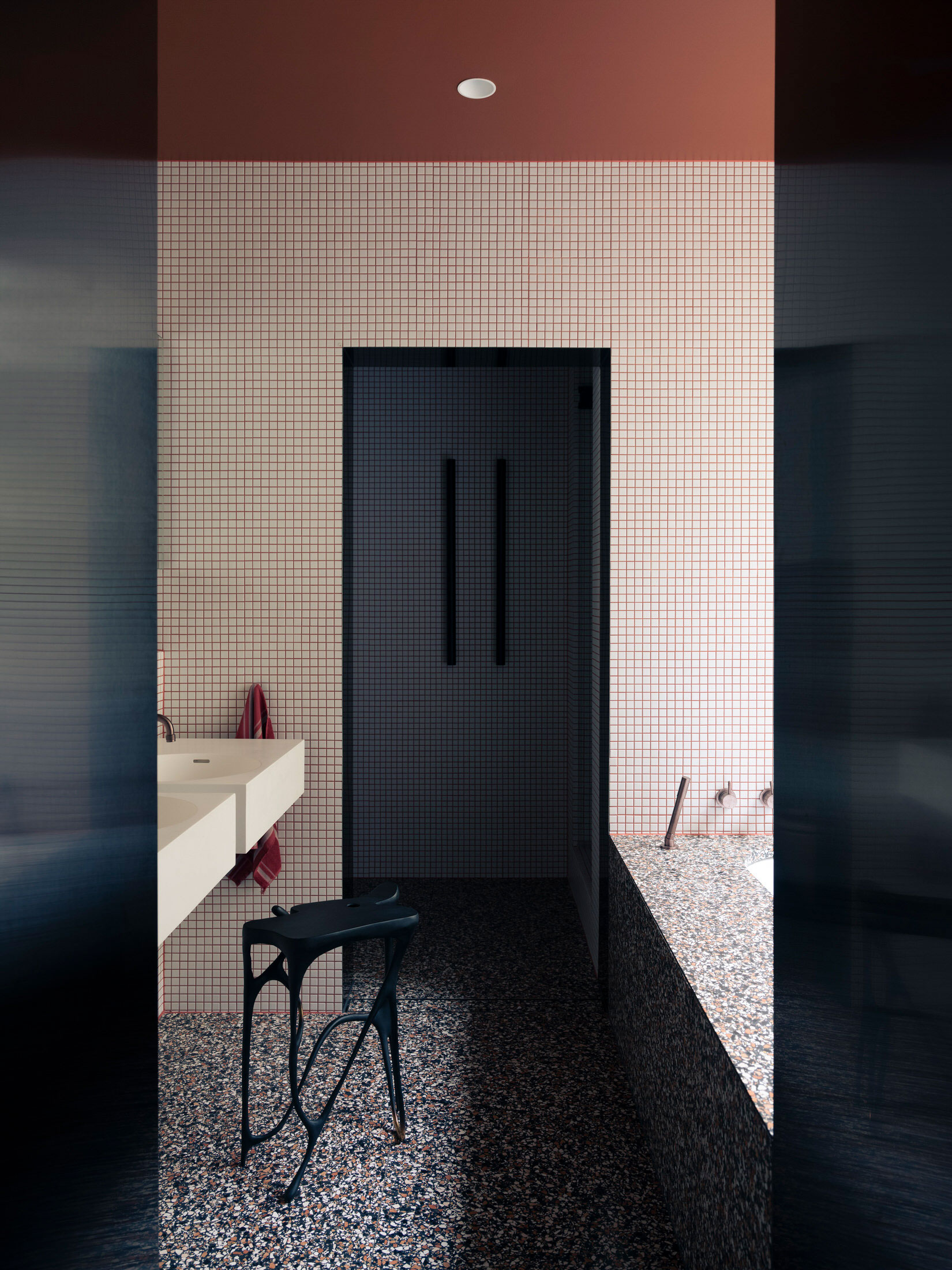 For Studio Prineas, the process of locating key living spaces and adjacent rooms were an intricate dance around various existing elements. The bathroom and laundry areas were carefully placed to best take advantage of existing plumbing locations. The centrally placed kitchen cleverly absorbs elements such as a large (and rather obstructive) concrete column into its joinery. Various hallways and openings work together to funnel natural light deeper into the apartment than it ever had reached before.
And so, this surgical project has taken the previously tired and traditional apartment and redefined itself as one that the family of five can enjoy. It remains modest in size, but skilfully balances luxury and approachability—all while giving the client a highly livable home for their three daughters under the age of five.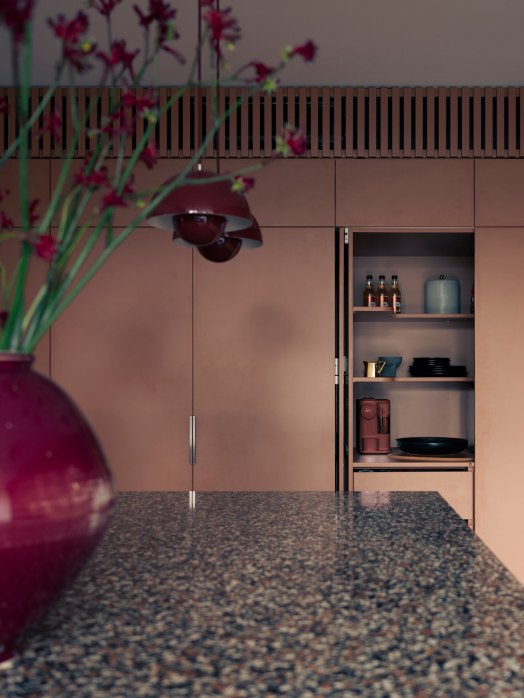 ---
[Images courtesy of Studio Prineas. Editorial styling by Atelier Lab. Photography by Felix Forest.]