Modern Heritage: Blue Bottle Coffee Myeondong by Teo Yang Studio.
Located within a bustling commercial street in Myeondong, Seoul, is a narrow facade with features that resemble a traditional Korean home—a door, a window, a canopy. A small blue nameplate reads 'Hyeonpan', welcoming passers-by to the property. Above, there is a subtle blue glow, contained within a box housing the silhouette of a bottle. This is Blue Bottle Coffee, Myeongdong. Designed by Teo Yang Studio, this unique little coffee shop initiates a dialogue between the city's rich heritage and modern Korean culture.
Teo Yang Studio looked to the principles of Jakyung and Chakyung to drive how this coffee shop would present itself to both passers-by and its customers. The unique Korean ideology of Jakyung refers to when one can appreciate their house itself as scenery; it is an idea that emerged through having an abundance of space in architecture.
Teo Yang Studio shares an example of when "you approach a house in the countryside, it becomes an object of viewing and admiration, giving you the pleasure of walking towards it". Filled with densely packed high-rise buildings, Seoul presents few offerings for Jakyung to be experienced. Chakyung relates to borrowing from the outside view to accentuate the interior.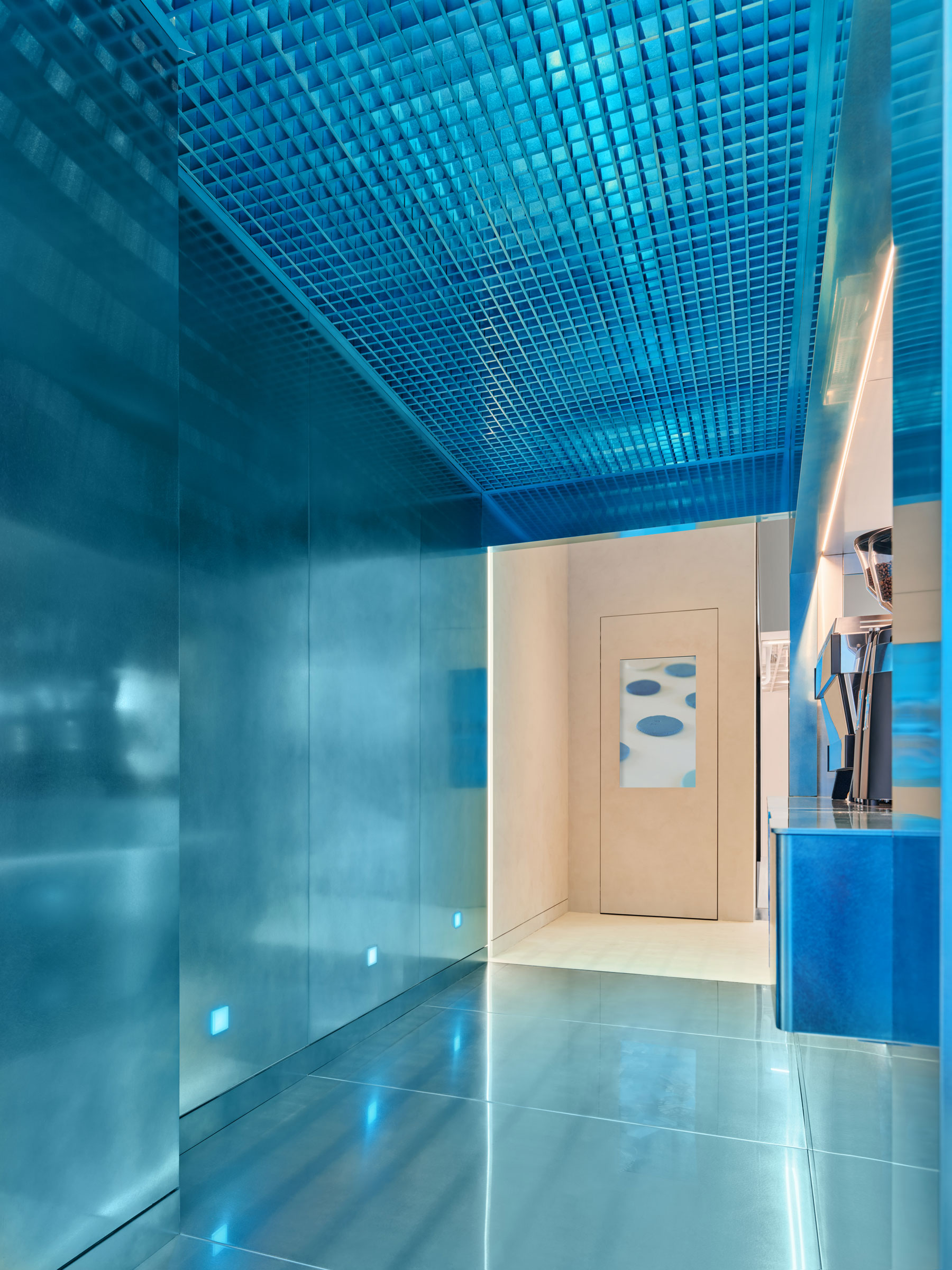 Aiming to create a space where these two philosophies can exist alongside its local scene, Blue Bottle Coffee Myeondong is a meaningful contemporary addition to Seoul's commercial district.
It's unified exterior is simple and deliberate. Large glass punctures are made into the solid white facade walls, offering not only transparency inwards, but allowing the coffee shop's blue glow to seep outwards and engage with passers-by. The shop instantly becomes an object—one worth walking towards. Upon entry, the blue hue is intensified, bouncing off custom metal panels that reflect not only light, but it's busy surroundings.
The coffee bar is placed at the front of the store—a deliberate move that Teo Yang Studio says "immerses guests in the delicate process of crafting coffee from the moment they set foot into the cafe". From here, visitors are invited to walk through what the studio refers to as the 'Blue House', continuing on their linear journey through the store, and eventually ending at the back exit.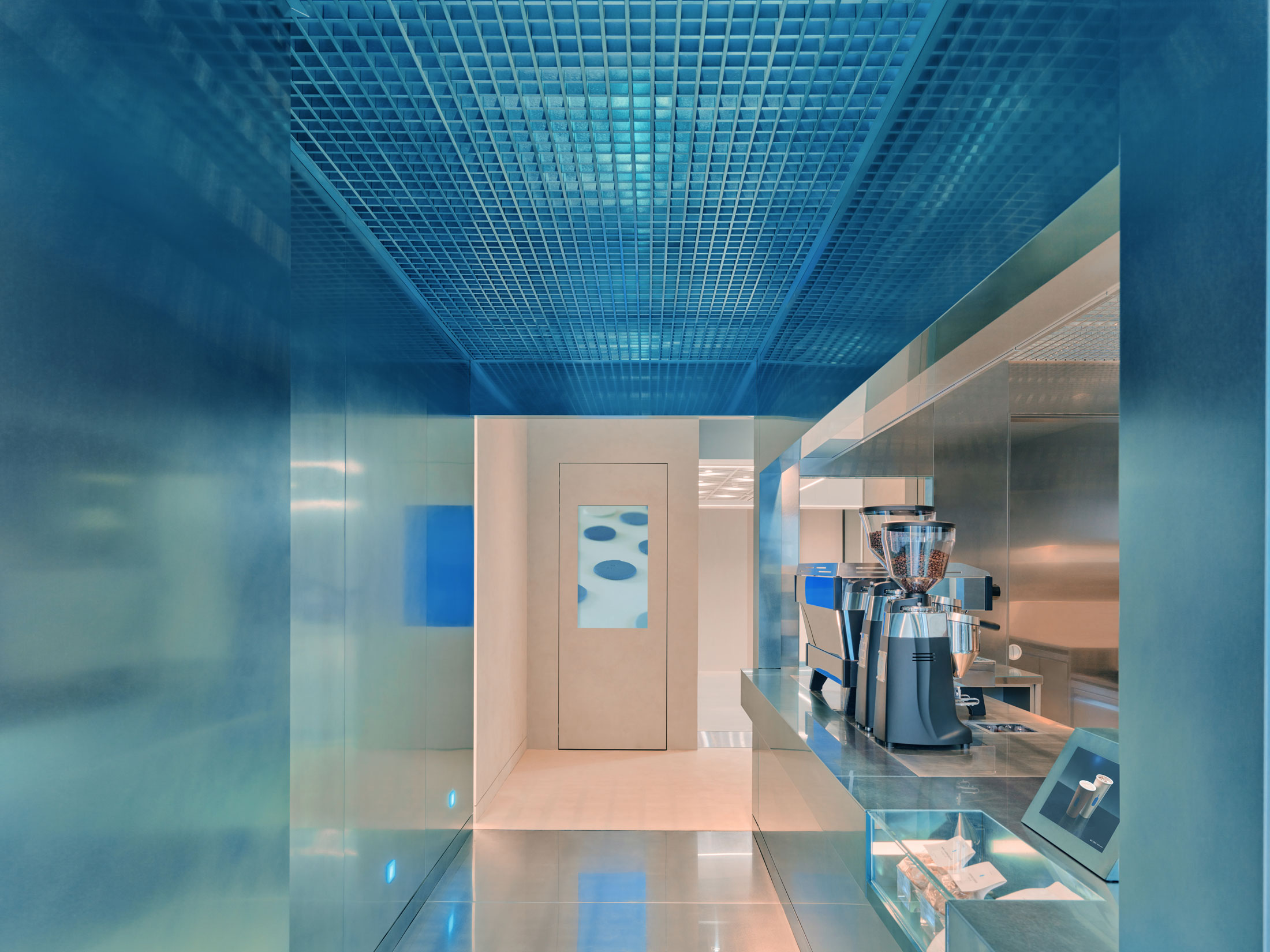 The custom-finished grated ceiling panels of the 'Blue House' diffuse the harsh direct lights from the reflective entry ceiling, and instead work towards providing a more subtle experience in this more transition-like space. At the end of the corridor, guests are offered a more visual experience in a room where smaller objects such as ceramic wares fill the space.
With 116 stores internationally, Blue Bottle Coffee Myeondong is the company's ninth store in Korea. Sitting within the heart of a commercial district, this store manages to reach out to passers-by through its almost ephemeral quality, while still holding close traditional ideologies of Jakyung and Chakyung.
---
[Images courtesy of Teo Yang Studio.]