Nota Blu Marbella in Málaga by Astet Studio.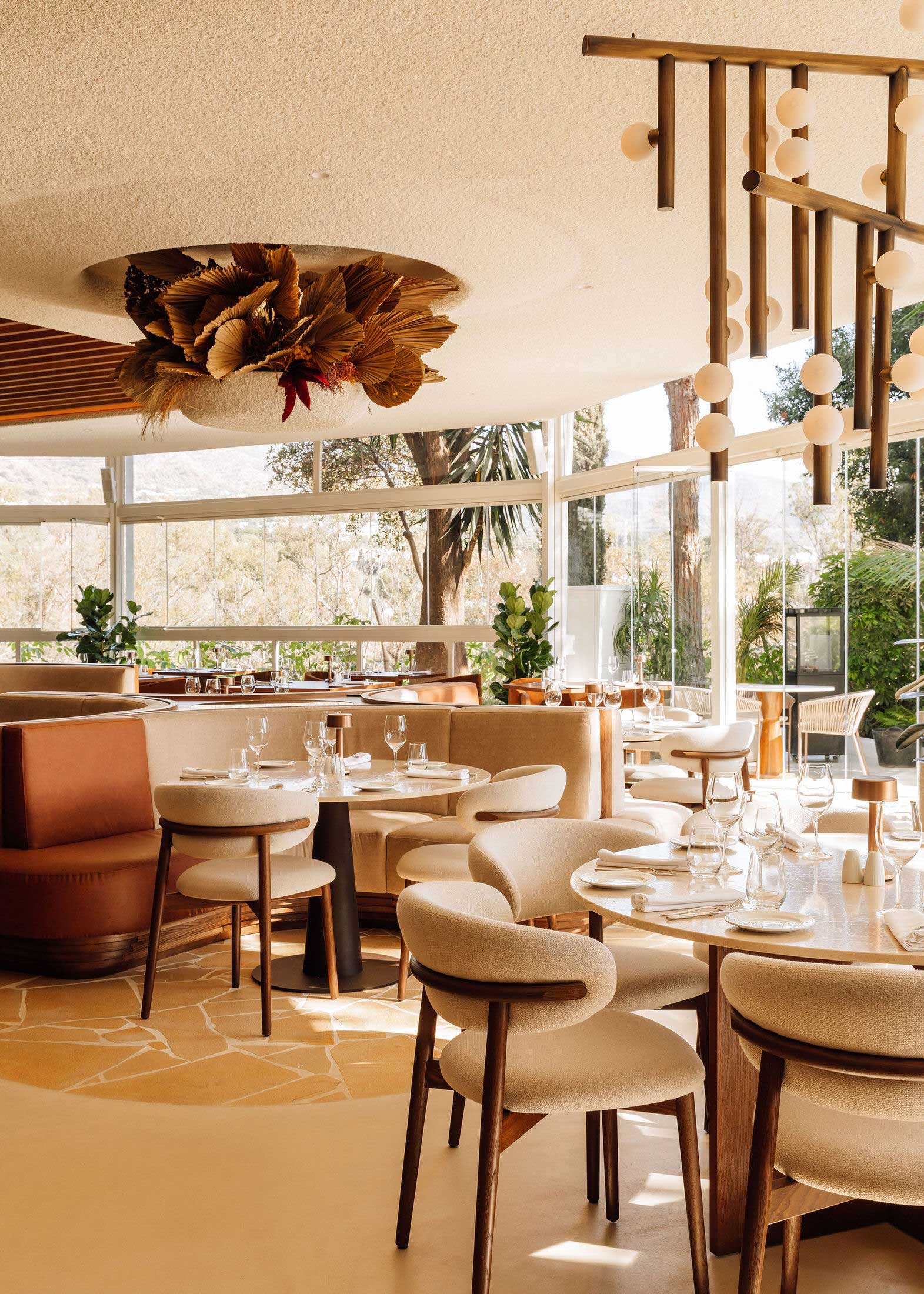 In Marbella, Málaga, it can be tempting to stay outdoors. With golden beaches, boutique stores and Andalusian architecture that draws from Renaissance, Baroque, Gothic and Moorish styles, there's no reason to retreat—unless of course, you feel like a quick bite or some respite from the permanently blazing sun. Nota Blu Marbella takes note. The brasserie—designed by Barcelona-based Astet Studio—features a foldable facade that blurs the line between the interior and exterior, making a case for atmospheric dining no matter the season.
The restaurant is decidedly Mediterranean: airy and light, with high arched doorways and natural stone finishes. Layers of dried foliage cascade down the vestibule, taming the clean, simple lines of the mosaic floor. And yet, the aesthetic evolves as you venture deeper, revealing itself bit by bit, table by table. Inside, the experience is warm and elevated, with floors in dark and light stone offering a dramatic counterpoint to the surrounding wood and cream marble.
The crowning glory of the restaurant (besides the incredible food), is the bar, crafted in Calacatta Viola and walnut wood. It is divided into two parts, featuring a cocktail bar on one side and a large show kitchen on the other (so you can actually watch your dish being prepared live).
Beyond the finishes and the food, the restaurant displays an abiding sense of geometry. From arched passages and amorphous ceiling details to sunburst accents and curved banquettes, curvilinear details follow you wherever you go, linking one leitmotif to the next, down to the quarter plate at your table.
The seating echoes the intimacy of the decor: comfortable bespoke armchairs with wooden details, upholstered in warm-toned fabrics and leather, grace the main dining area, lending tactile fluidity to the space. Meanwhile, delicate brass chandeliers and foliage installations grow out of the ceiling, channelling an upside-down forest.
For diners who prefer some breeze, the terrace is a great alternative. Its beige and off-white elements nod to the interior, while cobalt pops hark to the nearby sea. And yet, no matter whether you dine indoors or outdoors, the brasserie doesn't disappoint. Each visit promises an experience to remember.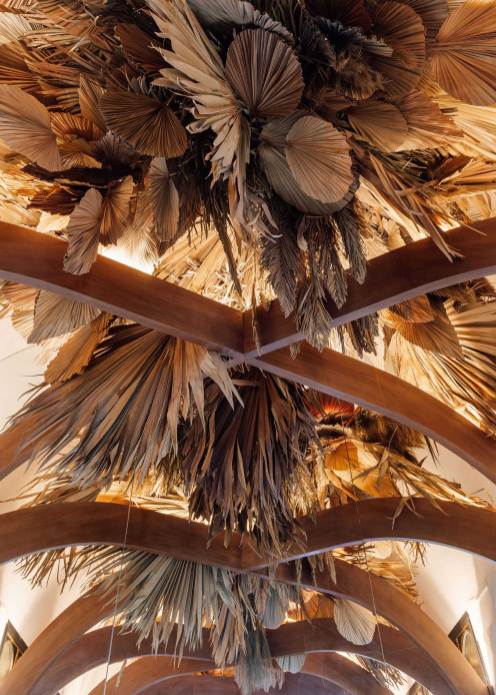 ---
[Images courtesy of Astet Studio. Photography by Francisco Noguiera.]