Old Ferry Donut in Seoul by Studio Gimgeosil.
With café hopping being a prominent pastime in South Korea, it's imperative one's interior be unique and quirky—and tasty—to garner attention. Studio Gimgeosil's Old Ferry Donut understood the assignment, introducing a touch of the tradition for the locals and tourists to either appreciate or otherwise feel a sense of hometown pride.
Based in Seoul, and only encompassing 50 square metres, Old Ferry Donut occupies a unique space with a slanted ceiling that reaches up to seven metres in height. The client wanted "to demonstrate to tourists that 'Korea also has delicious donuts', and looked for a design that embodies a distinctive Korean aesthetic". The brief paved the way for the studio to turn to traditional Korean architectural aesthetics that would give the doughnut shop its character.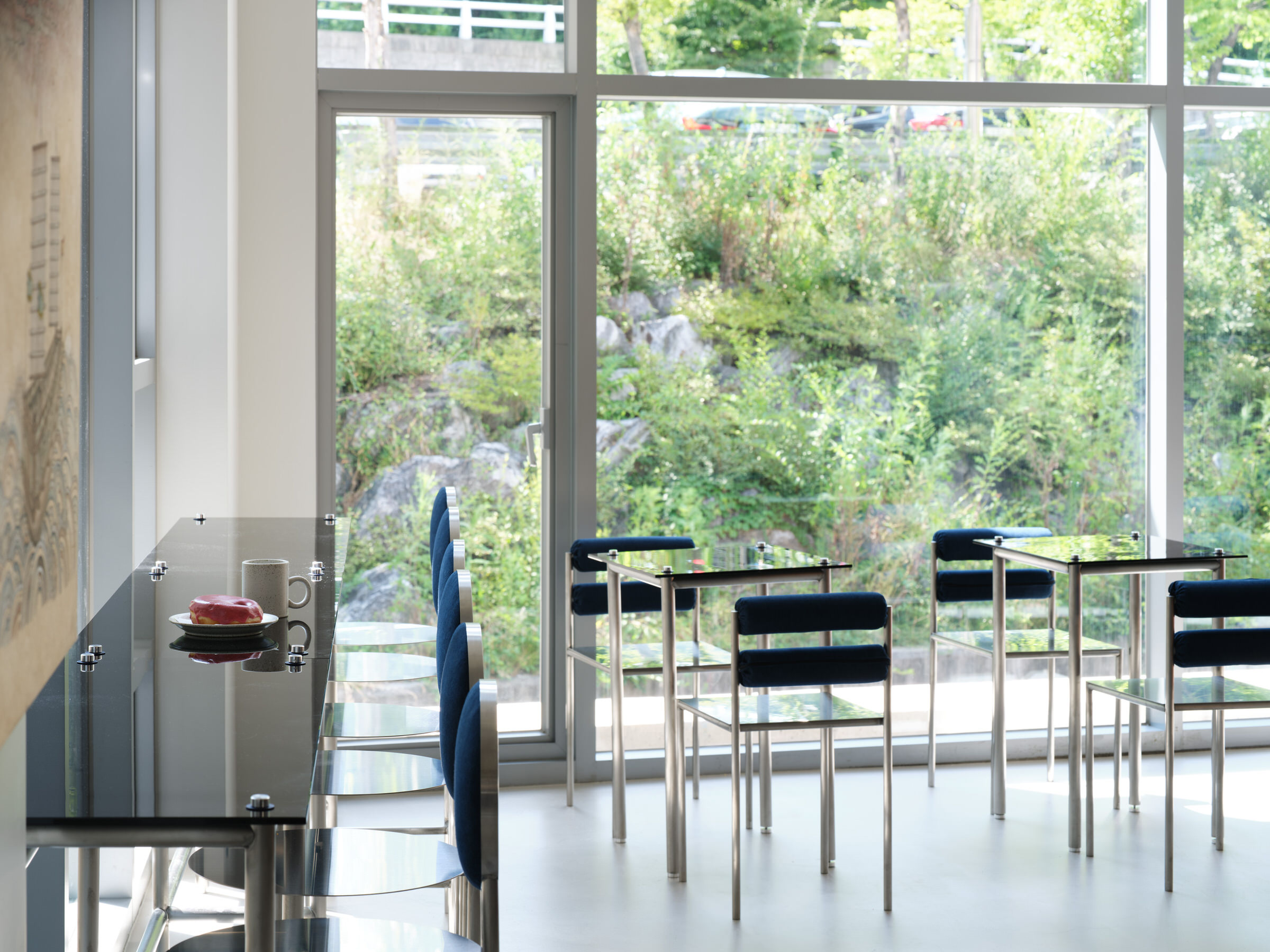 Taking influences from Hanok, the interior of Old Ferry became embossed with elements from the traditional homes that referenced concaved tiled roofs, timber frames and stone walls. Predominantly the display plinths drawing attention to the baked goods, with each podium modelled in walnut and stone to reflect on the trustworthy structure still celebrated today.
Fluted glass used in-between the partitions resembles sliding screen doors while subtly hiding any services for a clean aesthetic. Similarly, a toilet block by the corner is also hidden with timber battens, a continuous language to match the glass panes.
The shell of the interior floods the interior with ample natural light from the wall adjacent and opposite to the display and service area. The designers were thoughtful to ensure that the existing structure would have minimal disturbance, allowing the light from the tall glazing to continuously frame the views beyond. Opposite the service area in which is the tallest point of the space resides two unique screen prints drawn in traditional folk illustrations with doughnuts incorporated, completing an invisible embrace of Korean identity within a contemporary space.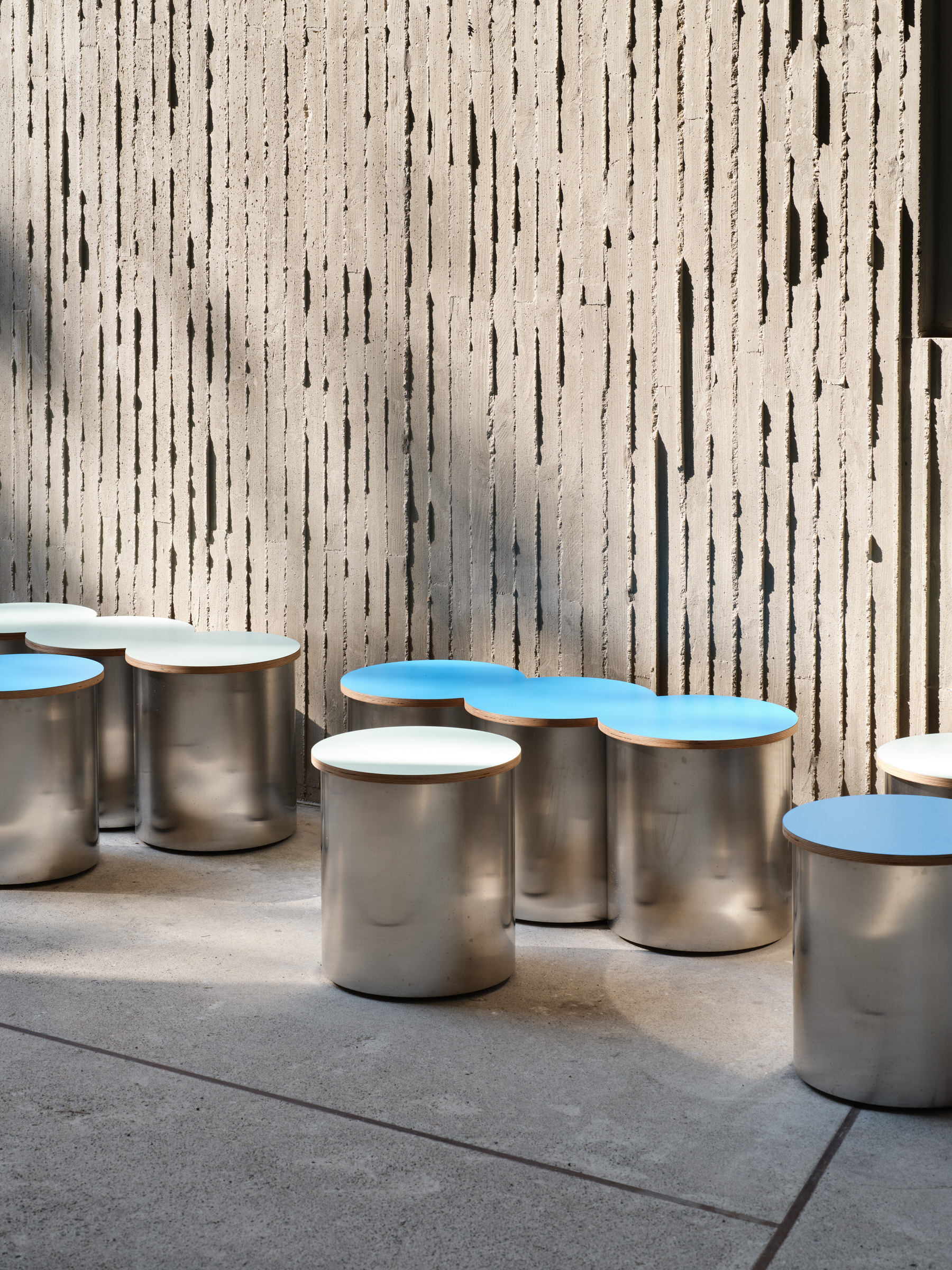 As playful as it is to create these display podiums, it was equally important to have a bit of tongue and cheek with other furniture elements to complete the overall interior. Avoiding being too heavy handed in literal translations. Studio Gimgeosil also introduces sleek industrial chairs for patrons to enjoy. Using the simple geometry of a doughnut—yep the circle—a variety of chairs crafted in stainless steel are scattered around the shop.
Stools outside the shop are also given the circular treatment, with a splash of blue to match the blue velvet upholstery on the chair backings as well. The small splash of colour captures the brand's signature colour, and serve as an excellent signpost to the shop's concrete rendered façade. No doubt people will be flooding in to appreciate both the delicious doughnuts and the architecture.
---
[Images courtesy of Studio Gimgeosil. Photography by Donggyu Kim.]