One interior designer, three different kitchen styles
Anna-Carin McNamara, Australia's leading Scandi-style interior designer, places sustainability, simplicity and functionality at the forefront of each of her projects, stressing the human experience of space is central to all of her design decisions.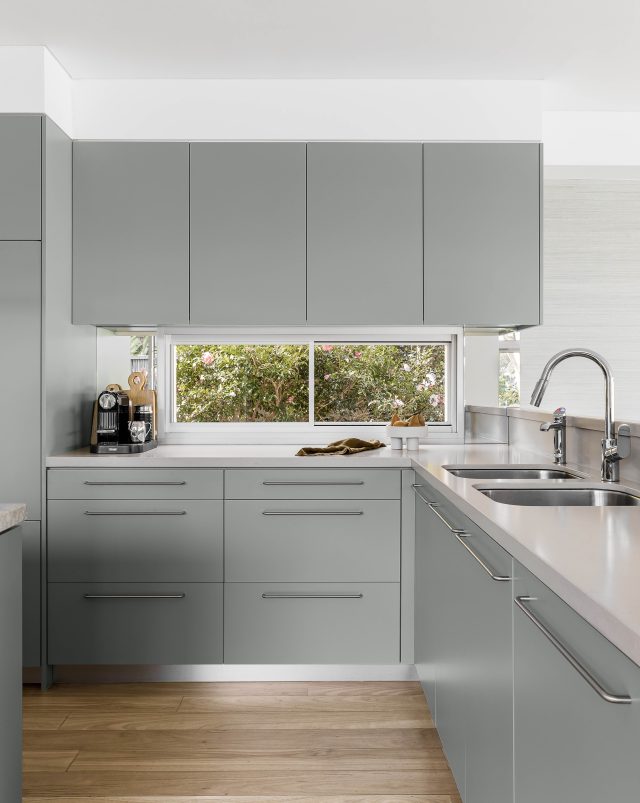 Today, we're bringing you three of her recent kitchen projects, all within quite different residential architectural styles.
In the first kitchen (above), Anna-Carin selected Caesarstone Pebbles Wyndigo for the work surfaces of a galley-style kitchen. "The house sits right on a beautiful bay – we wanted to draw the cloudy blue/green/grey colours from the water and sky inside. The soft patina and honed finish allowed us to do just that," she said.
In the contemporary kitchen (below), Anna-Carin selected the clean hue of Pebbles Riverlet for all benchtops, splashbacks and also the bathroom vanity top.  "A hop, skip and a jump from Bondi Beach, this house is fresh, sunlit and feminine. Riverlet was the obvious clean warm white choice for the surfaces."
The striking, bold design of the third kitchen (below) features Pebbles Raindream, a polished mineral surface in slate greys. "This house overlooks lush greenery, with winding tracks leading to a local creek right on its doorstep – it's a dream in rain as well as sunshine!"
Caesarstone say their Pebbles mineral surfaces are far more than a sustainable, visually appealing surface – they are also easy to clean and never require sealing.  Each surface carries a lifetime warranty, giving the ultimate peace-of-mind to the consumer. Pebbles is a mineral surface whose creation was inspired by the river pebble.
Caesarstone Pebbles is available nationally and retails from $650-to-$750 per metre square (which includes basic fabrication and installation).
For more information | For more on Anna.Carin Design Studio
5 stylish kitchen design trends to look out for in 2023
With the new year around the corner, it's time to look ahead at the trends 2023 will have to offer.…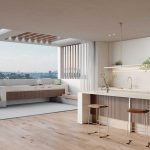 Caesarstone branches out into new porcelain surface range
Caesarstone have unveiled their first ever porcelain collection. Leveraging their 35-year legacy of craftsmanship and innovation – they introduced the…