Our Teen Boy Bedroom Makeover Reveal
It was after my mini meltdown that I moved into gear to update his space into
a room fit for a teenager. We talked about what he wanted and decided a few of
things needed to be updated to get rid of the little kid vibes. 🙂 
When we moved into our home four+ years ago, we set up his room with a lot of
items from our last house, including his cute red, white and blue
bedding: 
My first project was to FINALLY paint the wood shiplap wall and surround a
crisp white (Pure White by Sherwin-Williams). I knew it would look
great against that dark blue headboard: 
When I installed the shiplap, I also used scrap wood for the header across
the top. I was planning on wrapping crown molding around the whole built in
unit, but I went to go buy it and about choked that an eight foot piece was
$18. 
Instead, I grabbed two $2 MDF 1x2s and installed that around the top. I
actually like it better than crown anyway…it's simpler and fits the look
of his room much better!:
Those IKEA Ranarp lights are so fun, we've had those forever. You can either
clip them to something (like a desk) or hang them on the wall.
I love the cozy feel the header, bookcases and lights create in this little
nook: 
As you can see, we finally changed out the stars and plaid comforters with a
blue and gray comforter set from Target. It's SUPER soft. The older I get the more I move away from duvets/covers.
They wear me out. 😂 It's so much easier to throw a comforter in the wash.
His bed is now the cats favorite spot. 🙂 
I looove it! It makes the inexpensive Billy bookcases look so much more
refined. I have plans to use this wallpaper in another spot in the house
too. 
The deep blue backdrop showcases his trophies and accessories even more!
The windows got
new black out drapes
— the two toned gray and white works great with the new bedding: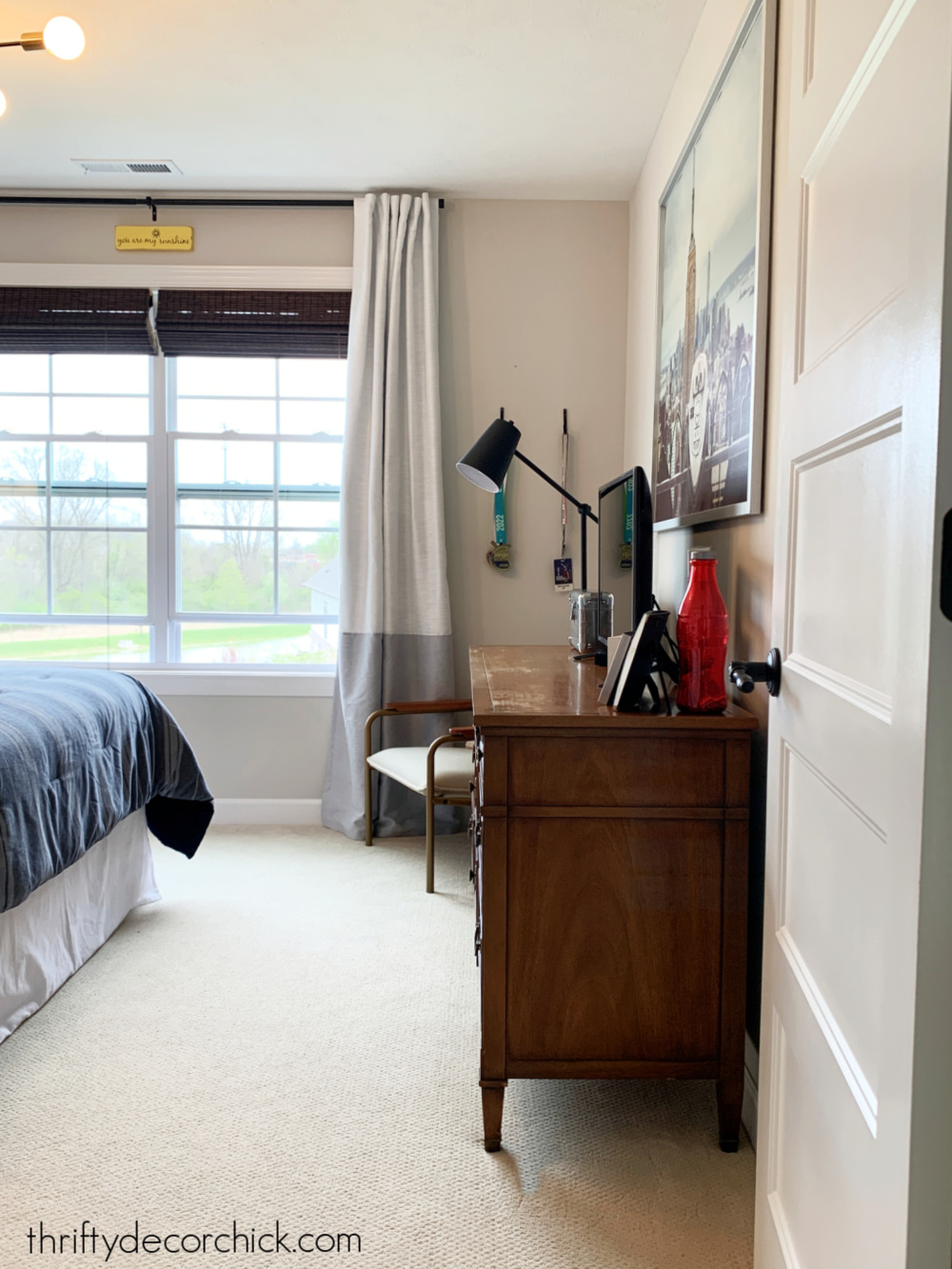 They do a great job of blocking the light! 
We had old DIY airplane artwork from his last bedroom hanging on that wall
by the window, but we both agreed it was time to do something a little more
mature. 
I played around with a few things, but finally decided on function
over form and just hung a couple black hooks: 
Now he can hang his awards and passes from different events. 
The boy needed a place to sit! That modern chair in the corner fit the
bill. 
It's easy to put together (tip: the back bar and arms don't fit together
perfectly, but we don't see it and it's still super sturdy) and had the
modern look he wanted. 
This
wall art trio
was another repeat from his room at our previous home. I still love them so
much: 
The cabinet knobs I used as "hangers" for the frames spell out "FLY" and the
art prints are vintage airplane scenes. 
The skinny desk is from IKEA as well — perfect for a small bedroom!
It took about two weeks here and there, but I got the little updates
finished up and we all LOVE how it turned out. I'm so happy he likes it.
😊 
Now the finishing touches feel like they fit a teenage boy instead the decor
we've had since he was a three-year-old (sniff).
Oh, and I replaced the flush mount ceiling light with this industrial
"Sputnik" inspired light fixture: 
It gives off so much more light than the old one and the size works better
for his room as well. 
His lighting options are what I love most about his room — we installed the
color changing LED rope lighting around the bookcase unit years ago:
We plugged them into an outlet that runs to the switch, or he can use a
remote that comes with the lights. 
I think we hit a great balance with these small bedroom updates. His teen
bedroom has a more mature feel, but still showcases the things he loves
most. 🙂 
Next up…his bathroom! I've had plans for that for years!
I gathered all of the items in his teen boy room makeover here: