Outdoor kitchens: The latest home improvement craze
Sponsored by Australian Gas Networks
The COVID effect has been felt across all quarters of the home and the outdoors haven't remained immune (pardon the pun!). In news that will surprise nobody, given the lockdowns that many endured, Australians are currently all about creating sanctuary-style homes that they never want to leave, and an improved backyard is an important piece of the puzzle.
"There has been a huge explosion in landscape design since COVID and the value of the backyard has shot up. People now see it as an extension of the house and the outdoor kitchen is becoming more important with people wanting to entertain at home much more," says landscape designer, and Mint Design director, Darin Bradbury.
And while the outdoor BBQ, bar fridge and sink setup isn't new, outdoor kitchen design is becoming much more sophisticated as people seek the same finishes outside that they have inside their homes. "People really see the outdoor kitchen as an extension of the house and there has been a real push to outdoor entertaining. People want a great kitchen and pool and everything at their fingertips," says Darin.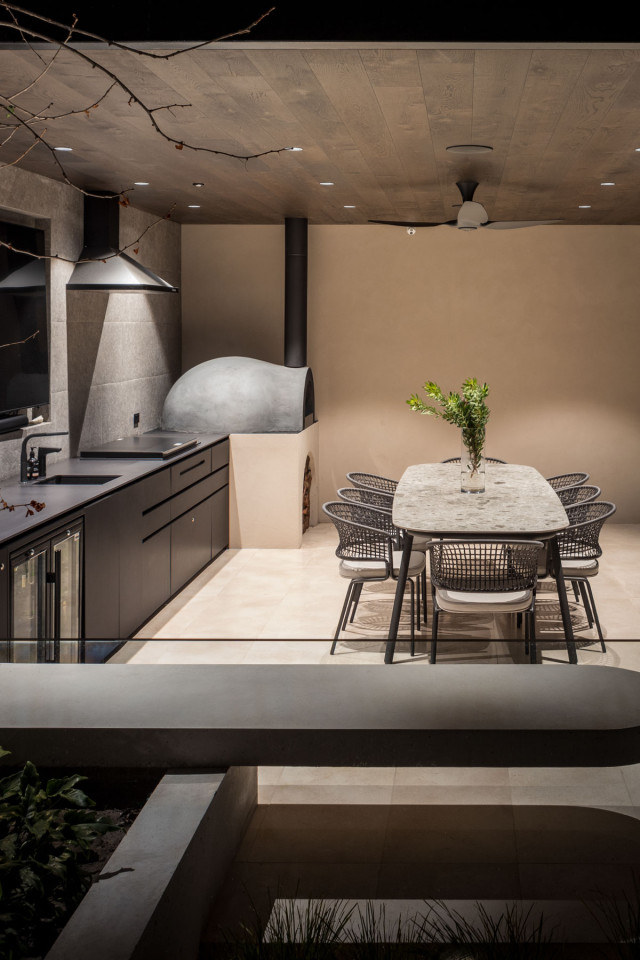 "The standard outdoor kitchen benchtop size is 2.4 metres long and it will typically house a BBQ, bar fridge and sink. I always try to encourage a sink so that you can wash your hands after handling meat," says Darin who says who recommends space either side of the sink for platters and the like. The designer has also seen an explosion in interest in different cooking options with smokers, chargrill BBQs and pizza ovens currently the most requested items.
"You used to have to buy a DIY pizza oven kit that had to be built into the benchtop but now there are plenty of great pre-fab options that sit atop the bench. They are smaller and don't take up as much space and most of them have a gas starter so the days of sitting around waiting hours for your pizza oven to heat up are over," says Darin. The latest pizza oven designs allow you to pre-heat with gas and then add wood.
Gas is still the main energy source for outdoor kitchens with the open flame a must for keen barbecuers. "Plumbed in gas and gas bottles are the standard for outdoor BBQs as there's nothing that heats as fast and is as hot as gas when you're outdoors in the elements," says Darin.
When it comes to cost, many people are shocked to discover that an outdoor kitchen will set them back at least $15,000 but it's largely due to the materials required. Outdoor kitchen materials have to be able to handle variations in temperature and sunlight and said finishes don't come cheaply. "If your kitchen is fully exposed you need outdoor grade materials but if it's under a pergola you will have more leeway with materials," says Darin. 
When it comes to the bench top, Darin says that Dekton surfaces as well as natural stone or concrete are great options. "A ceramic material, Dekton is very pricey, but you can get a stone-look and it's very durable and easy to clean. Concrete is a great option, but it must be sealed and resealed over time," says Darin. 
Cabinetry materials are another challenge as you need good durability there too; Darin recommends Tricoya MDF which is a laminated timber that doesn't shrink or swell. "You can paint that material in any colour that you like," says Darrin. Cement sheeting is still a popular product for cupboard doors but, alternatively, Polytech has a lot of great outdoor cabinetry finishes which give a timber or stone look. "Again though, that product is expensive. If you want a slick, seamless outdoor kitchen the sky is the limit when it comes to what you can spend."
As TV interior designer James Treble shared with us recently, the majority of his clients prefer cooking on gas. Thinking about gas at the early stages of a build or reno, and making the most of your gas connection, if you plan to have one, is paramount, he says.
"People need to think about if they're cooking al fresco and having a gas point there too for their outdoor kitchen or built-in barbecue. You might also want a powerpoint there in case you need it for an ignitor, or perhaps an outdoor fridge, and even plumbing for a single sink."
Can't afford that outdoor kitchen right now? Allow for the plumbing, gas and powerpoints now at the build stage, so it's an easier job later when you can.
Installing an outdoor natural gas BBQ? You may be eligible for a rebate!
Australian Gas Networks have rebates available for customers on their networks who are installing or purchasing new outdoor gas appliances. You can get more information here: Rebates | Australian Gas Networks
For more on Mint Design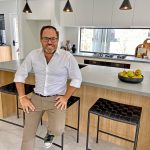 TV interior designer shares what to get right first time
Sponsored by Australian Gas Networks Building or renovating a home is fraught with multiple decisions and competing priorities. But TV…
Jason Hodges' expert guide to a Hamptons style outdoor area
For over a decade, Australians have had a love affair with the Hamptons style, with the trend increasing throughout the…