Renovating continues despite cost of living with 30% making plans
Almost a third of Aussies plan to spend over $10k on renos in next six months despite the cost of living crisis.
According to new research from hipages, home maintenance (for 77% of homeowners) and "freshen-ups" (58%) are in, while there's caution around undergoing large-scale renovations, such as a second story (7%) in the next year.
Homeowners are tempted to have a go to save money, with 40% having attempted DIY repairs and renovations, but 29% admit they had to call in the professionals after botching the job.
The Know Your Home report from Australia's largest online tradie marketplace, reveals that the cost of living crisis has created a new generation of mortgage prisoners, with 32% of Aussies saying they feel trapped in their mortgages due to rising prices and interest rates.
Notably, the majority of homeowners (73%) say they'd consider renovating before buying a new property and moving house. Despite the cost of living pinch, 30% of homeowners anticipate an average spend of above $10,000 on home improvement work in the next six months. This has increased from 2021, where only 23% of homeowners intended to spend above $10,000.
While 43% of Aussies cite concerns about having enough money to complete a home renovation project, 77% of homeowners are looking to undertake home repairs and maintenance, interior (63%) and exterior (53%) home improvements in the next 12 months. This is an increase from 2022, where only 40% of homeowners had repairs requiring tradie attention. When it comes to the types of renovations and repairs Aussies are looking to do, function is in.
More extensive home improvement jobs for homeowners in the next 12 months that are out of favour include adding a pool (11%), a granny flat (8%), or a second story (7%).
While homeowners put a pause on full-blown home improvement and renovation projects, 58% of Aussie homeowners say they'll instead be embarking on freshen-up projects this year. These smaller jobs are to increase the enjoyment of their home (49%), update the outdated home (34%) and improve the home's value (33%). Aussies expect to save $4,195 on average by doing light-touch updates, like changing cupboards versus installing a whole new kitchen. While the pandemic inspired a flurry of home renovation activity, the home office may be on the decline, with 32% of Aussies looking to repurpose the space.
hipages chief customer officer, Stuart Tucker, says the home improvement industry will begin to balance: "Despite inflation and mortgage pressures, Aussie homeowners are still investing in essential maintenance and small home improvements to upgrade, modernise, and increase the enjoyment and value of their home.
"Having felt the pinch of increased costs of living and rising interest rates over the past year, and given some Aussies splurged a little on jobs around the home during the COVID lockdown periods, they're moving away from larger scale renovations and taking a more functional approach to home improvement overall.
"Looking at what Aussies have planned this year, there is a bright spot for tradie businesses and homeowners. We can expect for tradies to be more accessible as demand decreases slightly, meaning the home improvement industry will become more balanced."
Commissioned by hipages in conjunction with Thrive Insights, the research was conducted online in March 2023. Findings are based on a nationally representative sample of 1012 Australian homeowners aged 30+.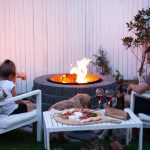 Stunning backyard ideas on budget: from $500 to $4,000
Renovating your backyard doesn't have to break the bank. Whether your stepping stones need a refresh, your paved area is…