Sin City: A Stranger Things-Inspired Interior Design Studio in Bangalore by Multitude of Sins.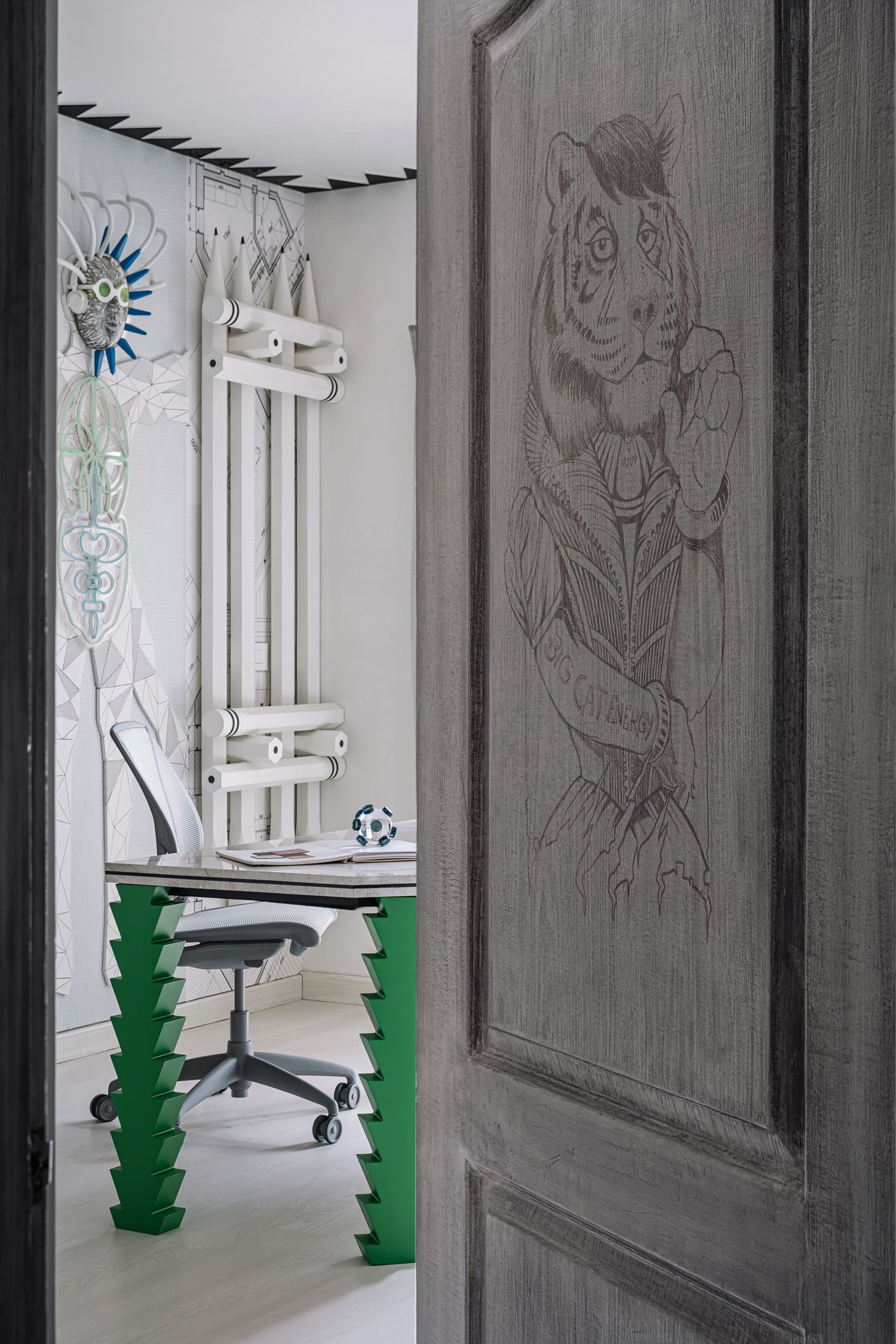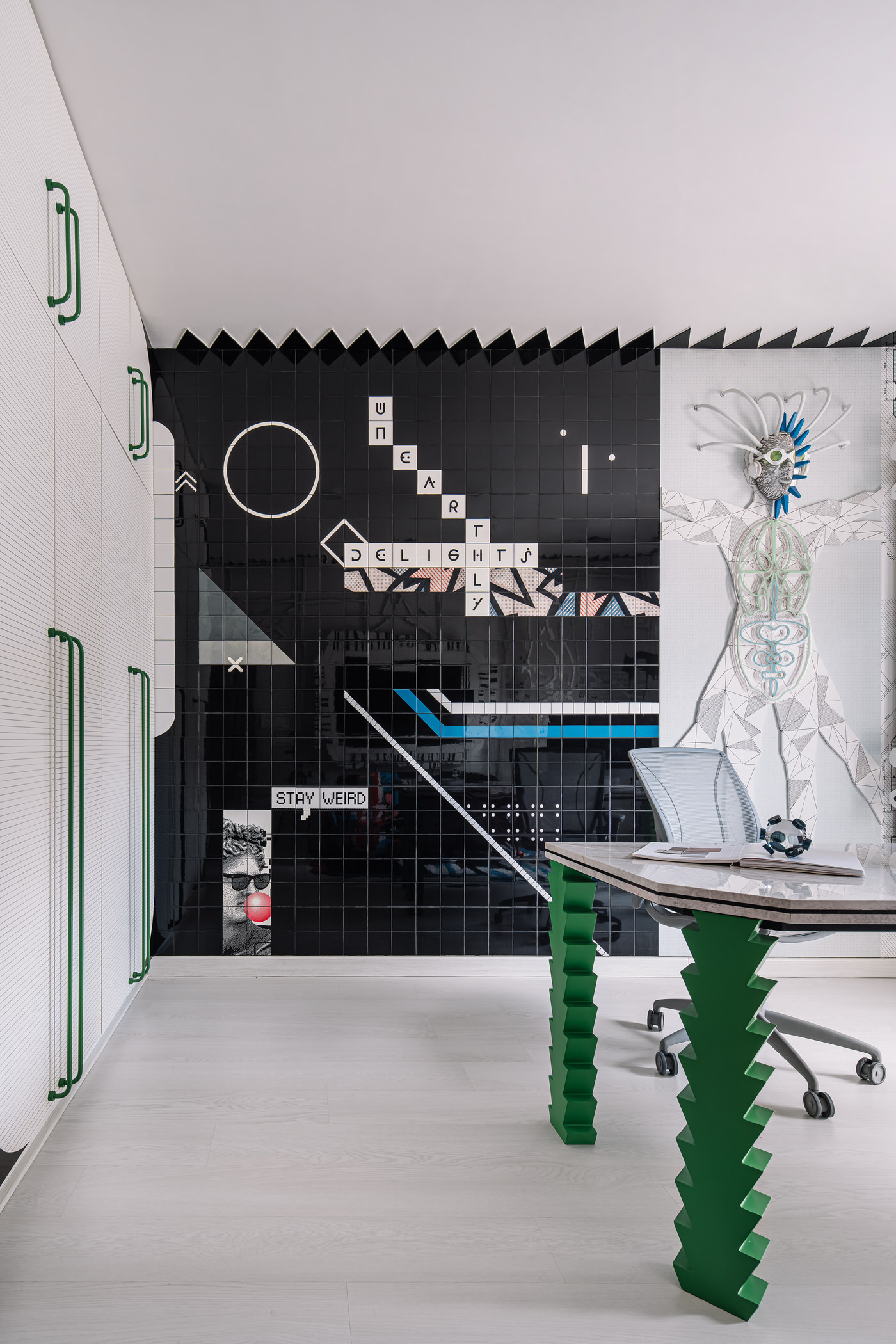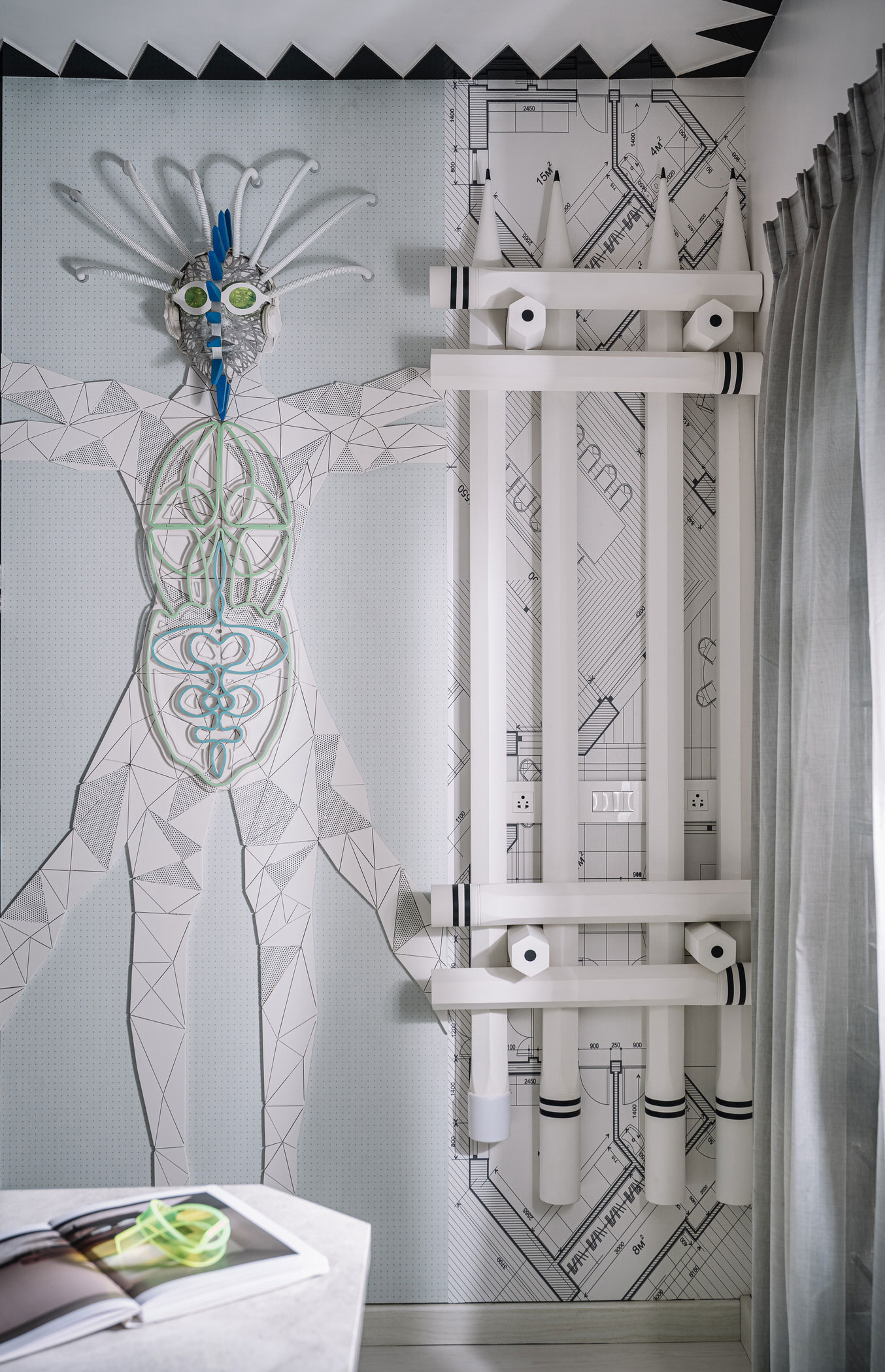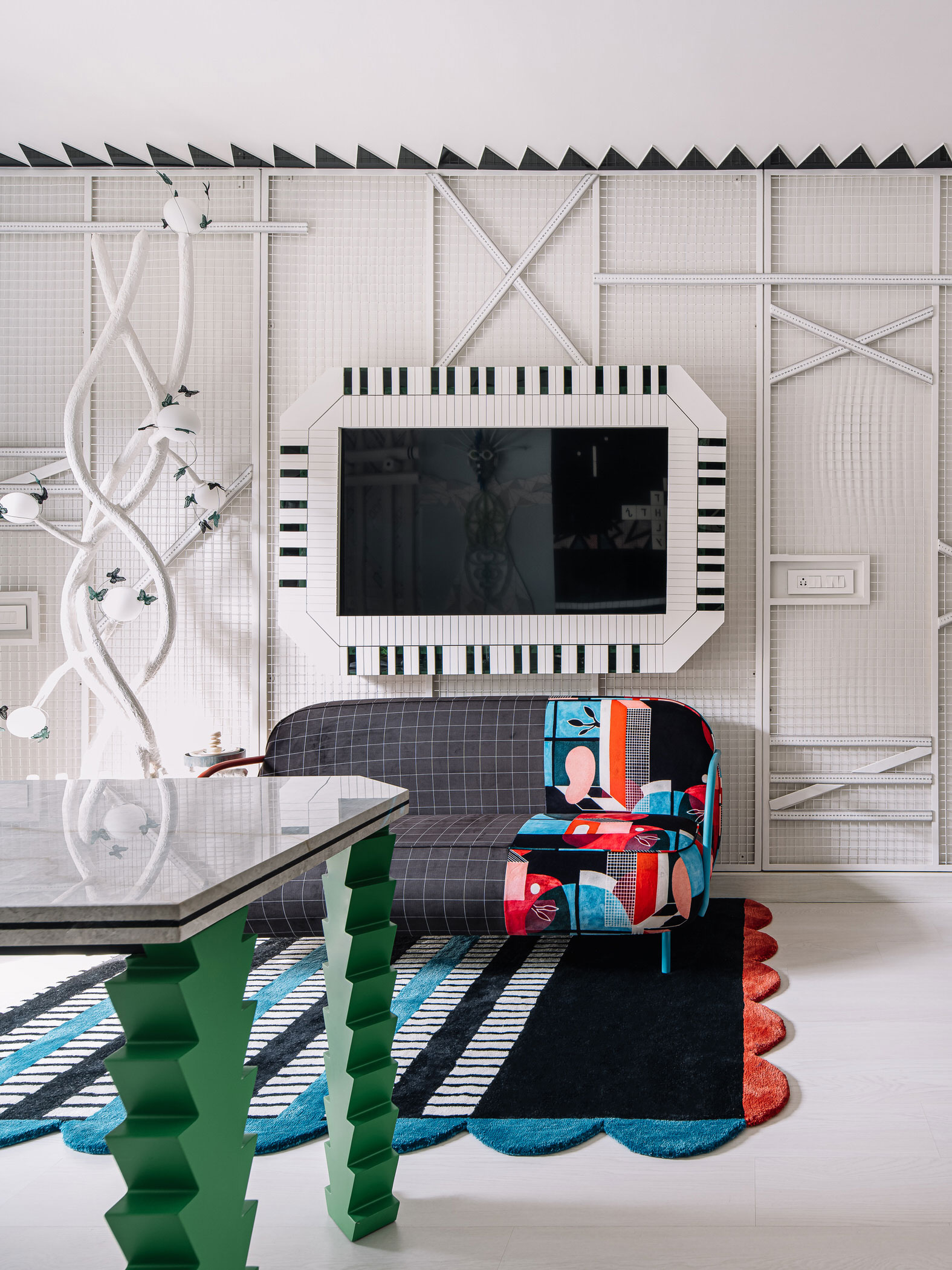 Skeletons on the wall. Kilt-clad ninjas. Dragons with 'Slinky' breath. Everything about this office should give you the creeps. And yet, nothing does. "When it came to our very own studio, we were convinced that it had to tell our story like it was. Authentic, laced with curiosity, and emblematic of the many personalities that inhabit this space," says Smita Thomas, founder and principal designer of Bangalore-based interior design firm Multitude of Sins (MOS), adding that the office, aptly dubbed Sin City, serves as a utopia, a rabbit hole of the strange and mysterious, for her and her team of sworn and sinning mad-hatters.
Situated in suburban Bangalore, the studio is imagined inside a 92-square-meter apartment and consists of an open bay of design desks, a central discussion area, a congregational lounge, two design-cum-meeting cabins, and a pantry-cum-material lab. But that's where normalcy takes a sabbatical. Each element, every piece of furniture is bespoke, and most objects, materials and finishes are upcycled from the firm's previous projects, sites and experiments.
"This approach is sacred to us as we strive to minimise our environmental impact in any way possible," says Smita, whose team also includes Sachin Bhat, Rahul Naidu and Basavaraj. It's obvious that her commitment to the environment is matched by her commitment to quirk, as William the friendly wall dragon will avouch. Inhabiting the foyer, his breath of 'Slinky' fire surges up the wall and onto the ceiling, spreading into a giant web (composed of rope and carpet fabric) that recalls the Upside Down parallel dimension from Stranger Things.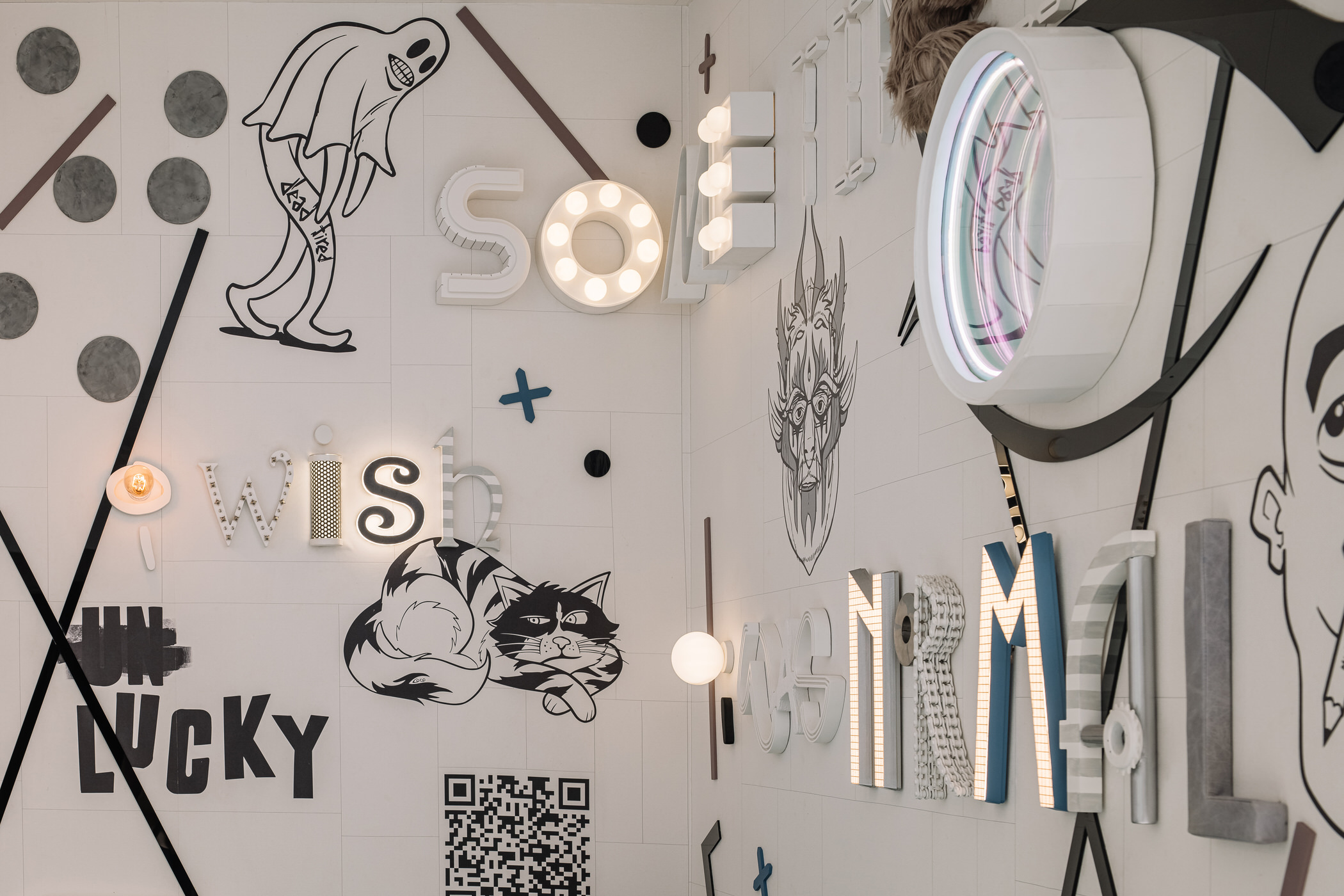 As you make your way deeper inside, the strange things only get stranger. A skeletal figurine christened Stamets the Mushroom Man (named after the renowned mycologist, Paul Stamets)—designed and executed by MOS in collaboration with artist Kamesh Bhagatji—floats curiously across the wall, with textured 3D elements like old belt pieces, leather, and denim studded across its form. From the figure's head sprouts a bouquet of speckled mushrooms, tipping its hat to the myriad thoughts that burgeon in our minds.
A short way away, on a wall, sits Smita's alter ego, Kanoichi, an uber-punk ninja who embodies her maker's wild side and passion for all things Southeast Asian. The installation is a pastiche of over 13 materials, including black-and-white velvet, pleated tartan, leather, metallic safety pins, script-printed fabric, and acrylic bullets.
The lounge is a graffiti-filled cabinet of curiosities, full of neon signs, bicycle chains, faux fur, and mesh (to name a few). The wall brims with new characters: a grumpy cat represents the studio's feline proclivity, while a walking ghost symbolises the team's headspace on long days. And yet, the focal point is a wall sign that reads, Sometimes I Wish I Was Normal, a nod, no doubt, to the studio's outré ethos.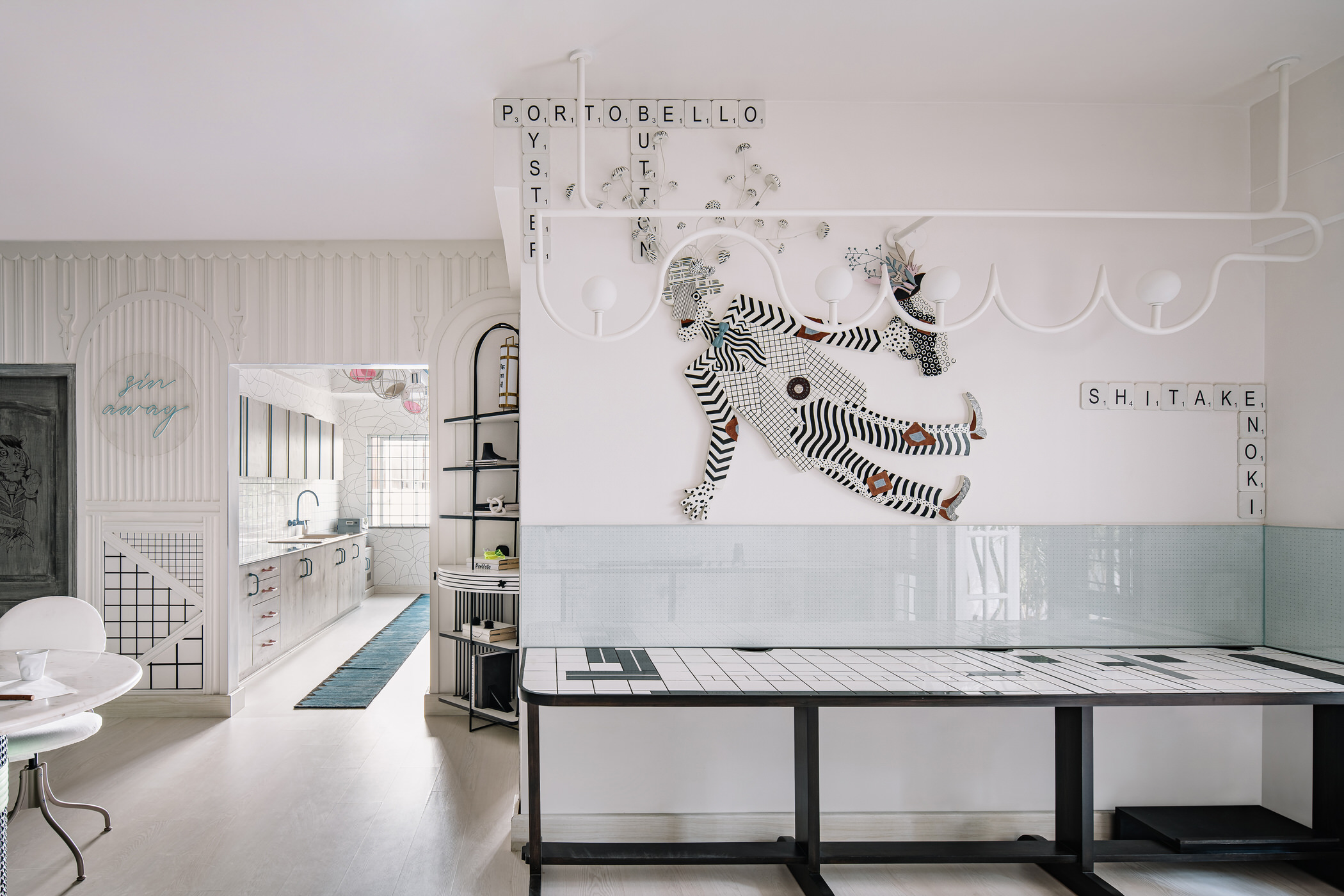 The walls aren't the only thing that reminisces another realm. The Super Mario-style desks—covered in a matrix of old, white square tiles that allude to the levels in the good ol' video game—are a trip back in time. "We wanted to ensure that the team could get their hands (and desks) dirty and ideate on as many surfaces as possible—paper and ink are just too mainstream!" muses Smita.
Her own cabin, as she describes it, is a tigress's lair. The desk features a marble top and green zigzag legs, the latter a clever foil for a series of concealed plug points. Along the wall opposite, stands a larger-than-life helix light that channels entwined vines reaching for the sky. Its glowing orbs are ornamented with butterflies that beckon you to believe in magic in a world that writes it off.
For Smita, the studio, which she designed from start to finish in a matter of nine days, is a long-held dream come true. "Walking through the doors of Sin City needed to signify a warp in time, a nexus between the possible and impossible, and transport you to a headspace that redefined the thresholds of possibility. I really think we achieved that," she concludes.
---
[Images courtesy of Multitude of Sins. Photography by Ishita Sitwala.]