Step inside and be inspired by Australia's best sustainable homes
With the constantly evolving concept of and products available for sustainable homes, keeping up can be hard. If you're thinking of starting your own green home journey, Sustainable House Day will give you access (in real life and virtually) to some great inspiration.
The event has expanded this year into a month-long hybrid event, taking place online as well as in-person around the country.
"This year will certainly be special as dozens of sustainable homeowners across Australia are opening the doors to their homes for Australians to peruse and explore. From a cosy passive home in Warradale, South Australia, an expansive 64-hectare property in the Murrumbidgee River featuring an off-grid 'giant esky', to a multifunctional home extension in Victoria to accommodate a multi-generational family of seven, there will be a suite of innovative and beautiful homes to experience and explore," said Fiona Gray, CEO of Renew, the not-for-profit advocating for sustainable living.
You can go online to find more than 100 homes featured on the Sustainable House Day website. These profiles are created by the homeowners themselves and include details about the build, key sustainability credentials, and a video house tour. You can even connect with the owners and ask further questions about their homes.
The main event is this Sunday 19 March, with eight free online sessions that bring together homeowners and Australia's leading experts in panel discussions centred around the experiences of those who have already taken steps to make their homes more sustainable. 
Throughout the day, you will hear from people who have navigated things like finding the best EV charging setup, purchasing land and building homes as a community collective, or building their own home on a shoestring budget. These sessions sit at the crossroads of lived experience and expert advice, offering a unique insight into what it really takes to design and build sustainable homes.
"Sustainable House Day is dedicated to showcasing Australia's most inspiring sustainable homes while providing information for all Australians motivated to take the next step on their green home journey, no matter who they are, or where they live," says Fiona.
In the month following Sustainable House Day, Renew has also created a comprehensive program of online extension sessions, allowing for a deeper dive into eight key areas of sustainable building and design. From drafting the initial concept and seeking planning permissions right through to what solar to put on the roof of your home, you can gain insight from Australia's leading sustainability experts and have the opportunity to ask questions about your own situation.
Sustainable House Day is an event series from Renew, a national, not-for-profit organisation advocating for sustainable living.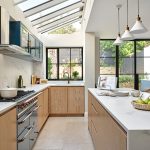 Sustainable kitchen features being chosen by 95% of renovators
Sustainability has shaped recent consumer trends, and house renovation is no exception. An impressive 95% of respondents in a 2023…
Property developer creates sustainable, ethically furnished homes
In an industry dominated by men, the female property developer is a bit of a rarity which is why we…