The Block's drama-filled living and dining reveals 2022
Huge spaces, vast ceilings, mega fireplaces, cheating allegations, fallouts with tradies and more, there was a lot going on in last night's Block room reveals!
Rachel & Ryan (first place) 29.5 points
There was definitely no lack of confidence from these two (especially Rachel) this week and as it turns out, it was well placed! Not quite three 10s but close enough as this pair finally won a room with 29.5 out of 30 and some very impressed judges.
It's been a long time coming, but from the moment the judges walked into Rachel and Ryan's country lodge living and dining space, they finally saw the couple's vision. "I've got goosebumps!" Darren says. "They've done it!" Shaynna yelled as she admired the floor to ceiling stone fireplace with a massive lounge wrapped in front, dining table expertly positioned to take in the views, exposed wooden beams highlighting an innovative Blackbutt ceiling that all combined to create what Neale summed up as a "minimalistic lodge" aesthetic.
"Rachel and Ryan, welcome to The Block!" said Neale, who added their sofa was the best sofa ever on the show. "They have done a beautiful job." Shaynna said she loved it and they'd done the best job. Darren said it was lively, homely and fun.
Shop the look: Halzan modular sofa & Numbuh-ba Jagun (Back to Earth) framed canvas print by Brad Turner & Cara Sanders & Bubei Borrogura framed canvas print by Brad Turner and Cara Sanders 'Owlet'.
Tom & Sarah-Jane (tied second place) 25.5 points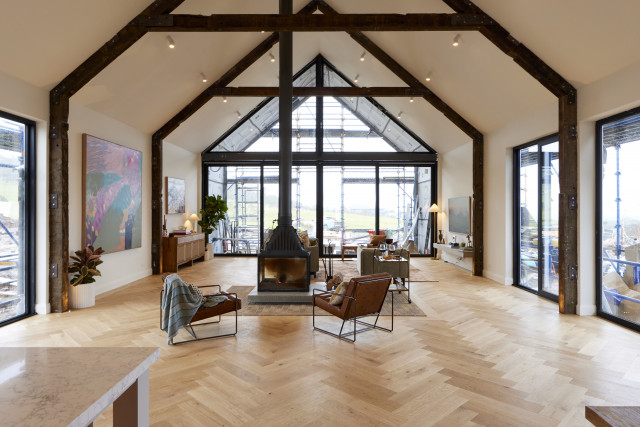 Aimed straight at their magnificent view, with a central fireplace to bring heat and cosiness and timber-clad beams to accentuate the sheer size of it all, Tom and Sarah Jane's living dining area is, Neale sums up: "Magnificent!". He said it was magazine cover worthy. There was high praise too for the paintwork.
It was, however, a room that needed more, they said. More furniture, more rugs and possibly more thought into the styling. A bench seat at the dining table left them confused as well, but the lighting plan, Darren added, made up for a lot.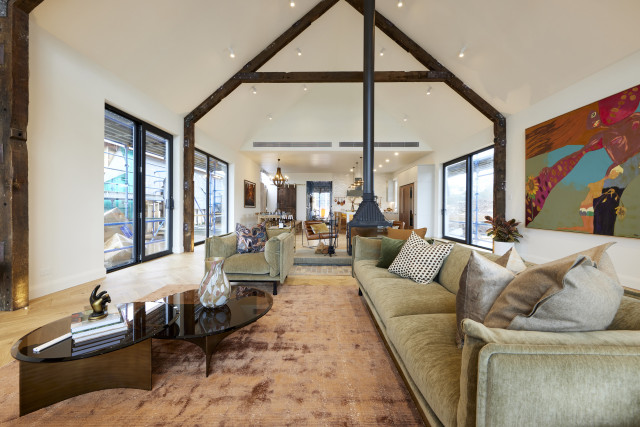 Shaynna didn't like the dining setting and said the couch could have been much bigger. Darren didn't like the mess of cables under the TV. Shaynna said it didn't have the same feeling or heart and soul of their other rooms. Neale said there was scope to add so much more but he liked what they had included.
Shop the look: Death of the Patriarchy limited edition print by Karen Chappelow and Lazie leather strapping bench
Omar & Oz (tied second place) 25.5 points
(they were on 28.5 but 3 points were deducted for not paying the correct price for the piano and they were disqualified from winning the room)
"Is that a baby grand piano?" the judges asked as they entered house 5 and from that statement piece, the tone was set for the space. "This is impressive," Darren said as he realised how it took the room to another level, "extremely impressive!". Darren added it was "chic AF" and Shaynna said she was feeling it!
From the rattan-backed chairs to an ornate mirror and huge sofas creating a grand feel, that feeling went on, with the judges agreeing buyers would love this room… and if they'd played by the rules instead of paying less than 50% of retail price for their piano, it would have pushed them into second place and Tom and Sarah-Jane down into third.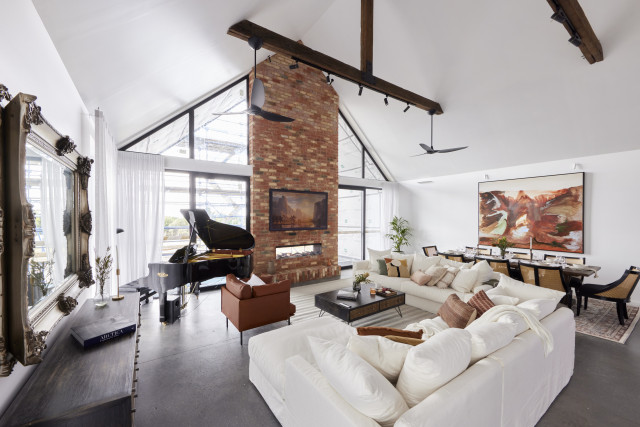 And of course, Neale said it needed some lamps too!
Shop the look: Cherry lounge chair & Sloopy sofas
Dylan & Jenny (fourth place) 22 points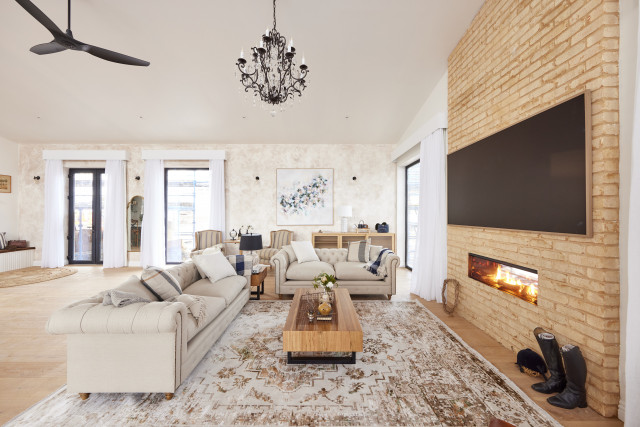 A classic and traditional space greeted the judges in house four, in a room that borrowed heavily from the past. A bit too much perhaps, they decided as they continued on and noticed styling touches and furnishing choices that would have looked more at home in a country cottage than a luxe home. Scale up the furniture, they advised, revisit the lighting plan (that reminded them of a 7/11 and featured a chandelier that could have been much bigger) and the room would get there, they said.
Shaynna said the mixture of contemporary and traditional furniture didn't work. Neale said it didn't feel aspirational or luxe. Neale said it needed more oomph and wow factor. "Dylan and Jenny are not going to thank me for saying this but they've presented something that's very cookie cutter and approached it like they're furnishing a country cottage."
Shop the look: Arae fluted glass sideboard
Ankur & Sharon (last place) 19 points
Despite the impressive support of Keith and Dan, who weren't impressed with their tradies' attitudes and insisted they complete their fireplace, poor Ankur and Sharon (who cried a lot this week) still came last.
With big timber beams, antler lights and a stone feature fireplace wall, there was a lot to like in Sharon and Ankur's living dining space as the judges walked in… but it didn't take long for them to find more they didn't like at all. "Like the lobby of a hotel," Neale said as he spotted a collection of chairs around a coffee table to one side. "Like a Flintstones fireplace," Darren noted after spotting the lack of grout. "Paint the walls!" Shaynna joined in. For all, it was a space with enormous potential, but one that looked rushed and hit by a tight budget.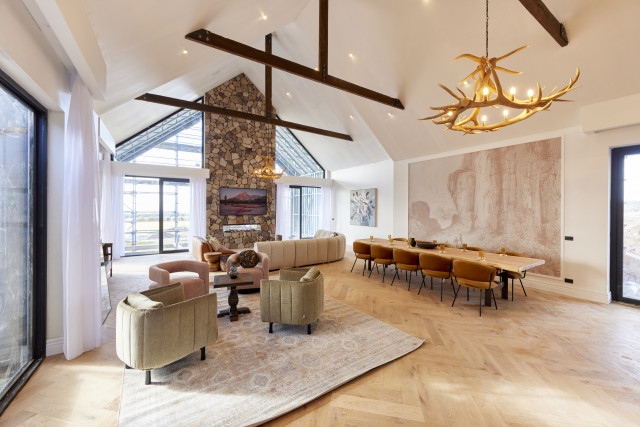 Shaynna said it lacked ambience. Neale said it was lacking the things that make a house a home, like bookcases and art. "It doesn't gel. It doesn't feel like a home to me. These spaces are now too big. It's almost defeated them." Darren said it was "so bad". Shaynna said it needed to be their re-do room.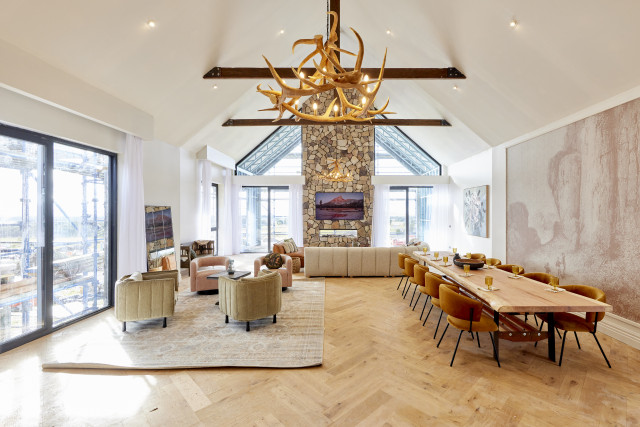 Shop the look: Halzan sofa
Shop what you saw at The Block Shop
Win an artwork!
Got your eye on the Love Full Bloom artwork by Jen Shewring seen in Ankur and Sharon's living dining room? You could win it thanks to The Block Shop and Artist Lane. Enter here.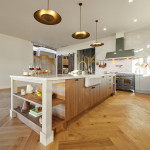 The Block Tree Change 2022: all important kitchen week!
It's the traditional heart of the home, the space where families gather and where technology meets tradition. Welcome to the…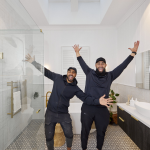 The Block 2022 tree change: main bathroom reveals
Today, our friend and interior designer Kathryn Bamford, recaps last night's room reveals. Whoa what a first week on The…