The Stieglitz Experience in Amsterdam by S-P-A-C-E Projects.
A new boutique has landed in the heart of Amsterdam and it feels like stepping into a 1970s fever dream. Think Mad Men, Twiggy and a giant conversation pit all rolled into one—it's begging you to stroke the furry walls. This is the Stieglitz Experience.
Designed by Pepijn Smit of local studio S-P-A-C-E Projects, the interior extends beyond a store to offer a whole universe—and a very huggable one at that. Shag rugs, rounded forms and a hazy colour palette of brown, red and orange tones are taken directly from the Stieglitz playbook. The design influence of the 1970s is clear and for the womenswear brand known for its vibrant, colourful patterns—and flares—the fit-out feels only appropriate.
For Pien Stieglitz, who founded the eponymous label in 2014, the brand's first offline presence was to be more than just a store but a community where music, dance, acting, movies, social activities and work come together.
Stieglitz had a clear vision. "I believe that every woman is her own unique self, with an ancient fire inside her. Sometimes this flame is put out by society or the labels we create. Therefore, I feel that it is our job to restart these engines within. With Stieglitz I want to bring different worlds together and build a community. In this community, our own tribe will be represented by independent, powerful and sexy women," she says.
With this in mind, the space is divided into three main sections. A retail experience and in-house atelier (where you can get your flares custom fit) share the ground floor, separated by a shaggy-clad tunnel. Seemingly built out of carpet, the material extends onto the walls and sales counter, complemented by fluffy cabinets and chunky display units. A hairy staircase is the cherry on top, leading to the upstairs office. If this is Stieglitz's world, it's certainly made for bare feet.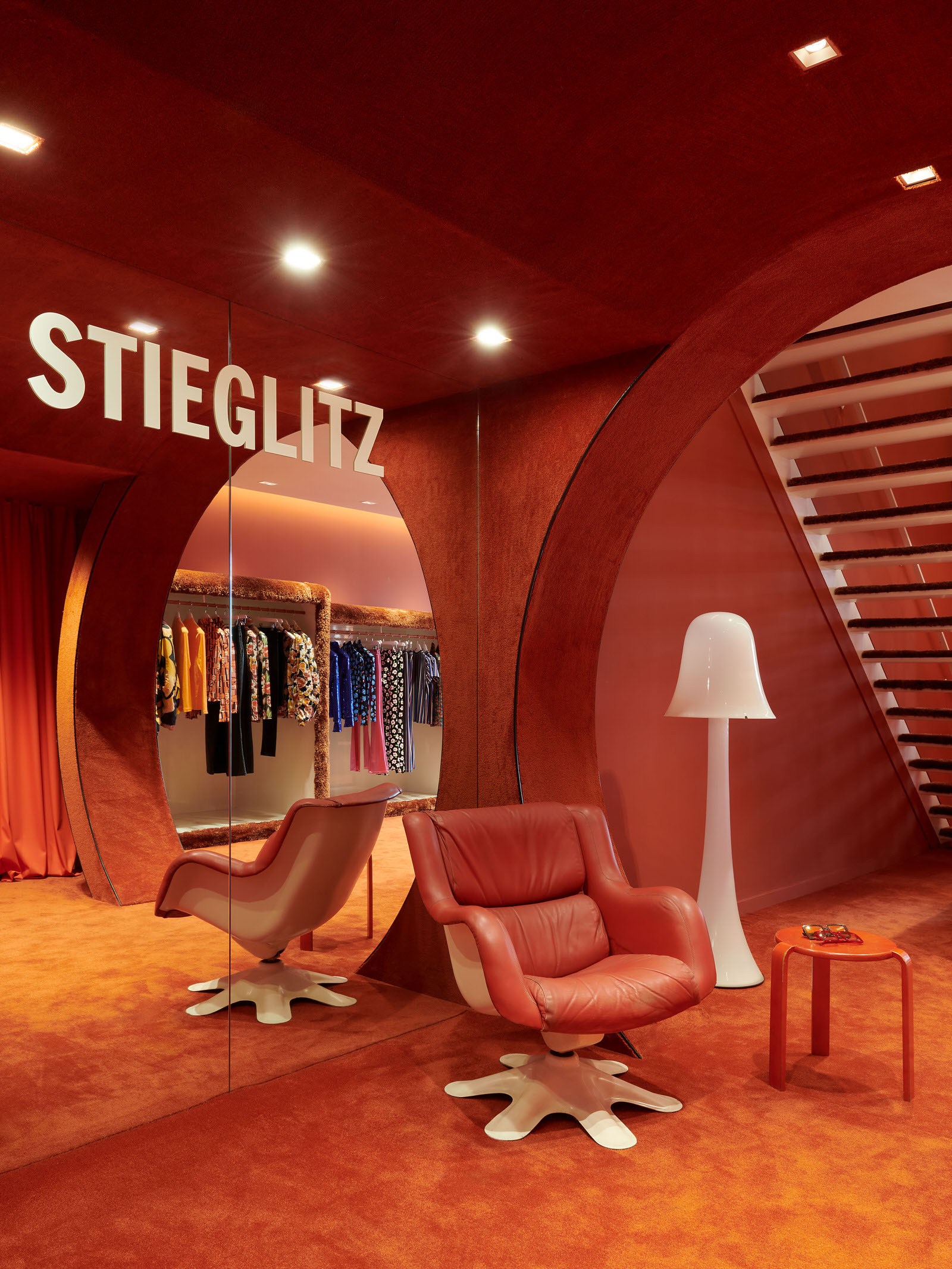 Pepijn Smit reinterprets the vibrancy of the 60s and 70s, without overwhelming the space. To do this, S-P-A-C-E Projects avoided working with externally sourced patterns but rather translated Stieglitz's own core aesthetic into the interior. He also incorporated a few carefully chosen Design classics—from Joe Colombo's 'Tube Chair' upholstered in a sunny yellow, to Yrjö Kukkapuro's 'Karuselli' Swivel Lounge Chair and Bruno Rey's Dietiker Stools in Red Plywood—to create a nostalgic memory foam of furniture, revisioned for contemporary trends and tastes.
With the entire space covered in carpet, a communal sitting area and cuddly closets, S-P-A-C-E Projects manifested the brand's core values into an architectural form. It's Stieglitz's world, and we're just living in it. Or at least I wish we were.
---
[Images courtesy of S-P-A-C-E Projects. Photography by Kasia Gatkowska.]