Time Capsule: A Haussmannian Apartment in Paris by Sandra Benhamou.
Sandra Benhamou has a distinct signature: muted colours, natural materials and sharp contrasts. No two rooms are the same, and no idea is ever repeated—for good reason. As a keen connoisseur of art, her curations are a curious mix of flea market finds, pieces acquired from auction houses, and contemporary ceramics from specialist galleries. This is none more evident than in her latest project—a fifth-floor Haussmannian apartment just around the corner from Paris's Place de l'Étoile—where retro-chic meets modish cool, and nothing abides by the rulebook.
As long-time New Yorkers (they'd lived in the Big Apple for over twenty years), the owners were keen on a sophisticated design where peace and calm would remain ever faithful. Luckily, the 280-square-metre home's original magic was still intact and all it needed was a little restructuring—and a lot of TLC.
For Sandra, the first priority was bringing the home back to its former glory. And so, the majestic entrance was restored, the mouldings and cornices were highlighted, and the period fireplace, faded mirrors and stained-glass windows were conjured back to life. As for the layout, she converted the apartment's original classic triple reception area into an open plan with a dining room, a living room, a large office, and an island kitchen. The latter was outfitted in travertine, aged nickel and stainless steel, to serve as the home's tour de force.
The home unfolds like a time capsule. A custom Mia sofa from Sandra's Ginger collection channels an atmospheric American bar from the '70s, while acting as a backdrop for contemporary artworks and dazzling vintage novelties of Brazilian and Italian provenance. Glimmers of patinated brass and polished stainless steel hold a mirror to the Santos de Cartier universe, while a smorgasbord of furniture and accents—including tinted mirrors, a pair of dining tables in glossy varnished rosewood, and walnut and brass bookcases—give and take from the light.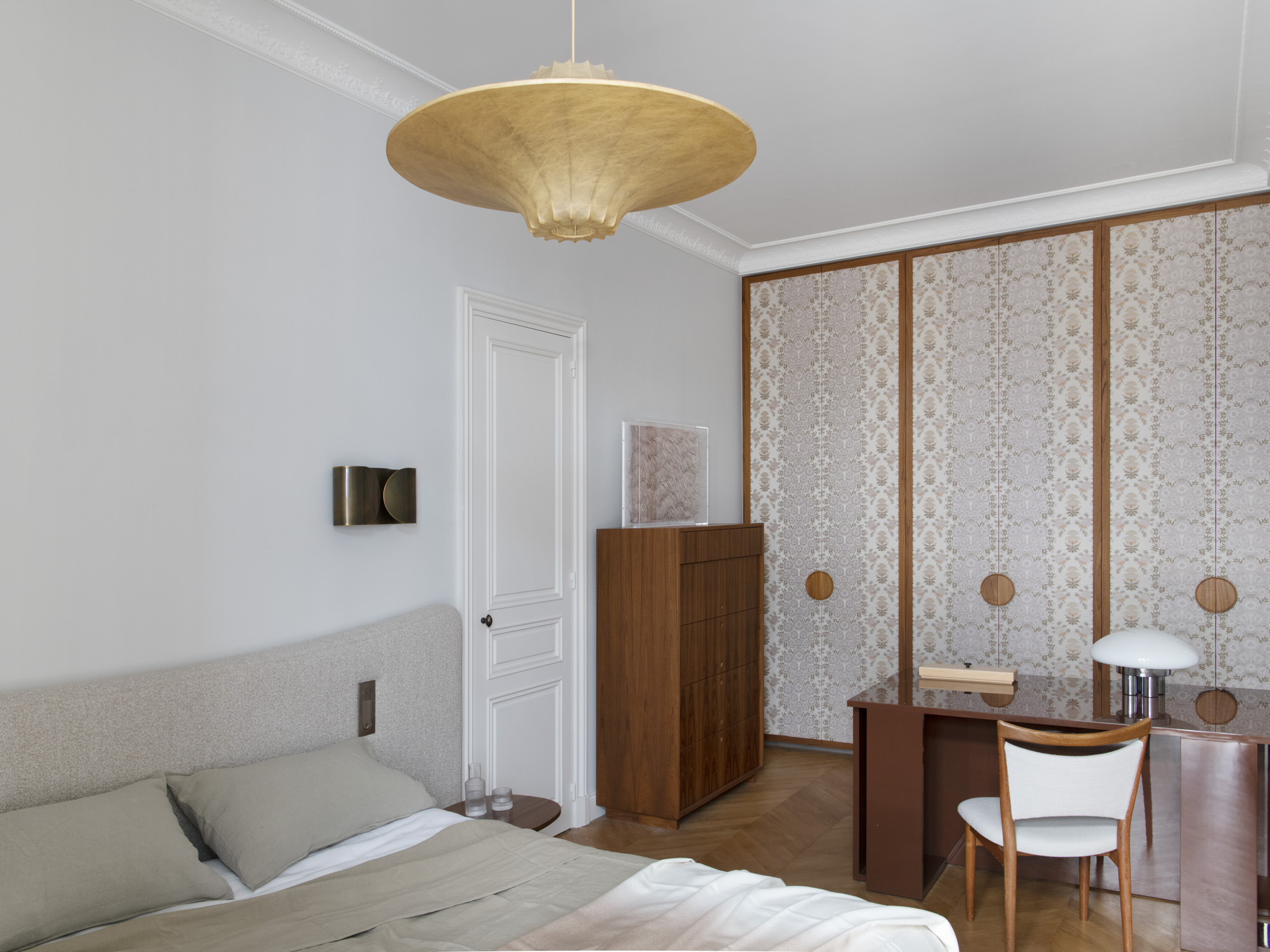 Lighting by Angelo Lelli and Fontana Arte, armchairs by Marco Zanusso, coffee tables by Erwan Boulloud (from Galerie Glustin) and Dan Pollock (from Galerie Desprez Breheret), a sideboard by Joaquim Tenreiro, a desk by Franco Albini, and paintings by Gideon Rubin (from Galerie Karsten Greve) present a kaleidoscopic effect, with materials opaque and transparent, matte and high-polish, playing a perennial game of peek-a-boo.
The home serves as a magic map for the owners, where each object speaks of moments, experiences, and things. Some lived, others imagined, yet each waiting to be experienced time and time again.
---
[Images courtesy of Sandra Benhamou. Photography by Ambroise Tezenas.]