Why all sinks are NOT created equal: how to choose yours
Sponsored by Buildmat
There was a time when the sink was the last thing you'd put much thought into for your kitchen unless, perhaps, you were opting for a farmhouse-style ceramic butler's sink over your more common stainless steel option. Single or double bowl might have been as complicated as it got. But oh, how times have changed! It's not just two options these days; the sink has become a statement! And we're happy to see it!
But when it comes choosing your fancy new brushed gold, black, gunmetal or terrazzo sink, what makes a good one and how can you confidently buy one online? Emma Johan, from leading Australian sink supplier Buildmat, which recently started supplying the public as well as the trade, filled us in.
All Buildmat's sinks are designed by their team in Melbourne. "As a brand, we interact directly with the end user and being able to do that allowed us to understand what styles and designs were missing in the market," she says. "We'll often see customers compare our sinks with other brands and they realise they can't pinpoint why but the designs of our sinks just feel better. The secret is that we purposely designed every ratio, size, corner and angle."
Emma says their regular interaction with the customer keeps their finger on the pulse and inspires new ideas."That first-hand information always ends up straight back in the product design and innovation." An example of this is the unique Ella double corner sink which they designed when they realised there was indeed enough demand for it!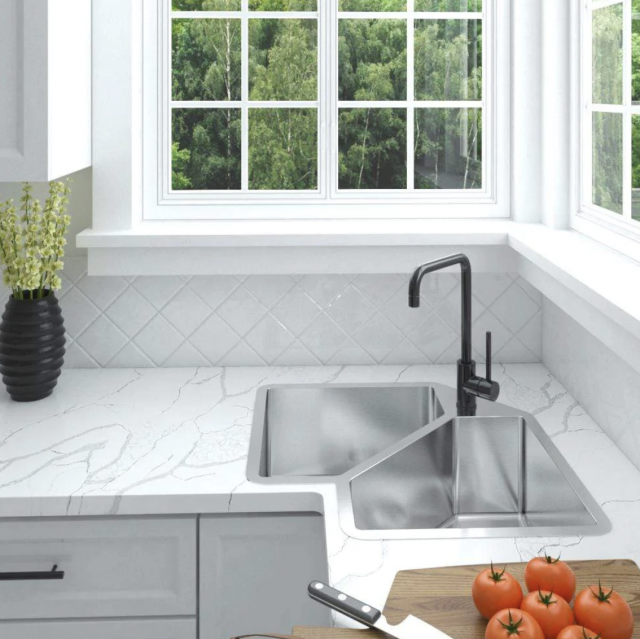 Buildmat have an amazing range of kitchen, bathroom and laundry sinks. While they started with sinks, they've now branched out into tapware and complementary products like wastes, towel and toilet roll holders.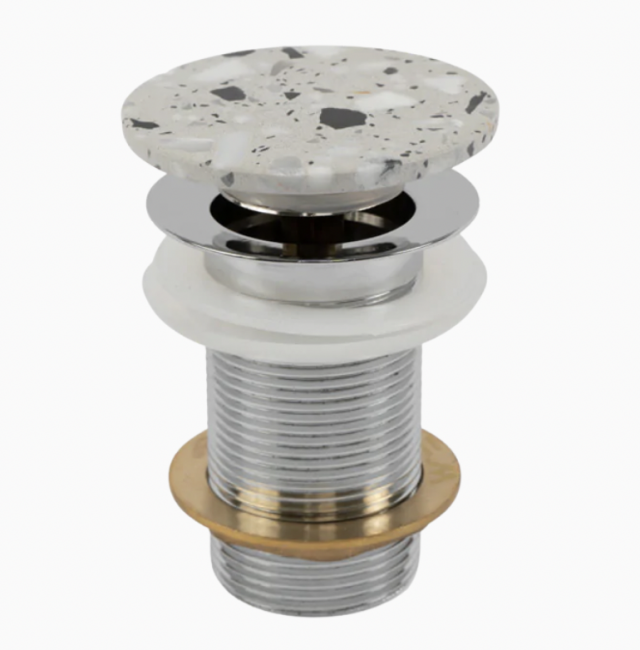 What started as stainless steel sinks in 2014, grew to include concrete, ceramic and terrazzo versions. In stainless steel sinks, their colour range spans brushed stainless steel, brushed nickel, brushed gunmetal, brushed brass gold, and brushed copper. It's quite the candy store! And if you haven't heard of them it's because they haven't been customer-facing, dealing solely with the trade, until their consumer business took off during the pandemic.
They also sell more kitchen sink accessories than you probably knew existed, such as protector grids, drying racks, chopping boards and colanders, in all the colours!
Cutting out the middleman of expensive retailers means Buildmat can offer a higher spec product for less. "Our sinks are manufactured with 1.5mm thick steel whereas the rest of the industry starts from 0.8mm to 1.2mm. The difference is a much stronger, sturdier sink." And let's face it, sinks get a lot of use and you don't really want to have to be careful with them!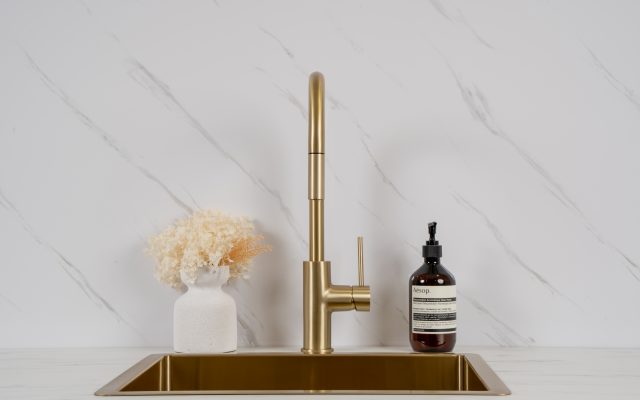 Emma agrees that the sink is becoming more about aesthetics and trends as well as function alongside the rise of the island bench. "We're seeing a lot more stone benches that match throughout the house and as they become more on show, the kitchen sink and mixer become the masterpiece on the stone. We're also seeing some customers choose bold colours in tapware and sinkware as the statement and having larger, more functional sinks in their butler's pantry where all the mess is hidden away."
We weren't surprised to hear that the most popular tapware and sink colour for Buildmat is currently brushed brass gold (which I just happen to have in my own kitchen and laundry!). "It's become really popular in the last few years. It's a nice contrast to the more natural concrete and stone colours that we find being used in benchtops."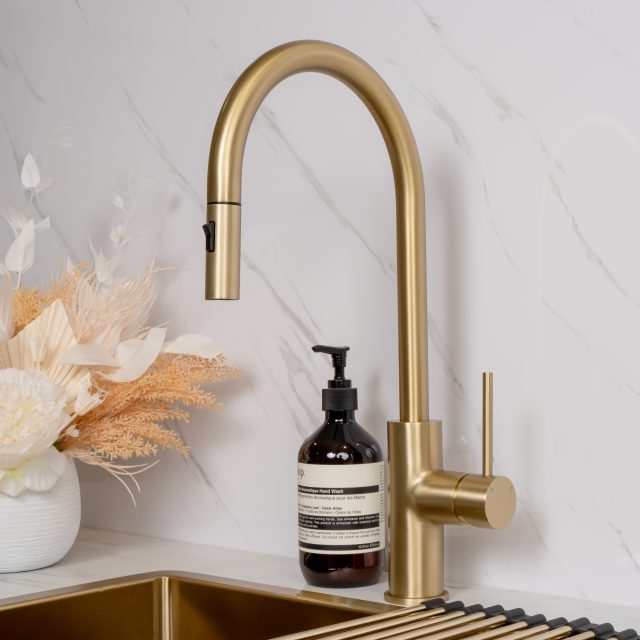 And if you're looking for something specific you haven't been able to source anywhere else, like a brushed brass pullout mixer tap for example (above), the chances are Buildmat has one!
Although buying renovation materials online, sight unseen, is becoming more and more common, Jimmy appreciates many customers still can't get their head around it and are nervous. His advice is to measure, measure, and then measure again!
"During the process of buying online, your best friend is always the cabinetmaker as they will tell you the exact sizes that you can work with. We find the people who talk to their cabinetmaker and get them to sign off on the sink size and dimensions always have it the easiest. Always listen to their advice as they are real professionals in measuring and figuring out what fits in your space."
Buildmat is a 100% Australian owned and operated online supplier of building products. Based in Melbourne, they ship nationally, and their team live by the motto that if it's not a product we would have in their own home, then they won't be selling it!
For more information and to shop online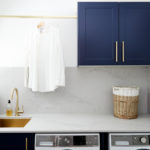 My new navy and gold laundry revealed: before and after
Our kitchen was the very first room we renovated in this house, almost four years ago. It was a case…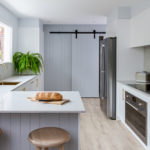 The big kitchen reveal
Photography by Jacqui Turk I am so excited to finally share my new kitchen with you today! Seeing these beautiful…