Win a world first in vacuum & mop combos from iRobot worth $2199
Sponsored by iRobot
iRobot have launched the Roomba Combo, the world's most advanced 2-in-1 robot vacuum and mop, and to make your Christmas, we have one to give away!
Designed for busy households with a mixture of carpets, rugs and hard floors (that's me!), and those who want a robot vacuum that can also mop (tick!), the Roomba Combo j7+ stands out from other 2-in-1 robots by vacuuming and mopping in a single cleaning job, saving time while keeping floors fresh and clean.
I've been trying one out at our place and, while my previous Roomba vacuum and mop separates already had a very special place in my heart, this 2-in-1, well this is next level! You know I love efficiency and this is just so damn easy. Set and forget (via your phone), my friends!
The Roomba Combo j7+ has a fully retractable mop pad that lifts itself to the top of the robot when it encounters carpet and rugs – the first 2-in-1 of its kind – preventing wet carpet messes. The app you use with it on your phone, iRobot OS 5.0, introduces new features and digital experiences – offering even more thoughtful updates for pet owners, busy families and those looking for more control over how they clean. It will even detect and avoid dog poo (because we've all heard the stories!). I'm not even joking.
The world's most advanced robot vacuum and mop
"Until today, many 2-in-1 robot vacuums and mops delivered a poor user experience either because they required separate, time-consuming cleaning jobs or created more mess by not fully lifting the mopping pad high enough to avoid carpet and rugs. The Roomba Combo j7+ uniquely solves both of these challenges," said Keith Hartsfield, chief product officer at iRobot. "And thanks to iRobot OS, your Roomba Combo j7+ will get smarter over time because it will automatically download new capabilities whenever we release them. So, when new enhancements are developed, your robot gets them too, like magic." And there I was thinking the Elf and Santa were the only ones bringing magic this festive season!
Unlike other 2-in-1s, the Roomba Combo j7+ vacuums rugs and carpets first and then vacuums and mops hard floors concurrently, saving users time by cleaning the area in a single job. This appeals to me hugely as I like to put the robots on while I'm out at meetings or school pickup, and knowing I'll come home to a floor that is vacuumed and mopped without having to think about it again, is amazing!
Using advanced sensors, the robot is able to detect various floor types. When the Roomba Combo j7+ approaches carpet and rugs, its fully retractable mop arms lift the wet pad to the top of the robot – in a similar way that a convertible raises its roof – preventing wet messes. No other robot combo on the market does this.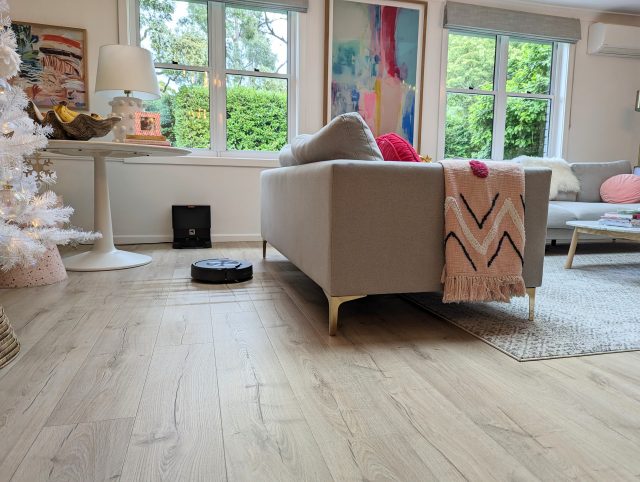 Thanks to iRobot OS and the robot's PrecisionVision Navigation system, you don't have to worry about cleaning up before the cleaning begins, something that I know makes certain people think it's not worth the effort. The Roomba Combo j7+ recognises more than 80 common objects, which enables it to clean more specific places on command, like around kitty litter boxes, toilet bowls, dishwashers and more. It also allows the robot to detect and avoid floor hazards like cords, clothes, shoes, socks, backpacks, pet bowls, pet toys, and solid pet waste.
To make cleaning even easier, pair the robot with your voice assistant and simply tell it to clean specific rooms or by specific objects in your home, and it does what you ask instantly. I'll definitely be connecting mine to Google, like everything else in my house, much to the kids' delight!
The Roomba Combo j7+ understands approximately 600 voice commands, more than any other 2-in-1. Using the app, you can set up cleaning jobs, choosing which rooms should be vacuumed and mopped or vacuumed only, and adjusting the amount of cleaning solution you want the mop to dispense.
The first truly hands-free vacuum and mop robot
Using the Roomba Combo j7+ is simple. The robot senses when a mop pad is attached and the mopping solution tank is full – and then goes into mopping mode automatically. Other 2-in-1s have a mop that you must manually attach yourself after the vacuuming is done, adding extra work and time. With the Roomba Combo j7+, the mop arm is already attached and ready to go. For vacuuming, it also comes with the Clean Base® Automatic Dirt Disposal system so you can forget about vacuuming for months at a time. The Clean Base allows the Roomba Combo j7+ to empty the dirt and debris it collects into an enclosed bag that doesn't need to be replaced for up to 60 days. This was already a favourite feature of mine on my existing Roomba vacuum.
And if you're thinking all this is a little too clever, don't worry because iRobot products and iRobot OS are backed by the company's commitment to customer privacy and data security. iRobot treats customer data with the highest standards of privacy protection, and to that end, has obtained the globally recognised TRUSTe Certified Privacy Seal.
The Roomba Combo j7+ is available now via www.shopirobot.com.au and www.shopirobot.co.nz
Win your own iRobot Roomba Combo j7+
For your chance of winning a Roomba Combo j7+ worth $2199, complete the form below by midnight Sydney time on Wednesday 21 December 2022. Open to Australian residents only.
"*" indicates required fields
iRobot is distributed by IXL Home, a recognised leader in the premium home appliance industry, within Australia & New Zealand. iRobot is a global consumer robot company that designs and builds thoughtful robots and intelligent home innovations that make life better. iRobot introduced the first Roomba robot vacuum in 2002. Today, iRobot is a global enterprise that has sold millions of robots worldwide.