10 Easy Ways to Make Your Home Look Expensive
These are ten of my favorite ways to elevate the look of your home, both inside and out! 
Over the years I've discovered some easy decor and DIY changes that make a big difference in our home. 
I could make an endless list of ways to do this with bigger projects like crown molding, wall trim and built ins, but these examples are much simpler and less involved. 
Most of these can be done in a few minutes. A few of them are projects that will take a little more time, but thankfully I have tutorials that will help you out if you decide to tackle them. 😉
I've always thought that some of the more subtle changes make a big difference in a house, especially when repeated throughout. 
They are the little touches that give your home a high-end look!
A few of these are splurges, so when I update multiple like items all over the house, I do it over time. I'll grab one or two on trips to the store as the budget allows. 
Some of these have taken me a year to finish, some aren't done and some I've just started!
ALL are little details that I think give our home that extra little something. 🙂
1. Replace or paint floor HVAC grates
For years I've spray painted our inexpensive floor vents to a darker color that flows with our floors better: 
This post may contain affiliate links for your convenience.
I may earn a small commission when you make a purchase through links. 
I've done that with all of the basic tan floor grates that we've had in both of our houses over the years. They hold up surprisingly well!
Last year I was strolling down an aisle at Lowe's when I noticed how many pretty floor vent options were available. I tried one of these cast iron metal grates in a room that day and fell in love: 
Over the past year I've been grabbing one on trips to the hardware store here and there. Since we only have the floor vents on the main floor, I didn't have as many to replace as I thought. 
There are a ton of designs available, in both metal and the heavier duty iron versions I've used. 
These are still operational like the previous grates — we can adjust the air flow no problem. 
I plan to tackle our wall air intake grates on the walls eventually too!
2. Change out your light bulbs 
Now this one may seem trivial at first (and honestly, in the scheme of things, all this stuff is!), but over the years as we've had to change out light bulbs, I've replaced some with these round bulbs instead:
If you have exposed bulbs or clear glass, they just give the whole light fixture a higher end look:
Overall I prefer the white bulbs over clear ones, and the white ones soften the cast a bit, which is nice. 
I've only added these on a few lights so far, but they really do elevate the look of the light fixture! They don't cost that much more than regular LED light bulbs, so this one won't break the bank.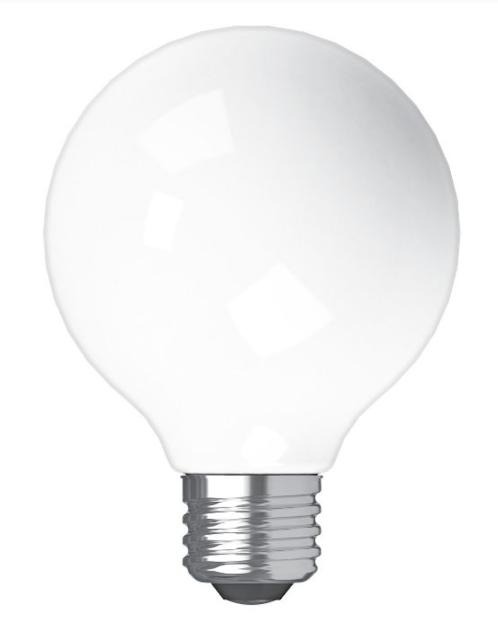 They look better, and let off a bit more light.
3. Paint a (interior or exterior!) door
The first time I painted a door in our home black, I was HOOKED. At our last house I got all of the doors in our basement and main floor painted: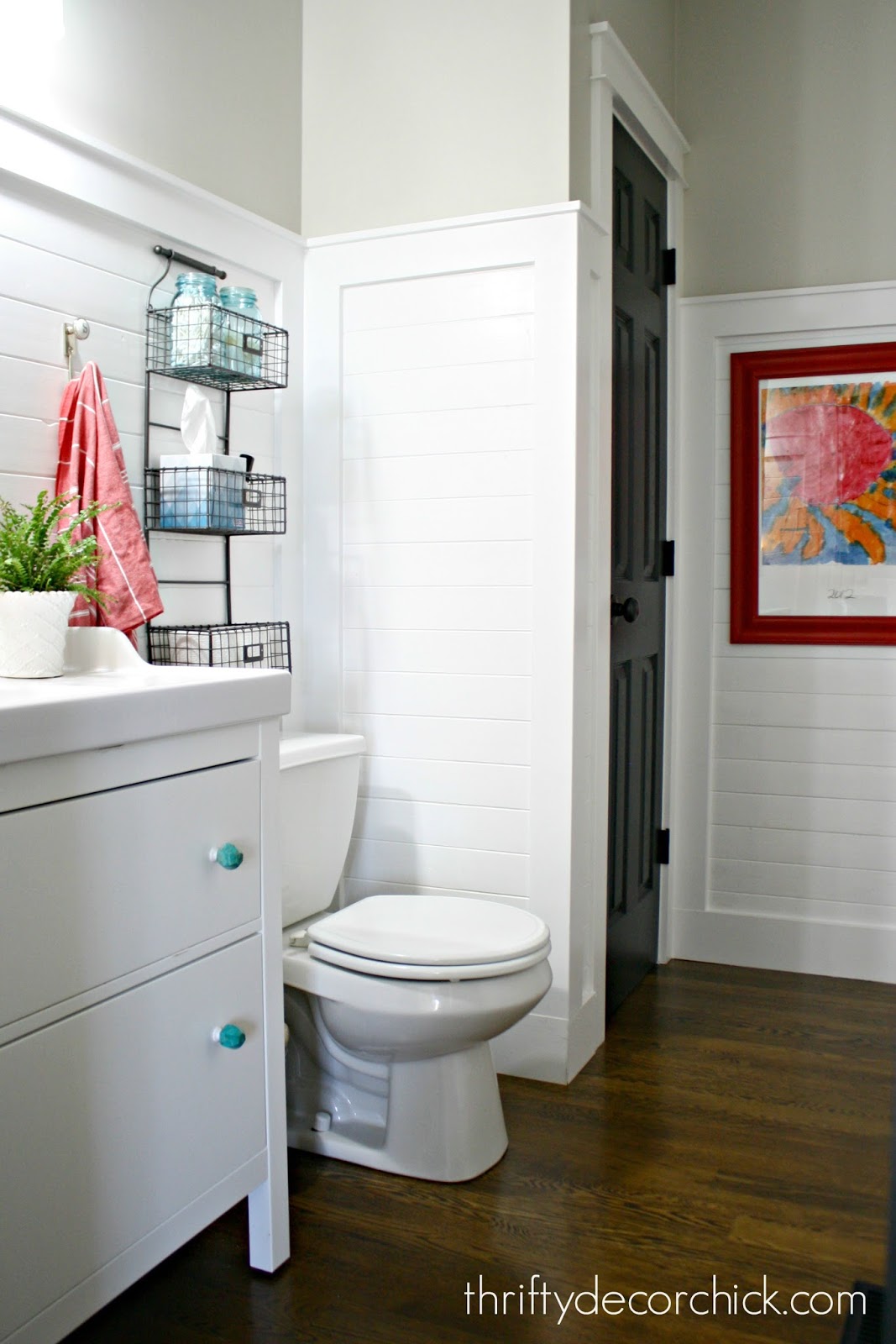 That was probably 15 years ago and I haven't looked back. 🙂
No, you don't have to paint them all at once! 
It took me years to paint all of our white doors black, and I didn't even touch the upstairs doors.
I've started the process in this home, but it's gone much slower since I've been so focused on bigger projects: 
This DIY takes some time but isn't difficult. I shared my tips for painting interior doors black — using this tutorial will give you a super smooth finish that looks like it was sprayed on!
4. Dress up the base of your indoor plants 
This small change is one of the easiest! I have a ton of plants around the house (mostly these fiddle leaf figs):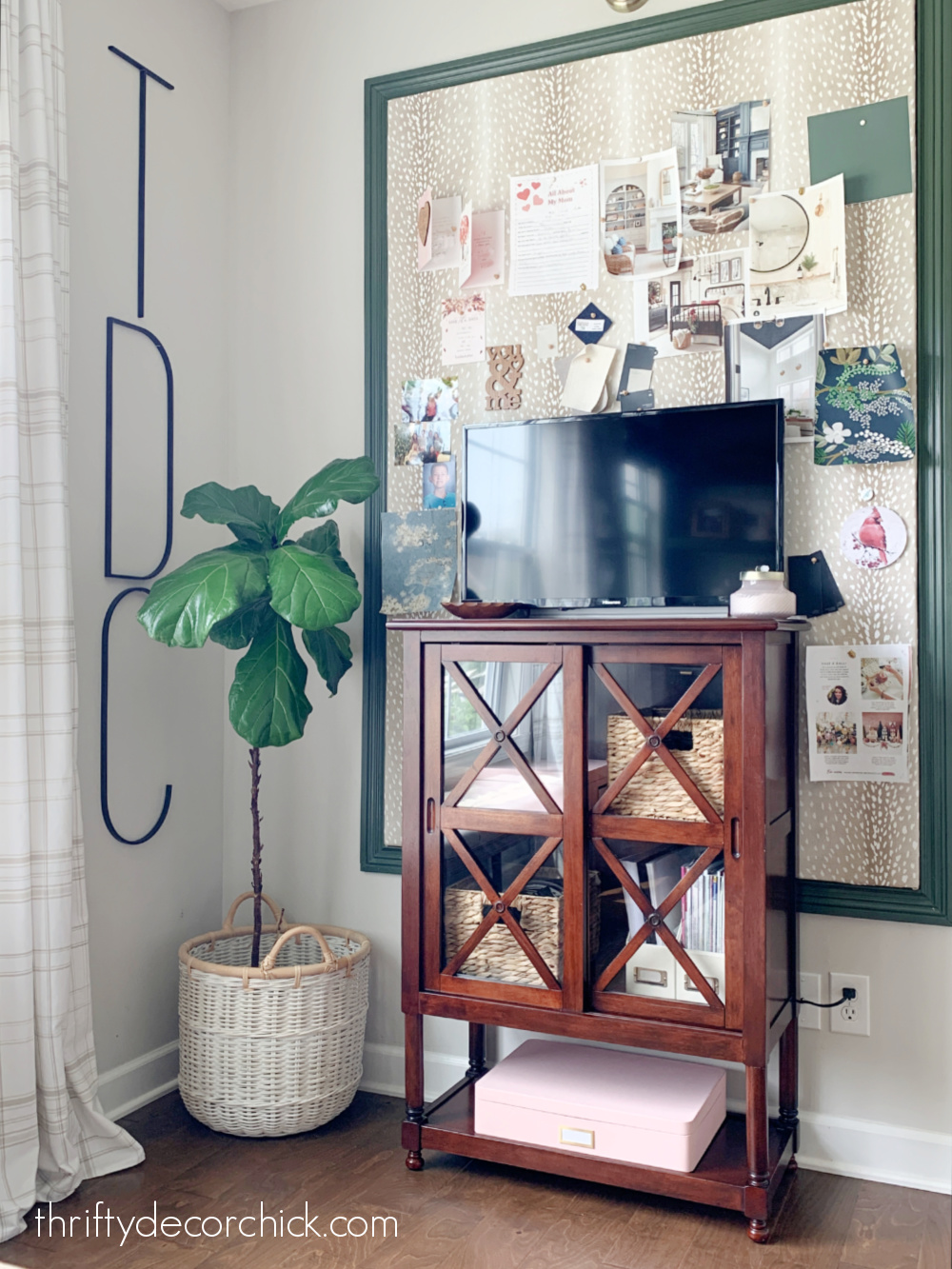 Plants like this come with small containers that can look a little wimpy. I suggest replanting into a large pot and placing that in a simple basket or pretty vessel. 
This adds some texture and weight to the plant. 
I use large, cheap plastic pots all the time! You don't even notice when they're placed in a basket. 
The added width at the bottom makes the whole thing look bigger…which is especially helpful if you don't have a green thumb!: 
And it's just a nice decorative touch that adds a little something throughout the house. 
I used to place rocks on top of the plant soil (we have a cat that used to love peeing on the plant bases and the rocks deterred her), but over the years as I've replanted, I left those out.
Recently I've been adding something different at the base of the plant. I had a ton of this pretty, soft moss in my craft stash and tried laying it out over the dirt: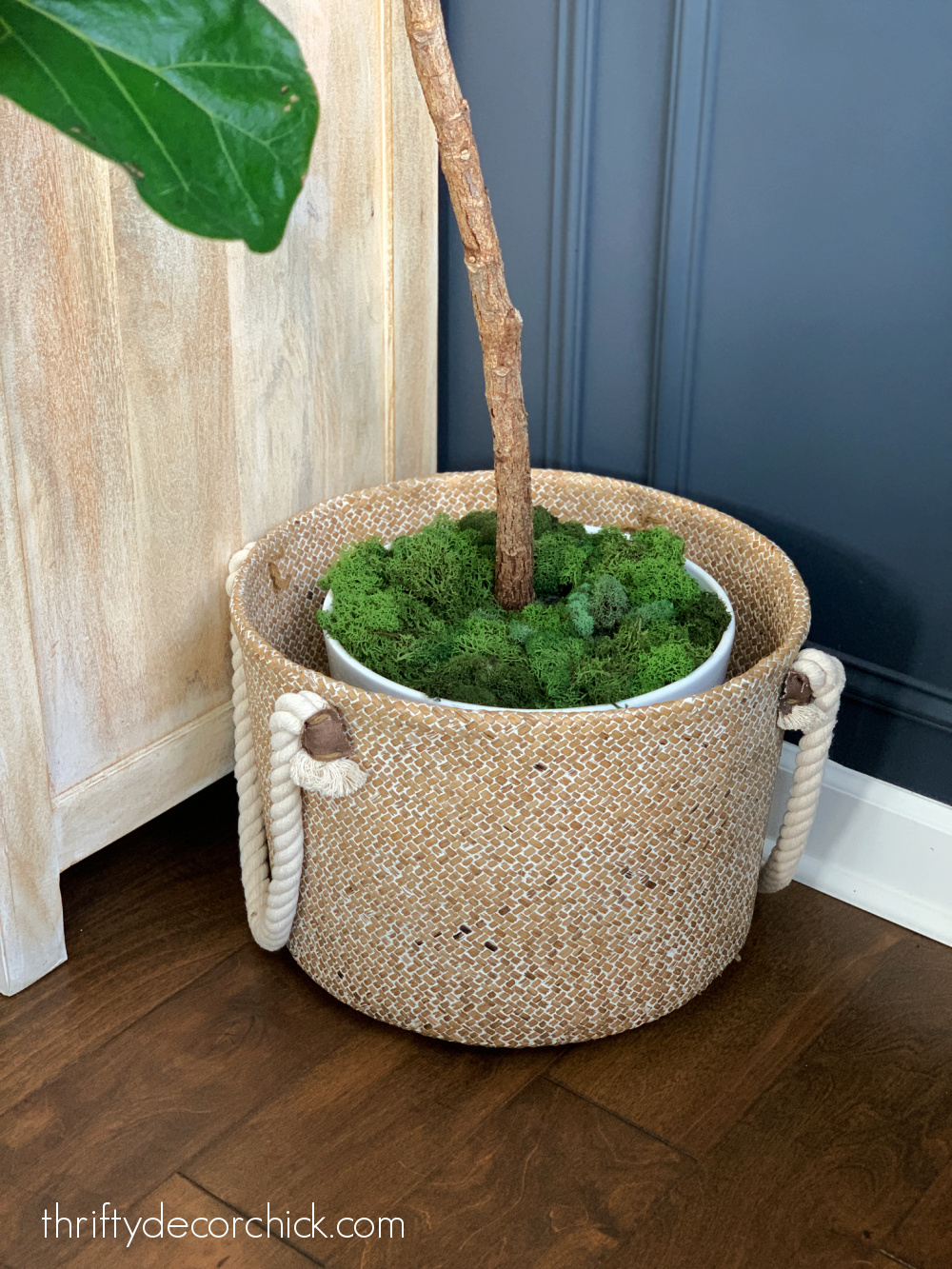 LOVED it.  Such a simple thing, but the added greenery makes the plant look even more lovely!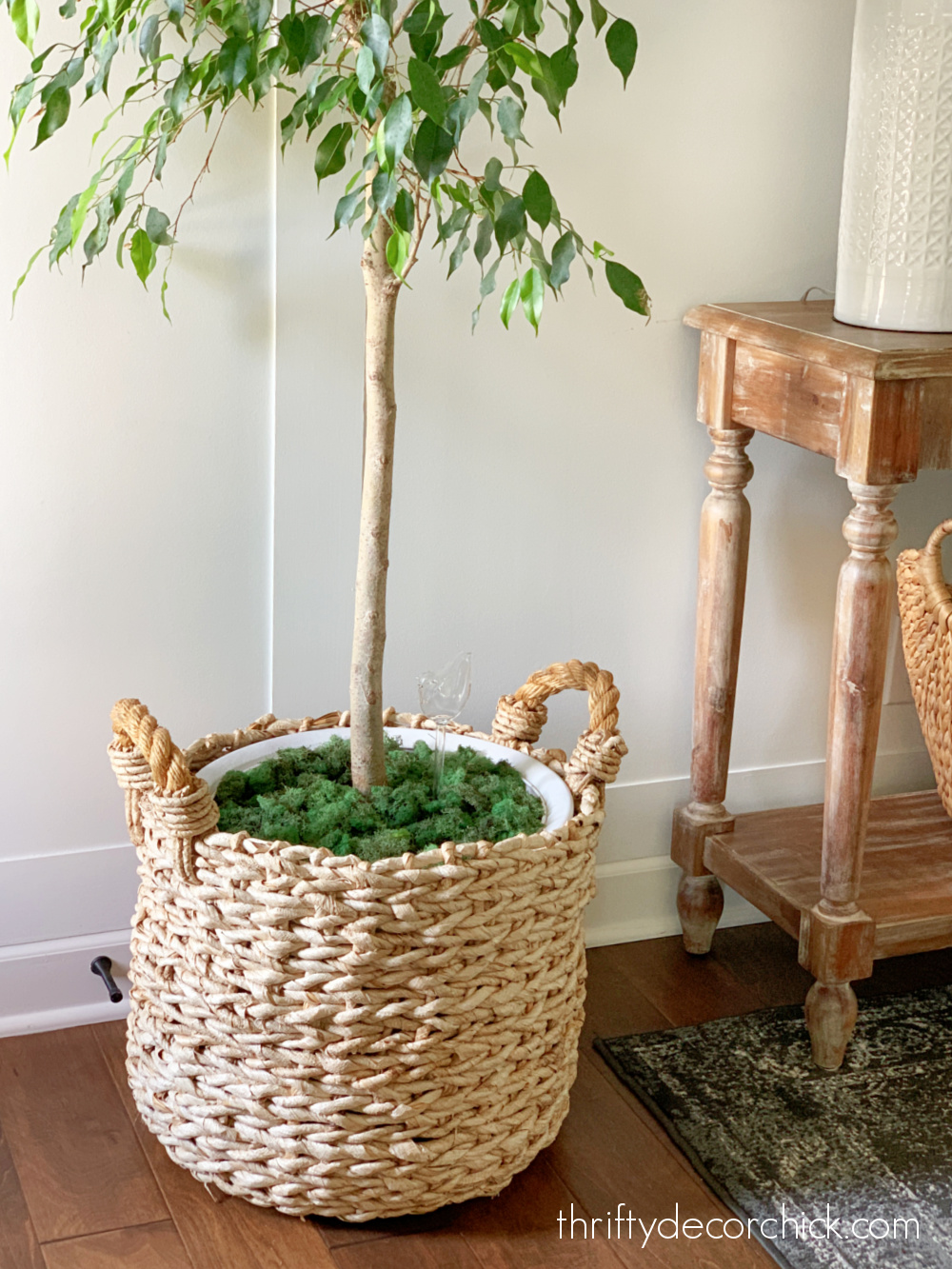 I swear this has helped our plants! It seems to help retain water and prevent them from drying out. I could be imagining that, but I think it makes a difference. 
5. Adding exterior and landscape lighting
I will stand on my hill of landscape lighting forever! Ha! It's always been that one exterior detail that I've noticed about really lovely (and expensive!) houses. 
There's no electrical knowledge needed!:
I'm telling you, it will make your house look AMAZING at night. I hear from readers all the time who are shocked at how easy it is to install. 
It takes some time, but it's not a difficult DIY!
I've also fallen in love with pretty cafe lights that hang over a patio or deck: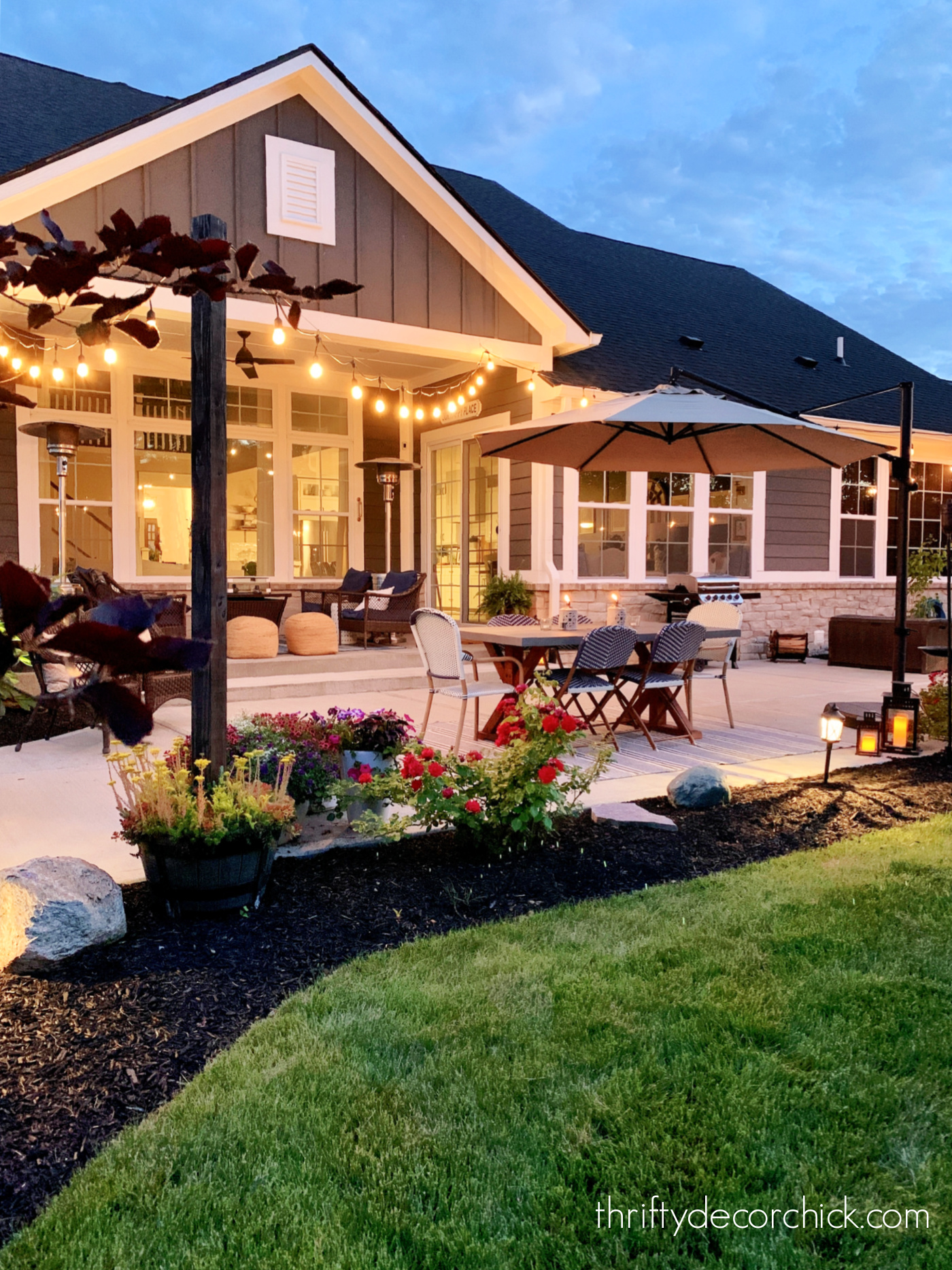 We know what a difference the right lighting inside makes, and I think it goes double for outside!
6. Replace switch/outlet covers
This is another small detail that on the whole makes a bigger impact than you'd think! 
You'll need a flathead screwdriver and about a minute to change out each one.
And the outlets and switches on our kitchen backsplash as well:
I haven't done many of the other outlet covers yet, just because they're not as noticeable. You can definitely take your time with these small updates! 
The covers I used have an insulated backing that helps to retain both heat and cool air. Have you ever felt how much cold air comes through outlets in the winter? It's crazy.
There are a TON of decorative switch plates at most hardware stores, and most come in all of the configurations you will need. Ours come in multiple switches options, GFI outlet/switch combos, etc. 
7. Change out door knobs
Updating your door knobs is a great way to update your home! If you have basic door knobs, they are easier than you'd think to change them out. 
I had to cut out (or mortise) where the door latch goes on EVERY DOOR. But it was worth it!: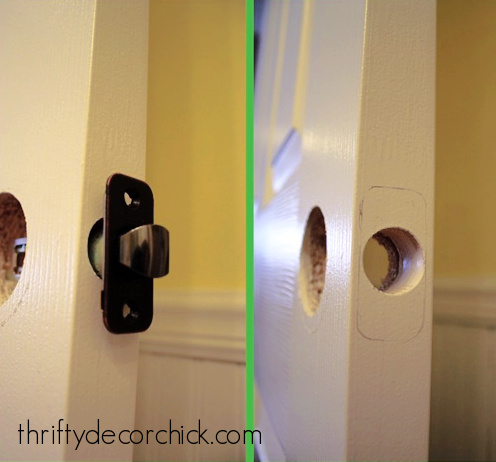 If you don't have to do that, this is a much quicker job! Once you get the hang of it, each one should only take about five minutes. 
When we picked all of the details for our current home, I chose these simple black handles instead of knobs: 
I've loved having handles — they are especially helpful when your hands are full. 🙂 You can push them down or up to open so it's a little easier to maneuver. 
Not only do the newer door knobs look better, but they feel more substantial as well. It's an easy change that definitely makes a home feel higher end.
8. Update or add cabinet hardware
This is one of the easiest upgrades in the kitchen! If you don't have hardware on your cabinets, adding knobs or pulls is like adding pretty jewelry to your drawers and doors: 
Hardware will reduce the wear and tear on your cabinets as well! 
This can get expensive if you're starting from scratch, but there are so many great options at great prices now! You can buy them in bulk for less too.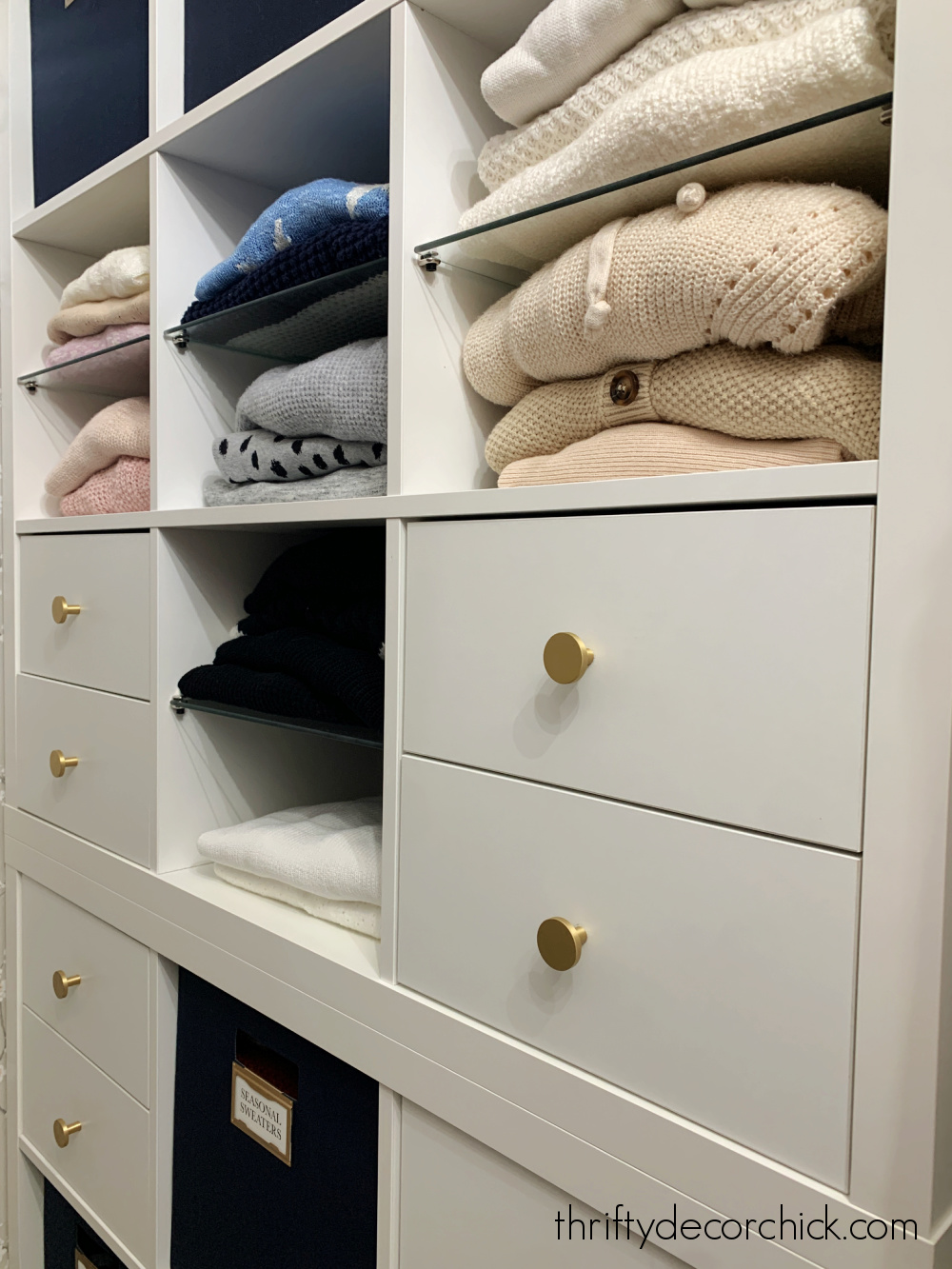 Those are a little over $2 each when you buy a bunch!
As with many finishes in your home, spray paint will give your cabinet hardware a quick update for WAY less! If you like your hardware design but not the color, spray paint is a great solution. 
See how to paint your cabinet hardware for an easy refresh:
9. Updating drapery rods and adding pleats
Window treatments are huge! Hanging them a bit higher and wider than the window frame will make the windows feel grander. 
Earlier this year I tried a new window treatment update that made my store bought curtains look SO much more expensive: 
They went from messy and floppy to perfectly spaced and pretty: 
I still have one more set of drapes I'd like to add this pleating tape to. I LOVE the look!
But the drapery hardware makes a big difference too. When we moved in, I bought the cheapest, skinniest drapery rods I could find. 
Not only is it a little thicker, but that leather finial at the end just gives it a unique little detail. 
By the way, I don't think your drapery hardware needs to match throughout the house! 
10. Add a fixture to recessed lights
I LOVE adding decorative lighting where we have recessed lights. I think a pretty fixture goes a long way to updating a space and making a home look more expensive.
You don't even need to turn off the breaker — this is almost as easy as replacing a light bulb!
Those kits allow you adjust the length of the cord and everything.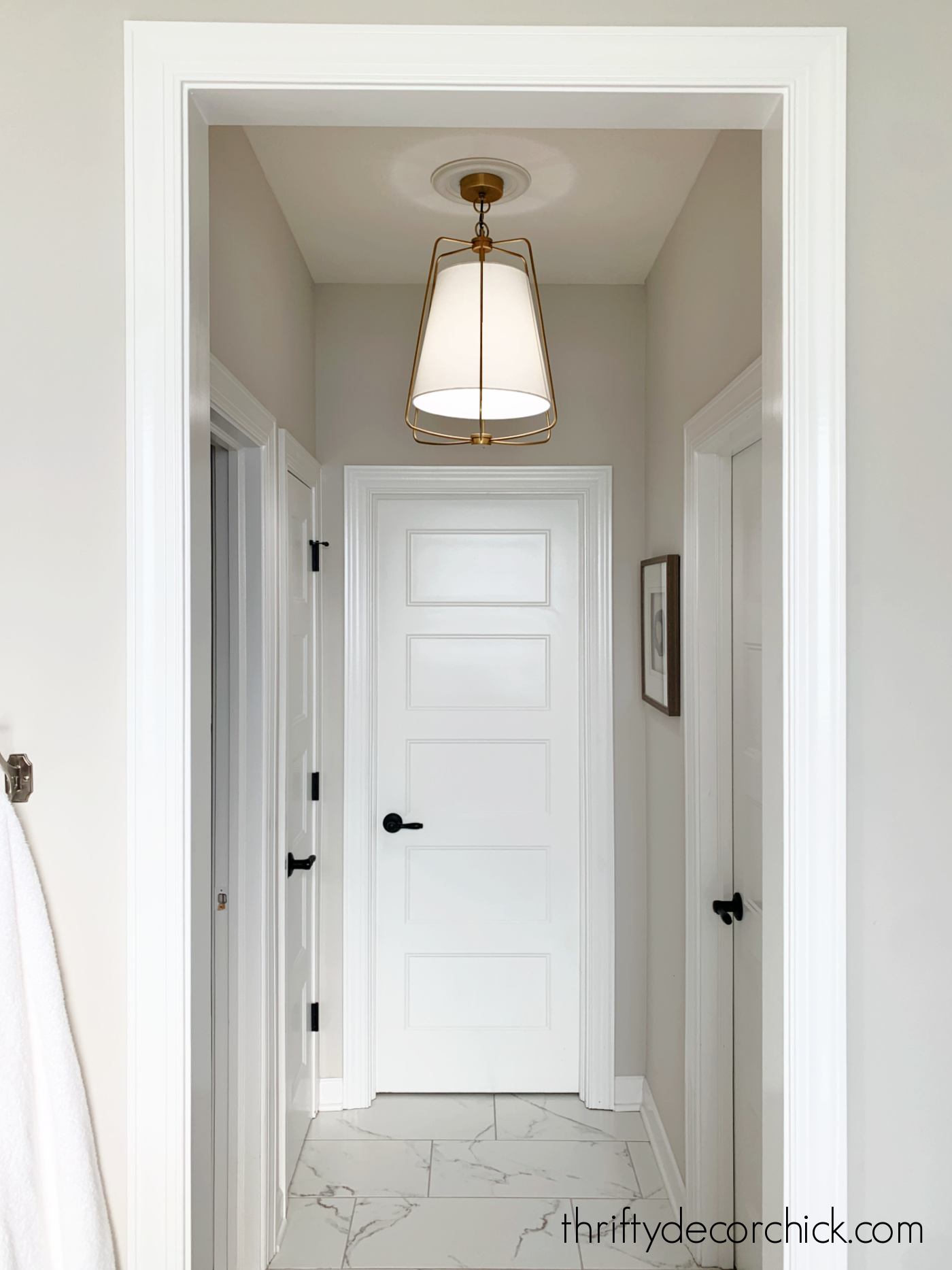 I had a horrible time with one version of these converter kits, so be sure to check out that post before trying this DIY. 
Both options allow you to hang a pretty light where there was none!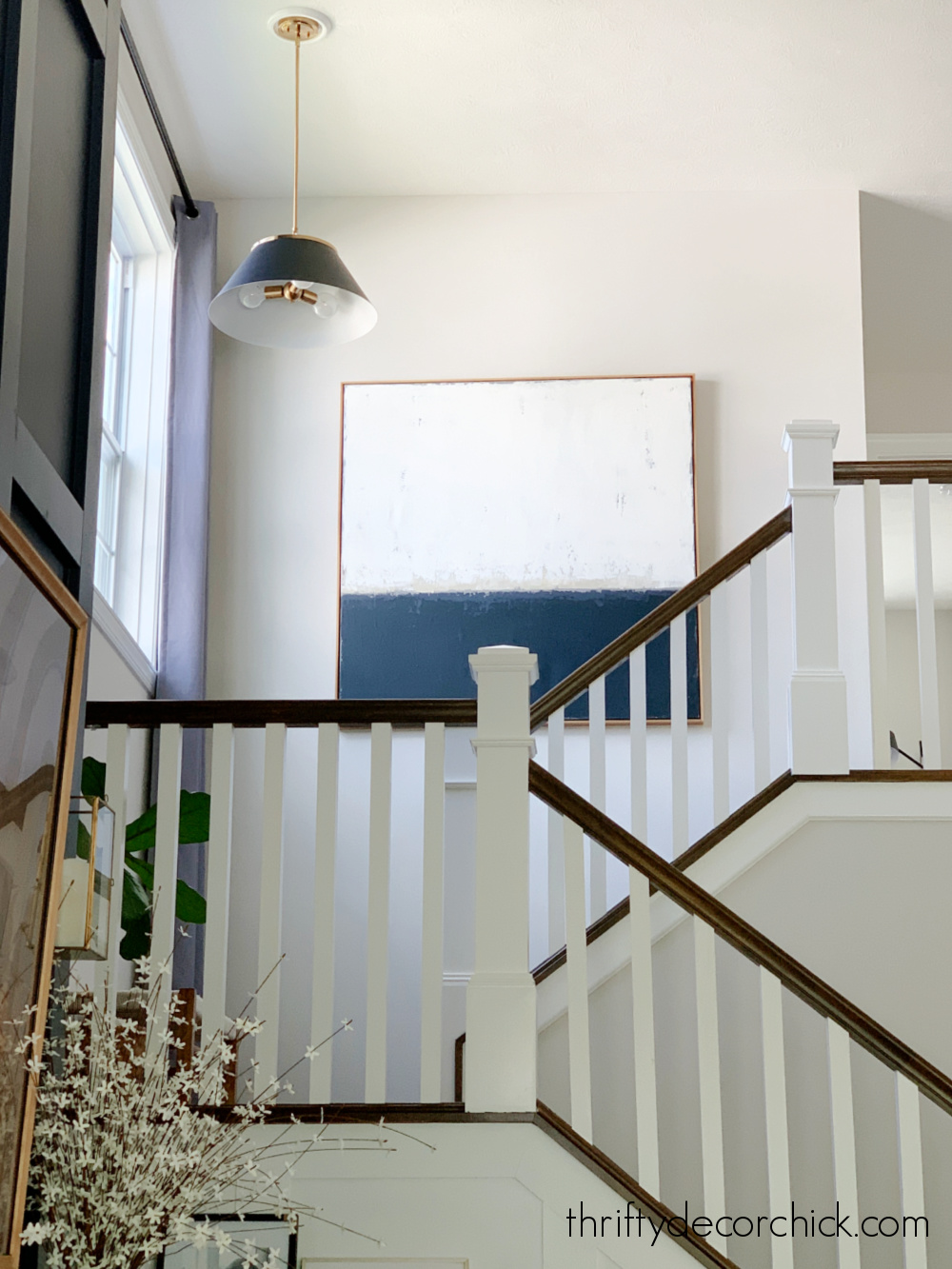 Notice those pretty round bulbs? 😂 I love them!
They look more streamlined, won't yellow over time and save money on our electric bill!
Have you added any of these decor and DIY updates to your home? Remember, it doesn't all have to be done at once. Take your time as your budget allows. 
I promise no one will notice that your switch covers don't match in every room. 🙂