A Modern Salotto: Estro Hong Kong by André Fu Studio.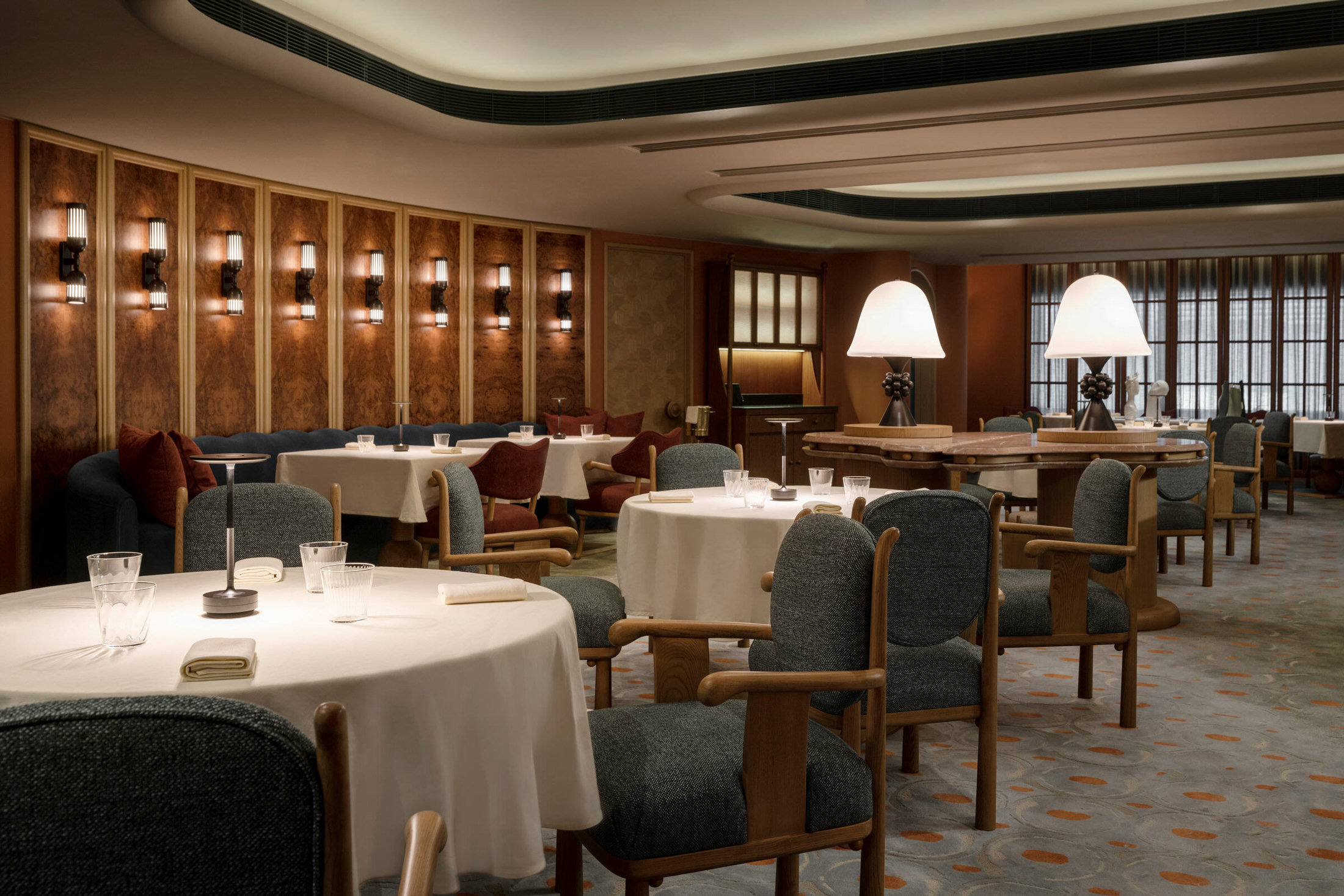 André Fu Studio transports us to Napoli with reimagined vignettes of Italy in Estro, Hong Kong's first independent restaurant for celebrated chef Antimo Maria Merone.
The interior draws inspiration from Antimo's homeland, encapsulating the colours, character and styling of a luxury salotto in Napoli's old town. Decadent in its detailing, the space invites guests to retreat from the bustling, urban streets of Hong Kong and escape to the interiors bespoke old-world aesthetics.
"My vision is to create a visual journey that aligns with the chef's culinary philosophy. Eschewing clichés, it offers a personal interpretation of Italian history whilst striking a balance between the artful and the avant-garde. It is a cinematic dreamscape that evokes an abstract re-telling in the manner of Jean Cocteau and Gio Ponti," says André.
Inside, guests move through a concrete hallway to discover a richly decorated reception foyer. Lined in Verde Chantillon marble and emerald wallcovering, the main dining area is entered via an intricate arched metal gate.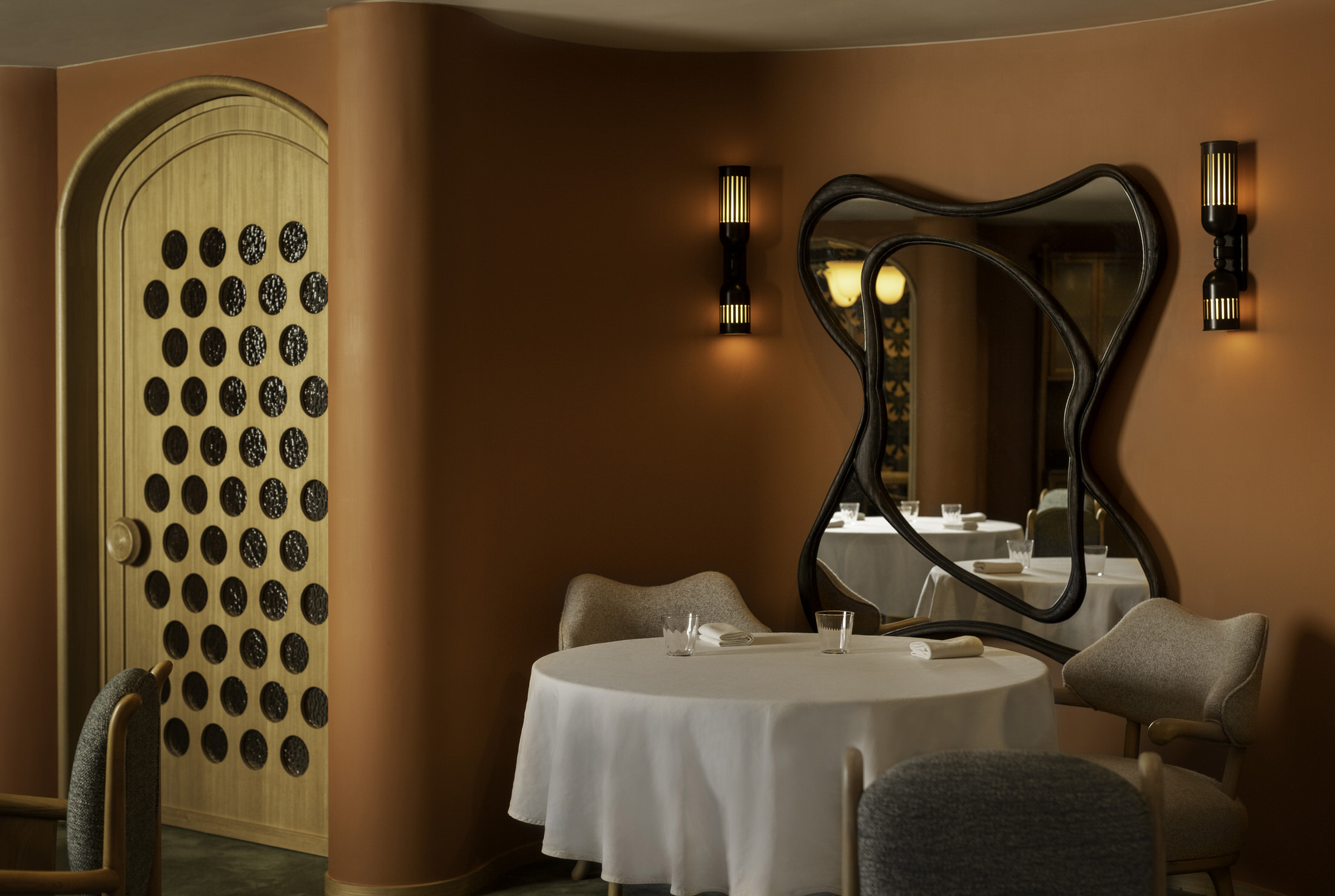 Embracing the spirit of a traditional salotto, the dining salon is sculpted with a strong sense of visual symmetry, articulated with undulating wall profiles. The mood is opulent yet warm, created with a rich palette of terracotta, sage green and turquoise blue.
Design elements are inspired by traditional Italian craftsmanship and silhouettes, from the burr walnut panelling and intricate marquetry to the hand-painted stucco walls and Calacatta marble. The custom-made furnishings boast sinuous, elongated curves, enhancing the space's charm. A range of bespoke decorative lighting in cast bronze and ceramic adds further whimsical embellishment to the evocative venue.
Highlighted with bold paintings of sulky dancing silhouettes by Elsa Jeandedieu, small nooks frame the central room, creating intimate alcoves for semi-private dining. A touch of theatricality is introduced as the open kitchen allows guests to experience a culinary performance. A 10-seater private room features an aqua-blue palette, a striking Amalfi amaryllis patterned wallpaper, and a ceiling matrix of inverted dome pendants.
Adjoining the dining room, and hidden behind a plush velvet curtain, the Music Room offers an alternate experience. An ideal setting for an easy espresso, sly aperitivo or post-dinner cocktail, a drinks trolley is laden with over 20 Italian liqueurs and spirits. Indulgent and inviting, the Music Room comprises sunken sofas, sculptural armchairs and billowing wall profiles.
Beyond the menu and interiors, Estro's spirit of innovation extends to custom-made tableware. Celebrated Italian ceramic artist Vincenzo del Monaco designed the stylish dinnerware and individually signed the stylish dinnerware, accompanying the vivacious dinner affair.
Inspired by the essence of Italy, Andre Fu Studio delivers a nuanced and immersive vision of Napoli into Hong Kong's vibrant city, welcoming Estro's guests to an enamouring spatial experience.
---
[Images courtesy of André Fu Studio.]