A unique architectural apartment development in Melbourne
Positioned alongside a significant Melbourne heritage home in Brighton, the latest project from Austin Maynard Architects 'Slate House' takes inspiration from the suburb's iconic foreshore bathing boxes as well as a local heritage-listed church. With its unique pitched roof design, the unique multi-residential development complements its neighbours, rather than dominating the streetscape.
"We aimed for the building to appear domestic, small and loveable. The intention was a synthesis of the prevailing rich history, heritage character and domestic context, to show there was an alternative to the clinical, monolithic box," says architect Andrew Maynard.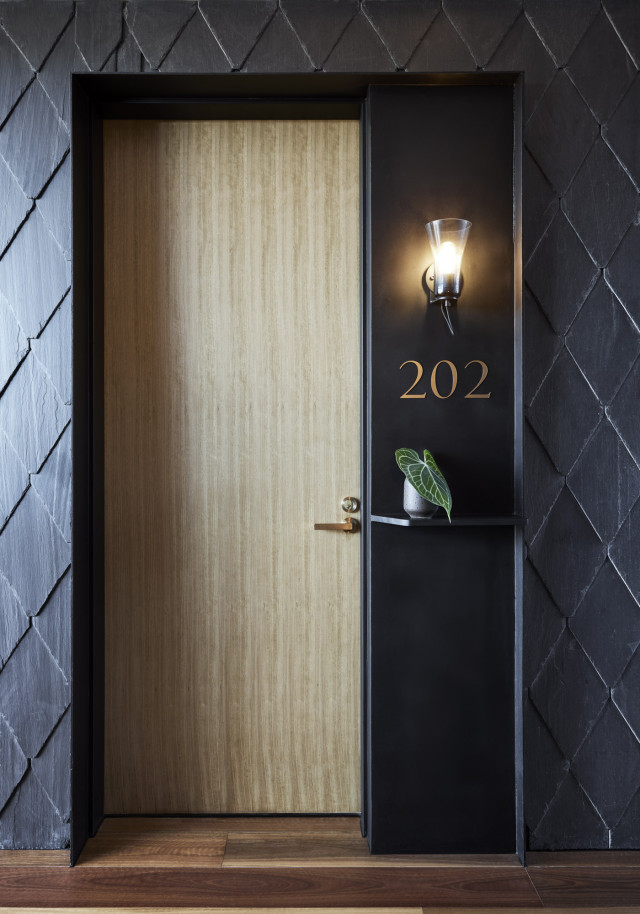 Shortlisted in the 2023 Australian Institute of Architects Awards, the development spans three levels and contains 14 spacious homes. It's got serious eco credentials too as its 8.2 star NatHERs rating makes it Brighton's first fossil-fuel-free multi-residential building.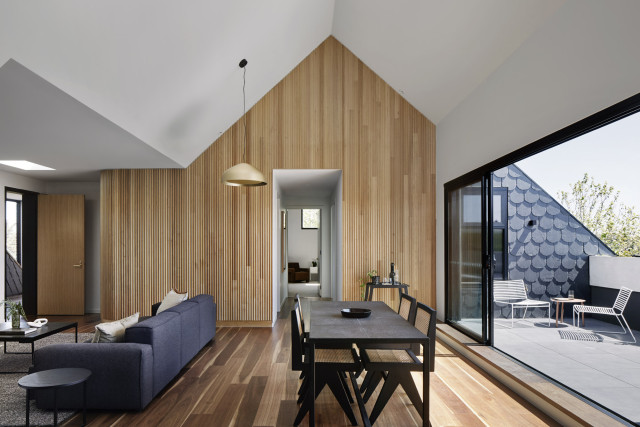 The project is unique in that its neighbours are mostly large contemporary builds, Victorian villas or Edwardian homesteads. And new apartment buildings in the area are typically box-like, near identical off-white concrete structures. A unique response to the need for urban infill in our capital cities, this project proves that apartment buildings needn't follow the usual script.
"Multi-residential buildings can be more than white boxes stacked high that either ignore or worse, dominate, their siting. Apartment buildings will always be bigger, but do they have to speak a different language?" says Andrew.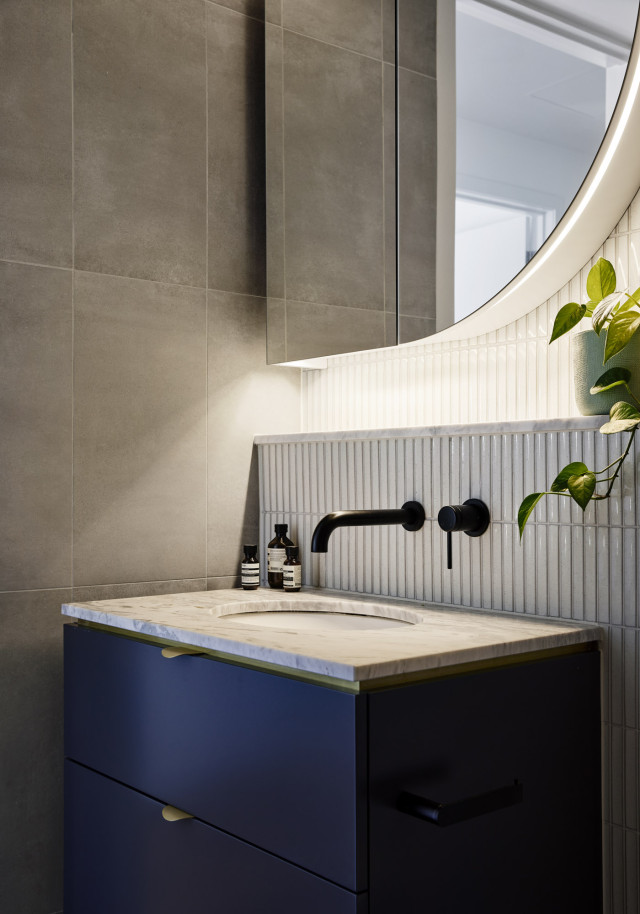 The development features a tactile materials palette that references the local area. "An audit of buildings in the area was taken and slate, terracotta, brick and white masonry were most prevalent," says Andrew. The development features forms wrapped in those materials while the building's eye-catching pitched roof detail is reminiscent of the local bathing boxes. "The materiality is simple, honest and beautiful. Natural raw materials, slate straight from the quarry, robust tiles, bricks and timber, free of coatings and toxic chemicals," says Andrew.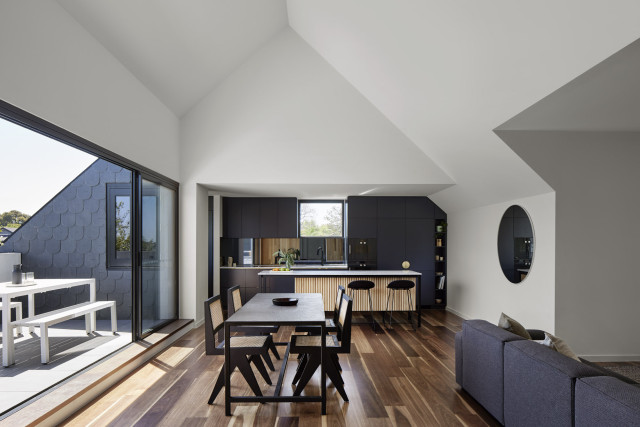 The rich materiality continues inside with hand-cut tiles, rich colours, textural finishes and sustainably sourced materials featuring throughout the development. Dark navy bespoke cabinetry, fluted Tasmanian oak wall cladding, fluted glass and brass handles give it a luxe architectural feel. "Although the appeal of Slate House is broad and wide ranging, local downsizers are particularly drawn to the project because it has a texture that relates to their own home," says Andrew.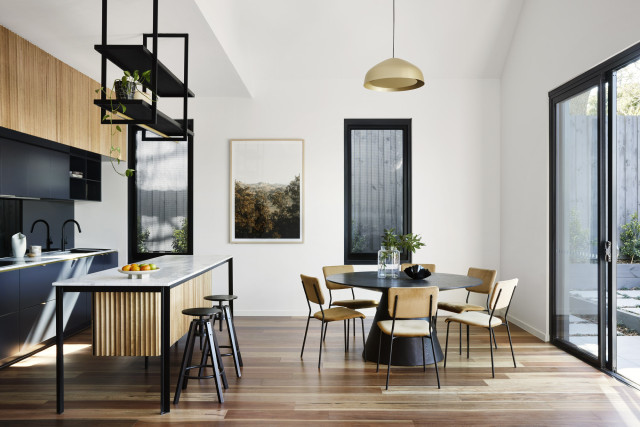 The development has been widely praised for its unique aesthetic. "All the design concepts we saw in the early stages came back the same, except Austin Maynard Architects who came back with a pitched roof. The monolithic look is popular in Brighton but we knew that market was very well looked after. What didn't exist was an apartment complex that felt like an architecturally designed home," says the site's developer Panos Miltiadou, managing director of Lucent.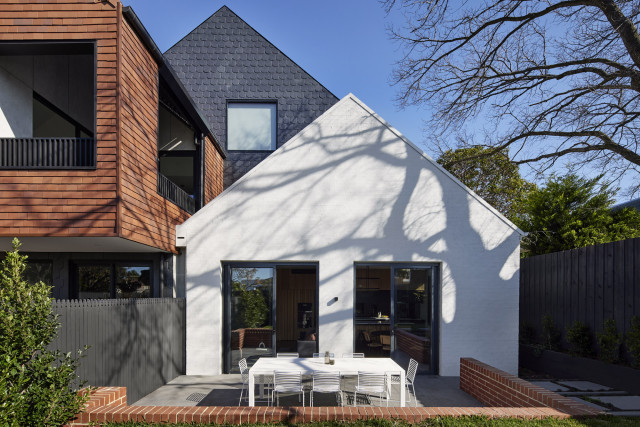 Photography: Tess Kelly
For more on Austin Maynard Architects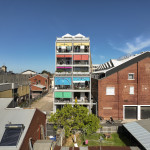 Housing of the future? Sustainable stacked 'terraces'
We've profiled many Austin Maynard Architects projects before, and they are always strikingly unique. And today's project tour is no…
Bohemian spirit infused in art-filled St Kilda apartment reno
"Moving from a sprawling modernist house to an apartment would normally be a difficult adjustment, but after a substantial cull,…