An Oasis of Modernity: Mozart Apartment in Paris by Uchronia.
Uchronia are back to shake up the Parisian design landscape, as per usual, with another unconventional offering. The interior architecture and design studio, founded by Julien Sebban, has unveiled a Haussmannian apartment that's been given Uchronia's psychedelic touch, with curves and colours in all the right places.
The apartment sees a continuation of the Wave, the design collective's debut furniture collection that explored all things curved. Here, Uchronia pursues infinity, avoiding corners and letting in as much light as possible for the home located in the heart of Paris' 16th arrondissement.
With all the hallmarks of a classic Haussmannian—Hungarian point parquet, moulded bases and ceilings, high windows—Sebban chose to keep existing elements and work in opposition, through a wild colour palette, bespoke furniture and objects and "waves, waves, waves".
"For this apartment, we have particularly targeted the spaces to be highlighted. The kitchen in duck blue, the dressing room in carmine red, to echo the cabaret dressing rooms… as well as the joinery, in order to highlight the ubiquitous arches in the space," explains Sebban.
In the dining room, the orange marble table made by Marbera extends its colours like a slightly elongated figure of eight in a symbol of eternity. The wave pattern is a common thread, revealing itself in the different rooms of the apartment—in the kitchen on the cupboard doors, in the entrance with a marble console or in the carpeted dressing room. From the bedroom to the bathroom, from the marbles to the fabrics, the geometric and vague patterns respond to each other.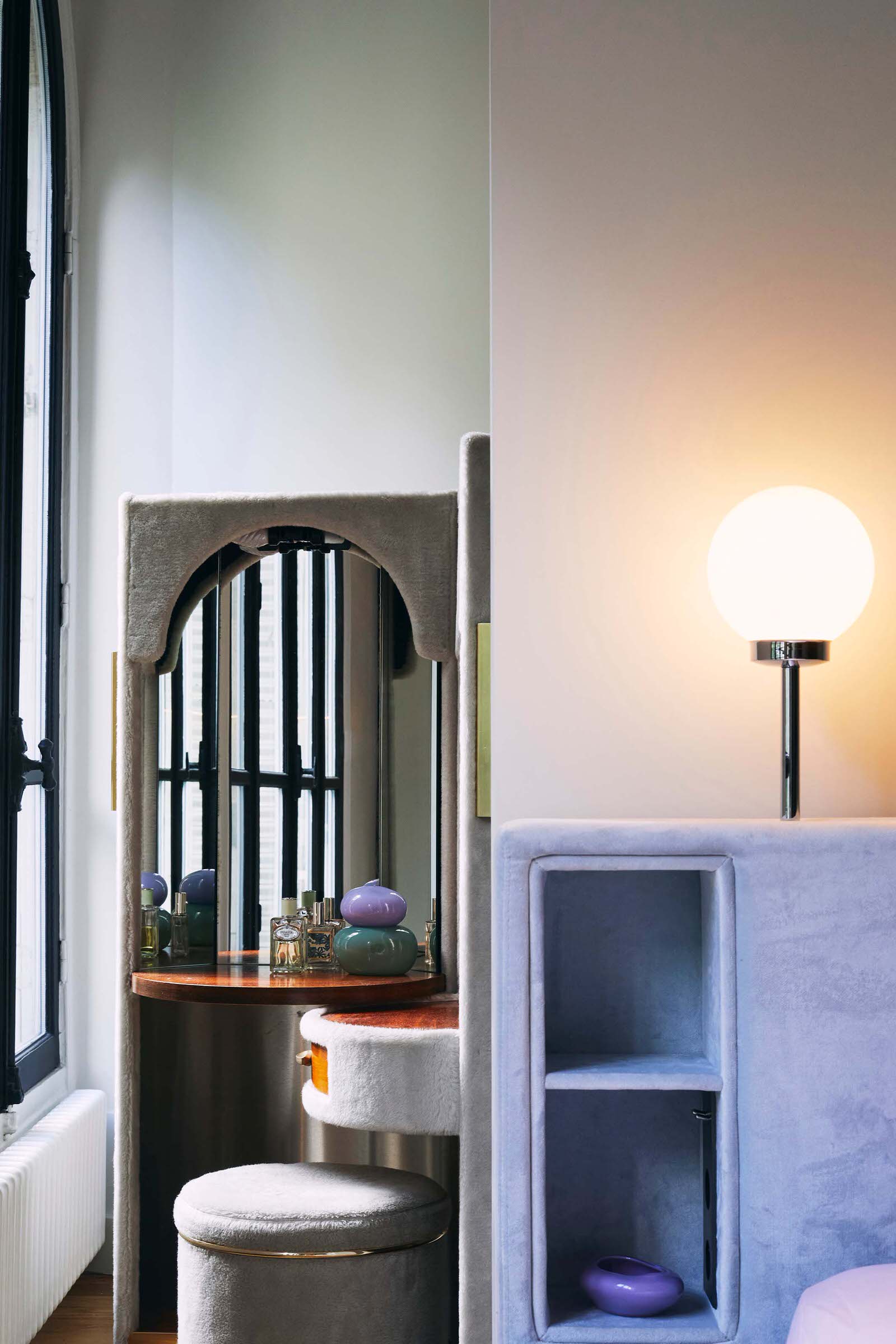 A very soft bed, especially made for the project, is embellished with Uchronia cushions and complemented with a sensual dressing room with hints of red, a nod to dressing rooms on Parisian stages. A peanut bench and wave carpet add movement to the space.
Elsewhere, the arches respond to each other as windows, doors, openings and furniture become one. On the floor, marble marquetry, parquet or carpets with shimmering waves, lead from room to room. Inspired by both brutalism and softness, Uchronia has transformed this classic Haussmannian apartment into an oasis of modernity.
---
[Images courtesy of Uchronia. Photography by Félix Dol Maillot.]