An Urban Refuge: Garden Gallery Residence by Yatofu Creatives.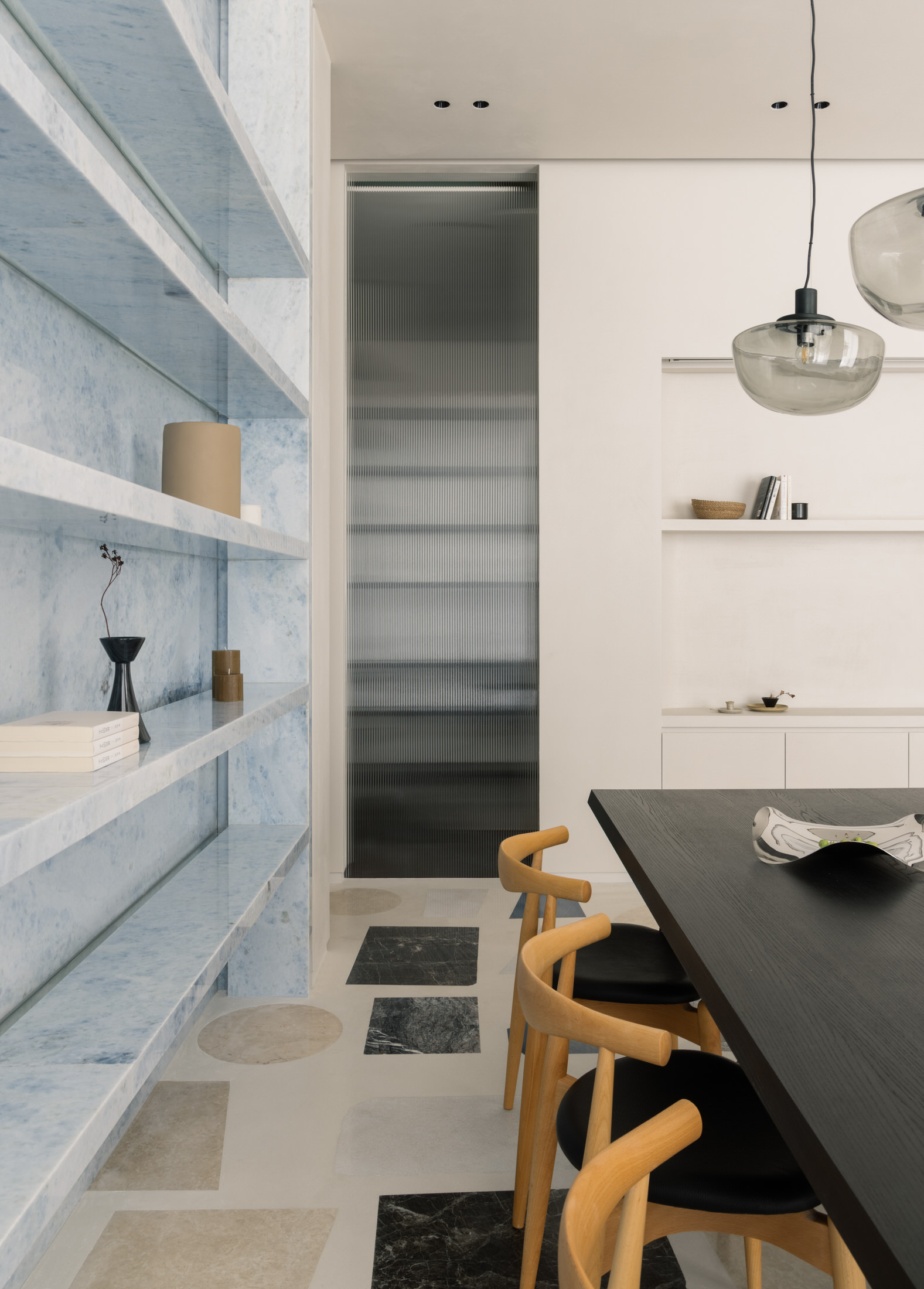 Yatofu Creatives has transformed a rare garden apartment in downtown Shanghai into an urban refuge. The warm gallery-like space is filled with a bespoke collection of art pieces and furnishings, all made specifically for the residence in collaboration with artists and artisans.
Elaborate architectural details were sidelined in favour of a minimalistic form language that would create a neutral canvas for the art. Walls and ceilings were covered in soft cream-coloured micro-cements and paired with walnut-panelled doors.
A main and rare feature of the apartment is the large private garden that opens up into the interior space through numerous custom doors, casting a soft natural light into the interior. The garden is contemporary and minimalist, serving as a breath of airy contrast to the saturated city surrounding the residence.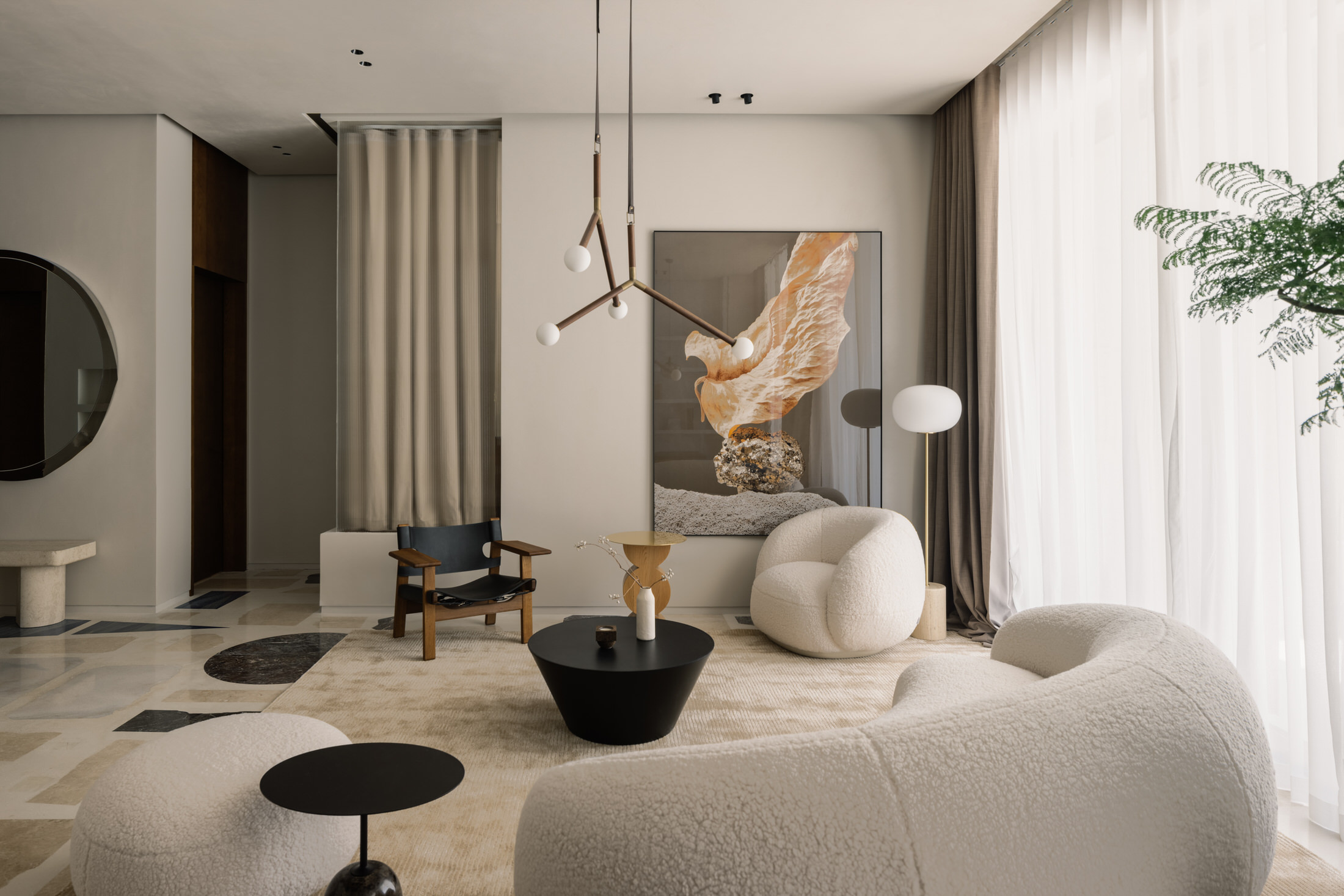 Sketches of various bespoke art pieces and furnishings, all made specifically for the residence in collaboration with artists and artisans.
The main living and dining space features bold hand-laid oversized terrazzo flooring with stones of varying neutrals and blues. Behind the dining table, a monumental display wall in Brazilian pinta verde blue marble creates a bright and fresh focal point for the otherwise neutral space. The living area is furnished with a range of sofas and armchairs to create an informal sitting area.
Many of the fixtures and pieces in the main room, including the hanging lamp above the coffee table and the large asymmetrical mirror, were all uniquely designed and made as one-off pieces for the apartment. A collection of bespoke stone and ceramic vessels were also designed specifically for the space, produced in collaboration with New York-based ceramic artist, Joseph Algieri; while the oversized photography print that hangs on the living room wall was made in collaboration with the Finnish stylist Piia Emilia and Photographer Aleksi Tikkala.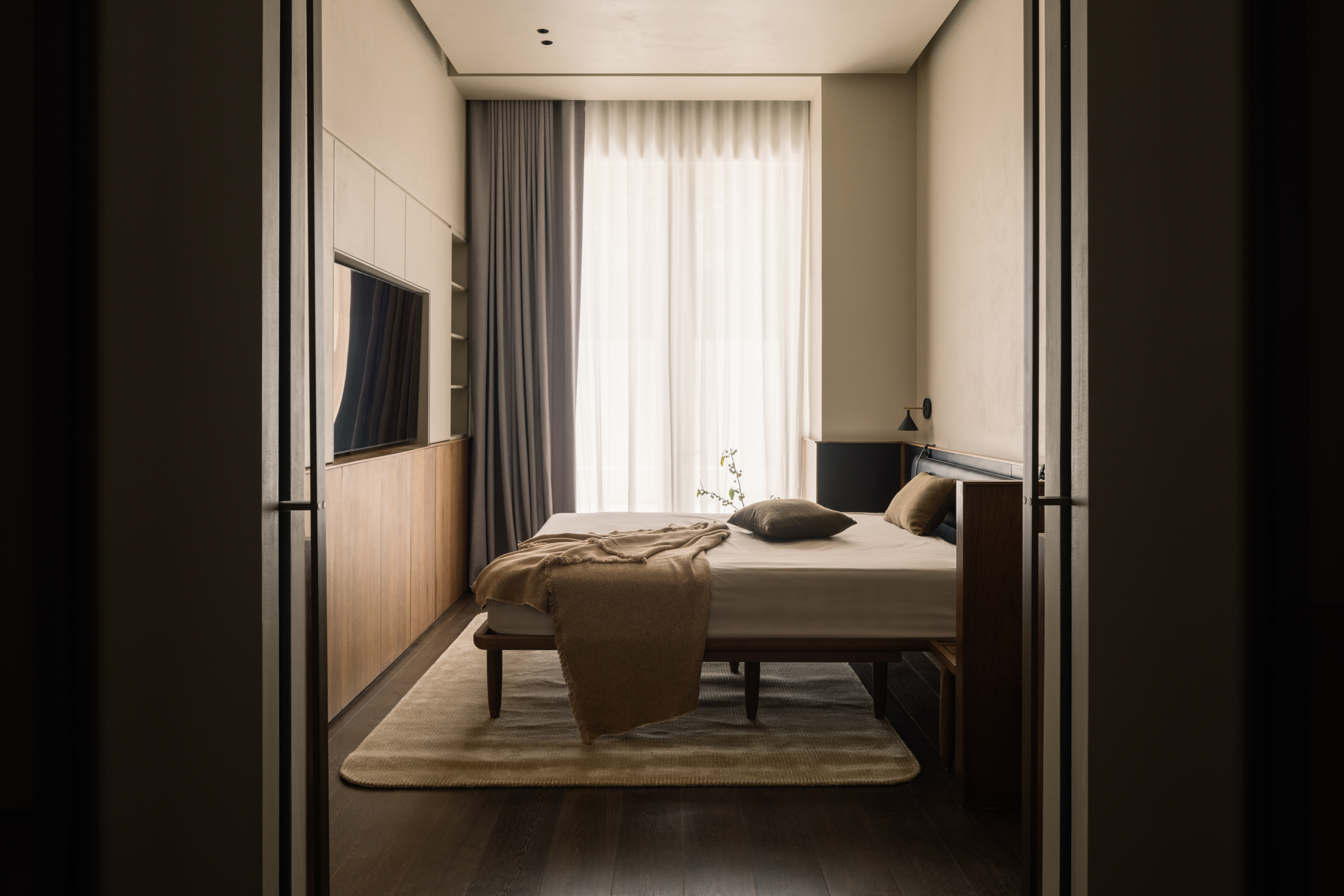 Sketch by Yatofu Studio of the built in seat next to the bed.
The two bedrooms feature solid walnut wainscoting and bespoke wall art created in collaboration with Moofoo, a Taiwan-based artist and carpenter. In the master bedroom's ensuite bathroom, a sculptural monolithic bathtub sits in the corner, carved out of a single piece of marble. Both bedrooms lead directly into the large private garden, a truly rare commodity in a city like Shanghai.
Yatofu's transformation of the apartment is an ode to the art of living and echoes the client's appreciation of custom and bespoke creations. The subtle yet sophisticated foundation of the interior itself offers endless possibilities for site-specific artworks and unique furnishings, celebrating both craftsmanship and the expression of individuality.
---
[Images courtesy of Yatofu Creatives. Photography by Wen Studio.]