Basic new build transformed into coastal dream home post handover
When Emma Fuller built her family home five years ago, she went with the 'basic' package with a view to elevating the spaces in a more budget-friendly manner down the line. Knowing that she couldn't afford her entire wish list upfront, she made allowances within the plans so that she could add all the special details after handover.
"Although the builder could have incorporated every detail we asked for, we knew it would have blown our budget, but that didn't mean I was going to let the dream go," says Emma of her Hamptons inspired home that is located around a 10-minute drive from Queensland's Toowooomba.
Today, she shares the top 10 things that transformed what was an average new build into the bright and breezy Hamptons inspired abode that she shares with her husband and three sons.
Fretwork in the hallways
"We added character to our home with wall accents such as VJ, wainscoting and fretwork. After scrolling Pinterest (my go-to for ideas) we set about starting the fretwork for the hallways. It was honestly one of the easiest DIYs and I love that it creates a warm and charming entry to hallways and living rooms," says Emma. These features were used in the hallways and in the master bedroom walk-in robe. 
Fireplace and mantle 
"I knew from the moment we planned this house that it was an absolute must-have to add the fireplace and mantle," says Emma who built it in to make it look like a piece of custom joinery. She framed up the wall with structural timber, lined it with VJ panels and finished it with a cornice on top.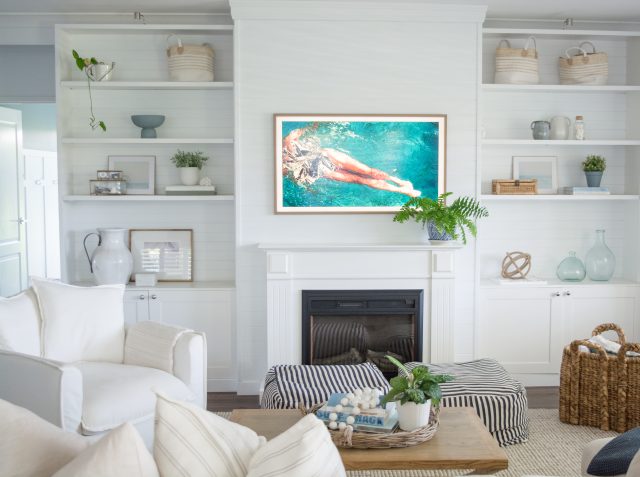 Bookcases 
Another cost-saving measure, the lounge room bookcases were made with 1.2 metre IKEA Besta units placed either side of the fireplace with skirting boards added in front.
"We saved what I can only imagine is thousands by not engaging a builder to create my dream fireplace and surround. If you are handy then I recommend trying to create this yourself," says Emma.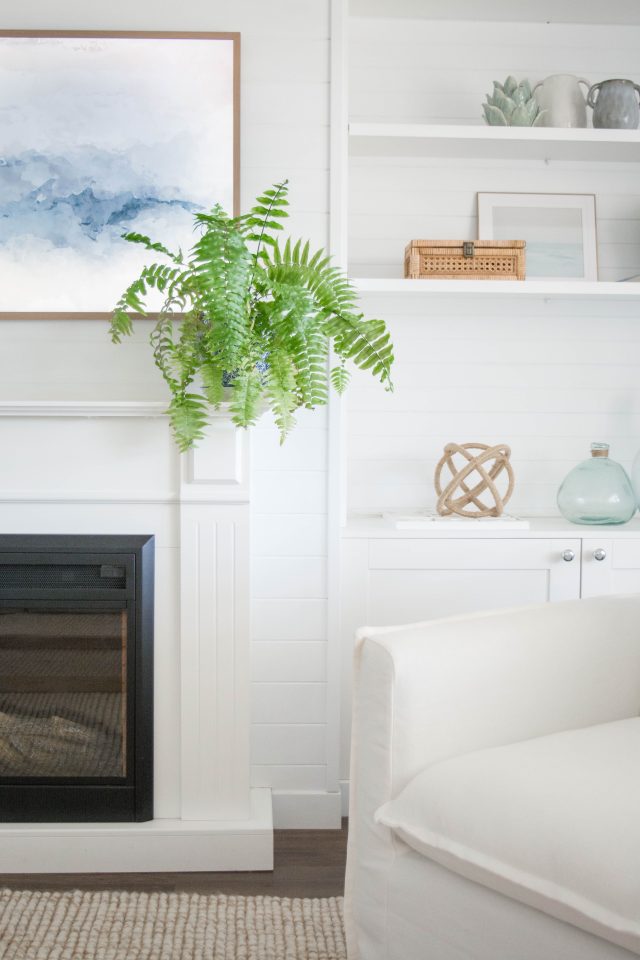 Window seat 
"Oh, how I love a window seat – to me a window seat screams coastal Hamptons and I would add one to every room if I could," says Emma. Looks aside, Emma was drawn to the additional storage created and says that she added almost three metres of storage to the home.
Mudroom 
When building the home, Emma made sure to leave an alcove that would eventually house a mudroom that was designed to look custom made. Constucted with pine, board and batten and cornicing, the mudroom was finished in Dulux White on White to match the surrounding walls.
"This year, we plan to add drawers to the bottom cubbies to hide all the boys' shoes and mess from school," says Emma.
Wallpaper 
"When it comes to wallpapering our home that's my job – it's definitely a fiddly wall treatment but it's my favourite way to instantly add personality to a room," says Emma who used Natty and Polly wallpaper throughout the home.
Walk-in robe
Another IKEA hack, Emma used Pax wardrobes to create a walk-in robe in the master bedroom. "I wanted that Kardashian walk-in robe but that dream flew out the window when the price of the cabinetry came back. We saved thousands doing it ourselves," says Emma who negotiated with her builder to come on site and install the wardrobe for her.
"We made sure in the planning stage that we included the space we needed, and the plasterer added a bulkhead so the cabinetry appeared to be custom," says Emma.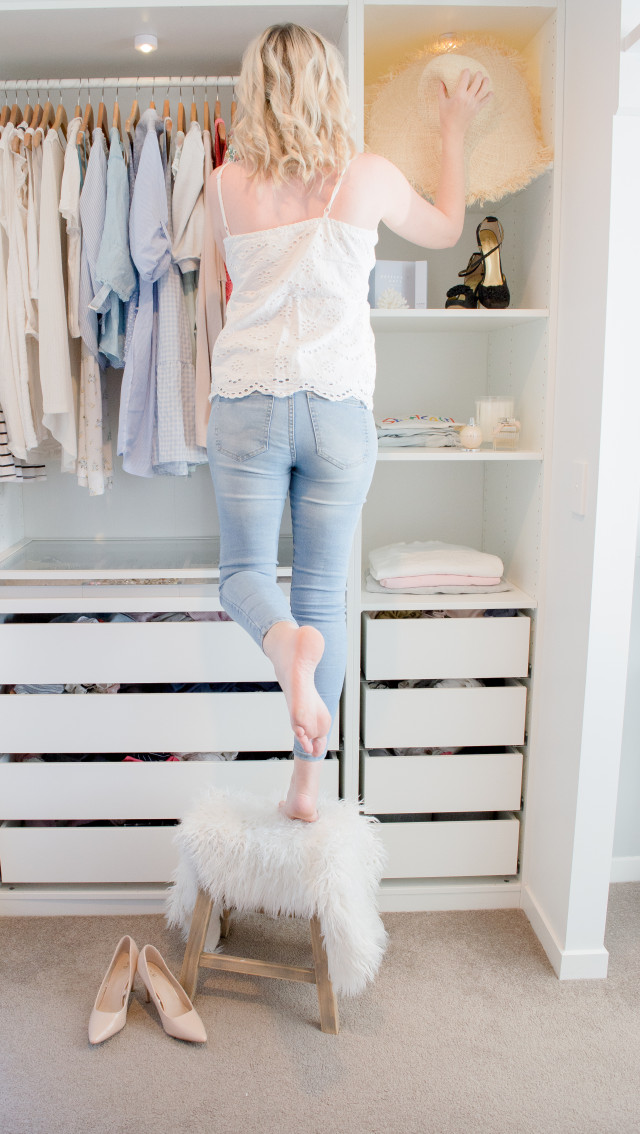 Kitchen island trim
"Our kitchen, although practical, was lacking that wow factor. I wanted to bulk up the island bench and add legs to the bench – it was all DIY but I don't think it looks that way," says Emma who used pine around the island bench to bulk it out), and added a skirting and legs that were painted to match the existing cabinetry. 
Pantry door 
"Our kitchen pantry door started off as a plain solid internal cavity door and I hated it! It had absolutely no personality and had to go," says Emma who used a French entry door from a previous property to add personality to the space. 
French doors
The French doors in the hallway (connecting through to the media room) are another add-on post handover. "Originally it was a single solid door and again I wanted that beautiful coastal home feel and knew I could get the look by adding double French doors."
Follow Emma on Instagram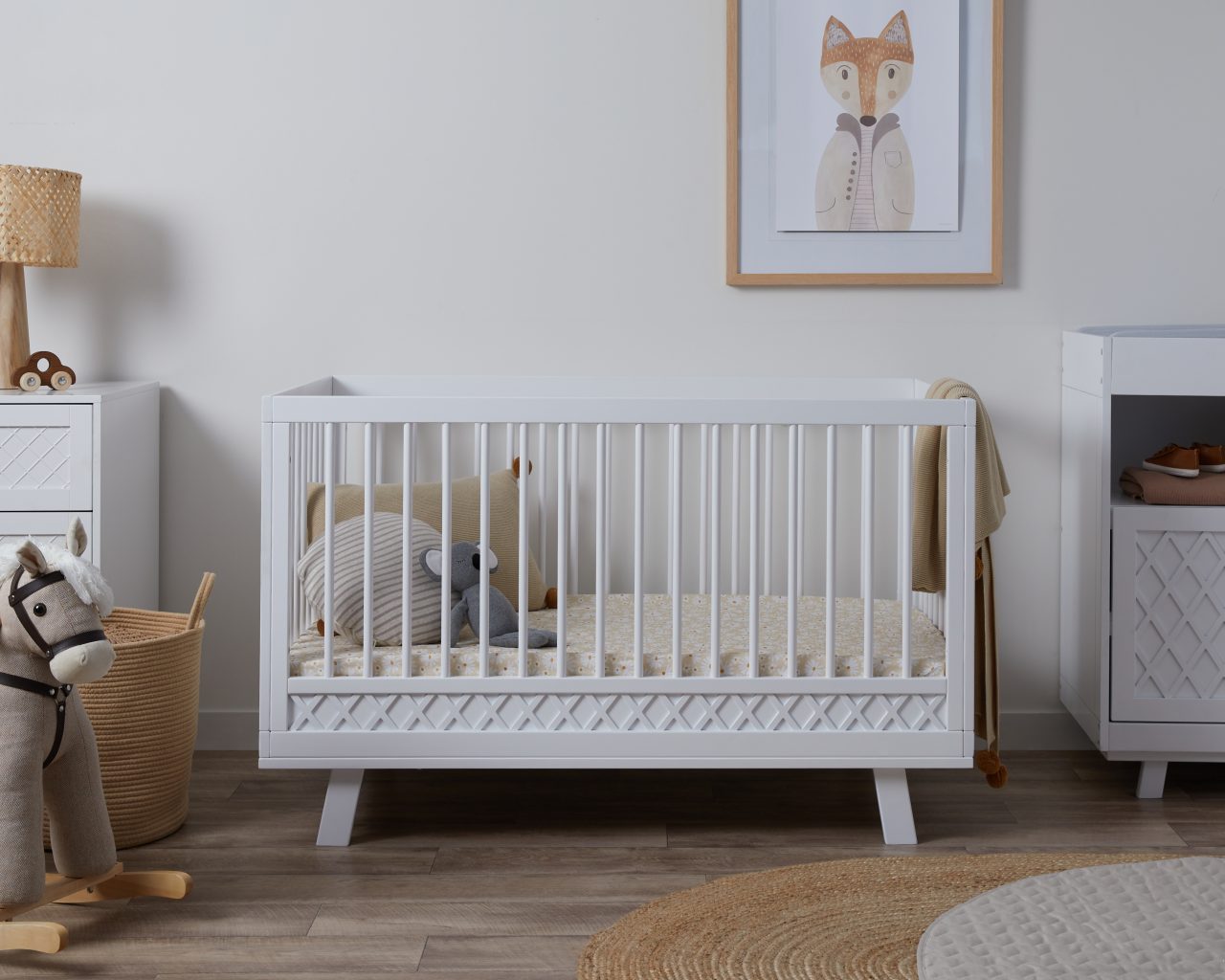 Stylish new nursery range from Mocka with Hamptons vibe
The stunning new Genevieve range by Mocka will give your child's nursery a stylish Hamptons look at an affordable price. But some of the pieces would look great in grown-up rooms too! It's the perfect combination of traditional design
How to DIY a Hamptons four poster dream bed for less than $400
Elise Tyler searched high and low for a Hamptons style four poster bed for her daughter, only to find that everything available in store was out of her budget. That's how she became inspired to upcycle a tired looking secondhand bed