Bio-Resin Dream: AGNSW Sydney Modern Building Gallery Shop by Akin Atelier.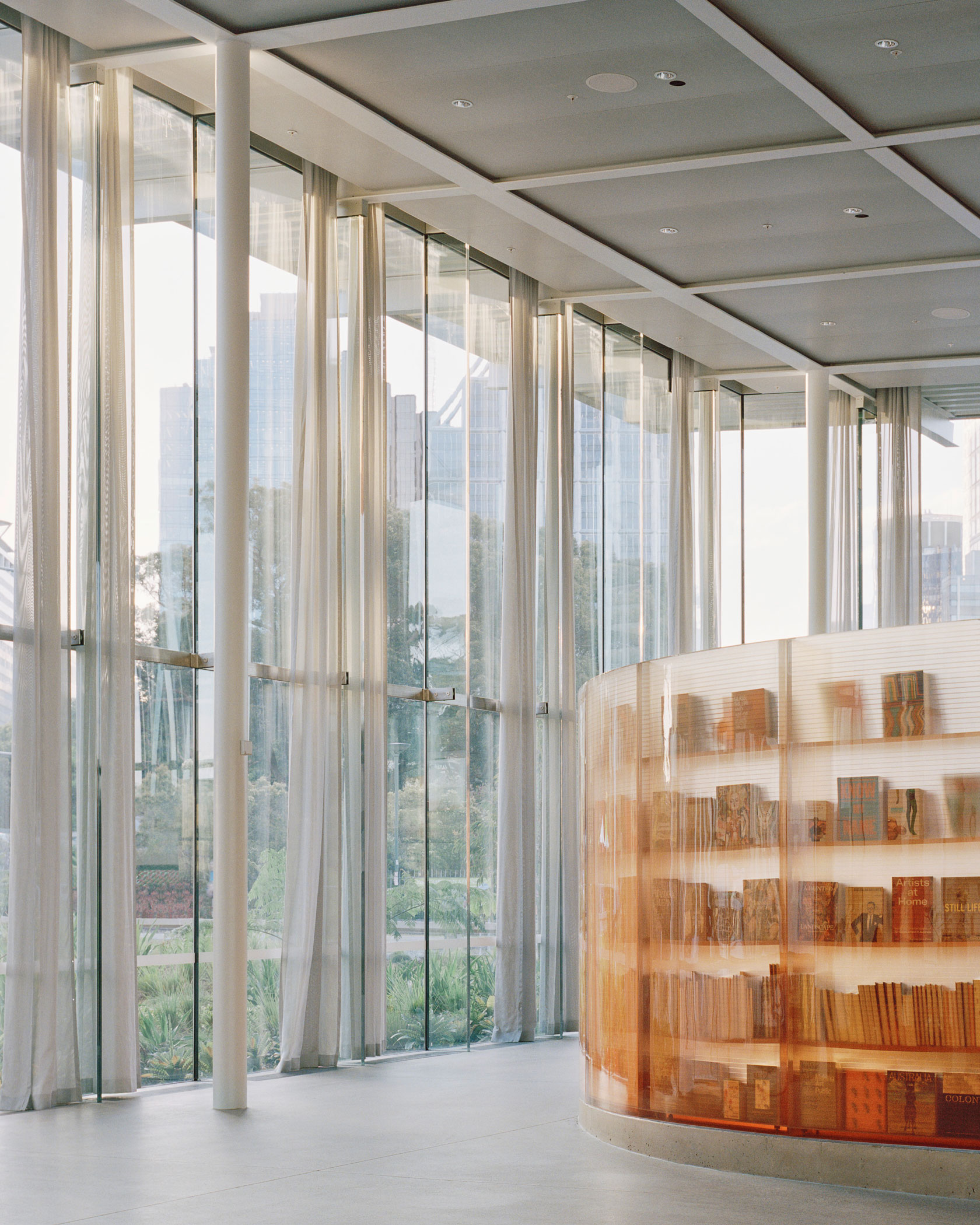 Photo by Rory Gardiner.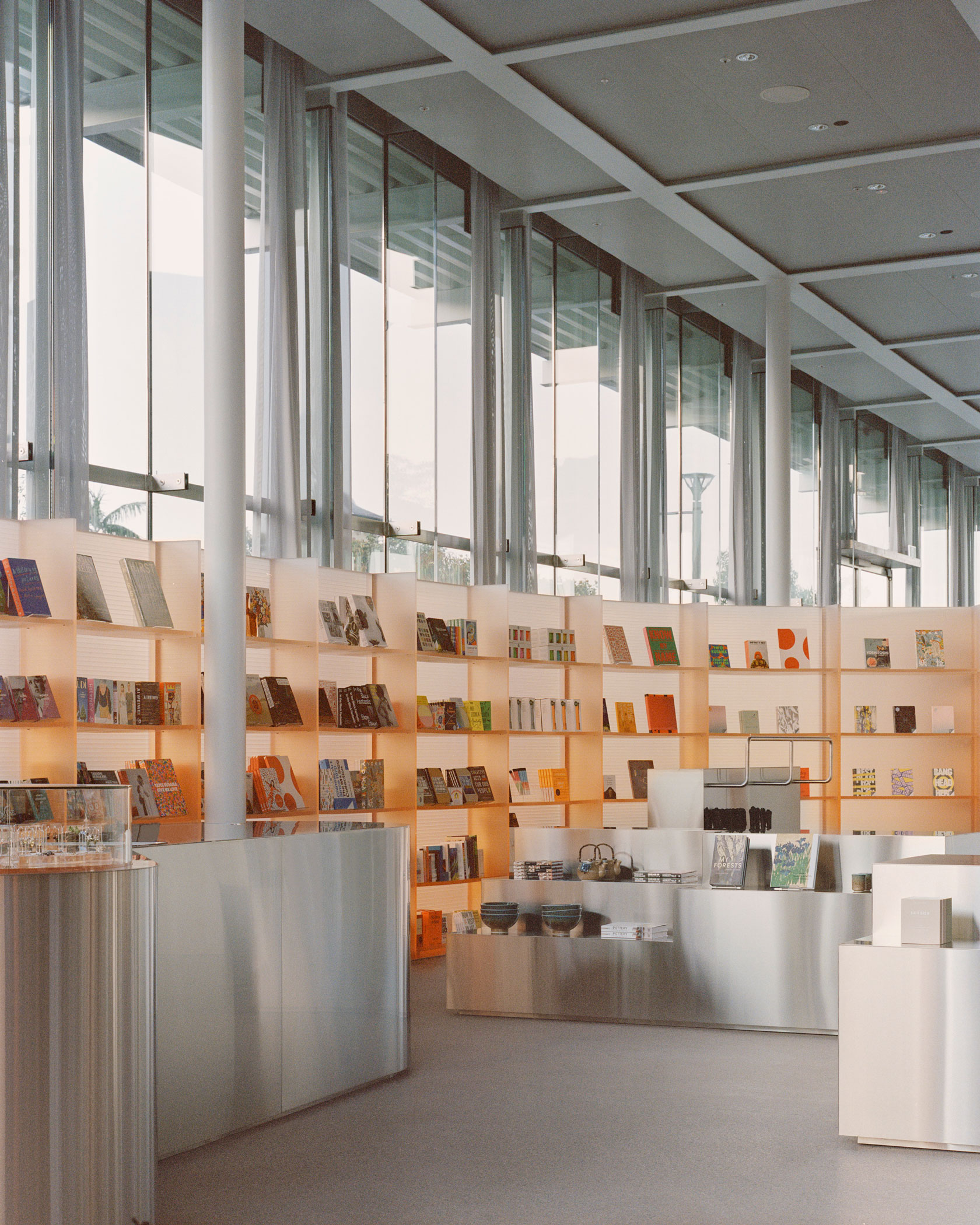 Photo by Rory Gardiner.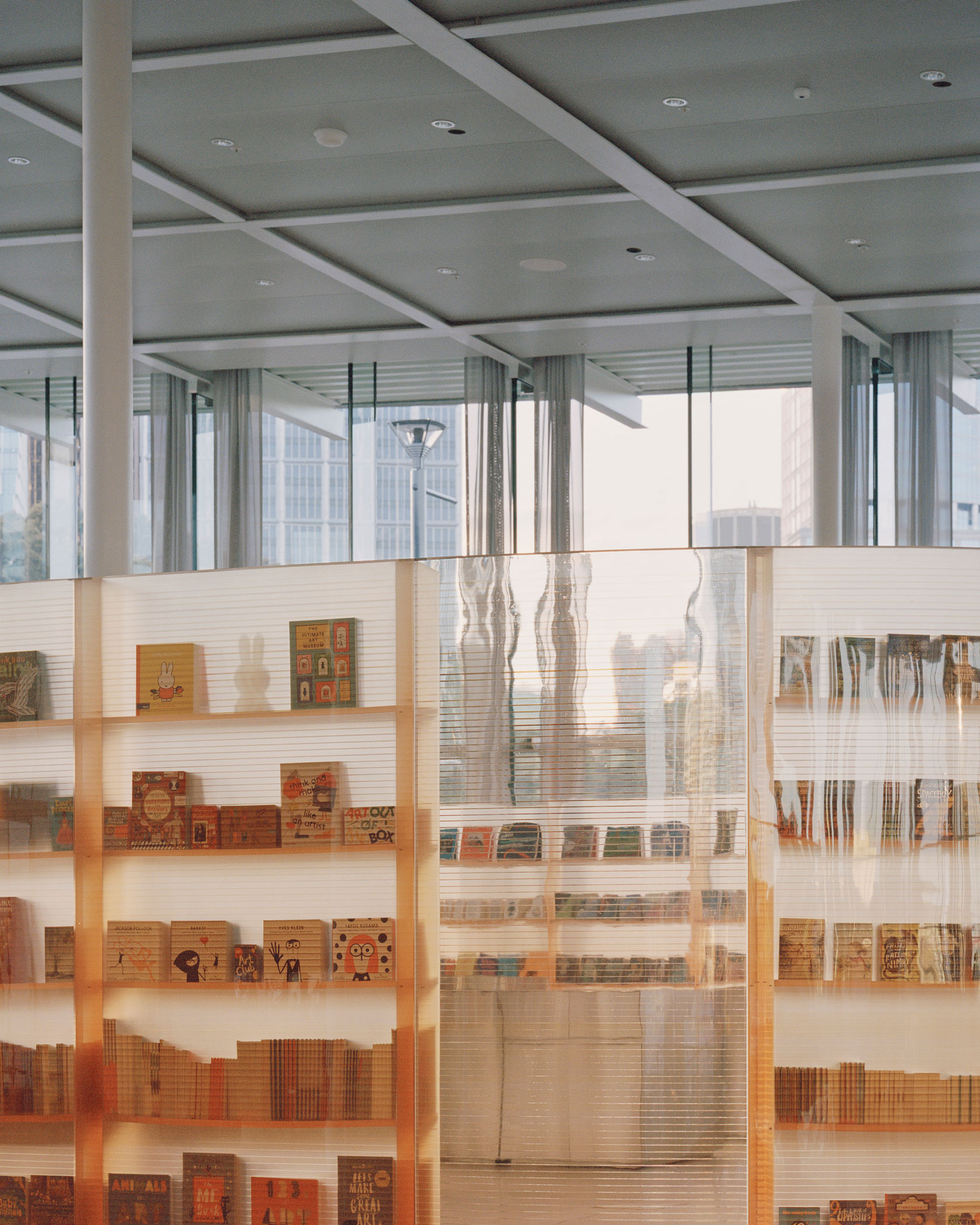 Photo by Rory Gardiner.
Photo by Rory Gardiner.
Photo by Rory Gardiner.
Located in the Entrance Pavilion of the AGNSW's recently completed Sydney Modern building, the Gallery Shop designed by Akin Atelier is an immersive first-of-its-kind resin installation. Fluid contours, developed in collaboration with surfboard designer Hayden Cox, shape this sublime, luminous space of shifting perspectives and refractions of light.
Akin Atelier's Principal, Kelvin Ho, and Associate, Alexandra Holman, conceived the Gallery Shop as a bubble within an architectural landscape conceived by Pritzker Prize-winning architects Kazuyo Sejima and Ryue Nishizawa of SANAA. The store draws the intimate touchpoints of the Art Gallery and The Domain into its reflection.
"At first glance, this work makes a bold and simple statement," says Kelvin. "Its purpose is defined, and its identity is definite. But with further investigation and understanding, you see its complexity and that it is in harmony with its natural, architectural, and artistic context."
Fluid contours of striated bio-resin wrap the shop's perimeter to form a transparent margin, serving as both boundary and display. The bubble captures natural light throughout the day bringing dynamic reflections and refractions of the city while holding people, objects, and books within its centre. A pair of 'windows' in the perimeter sit on a singular axis, allowing a direct line of sight from the Domain, across the volume of the shop and into the Entrance Pavilion that creates a frame for artworks, including the view towards the exuberant floral sculpture by Yayoi Kusama, Flowers that Bloom in the Cosmos, situated on the Gallery terrace.
Photo by Rory Gardiner.
Photo by Rory Gardiner.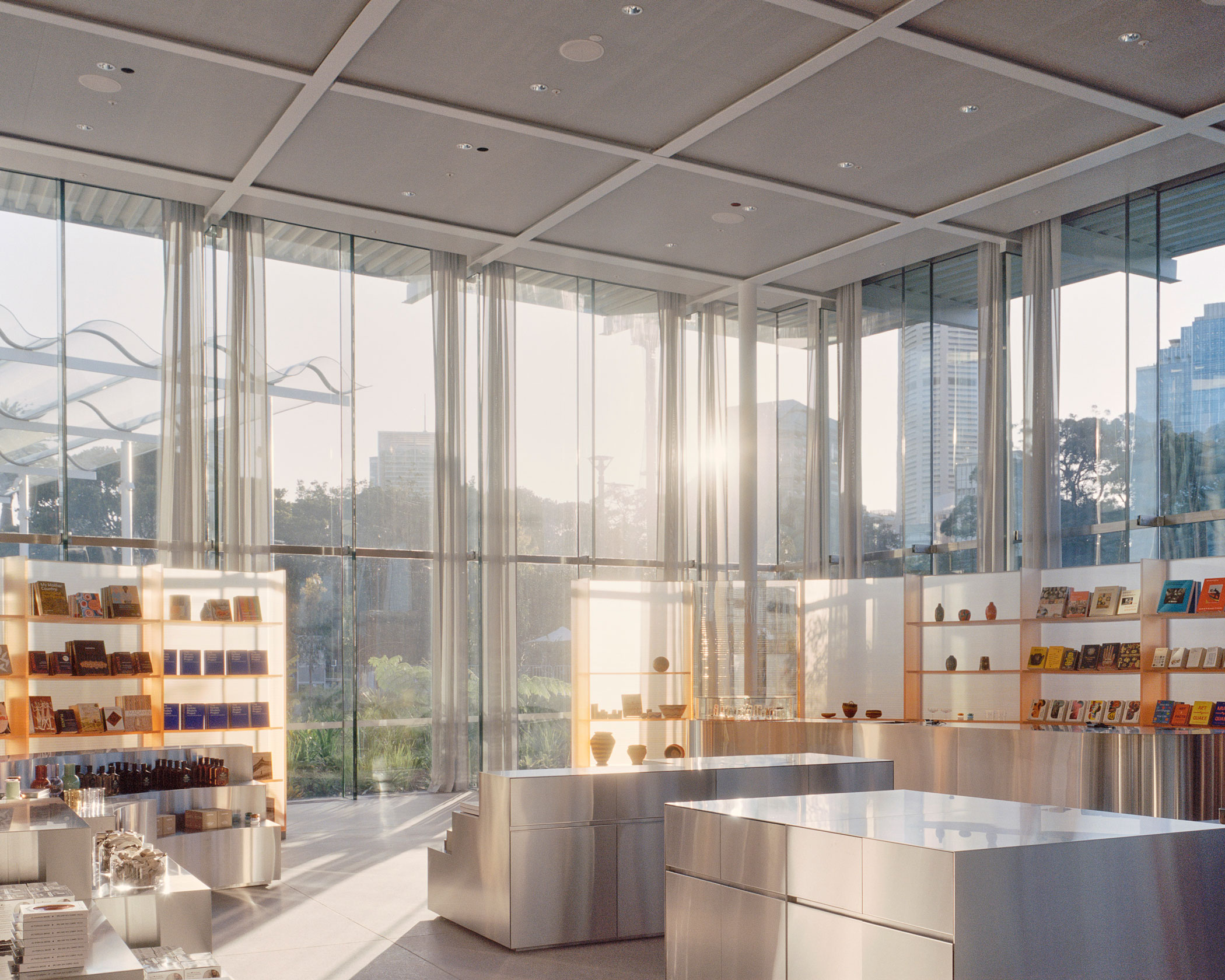 Photo by Rory Gardiner.
Photo by Rory Gardiner.
Photo by Rory Gardiner.
Photo by Rory Gardiner.
"The site gave us a unique opportunity to break past the 'exit through the gift-shop' conventions and extend the artistic experience of the gallery into the design of the retail space," Alexandra elaborates. "Our intention was for the work to clearly express a sense of place in a way that not only preserved but also enriched the cultural and architectural experience of the gallery. These were the ideas that drove both the design and materiality of this project."
Akin Atelier worked with multi-disciplinary designer Hayden Cox, best known for his innovative, world-leading surfboard brand Haydenshapes. The experimental research process to develop and fabricate the complex, large-format application of bio-resin took over two years to complete. With resin being a key material traditional to surfboard design, the custom-engineered formulation was specifically written by Cox for the project and developed and mixed in his studio on Sydney's Northern Beaches. Utilising 12 tonnes of bio-resin, each module of the installation has been fabricated from the ground up in Cox's purpose-built resin projects factory.
"The experimental nature of what we've created has been a huge motivation for all involved. It's not a tried and tested concept, but more a hybrid of design, architecture, innovation, and art," explains Hayden. "Drawing on 25 years of working with resin across various disciplines, being able to truly push the application of this materiality at this scale and level was an intriguing material challenge and a privilege to realise alongside Akin Atelier and The Art Gallery of NSW."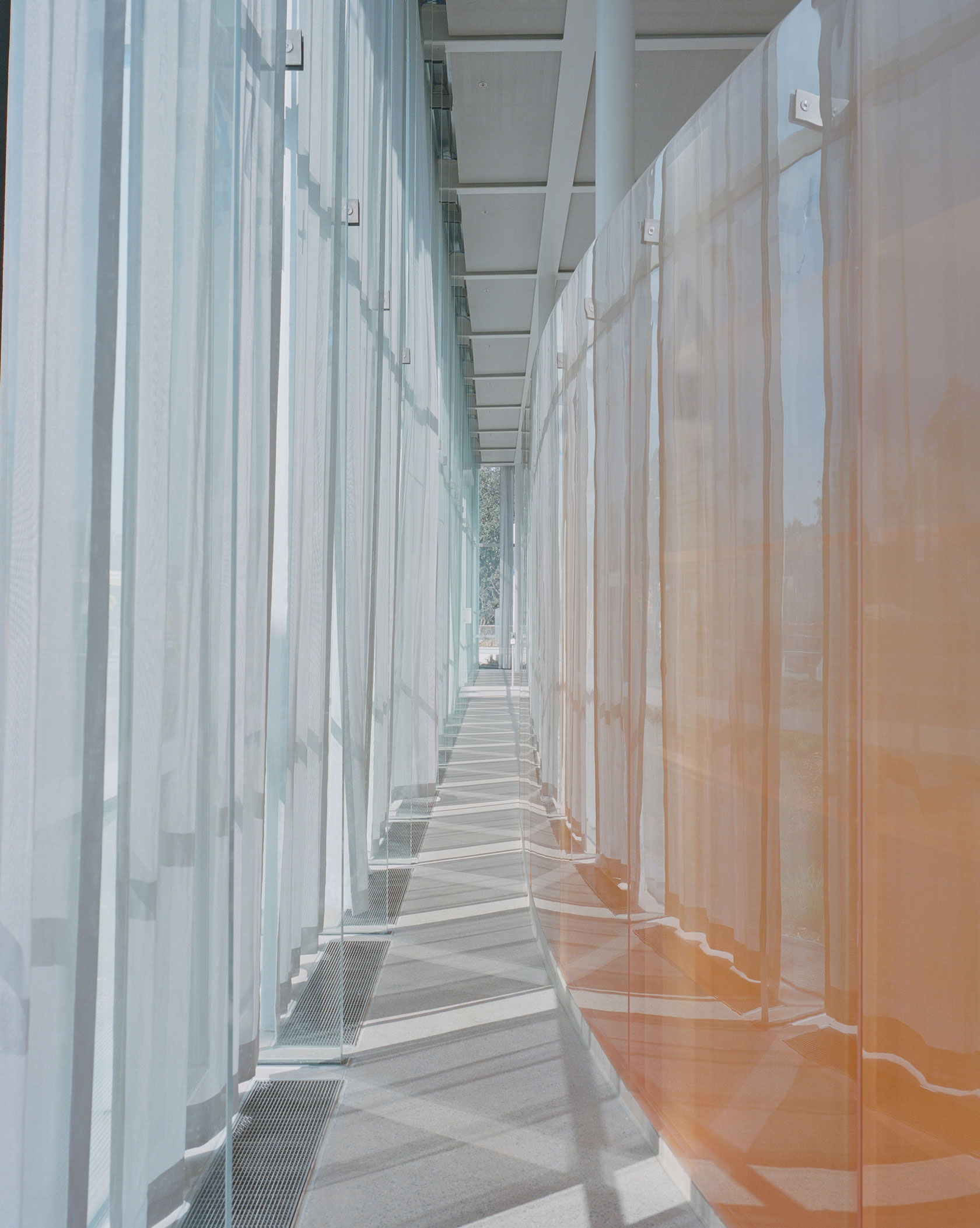 Photo by Tim Salisbury.
Photo by Tim Salisbury.
Photo by Tim Salisbury.
Photo by Tim Salisbury.
Photo by Tim Salisbury.
Photo by Tim Salisbury.
Akin Atelier's Associate, Alexandra Holman and Principal, Kelvin Ho. Photo by Tim Salisbury.
The gradation of tone speaks to the layered nature of Sydney's sandstone geology and acts as a visual continuation of the rammed earth wall present in the gallery volumes of the new building on the levels below. Sintered layers of colour with micro-weighted pigment were hand poured by Cox's dedicated resin team into custom moulds for 109 consecutive days to achieve the gradient.
The bubble's glossy translucency was achieved with 12 grit levels of hand-sanding and seven hand-polishing stages. Each unit required over 3 weeks of hand polishing by highly skilled, specialist resin workers. A total of 29 unique resin modules, each weighing between 300 and 500 kilograms, comprise the installation. Mould construction and on-site installation was completed by EMAC Constructions. An all-Australian design, fabrication and build team delivered this innovative project.
The Gallery Shop by Akin Atelier is both a retail space and a sculptural installation, designed to express the artistic endeavours of the Sydney Modern building and challenge the commercial experience of an archetypal gallery shop.
---
[Images courtesy of Akin Atelier. Photography by Rory Gardiner & Tim Salisbury.]